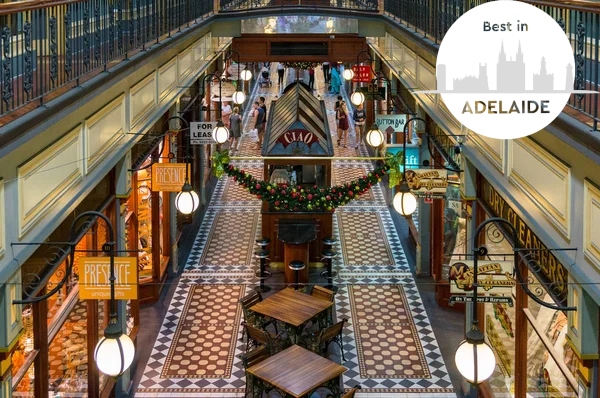 Timeless Structures: Adelaide's Heritage Buildings
Adelaide's heritage buildings have witnessed the city's evolution, and each brick carries stories of days gone by.
From the elegant Ayers House to the spooky Old Adelaide Gaol, these buildings are like living history books just waiting to be explored—and explore we did.
Check out what our travels unveiled!
Historic Cummins House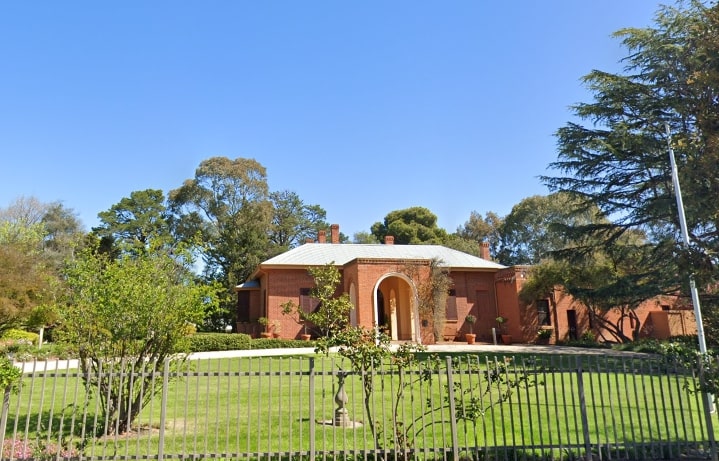 Address: 23 Sheoak Ave, Novar Gardens, SA 5040
Contact Details: 0417 852 320
Operating Hours: Sun only – 2 pm to 4:30 pm
The Historic Cummins House is a testament to the beauty and quality of mid-19th-century Adelaidean architecture.
This spot's elegant style is unmistakably Victorian, as it's constructed with sandstone walls and intricate iron lacework on its verandah.
In 1842, the talented architect George Kingston laid the foundation for the house—a simple five-room red brick cottage.
Then, crucial expansions in 1854, 1906, 1945, 1977, and 1983 significantly improved the structure.
The Morphett family owned this property for five generations, a legacy that lasted until 1970s.
In 1977, the South Australia Government recognized the historical importance of Cummins House and purchased it, eventually turning it into a museum and performance center.
Tips:
Opt for guided tours by The Cummins Society if you're a history enthusiast. They offer insights into the rich past of the house, adding depth to your visit.
Explore the stunning gardens enveloping the house. They're ideal for serene contemplation, boasting an array of plant life, like elegant roses and charming camellias.
The Torrens Building
Address: 220 Victoria Sq, Adelaide, SA 5000
Named after Sir Robert Richard Torrens, this State Heritage-listed Victorian building stands proudly on the corner of Victoria Square and Wakefield Street.
This building is no stranger to housing government hustle. It's been the HQ for various government departments and now houses offices for the Commissioner for Public Sector Employment, playing its part in the Government of South Australia.
The building also raised eyebrows during its construction in 1880 by importing stone from Sydney instead of those from Adelaidean quarries, sparking serious controversy and drama.
This place underwent renovation in 1990 and came back to life in 1997.
Since then, it's been home to some serious brainpower. Carnegie Mellon University's Australian campus found its digs here in 2006, and Torrens University set up shop in 2014.
Tips:
Pay your respects at the honor board within the Torrens Building. It's a tribute bearing the names of Government of South Australia employees who made the ultimate sacrifice during World War I.
Spot the plaque on the Western wall exterior. It commemorates the 100th anniversary of the globally embraced Real Property Act of 1858.
Adelaide Arcade
Address: 112/118 Grenfell Street between Grenfell Street and Rundle Mall, Adelaide, SA 5000
Contact Details: (08) 8223 5522
Operating Hours:
Mon to Thu – 9 am to 6 pm
Fri – 9 am to 9 pm
Sat to Sun – 9 am to 5 pm
The Adelaide Arcade offers a captivating blend of historic charm and modern vitality.
Its Victorian architecture, featuring intricate arches, wrought-iron details, and vintage tiles, creates an old-world ambiance that pairs well with the contemporary pop of bright colors.
The Adelaide Arcade was constructed in 1885 with a specific purpose: to provide a sheltered and elegant shopping experience for the city's growing population.
The idea was to create a covered shopping precinct that offered a unique shopping environment while being a symbol of progress and refinement.
Today, the Arcade is home to boutiques, each offering something unique. Fashion enthusiasts can explore local designers and high-end brands while jewelry stores showcase exquisite pieces.
Tips:
Don't miss Haigh's Chocolate, an iconic Australian chocolatier tucked away here.
Pause at charming cafes, like The Coffee Spot and Caffe L'Incontro, for a coffee break. They're great spots to recharge.
If you're up for something adventurous, consider joining one of the ghost tours. They add a spine-tingling twist to the Arcade's history.
Visit during the evening to see the Arcade adorned in soft lighting. It's a whole different vibe!
Adelaide Railway Station
Address: 125 North Terrace, Adelaide, SA 5000
In 1856, Adelaide kicked off its railway showstopper on North Terrace. This station was the British Empire's inaugural government-owned steam railway, running a single track between Adelaide and Port Adelaide.
Opening for the public on April 21, 1856, the Port Line offered a single-track journey, hitting up stations like Bowden, Woodville, Alberton, and the now-closed Port Dock station.
Between 1922 and 1930, the railway underwent improvements of monumental proportions. Brand-new, brawny steam locomotives flaunted their industrial might, while the Adelaide station underwent a sandstone neo-classical makeover.
Today, Adelaide Railway Station boasts updated facilities, advanced transportation services, and technological conveniences while retaining its historical grandeur.
Tip: The station's location on North Terrace puts it near other attractions. Plan to explore nearby museums, galleries, and parks.
Beehive Corner
Address: Rundle Mall, Adelaide, SA 5000
Contact Details: (08) 8203 7200
Operating Hours: Daily – 24 hours
Dubbed Beehive Corner for its uncanny resemblance to a beehive, this place has been the go-to meeting spot in Adelaide for over a century. So much so that "meet you at the Beehive Corner" became a common local phrase.
Constructed in 1895–1896 by architects George Klewitz Soward and Thomas English for owner Henry Martin, this building toys with the Gothic Revival style with a quirky twist. The level of detail is jaw-dropping, exemplified by the prominent corner turret.
Presently, the corner serves as the hub for Haigh's Chocolate, adding a sweet aroma to its historical significance.
So, if someone says, "Let's meet at Beehive Corner," go for it. Tou'll find a blend of intricate architecture and delectable treats awaiting your arrival.
Tips: Try Haigh's Chocolates' famous Milk Chocolate Speckles or Dark Chocolate Scorched Almonds; they're crowd favorites. Also, Haigh's Chocolates offers beautifully packaged chocolates if you're looking for a unique gift.
Old Adelaide Gaol
Address: 18 Gaol Rd, Adelaide, SA 5000
Contact Details: (08) 8231 4062
Operating Hours: Daily – 10 am to 4 pm
The Old Adelaide Gaol, nestled within the Park Lands of South Australia's capital, is a stark reminder of eras long gone.
This prison has a robust architectural style seamlessly combining Victorian and Gothic, with imposing stonewalls constructed with local bluestone.
Functioning as the state's inaugural permanent prison from 1841 to 1988, the Adelaide Gaol holds a chilling history: public hangings that preceded the mandate for private executions in 1858.
Visitors now engage in guided tours that delve into its dark history. Our team joined one, and it led us through the chilling cells and the haunting gallows.
Tips:
Experience the eerie side of the gaol's history by joining a ghost tour.
Slots for ghost tours and special events can fill up quickly. It's wise to book in advance to secure your spot.
The gaol's pathways are unsteady, so wear comfortable shoes during your visit.
The gaol's somber ambiance and architecture make for hauntingly beautiful photos.
Looking for a unique birthday idea? The gaol hosts birthday parties!
Carrick Hill
Address: 46 Carrick Hill Dr, Springfield, SA 5062
Contact Details: (08) 7424 7900
Operating Hours
Mon to Tue – Closed
Wed to Sun – 10 am to 4:30 pm
Carrick Hill is within a sprawling 100-acre estate in the Adelaide foothills and is a striking embodiment of enduring Tudor architecture.
The Haywards, especially Sir Edward and Lady Ursula, curated an impressive collection, transforming the mansion into a vibrant gallery with antique paintings and even movie memorabilia.
Inside, our team admired the vintage French furniture and elegant Tudor structures, from Lalique glass ceilings to a 17th-century-themed grand dining hall.
Tips:
If you're visiting with family, embark on the Storybook Trail adventure—a whimsical and free adventure for kids and adults alike.
Take your time exploring Lady Ursula's majestic rose garden.
Don't overlook the Carrick Hill bushland, a unique treasure that supports remnants of indigenous plant communities.
Carrick Hill Cafe is a terrific spot for mouthwatering meals like cinnamon brioche French toast or grilled black Angus scotch filet.
You can bring your woofers! Carrick Hill's gardens and bushland are dog-friendly.
Bonython Hall
Address: The University of Adelaide, North Terrace, Adelaide, SA 5005
Contact Details: (08) 8313 4455
Operating Hours
Mon to Fri – 9 am to 5 pm
Sat to Sun – Closed
Bonython Hall was constructed between 1933 and 1936 and embodies the essence of the University of Adelaide's ceremonial gatherings and public galas.
Characterized by neoclassical elements, the hall's architectural elegance captivates visitors. All this would be nothing without the generous $50,000 donation from Sir John Langdon Bonython.
Restoration and modernization efforts have been ongoing since 2005, undertaken diligently by the University.
The hall's restoration quality even garnered significant recognition when it received the prestigious Award of Merit during the 2007 UNESCO Asia-Pacific Heritage Awards for Cultural Heritage Conservation.
Tips:
Take advantage of guided tours offered by the University of Adelaide to gain insights into the hall's history, architecture, and significance. Knowledgeable guides can provide a deeper understanding of the site.
Keep an eye out for public events hosted at the hall. It often serves as a venue for concerts, lectures, and cultural gatherings.
Ayers House
Address: 288 North Terrace, Adelaide, SA 5000
Contact Details: (08) 8224 0666
Operating Hours
Mon to Fri – 9 am to 5 pm
Sat – 10 am to 2 pm
Sun – closed
Ayers House in Adelaide was named after Sir Henry Ayers, a prominent figure who served as premier of South Australia five times and was a wealthy industrialist.
The manor is the sole surviving mansion on North Terrace, a testament to its enduring legacy.
Constructed in 1855, Sir Henry Ayers himself occupied this grand residence until 1897. Its architectural style seamlessly blends Colonial Regency and Victorian opulence.
Ayers House was a distinguished venue for elegant celebrations. Lady Ayers was famous for inviting high-profile individuals to party in the manor, a tradition Ayers House maintains today with its opulent events.
Tips:
Don't miss the exquisite heritage gardens surrounding Ayers House. If you have plans to get married, get in the hype and tie the knot here!
Several events take place in Ayers House. Some notable ones include high tea and whisky tastings, so make sure to check their website to see if there's an event you'd like to attend.
Don't forget to try their wines too! Some of our team's favorites are Landers Pinot Chardonnay Sparkling and Landers Shiraz Touriga. You can also check their wine cellars for wine tastings!
The National War Memorial
Address: 190 North Terrace, Adelaide, SA 5000
Operating Hours: 10 am to 5 pm
The National War Memorial in Adelaide is a solemn tribute to the sacrifices of Australian soldiers who served in World War I. It's an arched monument crafted from Harcourt granite, Macclesfield marble, and bronze.
Renowned artist George Rayner Hoff was responsible for crafting the intricate and emotional sculptures that adorn the memorial.
Hoff's vision was to encapsulate the feelings experienced by soldiers and their families during times of war—a goal he certainly achieved.
Some of the memorial's poignant details are the Winged Spirit of Duty, a young girl gazing at the spirit, and a woman holding a sheathed crusader's sword and a wreath.
Tip: Familiarize yourself with the symbolism behind the sculptures and figures. Understanding the messages they convey can enhance your experience and appreciation.
St Peter's Cathedral
Address: 27 King William Rd, North Adelaide, SA 5006
Operating Hours:
Mon – 10:30 am to 1 pm
Tue to Fri – 10:30 am to 3:30 pm
Sat – closed
Sun – 8 to 9 am, 10:30 am to 12 pm, 6 to 7 pm
St. Peter's Cathedral is an Anglican cathedral that serves as the spiritual center for the archbishop of Adelaide and the Metropolitan of the Province of South Australia. It was opened in 1869.
Architects William Butterfield and E. J. Woods designed the cathedral's striking exterior from hammer-dressed Tea Tree Gully sandstone.
Its design reflects the grandeur of the Gothic Revival style, characterized by pointed arches, intricate detailing, and vertical emphasis that draws the eye skyward.
The interior of the cathedral is 62 meters tall. The Lady Chapel occupies a portion of this space, while the nave and chancel fill the remainder.
The expansive nave extends 18 meters, providing a sense of spaciousness within the sacred area. At its zenith, the cathedral's spire reaches a height of 51 meters above ground level, marked by crosses that adorn its pinnacle.
Tips:
Keep in mind that the cathedral is a place of worship and reflection. Speak softly and avoid making loud noises that could disturb others.
Take advantage of the cathedral's free guided tours every Wednesday at 11 am.
Mortlock Wing, State Library of South Australia
Address: North Terrace, Adelaide, SA 5000
Contact Details: (08) 8207 7250
Operating Hours:
Mon – 10 am to 5 pm
Tue – 10 am to 7 pm
Wed to Fri – 10 am to 5 pm
Sat to Sun – 12 pm to 5 pm
The Mortlock Wing at the State Library of South Australia is a captivating repository of knowledge renowned for its rich history, stunning architecture, and valuable collections, such as pre-colonization documents and reference materials.
Designed by architect E.J Woods, the Mortlock Wing started construction in the late 19th century and opened to the public in 1884 to house the State Library's growing collection.
This heritage building's architecture is a harmonious blend of French Renaissance and English Palladian styles.
Over the years, the Mortlock Wing has undergone restoration and modernization efforts to ensure its preservation and accessibility to the public.
Tips:
Observe library etiquette when entering the Mortlock Wing. Keep noise levels low and avoid disruptive behavior to maintain a tranquil atmosphere.
Delve into the diverse collections on display. Look for rare books, manuscripts, and historical materials that provide a window into South Australia's past.
Consider the time of day you plan to visit. Weekdays might be quieter for those seeking a more contemplative experience, while weekends could be busier.
Mitchell Building – University of Adelaide
Address: North Terrace, Adelaide, SA 5000
Contact Details: (08) 8313 4455
The Gothic Revival Mitchell Building at the University of Adelaide is an iconic cornerstone, reflecting the institution's history and academic pursuit. Designed by architect James MacGeorge, it emerged as the inaugural structure of the university.
In 1961, the building received the honor of being named after Sir William Mitchell, a pioneering philosophy academic at the university.
Mitchell Building is notorious for the notable incidents that occurred on its grounds, such as the takeover of a council gathering by over 100 students during the 1960s–70s global unrest.
The Mitchell Building remains a pivotal hub within the University of Adelaide, serving as the abode for administrative functions and the institution's governing bodies.
Tips:
Utilize any informational brochures, pamphlets, or digital resources available on-site. These can provide additional context and enrich your visit.
Stay informed about any ongoing events, exhibitions, or lectures happening in the Mitchell Building. Recurring events include a northern lights exhibit and Campuscapes.
_____________________________________________________________________