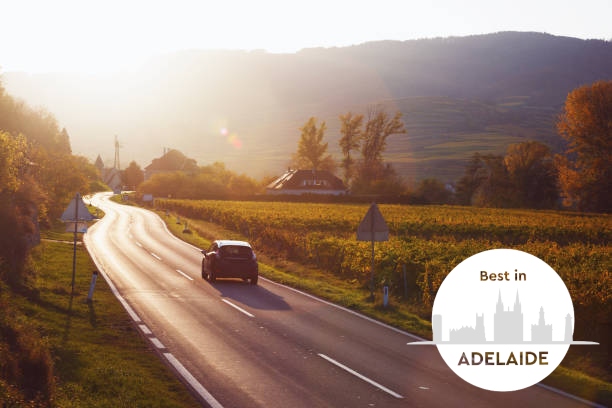 Wine to Waterfront: A Road Trip from Adelaide to Townsville
An Adelaide to Townsville road trip is a journey of discovery. As the road stretches through unique towns and cities, each stop promises a distinct adventure, from a scenic vineyard to an underwater museum.
Want to know more about what awaits you on this path? Our travel guide below got your back, mate!
Fastest Route
Distance: Over 2,600 km
Travel time: Nearly 28 hrs
Start your journey in Adelaide via the northern section of A32 Hwy, which leads to Broken Hill. From Broken Hill, follow the same highway toward the mining town of Cobar.
You may also detour first in the wine region of Tanunda via Sturt Hwy and Gomersal Rd. Use the same roads to return to the A32 Hwy leading to Cobar.
Drive east of Cobar until you reach A32 Hwy's intersection with Frederick St, where you'll subsequently drive north toward A71, A2, and Torrens Creek Aramac Rd.
Follow Torrens Creek Aramac Rd until you arrive at Torrens Creek, where you'll head northeast via Flinders Hwy.
Then, follow Flinders Hwy's northern section, passing spots like Campaspe, Homestead, Mingela, and Woodstock before turning northwest of Bruce Hwy, which leads to the coastal city of Townsville.
Best Time to Visit
The optimal time to visit Townsville is during the dry season, from May to October, when temperatures range from 18°C to 26°C (64°F to 79°F).
This period ensures enjoyable weather for outdoor activities, as the region sees minimal rainfall and comfortable temperatures prevail.
Where to Stay
Stonewell Cottages and Vineyard
Address: 373 Stonewell Rd, Tanunda, SA 5352
Contact Details: 0417 848 977
Pricing: $$$
Stonewell Cottages and Vineyard is a fantastic choice for travelers looking for a Tanunda detour.
This luxurious accommodation is a road trip mood-setter, with over 103 acres of lush vineyards, rolling hills, and tranquil waters surrounding its suites.
Our top picks for the rooms are the Haven Spa Suites, with private amenities and a lake outlook, and the intimate Cupid's Cottage, hidden amid native trees and vineyards.
The Palace Hotel Broken Hill
Address: 227 Argent St, Broken Hill, NSW 2880
Contact Details: (08) 8088 1699
Pricing: $$
Driving in the Australian Outback can be exhausting, especially with scorching temperatures. The Palace Hotel Broken Hill is a cozy, modern, and relaxing accommodation that can solve this issue.
Movie buffs will also enjoy this hotel's history, as it was used as a stopover in the classic Aussie flick Priscilla: Queen of the Desert. Colorful murals referencing the film adorn the walls here, giving this spot an eclectic vibe.
The luxurious balcony rooms are the way to go, particularly if you enjoy seeing the beautiful Outback unfold. If your wallet's tight, opt for the budget balcony rooms offering the same view but with a smaller room space.
Cobar Town and Country Motor Inn
Address: 52 Marshall St, Cobar, NSW 2835
Contact Details: (02) 6836 1244
Pricing: $
Cobar Town and Country Motor Inn is a more affordable way of beating the Outback's heat. There are no balconies here, but the rooms have modern amenities like queen-sized beds, fast Internet, and air conditioners.
This spot's main draw is its closeness to Cobar's attractions, such as the town's open-cut gold mine, Cobar Miner Heritage Park, and Fort Bourke Hill Lookout.
We suggest staying in their Family Room if you're traveling with your fam or a group of 4 to 5 people. The Queen Room and Twin Room are optimal for adventurers traveling solo or with a partner.
BIG4 Opal Holiday Park
Address: 142 Pandora St, Lightning Ridge, NSW 2834
Contact Details: (02) 6829 4884
Pricing: $$
The Black Opal Country's bushland is the highlight of this camping/accommodation site.
Our team chose to stay at the Fossickers Villa, a fully self-contained and powered accommodation, due to its convenient location within a rich fossicking ground.
Big4 Opal Holiday Park's powered tent sites may be for you if you want an authentic bushland experience while still having access to much-needed necessities like electricity and restrooms.
We also love the Outback Cabin—a spacious, homey room with essential amenities and pet-friendly regulations.
Oasis Exchange Hotel
Address: Flinders Hwy, Torrens Creek, QLD 4816
Contact Details: 0407 948 296
Pricing: $$
Oasis Exchange Hotel is a comfortable resting hub before you continue driving to Townsville, approximately 250 km from this accommodation.
This hotel's sports bar and bistro are terrific for relaxation, especially if you love playing pool and chugging beer. Their outdoor pool and spa baths also recharged our team's tired bodies and minds.
The rooms are air-conditioned, with Unit 1 as our favorite due to its spacious design ideal for 3 to 4 people. If you have mobility concerns, Unit 5 (2 to 3 people) is a safe choice, designed for easy accessibility.
Where to Eat
The Silly Goat
Address: 425 Argent St, Broken Hill, NSW 2880
Contact Details: (08) 8088 7210
Pricing: $$
The Silly Goat is renowned in Broken Hill for impeccable breakfasts and relaxed vibes. The interior has a refreshing and modern design, with a sleek charcoal black and glossy brown color scheme, sunny and spacious dining areas, and lush indoor plants.
Their brunch classics are worth a shot, with the crispy fried chicken burgers and refreshing avo toast as our team's top choices.
Pastries like bread and cakes are also sought-after here. The Silly Goat's sweet treats are always freshly baked, and you shouldn't miss their tangy and refreshing zucchini/pineapple toast or their sweet and creamy cheesecake.
Cobar Thai Restaurant
Address: 1 Barton St (Corner of Barton St & Becker St), Cobar NSW 2835
Contact Details: (02) 6836 4492
Pricing: $$ to $$$
Cobar Thai Restaurant's authentic Thai food can make your Cobar stop extra special.
This restaurant's simple but elegant design makes dining feel cozy. The facade and interior have classic brickwork and healthy plants, while the main dining hall has expansive windows with white curtains.
Their outdoor dining area is perfect if you'd love to dine in fresh air. This spot is also in a well-maintained grassy area.
Gai Yang (chicken BBQ) is a fine choice for meat and spicy food lovers, as this fiery meal has chicken breasts coated with a hot curry.
Their salty, sour, and refreshing prawn and beef salad are top-notch, too. These meals taste better if paired with the restaurant's Thai fish cakes or deep-fried calamari.
Opal Street Cafe
Address: Suite 1/12 Opal St, Lightning Ridge, NSW 2834
Contact Details: 0467 257 826
Pricing: $$
Opal Street Cafe's quirky murals are fascinating to look at. However, it's their mouthwatering smoked bacon and delicately sweet brioche rolls that impressed our team the most.
Their coffee is also exceptional, particularly the perfectly bitter long black and the milky chai latte. Their energizing espresso delivers a remarkably bold and bittersweet flavor, too.
Our team also recommends their ham and cheese croissant, a hearty meal packing savory, creamy, and buttery flavors. End your meal here with their velvety yogurt, and you'll don a satisfied smile as you drive to Townsville.
Cattleman's Steakhouse Restaurant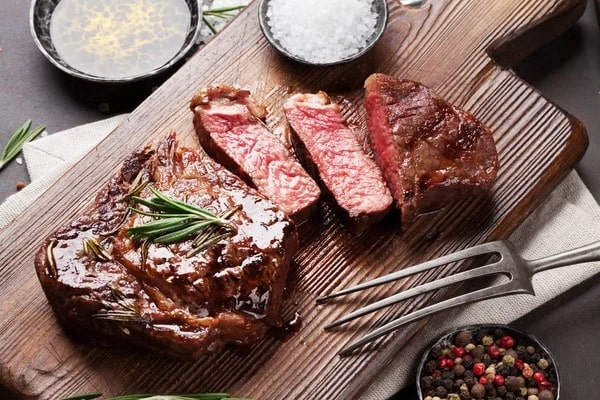 Address: 1 Bridge St, Richmond Hill, QLD 4820
Contact Details: (07) 4787 3555
Pricing: $$
At Cattleman's Steakhouse Restaurant, the Angus T-bone and MSA Premium Eye Mignon stand out. In addition, our team loves the romantic vibes of this resto, with lamps casting a light golden glow on the mainly wooden interior.
The Angus T-bone offers a robust, char-grilled taste with a juicy center, while the MSA Premium Eye Mignon boasts tenderness that melts in your mouth, accompanied by a deep, savory flavor.
The beer-battered mackerel is a great alternative for seafood lovers, as it delivers a satisfying crunch that gives way to the tender, briny mackerel within.
If you prefer an aromatic meal, order their Thai chicken curry. This balanced and herby dish boasts aromatic spices, soft chicken, and a hint of coconut.
The Balcony Restaurant
Address: 287 Flinders St, Townsville City, QLD 4810
Contact Details: (07) 4771 2255
Pricing: $$
Nestled within a heritage building for over four decades, The Balcony Restaurant in Townsville offers a fine dining experience with live music, sensational coffee, and delicious steak sandwiches.
The timber staircase leading to the tiled balcony gives this spot vintage vibes, and the view of the city makes eating more enjoyable.
Our top recommendations include their succulent, moist, and sweet sticky date pudding with butterscotch sauce and their savory bacon chops. Their crispy salmon with mash and well-seasoned potato croquettes are worth every moolah, too.
Top Things to Do
Try the wine at Chateau Tanunda
Address: Château Tanunda, 9 Basedow Rd, Tanunda, SA 5352
Contact Details: (08) 8563 3888
Chateau Tanunda offers wine tastings, guided estate tours, and immersive vineyard and cellar explorations.
This winery's 19th-century grand facade is also an artwork featuring intricate detailing and stately columns, reflecting a blend of Victorian and Baroque styles.
Chateau Tanunda's sweeping vineyards and well-manicured gardens are picturesque and ideal for picnics and photo ops.
There's also a well-maintained oval near the manor for visitors who want to play cricket.
Visit Silverton Gaol and Historical Museum
Address: Burke St, Silverton, NSW 2880
Contact Details: (08) 8088 5317
The Silverton Gaol and Historical Museum holds artifacts commemorating the evolution of Silverton.
The museum's collection comprises historical war memorabilia, industrial tools, impeccably preserved prison rooms, Bibles from 1862, and more.
Another noteworthy aspect of this spot is its extensive colonial brickwork giving it an old-world ambiance, especially the coroner's room that's now the museum's main viewing hall.
Learn about the Royal Flying Doctor Service at Flying Doctor Outback Heritage Experience
Address: Pro Hart Way, Broken Hill, NSW 2880
Contact Details: (08) 8080 3714
The Flying Doctor Outback Heritage Experience in Broken Hill will immerse you in the story of the Royal Flying Doctor Service—its challenges and pivotal role in providing vital medical aid to remote areas.
The exhibits here include vintage medical equipment, aircraft models, communication devices, and personal items used by doctors and staff.
If on a self-guided tour, take advantage of the information boards detailing the story and importance of these artifacts.
Check vintage locomotives at Steamtown Heritage Rail Center
Address: 1/2 Telford Ave, Peterborough, SA 5422
Contact Details: (08) 8651 3355
The roaring 20s and peak years of Australian railways are still alive in this steaming museum filled with locomotives, carriages, and other freight vehicles.
The Steamtown Heritage Rail Center once served as a crucial maintenance and transport hub, witnessing over 100 daily trains and employing 1,000+ workers during its prime.
There's an exclusive sound and light spectacle in a transformed 1916 rail carriage during the night and a 90-min guided tour discussing this spot's history.
Join a cruise at Menindee
Menindee's tranquil waters are a break from the Outback's dryness. Situated along the curves of the Darling River, this locale is popular for boat cruises exploring the area's waterways, which are ecologically and culturally significant.
Fishing at Lake Menindee offers a remarkable experience, too. This calming location boasts sought-after catches like the golden perch (yellowbelly), Murray cod, silver perch, and several catfish species.
The lake's ecosystem also attracts diverse bird species, such as majestic pelicans gliding over the water, cormorants expertly diving for fish, and elegant egrets and herons patrolling the shoreline.
See the view at Fort Bourke Hill Lookout, Peak Gold Mines
The Fort Bourke Hill Lookout provides an unobstructed sight of the town's arid landscape, allowing you to appreciate its layout and surrounding beauty.
The spiraling pathways leading to the pit of this operating mine look surreal, especially if you're viewing from a higher position, making the trucks and mining machinery look like tiny toys.
Peak Gold Mines also allows you to witness the mining process firsthand or via info boards scattered throughout Fort Bourke Hill Lookout.
Relax at Artesian Mud Baths Eulo
Address: 6889 Adventure Way, Eulo, QLD 4491
Contact Details: 0405 030 707
At the Artesian Mud Baths, you can experience the warmth of artesian water infused with clay while viewing the Outback's blazing orange horizon.
These baths utilize the area's natural resources and are celebrated for their potential to invigorate the body and nourish the skin. They're in the calming outdoor site, enclosed by thatched walls.
Inside this area, you'll find baths, a shower made from beefwood, and restroom items from the past.
See the sculptures at Living Desert State Park
Address: Nine Mile Rd, Broken Hill, NSW 2880
Contact Details: (08) 8080 3560
Living Desert State Park is a captivating destination that showcases an array of sandstone sculptures against the backdrop of the expansive Outback landscape.
As you explore the park's walking trails, you'll encounter diverse sculptures that depict various forms of wildlife and celebrate the region's natural heritage.
Some of these sandstone creations are also abstract and merge well with the area's deeply brown earth.
Learn the history of The Tree of Knowledge
Address: 103 Oak St, Barcaldine QLD, 4725
The 10-m Tree of Knowledge in Queensland is a significant historical monument representing the birthplace of the Australian labor movement.
This towering ghost gum played a central role as the assembly point for Australian shearers during their failed 1891 strike.
It's currently embellished with meticulous metalwork, and this intricate canopy provides shade and a focal point for visitors to gather and reflect on its historical importance.
When night falls, The Tree of Knowledge takes on a captivating transformation. Illuminated by playful lighting, its unique metalwork and intricate details come to life in a mesmerizing display.
Dive into the Museum of Underwater Art
Address: Townsville, QLD 4810
Nestled within the sea's embrace, the Museum of Underwater Art seamlessly blends art with marine environments.
The Coral Greenhouse is a masterpiece by Jason deCaires Taylor featuring a 12-m and 58-t biomorphic structure offering an artistic take on the Great Barrier Reef while providing shelter to marine life.
You should also check Taylor's nearby Ocean Sentinels, an enthralling collection of structures resembling human forms and marine wonders.
This museum also has The Ocean Siren, another creation of Taylor featuring a 4-m tall and glowing woman raising her hand.
Beyond its artistic significance, this sculpture serves as a poignant signal, cautioning about the peril warming seas pose to the Great Barrier Reef.
What to Expect of Townsville's Weather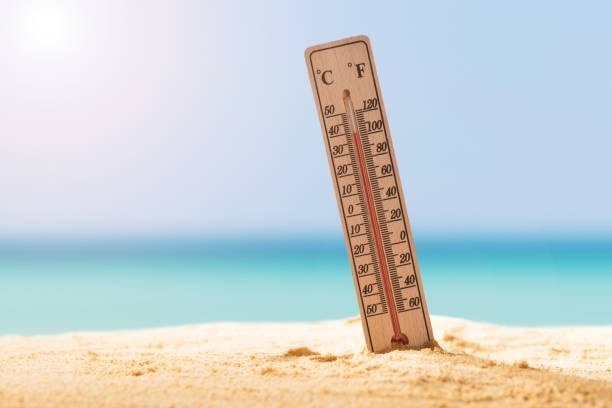 In the wet season (November to April), expect warm temperatures ranging from 24°C to 31°C (75°F to 88°F), accompanied by tropical showers and occasional thunderstorms.
The dry season (May to October) brings milder temperatures ranging from 17°C to 26°C (63°F to 79°F), along with plenty of sunshine and pleasant breezes.
______________________________________________________________