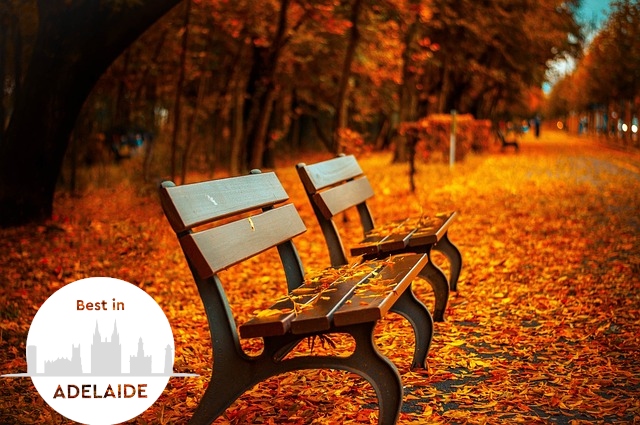 Autumn's Ambers: Best Autumn Views in Adelaide
Grab your pumpkin-spiced lattes and cameras, and get ready to soak in the autumnal splendor of Adelaide!
From Frome Road to Carrick Hill, we've compiled the best spots to witness those colorful leaves and Instagram-worthy autumn views. Check out the list below, and prepare to fall in love with Adelaide's autumn!
Frome Road
The leafy Frome Road struts its autumn stuff with a fiery foliage fashion show, with roadside pine, jacaranda, and gum trees as stars.
In addition, the air on this road gets crisp during autumn, making it ideal for joggers or cyclists who prefer chilly temperatures.
Tips:
Grab a cup of hot choco from Steven ter Horst Chocolatier in Hyde Park to warm yourself up after a jog.
Wearing thick clothing is a must if you're going to visit at night.
The Frome Road Bridge is a must-visit selfie haven, particularly as autumn paints its vibrant hues.
Adelaide Botanic Gardens
Address: North Terrace, Adelaide, SA 5000
Contact Details: (08) 8222 9311
Operating Hours
Mon to Fri – 7:15 am to 5:30 pm
Sat to Sun – 9 am to 5:30 pm
Adelaide Botanic Gardens transforms into a golden floral oasis in autumn. The top sections to visit during this season include the fiery Dahlia Garden and the majestic Bicentennial Conservatory.
The Amazon Waterlily Pavilion is also Insta-worthy, its rare Victoria Amazonica water lilies gleaming amid the changing landscape.
Take a stroll on the Australian Forest Walk, where native foliage like gum trees shows off bronze and burnt sienna leaves.
Tips:
Pics look better with morning sunlight, so we suggest visiting early.
Adelaide Botanic Garden spans about 50 hectares (126 acres). Wear comfy footwear if you're planning to check all its gardens.
Remember to pack snacks and much-needed H20, too!
There is a restaurant on this spot's southeastern side that's ideal for post-walk meals. Their menu features a variety of greens, along with meat options like a dry-aged duck and South Australian lobster with salmon roe.
Carrick Hill
Address: 46 Carrick Hill Dr, Springfield, SA 5062
Contact Details: (08) 7424 7900
Operating Hours
Mon to Tue – Closed
Wed to Sun – 10 am to 4:30 pm
Carrick Hill's English-inspired manor becomes more irresistible during autumn, with its Edwardian-style garden providing a backdrop of changing colors.
The enchanting Storybook Trail also dazzles with structures like The Hobbit House, Quidditch Tree, and Charlotte's Web.
Our favorite structure is The Jungle Book and Animalia inspired by The Jungle Book. Here, you can find a recreation of Mowgli's camp, where Mowgli and animal models stand amid the golden leaves!
#Christmas is a wonderful time be spending time with #family and #friends. Are you looking for somewhere to enjoy a #picnic and somewhere for the kids to play? #CarrickHill grounds, storybook trail and cafe are open today 10am-4.30pm.
Pack up your #leftovers and enjoy the day. pic.twitter.com/QLzjV601fn

— Carrick Hill (@carrick_hill) December 25, 2019
Tips:
Consider joining one of the Guided Tours (daily – 11:30 am to 2:30), where passionate storytellers weave tales of the estate's history.
Carrick Hill Cafe is the best spot to end your visit here. Eat by the window to see the autumnal scenery of the estate's garden as you dine.
In addition, you can also see Gulf St Vincent from this cafe's location!
Take advantage of the service entrance at 5 Meadowvale Road if you have mobility concerns. This area allows convenient access near the house.
Looking to chill and catch up? Head to Ursula's Gin Bar, nestled among the elm trees at Carrick Hill. Don't forget to book first.
Rymill Park / Murlawirrapurka
Address: East Terrace, Adelaide, SA 5000
Contact Details: (08) 7424 7900
Operating Hours: Daily – 24 hours
Rymill Park's maples and oaks are the main reasons this urban parkland is a sought-after autumn destination. The golden hues they bring perfectly contrast the lushness of evergreen trees, such as Moreton Bay figs and Norfolk Island pines.
In addition, the small but beautiful Rymill Park Lake adds to this spot's allure by reflecting the vibrant colors of the changing foliage and providing a serene backdrop for visitors, particularly lakeside picnickers.
Tips:
Rymill Park is the home of Gluttony, an Adelaide Fringe event featuring music, arts, and food. Visit during this time if you love festivals!
If you get hungry while relishing the autumn views, grab a burger or muffin at Colada, a lakeside pop-up kiosk at Rymill Park.
McLaren Vale Angove Winery
Address: 117 Chalk Hill Rd, McLaren Vale, SA 5171
Contact Details: (08) 7424 7900
Operating Hours: Daily – 10 am to 5 pm
McLaren Vale's Angove Winery is a sensory escape. Vine-covered hills unfold in this spot, offering panoramic views of rolling vines and distant vistas perfect for photo ops.
Their shiraz and Grenache-filled cellar door also has a deck for sightseeing. Our team spent an afternoon here, savoring their organic viticulture wines and learning about the winemaking process.
Tips:
Savor Angove's exquisite and award-winning wines. Go for their classic earthy Family Crest Shiraz 2020 or the sweeter Warboys Vineyard Shiraz Grenache 2019.
Angove Winery provides idyllic picnic spots like tranquil vineyard areas or shaded groves. Bring your fam or friends here, pop a bottle (or bottles) of wine, and witness the unpretentious beauty of autumn in a rustic vineyard.
Hindmarsh Square
Address: 59 Hindmarsh Square, Adelaide, SA 5000
Contact Details: (08) 8203 7203
Operating Hours: Daily – 24 hours
Drone owners will love taking aerial shots of Hindmarsh Square in autumn as the city landscape turns golden brown during this season.
The ground offers autumnal charm, too, with seasonal flower beds adding bursts of color and fragrance to the scene.
Hindmarsh Square's chic cafes, like Lil Sebastian and Le Pas Sage, are terrific spots for viewing falling and color-changing leaves. Both offer premium and classic coffee and hot choco—perfect autumn bevvies.
Tips:
Emos gather at Hindmarsh Square, especially during the atmospheric autumn season. If you're part of this subculture, this is your chance to showcase your style and meet new friends while enjoying the stunning scenery.
Bring autumn-inspired snacks like apple cider, pumpkin seeds, or baked goods if you want to have a picnic here.
Adelaide Himeji Gardens
Address: Cnr South Terrace and Glen Osmond Rd, Adelaide, SA 5000
Contact Details: (08) 8203 7203
Operating Hours: Daily – 8 am to 5: 30 pm
Adelaide Himeji Garden is all about viewing autumn with a zen state of mind. This hidden gem has a karesansui, a Japanese dry garden or rock garden with fine golden sand perfectly blending with autumn's colors.
The evergreen hues of black pine trees also serve as a beautiful contrast to the golden brown shades of the garden's deciduous plants. Their leaves fall to a mini lake adorned by color-changing flora, goldfish, and turtles, resulting in photogenic autumn scenery.
Tips:
While the gardens' tobiishi stepping stones are inviting, take steady steps, especially if they're damp from the morning dew.
Stick around in the late afternoon for the golden hour when the setting sun enhances autumn hues.
While autumn brings crisp days, be prepared for sudden changes; a light jacket and an umbrella can be lifesavers.
Spend a moment by the bamboo deer scarer or shishi-odoshi to experience its soothing water melody, a sound that goes well with autumn's relaxed atmosphere.
Remember that silence plays a significant role in maintaining the gardens' serene atmosphere. If you're visiting with kids, encourage them to keep their voices low.
Mount Lofty Botanic Garden
Address: 16 Lampert Rd, Crafers, SA 5152
Contact Details: (08) 8370 8370
Operating Hours: Daily – 8:30 am to 4 pm
As autumn unfolds, the Mount Lofty Botanic Garden's section filled with maples becomes a focal point. These trees transform into a brilliant tapestry of reds, oranges, and yellows—the colors most autumn tourists look forward to seeing.
The still lake also mirrors the trees' fiery foliage, doubling the visual splendor. Ducks even graced the scene on our visit, enhancing the tranquil atmosphere.
The 7.8-km Waterfall Gully to Mount Lofty Trail is perfect for tourists who want to enjoy autumn scenery while stretching their muscles. The path is embraced by trees like oak, maple, and beech trees, showcasing their autumn finest.
Tips:
Arrive early to score primo parking and beat the crowd for the best autumn views.
Wildlife like kangaroos might make a cameo during early mornings, so keep your eyes peeled.
Weekdays tend to be quieter, so plan your visit around this time if you prefer a more peaceful experience.
Adelaide Hills
Adelaide Hills just dons a more enticing look during autumn.
First, Stirling—this charming suburb 16.5 km southeast of the CBD is like the poster child for autumn vibes. Its tree-lined streets burst with autumn hues, and its weather turns milder.
Then there's Hahndorf—Australia's oldest German settlement. When autumn hits, the entire place decks out shades of red and gold.
There's also Cleland Wildlife Park for autumn tourists who love wildlife. Kangaroos, wombats, and koalas are what you'll see here, along with falling leaves and fiery-colored trees.
Tips:
Pack a picnic and enjoy it by the enchanting Morialta Falls if you don't mind the 1.7 km hike.
Don't forget to visit the region's top wineries, such as Golding Wines and Hahndorf Hill Winery.
Wittunga Botanic Garden
Address: Shepherds Hill Rd, Blackwood, SA 5051
Contact Details: (08) 8222 9311
Operating Hours: Daily – 8:30 am to 4 pm
The diverse plants of the Wittunga Botanic Garden come together for a fall fiesta of colors that'll make your jaw drop.
A delightful display of South African bulbs takes center stage, adding vibrant pops of color throughout the landscape. Among these, the red hot poker (Kniphofia uvaria) stands out with its explosive appearance, resembling popping fireworks.
Alongside, the garden showcases beloved blooms like the Haemanthus coccineus, commonly known as the blood lily, and various Nerine species.
Some Nerine species showcase their captivating flowers during early to mid-autumn, preceding the emergence of their leaves that grace the scene later in the season.
Tips:
Spot unique autumn blooms like the Grevillea 'Bonfire' and Leptospermum 'Copper Glow.'
Look out for native bird species, like the New Holland honeyeater.
__________________________________________________________________