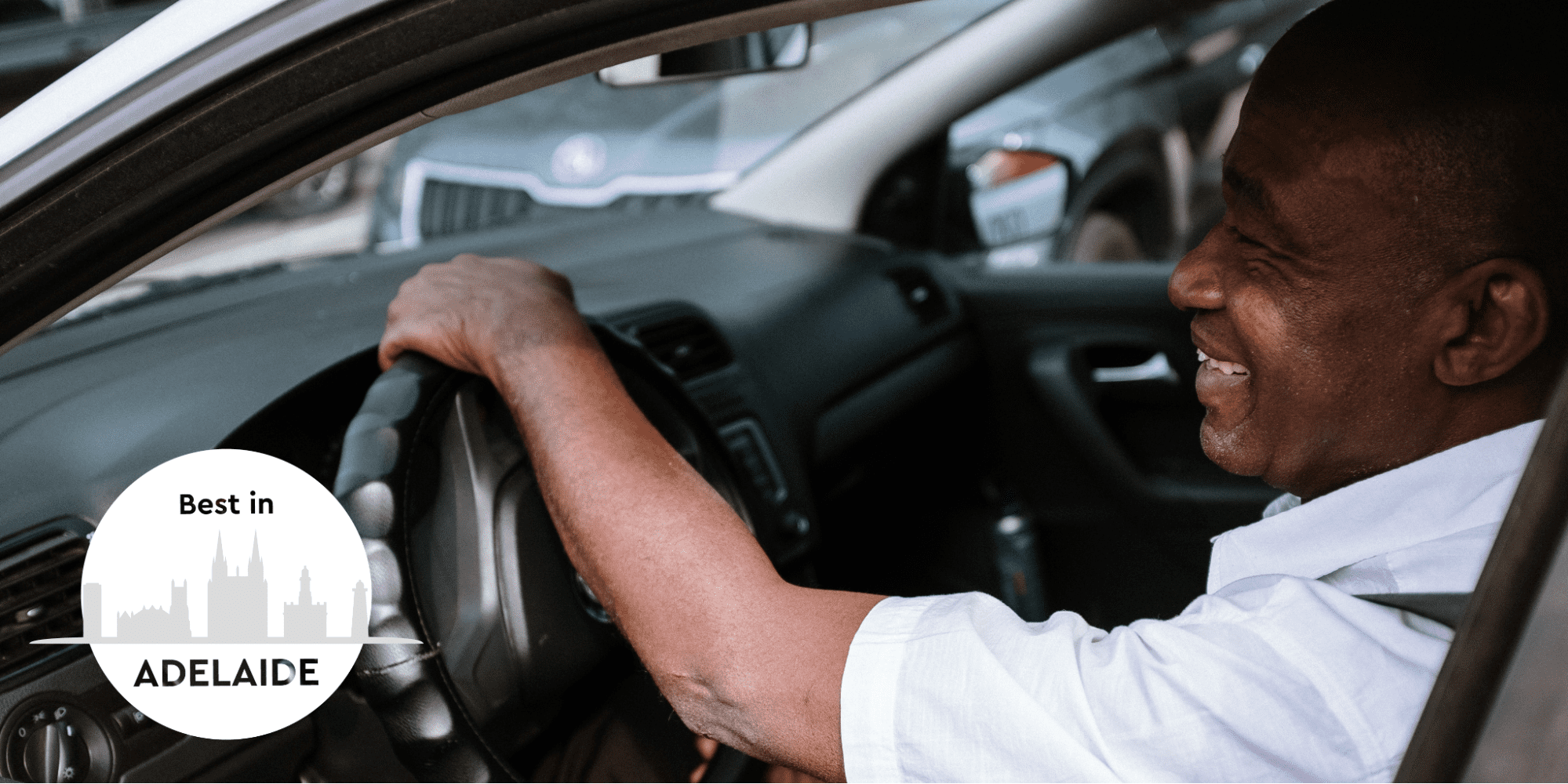 The Top 6 Airport Shuttle Services in Adelaide
How We Picked the Top Airport Shuttle Services in Adelaide
1. Adelaide Chauffeur Company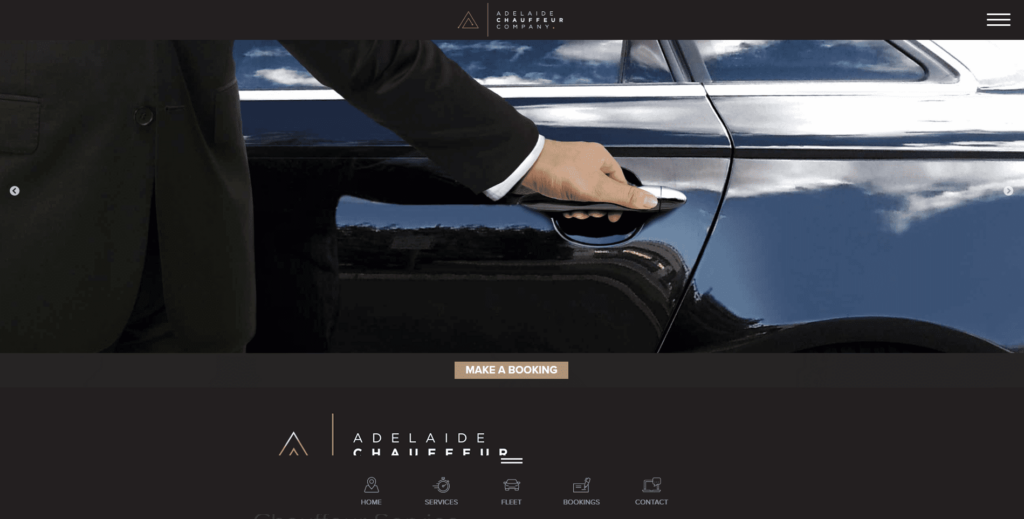 Services: Airport transfers, Tarmac Concierge Service, Point-to-Point Transfers, Gin Tours, Wine Tours, International Student Transfers, On Call, Hourly Chauffeur Hire, School Formals, Student Pickup and Drop-Offs, Weddings – Bride, Groom, Bridesmaids, Groomsmen, Family Members, Invitees, Hospital Transfers
Website: https://adelaidechauffeurcompany.com.au/
Address: Ground Floor, 33 Warwick Street, Walkerville, South Australia 5081
Contact details: 08 7226 0599
Operating hours: Monday to Sunday, 24/7
| | |
| --- | --- |
| Google reviews score | 4.7/5 |
| Total reviews | 5/5 |
| Score consistency | 3/5 |
| | |
| --- | --- |
| Company reputation | 4/5 |
| Punctuality | 4/5 |
| Variety of service vehicles | 4/5 |
| Solution-oriented | 4/5 |
Luxurious transport service
On call 24/7
Has few records of not showing up
Poor communication
Adelaide Chauffer Company offers a stylish, comfortable, and high-satisfactory transport service. You can choose from their great selection of premium luxury vehicles, such as luxury sedans, limousines, SUVs, coaches, and more.
Worried about arriving late at the airport? No worries. Their drivers who are on call 24/7 are ready to pick you up at any time of your choice.
They accommodate last-minute bookings and provide prompt responses.
They're also one of the few who still strictly follow COVID-19 precautions. All of their drivers wear safety masks.
They also have rubbing alcohol and enforce a limited seating policy inside the vehicle.
However, we still advise clients to book as early as possible. Adelaide Chauffeur has a history of their driver failing to show up on a confirmed booking.
This instance could have been due to a lot of reasons. The driver could have simply missed it or was on another service or a break.
They also had poor communication on rare occasions. If you're thinking of booking, make sure you deliver all the correct information and ask for a follow-up every now and then.
The best way to avoid this is to send out an early notice and ask for the driver's number for constant updates. If you received no response a day after your booking, you should consider looking for an alternative.
2. Car Australia Adelaide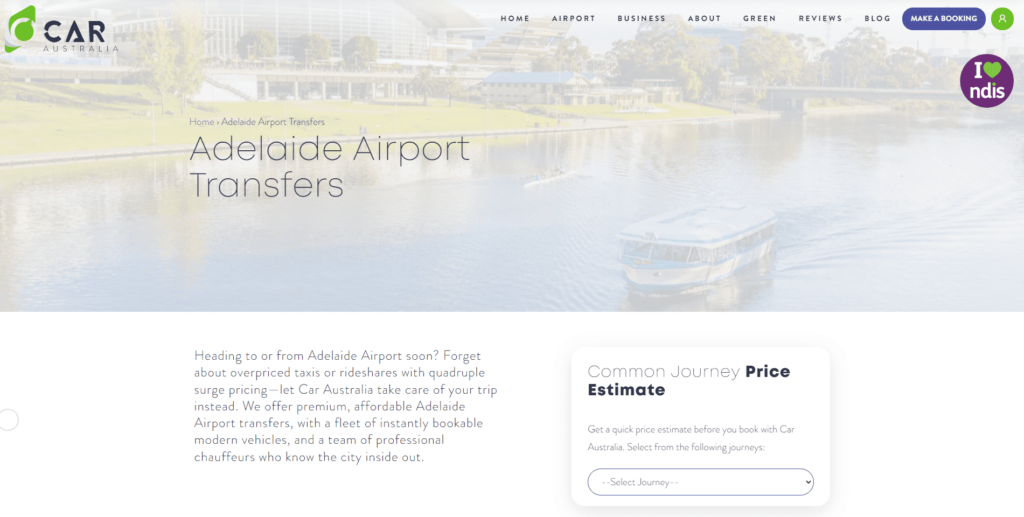 Services: Airport Transfers, Business Travels, Leisure Travels
Website: https://www.caraustralia.com/adelaide-airport-transfers/
Address: 4-8 Goodwood Rd, Wayville, South Australia 5034
Contact details: 1300 661 119
Operating hours: Monday to Sunday, 1 AM to 12 AM
| | |
| --- | --- |
| Google reviews score | 5/5 |
| Total reviews | 5/5 |
| Score consistency | 5/5 |
| | |
| --- | --- |
| Company reputation | 5/5 |
| Punctuality | 5/5 |
| Variety of service vehicles | 5/5 |
| Solution-oriented | 5/5 |
High quality and reliable service
Flight tracker for timely pickup
Easy booking
Available for pre-booking only
Can be expensive
Car Australia Adelaide aims to provide premium and affordable transport service compared to overpriced taxis and rideshares. They have a fleet of modern vehicles and street-smart drivers that can be booked in an instant.
Unlike taxis, they offer a fixed price at the time of your booking. They have this very useful feature on their website where you can choose from a selection of trips throughout Adelaide, and it will generate a quick price estimate for you.
The service feature we like most about them is their flight tracker. Once the booking is confirmed, their operators will track your flight, and their drivers will be waiting for you in the arrivals lounge the moment you land.
However, all their transportation services are pre-booked. meaning, you can only avail of their service if you book a transport service in advance.
If you're in need of a same-hour pickup type of service, you might want to opt for another shuttle service.
Booking a service with them is actually quite easy. They have an app where you can make instant bookings, manage the type of vehicle you need, or track your driver's location.
As for their rates, we can say they're affordable if you're only booking a short trip via standard vehicle.
But it could get expensive for the rest of the vehicle options, most especially the SUV. A short six-kilometer drive can reach as much as $2,600.
3. Caprice Cars Chauffeured Vehicles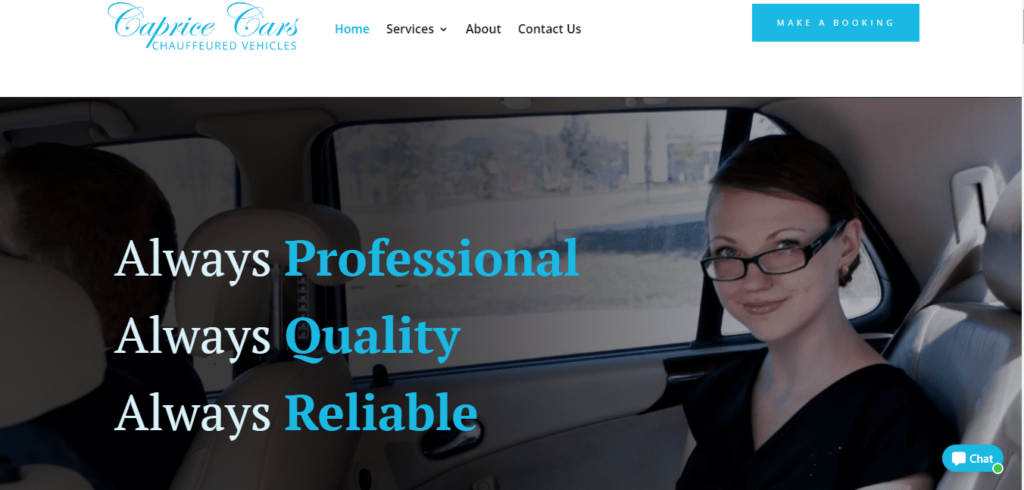 Services: Aiport Transfers, Corporate, Wine and Food Tours, Gin and Brewery Tours
Website: https://capricecars.com.au
Address: 18 Kimba Rd, Para Hills, South Australia 5096
Contact details: 0418 112 999
Operating hours: Open from 0700-2000 but service is available 24/7
| | |
| --- | --- |
| Google reviews score | 5/5 |
| Total reviews | 5/5 |
| Score consistency | 5/5 |
| | |
| --- | --- |
| Company reputation | 5/5 |
| Punctuality | 5/5 |
| Variety of service vehicles | 5/5 |
| Solution-oriented | 5/5 |
High-Quality Fleet
Professional and Discreet Service
Experienced and Award-Winning Chauffeurs
Family-Friendly Services
Caprice Cars Chauffeured Vehicles is a reputable airport shuttle service provider based in Adelaide, South Australia.
We like that they take pride in maintaining a late model fleet of vehicles that are well-maintained and feature genuine leather upholstery. With options like Mercedes, Lexus, LDV, and more, they offer a range of comfortable and luxurious vehicles to suit different preferences and group sizes.
Aside from this, we prefer them over others as the company focuses on providing a professional and discreet service to cater to the needs of corporate clients. Whether it's airport transfers or business-related travel, Caprice Cars aims to create a stress-free and comfortable experience for their customers.
What makes them stand out even more is their Family-Friendly Services.
What's great about this is that they understand the importance of family and offers additional services such as baby, toddler, and children's seats as add-ons to their packages. This feature makes them a suitable choice for families traveling with young children, providing convenience and safety.
Caprice Cars primarily operates in the Adelaide region and may not provide services to areas outside their coverage area. Customers requiring transportation beyond Adelaide may need to consider alternative service providers.
4. Hughes – Airport Transfers & Chauffeurs Adelaide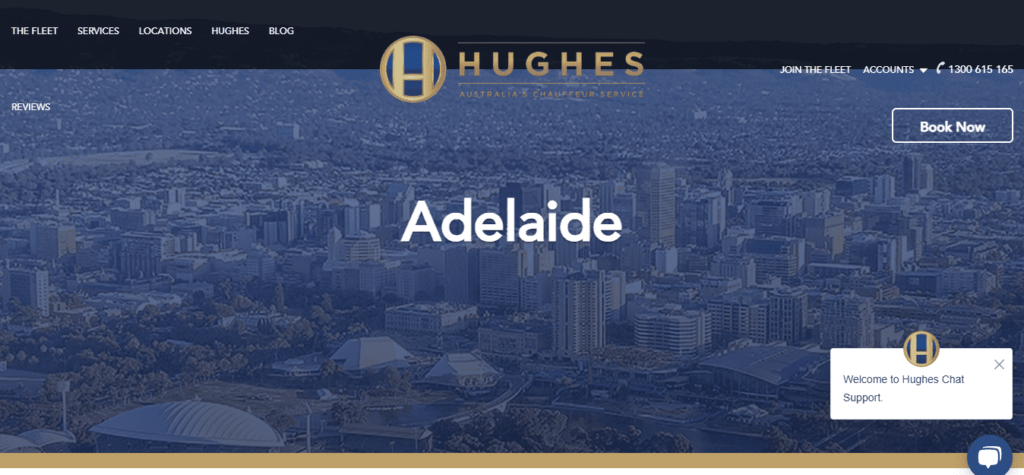 Services: Aiport Transfers, Conferences, Corporate Transfers, Cruise Ship Transfers, International Student Transfers, Special Events, Tours, Weddings
Website: https://www.hughes.com.au
Address: Unit 4 A/4-8 Goodwood Rd, Wayville South Australia 5034
Contact details: 1300 615 165
Operating hours: Monday to Sunday, 24/7
| | |
| --- | --- |
| Google reviews score | 4.9/5 |
| Total reviews | 5/5 |
| Score consistency | 5/5 |
| | |
| --- | --- |
| Company reputation | 5/5 |
| Punctuality | 4/5 |
| Variety of service vehicles | 4/5 |
| Solution-oriented | 3.5/5 |
Luxurious transport fleet
Wide selection of vehicles
Fast and easy price estimate
Quick price estimate feature doesn't work sometimes
Records of canceling bookings at the last minute
Established in 1904, Hughes remains to be one of Australia's leading luxury transportation service providers. They take pride in their highly professional chauffeurs who are handpicked to ensure clients will be driven to their locations safely.
Their drivers have intimate local knowledge of Adelaide. They know the best landmark attractions, wineries, and restaurants, just in case you want to arrange a tour with them.
They have a wide selection of vehicles that can accommodate a single passenger to up to a group of 50+ passengers.
Getting price estimates has never been easier with Hughes. They have a feature on their website in which you can choose from a wide selection of trips all throughout South Australia, and it will quickly generate a quotation.
However, there are times when this feature is down and doesn't work properly. If that happens, we recommend just calling directly through their hotline and asking for a quotation from one of their staff.
Once you've already booked a vehicle, we think it's best to call them occasionally for confirmation prior to the actual day of pickup. They have a record or two of canceling booked services the day before the pickup date.
This is unprofessional, but an instance like this is inevitable. Calling for consistent follow-up can give you an early heads-up and plenty of time to look for another transport service.
5. Marquee Limousines
Services: Airport Limo Hire, VIP Meet & Greet, Wedding Car Hire, Special Event Limo, and Sightseeing Tours
Website: https://marqueelimousines.com/
Address: 107 Warringah Road, Narraweena, NSW 2099, Australia
Contact details:
P +61 2 9695 7371 (AU) / +61 88 155 5053 (Adelaide)
Operating hours: Open 24/7 via chat
| | |
| --- | --- |
| Google reviews score | 4.7/5 |
| Total reviews | 5/5 |
| Score consistency | 5/5 |
| | |
| --- | --- |
| Company reputation | 5/5 |
| Punctuality | 4/5 |
| Variety of service vehicles | 4/5 |
| Solution-oriented | 5/5 |
Luxurious rides
Reputable service
Competitive pricing
Our experience with Marquee Limousines has been nothing short of exceptional. From the moment we booked their airport service, we were met with professionalism and efficiency that set the tone for the entire journey.
The range of services offered by Marquee Limousines is impressive, catering to various travel needs. Whether it's a solo voyage or a group excursion, their fleet boasts luxury and style, ensuring a grand entrance or exit from the airport.
Convenience is the hallmark of Marquee Limousines.
Our chauffeur was punctual, courteous, and impeccably attired, ensuring a seamless transition from airport terminal to vehicle. No waiting, no delays—just a smooth handover that spoke volumes of their commitment to customer satisfaction.
When it comes to reputation, Marquee Limousines truly stands out.
Their name is synonymous with reliability and excellence, having garnered accolades for their top-tier service over the years. It's no surprise they've earned the trust of frequent travelers and corporate clientele alike.
Marquee Limousines strikes the perfect balance between luxury and affordability. While their service exudes opulence, their pricing remains competitive, offering value that's hard to beat in the market.
Every mile traveled with Marquee Limousines feels like a step into a world of elegance and sophistication.
Their attention to detail is evident in every aspect of the experience, from the pristine interiors to the refreshments provided onboard. It's more than just a ride; it's a journey elevated to the extraordinary.
However, they can get very busy during peak days. We advise booking a ride with them ahead of time.
6. MC Chauffeur Services Adelaide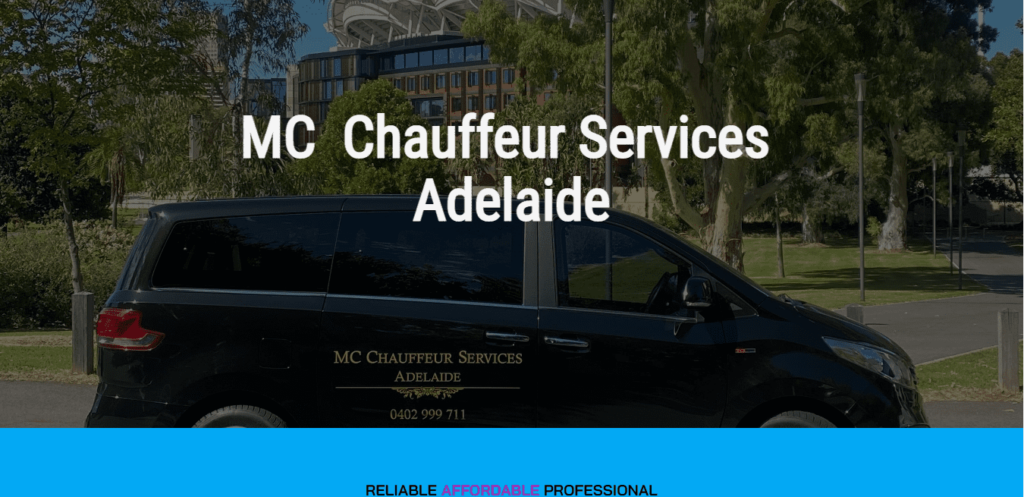 Services: Airport Transfers, Corporate Transfers, Special Events, Tours
Website: https://mcchauffeurservicesadelaide.com
Address: Ashbrook Ave, Payneham, South Australia 5070
Contact details: +61 402 999 711
Operating hours: Monday to Friday, 24/7
| | |
| --- | --- |
| Google reviews score | 5/5 |
| Total reviews | 5/5 |
| Score consistency | 5/5 |
| | |
| --- | --- |
| Company reputation | 5/5 |
| Punctuality | 5/5 |
| Variety of service vehicles | 5/5 |
| Solution-oriented | 5/5 |
Wide range of transport services
Private tours
Female drivers
Transparent prices
Limited tour locations
No booking website
MC Chauffeur Services offers a wide range of transport services, including airport transfers, private tours, special events, and more. Their drivers know the best destinations in Adelaide by heart.
It's a plus that they're transparent with their prices. We think it's highly efficient for clients that they won't have to call or email for a quick quotation.
Pickup service from Adelaide Airport starts for as low as $65.
If you feel like visiting the beautiful city landscapes upon arriving, their drivers will take you to luxurious, private wineries and vineyards in Adelaide. The price for their private tours starts at $199.
However, their tour service is limited to three locations only—Barossa Valey, McLaren Vale, and Adelaide Hills. If you haven't been here before, these famous wineries have breathtaking scenery with premium wine and food experiences.
Should you opt for a fresh, different location, you can't completely customize your itinerary. They can only take you to your preferred location or make a few stops on your way to your hotel or destination.
On the other hand, MC Chauffeur Services is the only one on our list that has professional female drivers. Their female drivers are highly rated for being courteous, highly knowledgeable, and smooth drivers.
They're also very considerate. If you arrive later than your schedule, have left something behind, or want to take a tour in the rain, they won't hesitate to drive you to and fro.
However, you can only book with them through phone or email. They don't have an app or an in-website form for a fast and easy booking process.
FAQs about Shuttle Services in Adelaide