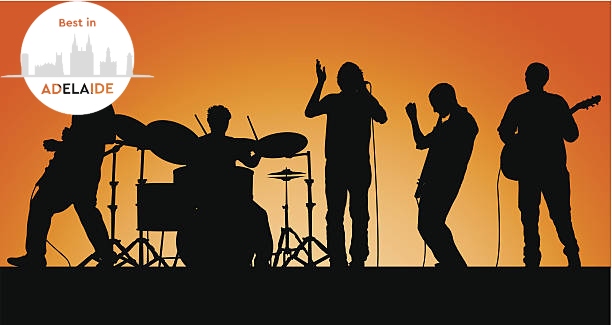 The Famous Music Bands and Artists in Adelaide
Adelaide's music scene absolutely rocks. From solo artists with world-class guitar skills to bands that regularly drop hits, the city is a haven of exceptional musicians.
Turn up your speaker's volume and prepare to vibe with the best musical acts straight out of Adelaide!
Adelaide's Best Blues, Rock, and Metal Bands and Artists
Are you ready to rock and roll? Let's start this list by moshing and vibing to Adelaide's greatest blues, rock, and metal artists!
Bad//Dreems
Let's start with some recent hitmakers. Bad//Dreems is a rock band that was formed in a small warehouse along the banks of River Torrens.
Don't let the band's humble beginnings fool you, though. Ben Marwe (vocals, acoustic guitar), Alex Cameron (lead guitar), Alistair Wells (rhythm guitar), and Miles Wilson (drums) exude star power and legitimate musical talent that can fill up stadiums.
The sound they produce is highly influenced by North American classic rock and punk rock. For us, their major hits "Dumb Ideas" and "Hiding to Nothing" got the electrifying vibe of Led Zeppelin and the raw, stinging angst of Dead Kennedys or Sex Pistols.
So, if you're looking for tunes to rock out to or further proof that punk is not dead, Bad//Dreams is the band for you!
Chris Finnen
The authentic blues sound of America's Deep South reverberates in the work of Chris Finnen. This Adelaidean guitarist is one of the best, and when his records play, you're in for a great time.
The thing I like the most about Chris Finnen is how he incorporates the music of other cultures. He masterfully combines Indian, Celtic, and Native American sounds with the soulful and smooth Southern blues.
This results in songs that are bizarre (in a good way), melancholic, and, of course, rhythmic.
My favorite has to be "Trouble No More", a piece that perfectly captures the ominous melody of blues legend Robert Johnson while still showcasing Chris Finnen's originality.
His Wheaty LIVE performance in 2021 is still one of the best concerts our team has ever seen.
Cold Chisel
Formed in 1973, Cold Chisel is a rock band that survived the test of time. Aside from producing classic rock and roll hits, they also create songs that effectively utilize the sound of genres like R&B, boogie, and blues.
Also, Cold Chisel hits like "When the War is Over" and "Flaming Trees" have the rough and tough sound and spirit of rock 'n roll heavyweights from the 70s like Deep Purple and Free.
Their storytelling technique, however, is greatly inspired by Bob Dylan's legendary catalog.
Cold Chisel dropped songs that discuss politics too, but most of their hits chose to highlight the culture and everyday life of Australia. I believe this is one of the main reasons why they're well-respected and loved in Adelaide.
If you're into modern acts like Greta van Fleet and Earthless, we strongly suggest giving Cold Chisel a listen.
I Killed the Prom Queen
Get those black eyeliners ready and prepare to enter the mosh pit. I Killed the Prom Queen is a South Australian metalcore band that is often regarded by critics and fans as the best one Adelaide produced.
In case you don't know, metalcore is a modern subgenre of metal that fuses the components of extreme genres like death metal, black metal, and hardcore punk. It's dark, aggressive, loud, and booming with energy—basically, a metalhead's dream.
Whenever I listen to I Killed the Prom Queen, I hear the intensely melodic and powerful sound of hardcore bands like Poison the Well and Hatebreed (but made faster).
Their songs "To the Wolves" and "Sharks in Your Mouth" are my favorite tunes to headbang to.
But that's enough talk from me. Why don't you listen to their bangers to know why they're considered legends in the Adelaide underground scene?
Exploding White Mice
This band's name isn't the only catchy thing. Exploding White Mice was (sadly, they disbanded in 1999) a successfully South Australian pop-punk band that introduced the sound of Adelaide's garage punk to the world.
They're highly influenced by punk royalties, mainly, The Ramones and The Stooges. Their music is often categorized as catchy, energizing, and the perfect recipe for an exciting party (party-goers in the 90s can probably attest to this).
To this day, bangers like "Born Loser" and "Always Ends the Same" are still being played on Adelaide's top radio stations. Their groundbreaking album A Nest of Vipers also still remains one of the best pop-punk projects I've ever listened to.
Relieve the spirit of the 90s by listening to Exploding White Mice.
The Angels
If you grew up during the era of pub rock, you'd know how massive The Angels was, not just in the country but also internationally. This classic rock Australian band has a raw and authentic sound that influenced the likes of Gus 'N Roses and Nirvana.
Yup, you read that right. The Angels' fast guitar riffs, unrefined vocals, and powerful energy helped shaped the sound of two of the biggest bands to ever walk the planet!
As a GnR and Nirvana fan, I can really hear The Angels' influence on them, most especially if you listen to the latter's older hits like "Am I Ever Gonna See Your Face Again" and "Dogs Are Talking."
If you're going to listen to them now, please make sure that there are no fragile valuables near you. These rocking tracks might make you dance and mosh too much!
Adelaide's Best Hiphop Groups and Artists
It's now time to give the spotlight to the city's best rap emcees. Prepare yourself for some hard-hitting lines and catchy beats for here are the best hip-hop groups and artists from Adelaide!
Hilltop Hoods
Without Hilltop Hoods, it's hard to picture the Australian hip-hop scene. This group consists of homegrown talents from Blackwood, Adelaide, and is considered by most critics as the pioneers of larrikin rap.
This subgenre of hip-hop focuses on the lifestyle of mischievous but good-hearted men. In terms of sound, Hilltop Hoods' songs are clearly influenced by New York artists like Nas, Biggie, and Wu-Tang Clan.
What sets Hilltop Hoods apart from their influences are their imagery, tone, and topics. Although their tracks use the proven formula of American boom bap, Hilltop Hoods' songs focus more on life, positivity, and having a great time.
For someone who enjoys the grittier and darker subgenres of hip-hop, this rap collective is a breath of fresh air.
OC3ANEYES
OC3ANEYES is an artist who embodies the modern style of mainstream rap. Although she's generally considered an underground artist, her sweet-sounding and light-hearted electro-pop style is the sound that dominates sites like TikTok and Soundcloud.
Her sound is a unique combination of Billie Eilish (OC3ANEYES is a reference to a song by Billie) and Mallrat. She's the perfect artist to listen to when you want to chill out or when you're in a great mood.
I think her songs "Frozen Coke" and "Fish Feels" perfectly sum up her identity and style. I highly recommend these as starting tracks if you want to get into OC3ANEYES.
Elsy Wameyo
Elsy Wameyo is one of the up-and-coming stars who I believe deserves more recognition. She has a distinct style and an extraordinary persona that can make her the queen of the new wave of Australian hip-hop.
In the words of hip-hop fans, "Elsy Wameyo always drops deep and hard bars!" and I'll have to agree with this statement. She flawlessly rhymes multiple words while not losing control of the beat and the song's message.
Her rapping technique and sublime story-telling skills are similar to Kendrick Lamar's and Nas'. What makes her so appealing, though, is her ability to incorporate gospel music into her songs.
The fusion of hip-hop and gospel music might sound off-putting at first, but Elsy Wameyo's musical gift makes it work. I recommend listening to her best works so far, "Nilotic" and "River Nile", to know why.
EAST AV3
This group is the reason why music should never stick to conventions. EAST AV3 is a rap trio (Kane, Trop3z, and SENSEI) from Adelaide that combines the best bits of electronica, pop, indie, and hip-hop.
The product of their experimentation is an avant-garde sound that will make your head bop and your feet dance. Their tunes remind me of the early works of Gorillaz and Daft Punk (but with extra swag and angst).
Additionally, their visuals are unpredictable and attention-grabbing. The music video for their hit "NAHNAHS" look like a calm, let's-go-on-a-chill-drive, summertime clip from the 80s.
But on their song "RUGRAT$," all hell breaks loose with all the psychedelic and violent imagery they used. EAST AV3's "I don't care what you think" identity is so refreshing for Adelaide's listeners, and I'm all here for it.
J-Milla
J-Milla is an Aboriginal rapper from Adelaide who champions hip-hop's original goal: social reformation through music. His tracks discuss sensitive issues like racial discrimination, police brutality, and Indigenous imprisonment.
In terms of style similarity, his way of rapping is identical to J. Cole and Logic (when he raps slowly). The beats that accompany his tracks are somber, and the way he delivers his rhymes is slow yet hard-hitting.
I think the song he dedicated to Kumayanji Walker, an Aboriginal who was victimized by police brutality, perfectly encapsulates J-Milla's style. The track is entitled "Unlock the System," and it will make you ponder about social injustice.
J-Milla's recent song, "Nicest", is also a great introduction to his astounding discography.
Adelaide's Best Pop, R&B, and Soul Artists
Let's now talk about the most popular and talented mainstream singers of Adelaide. Be ready for the glitz, glamor, and bright lights for here are Adelaide's best pop, R&B, and soul artists!
Sia
Sia ruled the music world in 2014 when she released her worldwide hit, "Chandelier." This popstar was born and raised in Adelaide where she began her music career as a frontwoman for an acid jazz band.
The quality of her voice is impeccable and resonating. When she sings, you can hear the emotions and dramatic pizzazz she puts in every sound she utters (I mean, just listen to "Chandelier" and "Unstoppable").
And when it's time for the chorus, she'll let you hear her remarkable range! Her creative and thought-provoking music videos are also worth mentioning.
"Chandelier's" MV is already a classic, but my favorite has to be the one she used for "Elastic Hearts." It's always a great pleasure to listen to artists whose works are extremely catchy and provocative.
James Taylor Move
Speaking of ruling the music world, there was a time when the genre of psychedelic pop dominated Adelaide. During this era, James Taylor Move was one of the biggest names.
In case you don't know, psychedelic pop is a category of music that's known for trippy melodies achieved through features like fuzzy guitar riffs and echoing vocals.
If you listen to their hit "Magic Eyes," you'll know what I'm talking about. The song is weirdly hypnotic with its use of long, psychedelic riffs, echo chambers, and reverbs.
It's very close to the sound popularized by bands like Pink Floyd and The Beach Boys.
Tkay Maidza
Tkay Maidza overflows with star power. She can technically be classified as a rapper too, but I believe that her pop-ish singing style is what makes her a star.
This multi-awarded singer has a sweet and soothing voice. Her majestic songs are a blend of pop, R&B, and hip-hop.
Her creativity in her drips and music video is also one of her major assets. Even when she's not singing, she can turn heads with her flashy, artsy, and feisty outfits.
Her 2021 hit, "Cashmere," isn't just a gift to the ears but a blessing to the eyes too. The colorful and flowery visuals of this song's MV can make you feel relaxed and happy.
Rachael Leahcar
During the first season of The Voice Australia, a young and talented girl from Adelaide took the country by storm. Her name is Rachael Leahcar, the eventual third-placer of the competition who then became one of Australia's best singing gems.
Rachael Leahcar's singing style uses pop, soul, and classical music elements. She controls and projects her booming vocals well, and her tone is full of character too.
To this day, her rendition of the French classic "La Vie en Rose" is still one of my favorites. Rachael Leachar's version showcased her top-notch vocal command without losing the romantic and deeply soulful qualities "La Vie en Rose" is known for.
The same thing can be said for her song "Shooting Star," which for me, deserves more recognition.
Lachey Doley
Famous for playing the Hammond organ, Lachy Doley is an R&B and soul singer who is energy personified. His masterpieces can even be categorized as "rock music" because they can get funky and invigorating.
His singing voice is clear and full of emotions. For me, Lachy Doley's charisma is also enchanting, as whenever he's on stage, he can easily capture the audience's attention and take control of it until the set's end.
Speaking of his performances, I strongly recommend watching Lachy Doley's studio session above, as it's a complete musical treat.
In the show, Lachy Doley reminds Australia why he's a music legend and a master of his craft. He exceptionally sang, danced, and displayed his keyboarding skills like there was no tomorrow.
Swanee
It might be safe to say that extraordinary musical talent runs in this singer's bloodline. Swanee, the brother of the equally legendary Jimmy Barnes, is a household pop singer in Adelaide.
Swanee started his career in a hard rock band but achieved success when he went solo. His rock 'n roll roots, though, still helped him achieve musical glory, as the inherent grit of his singing tone made him stand out from his contemporaries during his prime.
He has a talent when it comes to tone flexibility too. In his 1982 banger, "Temporary Heartache," Swanee demonstrated his cleaner and more high-pitched singing voice, and the result is a classic song that might give you last-song syndrome.
Ah, I shouldn't have thought about it because the beautiful lyrics and melody of "Temporary Heartache" are now running in my head!
FAQs about Music Bands and Artists Famous in Adelaide
---