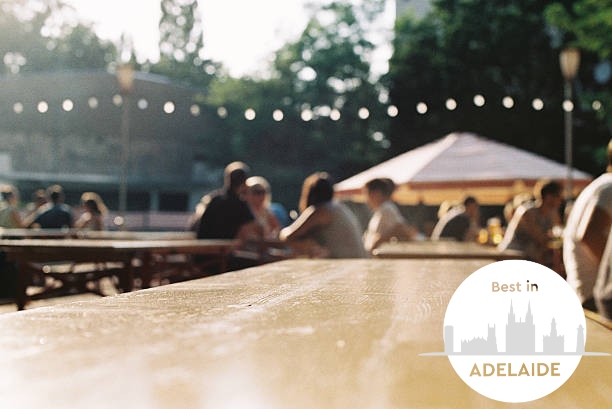 Hoppy Hideaways: The Best Beer Gardens in Adelaide
We got the inside scoop on Adelaide's beer gardens, from the iconic Palais Hotel to the Stables Beer Garden, where cold brews meet good vibes.
Check these out! Our team promises a beer-filled and hop-tastic adventure for the ages.
Sweet Amber Beer and Pizza
Address: 67A Semaphore Rd, Semaphore, SA 5019
Contact Details: 0432 049 665
Operating Hours:
Mon – Closed
Tue to Thu – 5 pm to 9 pm
Fri – 1 pm to 10 pm
Sat – 12 pm to 10 pm
Sun – 12 pm to 8 pm
It's hard to say no to Sweet Amber's beer and pizza, especially with lush greenery and the sea as the views while you drink and dine.
There are multiple drinks here, but our team prefers Bronze Whaler and Portside.
Bronze Whaler is a domestic draught beer with a well-balanced, rounded mouthfeel and low bitterness. The malt character is subtle but discernible, making it unmistakably a craft beer.
Portside presents a firm bitterness skillfully offset by a rounded mouthfeel with a subtle hint of resinous hop character. The malt profile remains restrained, with notes of caramel biscuit.
Both beers are excellent choices for wood-fired oven pizza because their balanced profiles and moderate bitterness complement the rich and savory flavors of the said dish.
Tips:
Not in the mood for beer? Check their list of cocktails, wines, and spirits.
Bring your pets to this dog-friendly beer garden!
Head to Sweet Amber's website to see their current events or discounts. They typically make prices lower on holidays.
Stables Beer Garden
Address: 58 Hindley St, Adelaide, SA 5000
Contact Details: 0432 049 665
Operating Hours:
Mon to Thu – 11 am to 10 pm
Fri – 11 am to 12 am
Sat – 11 am to 5 am
Sun – Closed
The rustic ambiance of Stables Beer Garden stands out. This beer garden has varnished wooden walls and a spacious area with stone flooring.
Our team's favorite drinks here are Pirate Life Ale and Coopers Blue, both ideal pairs for their fiery chicken wings and savory wood-oven pizza.
Pirate Life Ale has a bold and strong flavor with rich maltiness and prominent bitterness from hops.
Coopers Blue has a refreshing taste with fruity notes and a hint of malt sweetness, making it lighter and more approachable. It pairs well with burgers and beef BBQ ribs.
Tips:
Check Stables Beer Garden's cocktails and wines too.
The footpath dining area should be your go-to spot if you want to smoke.
Book online to ensure your spot, as it can get crowded, particularly on weekends. Additionally, you can book their beer garden for private events.
Wear light clothing during warmer months. Their beer garden isn't air-conditioned.
The Archer
Address: 60 O'Connell St, North Adelaide, SA 5006
Contact Details: (08) 8361 7223
Operating Hours:
Mon – 10 am to 12 am
Tue to Wed – 11:30 am to 9 pm
Thu – 11:30 am to 10 pm
Fri – 11:30 am to 12 am
Sat – 11:30 am to 1 am
Sun – 10 am to 12 am
The Archer's iconic beer garden in Adelaide is on a balcony, offering an open, airy space with fantastic views of bustling O'Connell St. While you have your drink of choice, you can grab a book from their elegant library!
They have 15 beer taps, providing guests with ice-cold lagers, IPAs, and stouts. You can also order bottled ales and ciders in cans.
We recommend heading to their bar if you prefer the bolder flavor and kick of gin. They have over 50 gins from different regions, such as barrel-aged, fruit-infused, and organic gins.
Their top-selling meals include garlic pizza, buffalo wings, and salt and pepper squid. You should also pair your drinks with their fish and chips if you're visiting during lunch hours.
Tips:
You can rent The Archer's library for private occasions.
The Archer has different promos daily. Head to their website to see what they're currently offering.
Some recurring promos are Seafood Tuesdays, Schnitzel Wednesdays, and Burger Thursdays.
Have a game of pool in their classy game room.
The Gully Public House and Garden
Address: 1349 North East Road, Tea Tree Gully, SA 5091
Contact Details: (08) 8361 7223
Operating Hours: Daily – 9 am to 2 am
The Gully Public House and Garden's beer garden is one of the most aesthetically stunning drinking spots in Adelaide.
The garden features vibrant greenery, well-tended landscaping, and cozy seating arrangements, all bathed in the soft glow of overhead string lights.
It also includes charming elements such as wooden tables, rustic décor, and multiple potted plants. Moreover, soothing music plays here.
Their Pirate Life Ales and Great Northern Largers are massive hits to customers. You may also opt for cocktails, wines, and gins.
The Gully Public House and Garden's pub classics should be your go-to chow here. The large and mouthwatering servings of their fish and chips, schnitzels, and seafood baskets are terrific for groups.
Tips:
Try their vegan options if you want healthier alternatives with your drinks.
You can book their beer garden for events like private parties and weddings. You can rent sections only if there aren't that many guests.
Their weekly specials regularly change. Head to their website to see what they offer presently.
They also provide promos and discounts on holidays and sporting events.
The Bridgewater Inn
Address: 387 Mount Barker Rd, Bridgewater, SA 5155
Contact Details: (08) 8339 1151
Operating Hours:
Mon to Thu – 10 am to 11 pm
Fri to Sat – 10 am to 1 am
Sun – 10 am to 10 pm
The Bridgewater Inn's multi-story beer garden showcases nature's tranquility and splendor, surrounded by lush greenery and nestled alongside the meandering Cox Creek.
It has wooden tables and benches beneath the shade of tall eucalyptus trees. As the sun sets, fairy lights strung through the trees come to life, casting a warm and magical glow over the garden.
Draught, lagers, and ginger beers are the must-taste drinks here. Their unique and delicious cocktails are also worth every penny, with the Nutella Chocolate Martini and Banoffee as our most suggested.
Their beef and chicken schnitzels are famous among patrons, so give them a go. You can also balance your drinks with their glazed pork ribs and large salted chips.
Tips:
Don't forget your pup! The Bridgewater Inn is dog-friendly.
They even offer a specialized menu for dogs, so check it out.
You can book their rooms for special gatherings.
Check their recurring and new events. Our favorite is their monthly 80s throwback parties!
You can also bring your kids here. Next to The Bridgewater Inn is the Bridgewater Reserve Playground, complete with kid-friendly climbing platforms and serene picnic grounds.
Watch the sunset here. It's magical!
Bridgewater gets cold during colder seasons. Wear thick clothing if you're going to drink around these times.
Gilbert Street Hotel
Address: 88 Gilbert St, Adelaide, SA 5000
Contact Details: (08) 8231 9909
Operating Hours:
Mon – 10 am to 10 pm
Tue to Thur – 10 am to 11 pm
Fri – 10 am to 11:30 pm
Sat – 11 am to 1 am
Sun – 11 am to 11 pm
The beer garden at Gilbert Street Hotel boasts a plethora of hanging plants that cascade gracefully from overhead trellises. It's an open-air drinking spot with a light brown color scheme that complements the natural surroundings.
Live music from DJs adds to the vibrant ambiance. Intricate ironwork adorns the walls, and sunlight generously treats early-arriving guests to its warm glow.
This place brims with tap beers, with over 20 flavors and brands.
The staff recommended Bellhop and Aristocrat for lovers of robust, bitter, and dark beers. OnlyFlans, Cucumber Hippy, and Mea Culpa are fruity, sour, and creamy alternatives.
The food? You can't go wrong with their 1-kg original buffalo chicken wings bowl.
The dipping sauce depends on your preference, but blue cheese is a must-try.
Tips:
Book their rooms for rent for private dining, corporate events, and cocktail parties. These include the beer garden, a private bar named Piccolo Room, and the luxurious, grand hall aptly called Grande Room.
Check Gilbert Street Hotel's current and upcoming events. Holidays are the best times to drink if you want discounts.
Be updated on the performers' lineup by checking Gilbert Street Hotel's website and social media posts.
Palais Hotel
Address: 86 Esplanade, Semaphore, SA 5019
Contact Details: (08) 8341 6333
Operating Hours: Daily – 11 am to 12 am
Palais Hotel's beer garden's light and blue color pattern evokes a tranquil seaside atmosphere.
Verdant potted and hanging vines encircle it, while parasols provide shade. Patrons can also enjoy an uninterrupted panoramic view of Semaphore Beach.
We tried their tap beer and cider pints, savoring the rich, malty notes of the beer and the crisp, refreshing burst of apple and pear in the cider.
Their chicken+chorizo pizza and crispy chicken burger go well with the drinks. We also suggest their battered chicken and nuggets if your kids come along.
Tips:
Palais Hotel's Seaside Bistro is perfect for fine dining. Visit during lunch hours for more affordable prices.
Visit around 8 pm if you want live entertainment.
Don't miss out on their daily events. Our favorite recurring ones are Beach Bar Fridays and Weekday Food Specials.
Book their ballroom if you're throwing an event with several guests. This opulent, colonial-inspired room can host up to 300 guests.
The Edinburgh Hotel
Address: 7 High St, Mitcham, SA 5062
Contact Details: (08) 8373 2700
Operating Hours: Daily – 10 am to 12 am
Within the Edinburgh Hotel's premises resides the renowned Ed Garden. This beer garden is a grassy expanse with charming pergolas, flourishing vines, and luxuriant plants.
Beer barrels and wooden tables await your group, whether you have a party of 20 or 150! Going solo isn't a problem, as the garden has tree-shaded private corners.
Don't leave without trying their Cooper's Vintage Ale. This drink delivers a burst of caramel sweetness delicately intertwined with hints of toffee and dried fruits.
The Edinburgh Hotel's succulent and savory lamb burger is this ale's best drink partner. The staff also suggested matching their sought-after sweet and sour pork with more powerful and bitter bevvies, like their IPAs and gin.
Tips:
Visit The Edinburgh Hotel's Gaming Room. It has arcade machines and a relaxing lounge.
Join their Gaming Members Social Club and Jackpot Loyalty Program to gain access to private events and rewards.
Keep an eye out for daily or happy hour specials at The Edinburgh Hotel.
The friendly staff can give recommendations based on your taste preferences. They can provide insights into unique and local brews.
Visit The Edinburgh Cellars to buy or see their best drinks, from reds to spirits.
Reserve a table in advance to secure your spot in the beer garden. Their beer garden is crowded during busy days or special events.
The Jade
Address: 142-160 Flinders St, Adelaide, SA 5000
Contact Details: 0473 260 048
Operating Hours:
Mon to Wed – 8 am to 3 pm
Thu – 8 am to 10 pm
Fri – 8 am to 12 am
Sat – 6 pm to 12 am
Sun – Closed
The Jade's beer garden, bathed in natural light, provides a picturesque backdrop for guests to unwind, catch a local band's performance, or savor a refreshing cocktail or beer.
In addition, the timeless beauty of its old-world architecture makes this spot more scenic, especially with the colorful seating arrangements amid vibrant flowers and lush greenery.
The show's stars, though, are the drinks, specifically The Jade's Indian Ale and American Brown Ale.
Their Indian Ale has bold and assertive hop bitterness, imparting citrus and pine flavors.
On the other hand, American Brown Ale opens with a medley of roasted malt flavors, evoking nuances of chocolate, coffee, and toasted nuts.
These two are ideal for most meals, but our team thinks their chemistry with The Jade's meaty woodfire pizza is hard to top.
Tips:
Don't miss out on The Jade's vegan and pastry options.
The Jade provides a virtual tour on their website, which is super helpful for those planning to book their venues.
The coffee here is top-notch. We recommend going for cappuccino.
Barossa Valley Brewing
Address: 2A Murray St, Tanunda, SA 5352
Contact Details: (08) 8563 0696
Operating Hours:
Mon – 12 to 5 pm
Tue to Wed – Closed
Thu to Sun 12 to 5 pm
Barossa Valley Brewing's beer garden is a lively drinking spot featuring a grassy area with towering trees and rustic beer barrels. Parasols also ensure ample shade on sunny days, while vintage cars add a touch of nostalgia.
Additionally, you'll notice the walls adorned with an abundance of flourishing plants.
We enjoyed Barossa Valley Brewing's Easy IPA and Imperial Red IPA.
Easy IPA greets the palate with bright, citrusy hops that resemble freshly peeled tangerines and zesty grapefruits.
In contrast, their Imperial Red IPA has caramel and toffee notes reminiscent of freshly baked dark bread. We also picked up hints of dried stone fruits and a touch of molasses.
The food here is homemade and simple, but their exceptional flavors hit the spot. Our standout selections include their beer burger, onion rings, and pork dumplings.
Tips:
Don't have time for a visit? You can order Barossa Valley Brewing's beers online.
Drink on a Tuesday to help people in need and the environment. Barossa Valley Brewing calls this Charity Tuesdays, and 50% of their earnings on this day get donated to organizations with great causes.
The Feathers Hotel
Address: 516 Glynburn Rd, Burnside, SA 5066
Contact Details: (08) 8249 7700
Operating Hours: Daily – 9 am to 3 am
Our team adores The Feathers Hotel's minimalist and spacious beer garden, characterized by a soothing pastel brown and white color scheme.
Hanging plants and vines suspend from the ceiling, creating a harmonious blend of nature and contemporary aesthetics.
The Alcoholic Lemon Beer served here is a refreshing revelation for the taste buds. It delivers a bright citrus zest with a subtle sweetness that harmonizes perfectly with the beer's effervescence.
The Feathers Hotel's Cooper's Stout goes hard too. Each sip tastes like roasted coffee and dark chocolate with a velvety smoothness.
When it comes to drink pairing, the savory wagyu beef schnitzel and briny sea salt and black pepper squid are standout choices.
Tips:
Swing by The Feathers Hotel's gaming room. This room has a total of 38 state-of-the-art gaming machines, including popular titles such as Dragon Cash and Lightning Cash.
Check their cellar to see their well-kept wines.
Don't forget your furry friend! The hotel is dog-friendly.
_____________________________________________________________________