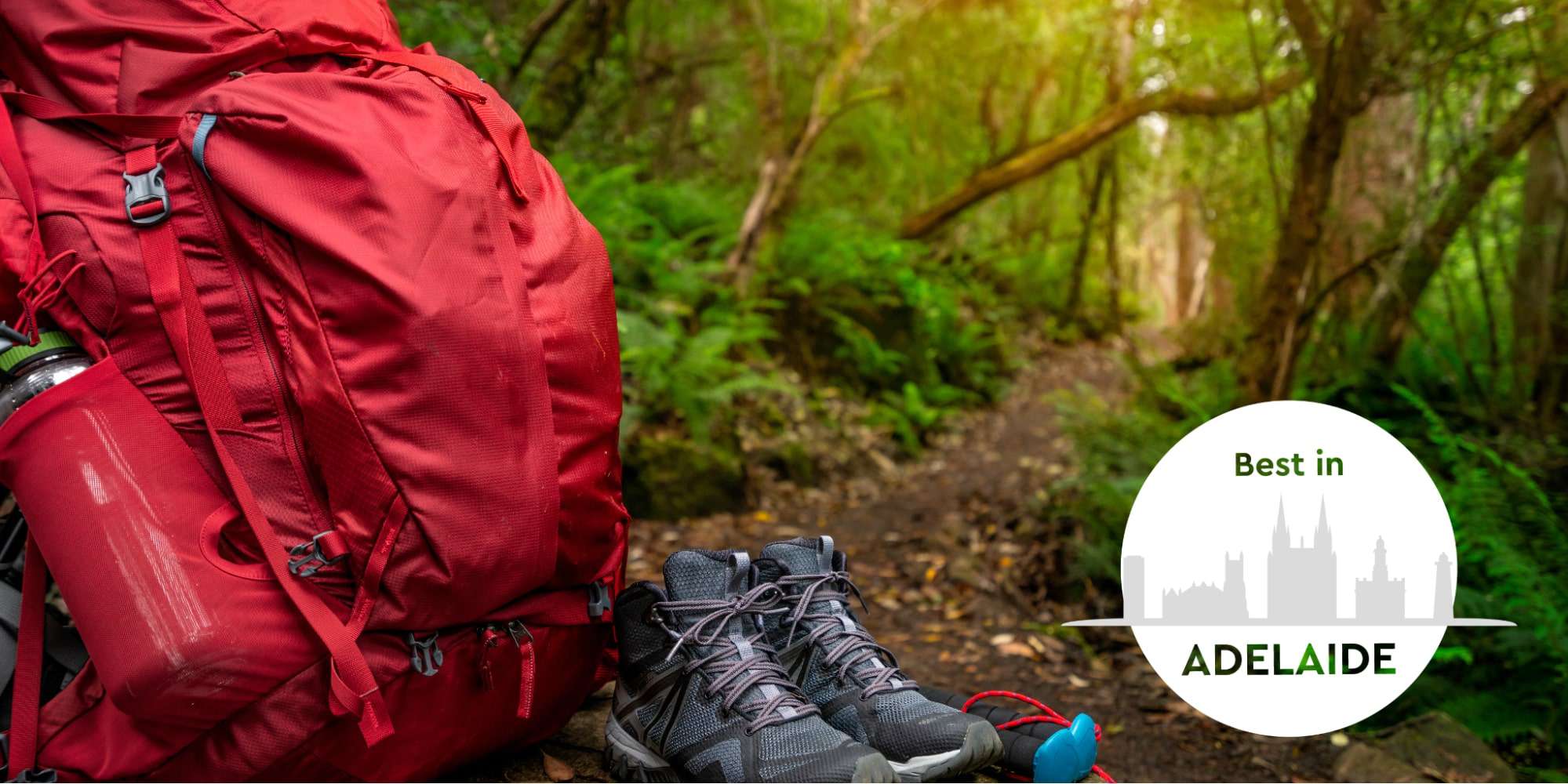 Hiking Havens: 9 Best Hiking Spots to Conquer in Adelaide
Adelaide is filled with some of the most exciting hiking spots in the country. From ones near waterfalls to those near rolling hills, there are plenty of spots to travel here.
Here, find out which spot you shall conquer next based on its level of difficulty, the view it offers, and the season when it's best visited. Strap on those hiking boots, grab a water bottle, and do some stretching as you embark on an adventure in Adelaide's best hiking spots!
River Torrens Linear Park Trail
Website: https://www.parks.sa.gov.au/parks/morialta-conservation-park
Address: Henley Beach to Athelstone, Henley Beach SA 5022, Australia
First time hiking? River Torrens Linear Park Trail is definitely a great choice for you.
The trail has the perfect balance of everything: picnic spots, a view of both the city and nature, and toilets to make the trip comfortable. Even if it's one of the longest trails (at 30km), you can always dip out in case your hike gets too strenuous.
While the trail might look like a breeze at first glance, it gets a bit steep around Athelstone, so you know you're in for an adventure. As you take a trip here, take lots of pictures of the River Red Gums, which flowers during summer—it's a wonderful sight to behold!
Pro tip:
Given the high number of cyclists on this path, stay vigilant, as not all bikers signal their approach.
Morialta Conservation Park
Website: https://www.parks.sa.gov.au/parks/morialta-conservation-park
Address: Morialta Falls Rd, Woodforde SA 5072, Australia
Morialta Conservation Park is a stunning spot because it is filled with rugged ridges and gullies in shades of brown and cobalt. The view at its peak of 491m will set your adrenaline coursing, making it a must-visit for daredevils!
In addition, you can also try the Mori­al­ta Rock-climb­ing Zone with various levels of difficulty to match any climber's skill. Careful not to look down while mid-climb, though!
If all that seems a bit too wild for your taste, you can always take a leisurely stroll instead and bask in the beauty around the waterfalls. There are plenty of facilities, including picnic areas, BBQs, and toilets in the area to make your stay more pleasant.
Pro tip:
The best time to see Morialta Falls at its most powerful is during the winter.
Sturt Gorge Recreation Park
Website: https://www.parks.sa.gov.au/parks/sturt-gorge-recreation-park
Address: Flagstaff Hill SA 5159, Australia
Sturt Gorge Recreation Park has expansive hills that offer just the right challenge to leave you sweaty yet eager for more! There are 18 trails in total for walking, with some also used by cyclists (who give way to walkers).
For a pleasant walking experience and the best views, the best trails to follow are Surf and Turf (1.2 km), Sidewinder (2.8 km), and Lakeview (1.5 km).
Those who want something more challenging should definitely try Par­ri­an­na Link Trail (400 m), which features several steep inclines that'll keep you on your toes.
It's a popular spot for those who want to take their pooch for a trip too. Just remember to keep them on their leads (no longer than 2 meters) at all times!
Thrillseekers will especially like the towering dam that'll give you the butterflies as you look down from above. It's a popular spot for shouting too, so feel free to do so to destress!
Pro tips:
Be careful when visiting the park around summertime, as there are snakes in the area. Watch your step when hiking, and wear long boots to protect yourself!

The park has no facilities, meaning that you should come prepared with enough food and water before you come here.

Time your visit in either autumn or spring, especially following a good rain. That's when you'll be treated to a stunning display of wildflowers in full bloom.
Anstey Hill Recreation Park
Website: https://www.parks.sa.gov.au/parks/anstey-hill-recreation-park#maps
Address: Perseverance Rd, Tea Tree Gully SA 5091, Australia
If you want a rugged trail with plenty of challenging steep terrain, Anstey Hill Recreation Park is the spot for you. Wildflower Wander, at 1.35 km, is equal parts challenging and rewarding, as its steep sections are partnered with stunning views of native orchids and birdlife.
For beginners, there's no need to fret. You can start with the Geological Hike, a one-hour trek that leads you to "The Gun Emplacement." This treeless plateau is believed to be a result of millions of years of weathering and natural evolution, making the view especially memorable.
Along the way, you'll see plenty of native wildlife such as gray kangaroos, koalas, and wattlebirds. Take lots of pictures from a distance so as to disturb them!
Pro tip:
Almost all of the walking trails here are filled with native birds and reptiles, including some endangered ones. Be sure not to disturb them in their natural habitat by always watching your step.
Walkley Heights
Address: Walkley Heights SA 5098, Australia
Walkley Heights is one of Salisbury's hidden gems, with it being just 10 kilometers from the city. It has plenty of facilities like toilets and great picnic spots, making your hiking adventure here a breeze.
During the spring, the place transforms to an enchanting view of blossoming golden Kangaroo thorns, gum trees, and yellow wattles. Following the Dry Creeks trail (14 km) during this season is highly recommended as you'll see stunning views of the river, several quarries, and gardens.
The spot is also frequented by the Salisbury Heart Foundation Walking Group, so you know that the trail is suitable for different levels of fitness. The path is mostly flat and has plenty of benches by the sides in case you need to sit down for a bit.
Pro tip:
You should definitely check it out after a good rain because that's when you'll get to enjoy the soothing sound of the creek even more.
Shepherds Hill Recreation Park
Website: https://www.parks.sa.gov.au/parks/shepherds-hill-recreation-park
Address: Ayliffes Rd, Saint Marys SA 5042, Australia
What really makes Shepherds Hill stand out is its stunning combination of the Adelaide plains, the nearby hills, and the coastline.
It's also perfect for families because the walking trails here are only Grade 2 and 3 levels (easy to moderate). Taking only 45 minutes at most, you can bring your dog along for a walk, especially for the River Red Gum Loop and Seaview Loop.
The park is especially great for recurring visits because the park has a horse ride and archery club. With its expansive groves of red gums and lush grassy woodlands, the park offers a delightful experience for all visitors.
Pro tip:
It's sweltering here at the park during summer, so be sure to bring lots of water with you when visiting.
Hallett Cove Conservation Park
Website: https://www.parks.sa.gov.au/parks/shepherds-hill-recreation-park
Address: Ayliffes Rd, Saint Marys SA 5042, Australia
Hallett Cove Conservation Park is one of the most intriguing hiking trails in Adelaide. It displays evidence of an Australian ice age that is theorized to be around 280 million years ago!
You'll also get to see the Sugar Loaf here, a mound of earth made from thousands of years of erosion and rain. It can be found through the Glacier Hike (3 km return), which takes about 2 hours to finish, and which has plenty of spots for photos.
If you're up for a bit of a stroll, check out the Marion Coast Park Path (7.2 km long). Along the way, you can swing by the Boatshed Café, which makes the path more accessible for many.
Pro tip:
Pay close attention to signs so you don't get lost.
Watiparinga Reserve
Website: https://www.nationaltrust.org.au/places/watiparinga-reserve/
Address: Eden Hills SA 5050, Australia
Watiparinga is a Kaurna name for "plenty of water", which is evident in the creeks found in the reserve. Here, you can catch glimpses of honeyeaters, galahs, wattle birds, noisy miners, and a whopping 57 native bird species.
The main walking trail here is the Shepherds Hill Viaduct Track Loop (6.1 km circuit, 2.5 hours) where you'll see a lovely sight of red gum and grey box trees. It's a Grade 4 hike, which means only those with prior experience should try it.
Along the path, you'll also see interesting bits of Adelaide's history that'll make your trip a blast. One is a cave near Eden Hills, which might seem unassuming at first, but was actually once used by thieves and rogues (not available for entry).
Be on the lookout, too, for remnants of the railway line that connected Adelaide to Melbourne, which was operational until 1919!
Pro tip:
Parts of the area flood when it's very rainy, so it's best to avoid visiting during Winter (June to August).
Belair National Park
Website: https://www.parks.sa.gov.au/parks/belair-national-park
Address: Upper Sturt Rd, Belair SA 5052, Australia
Belair National Park is the oldest one in Adelaide, and it's home to the Old Government House, which still has its original architecture. It's one of the longest-standing remnants of the colonial period.
You can check this out by taking a leisurely stroll on the Lorikeet Loop Walk. It's just an hour long and it's super family-friendly—you can even roll with strollers!
The best hiking path here is the Waterfall Hike (6.5 km circuit), where the waterfalls flow after heavy rainfall. The beauty comes with the price of having to walk through a slippery path, though, especially while passing the Echo tunnel and the rocky path.
Pro tip:
If you're bringing children along with you, be sure to always have them supervised. Watch out for areas without fences.
---