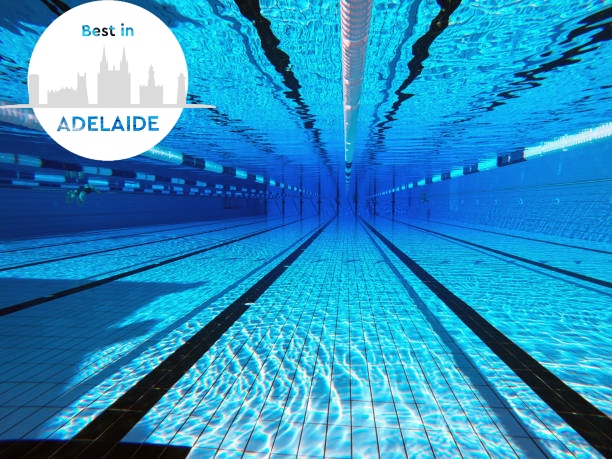 Swimming in Style: Best Indoor Pools in Adelaide
If you're tired of sinking in Adelaide's sweltering heat, we've got just the ticket!
We dove into the coolest indoor pools in town, from the Adelaide Aquatic Center with its Olympic-sized splendor and the SA Aquatic & Leisure Center boasting slides that'll make your heart race.
This article has all the info on where to beat the heat and take a dip!
Adelaide Aquatic Center
Address: Jeffcott Rd, North Adelaide, SA 5006
Contact Details: (08) 8203 7665
Operating Hours:
Mon to Fri – 6 am to 9 pm
Sat to Sun – 7 am to 6 pm
The Adelaide Aquatic Center is one of the most famous spots in Adelaide for indoor swimming, with facilities and features catering to different interests and age groups.
Since its opening in 1969, it remains well-maintained and updated.
At the heart of the center lies the 50-meter Olympic-sized main swimming pool split into two 25-meter sections with depths ranging from 1.1 meters to 2 meters.
Seasoned swimmers, aspiring athletes, and the general public typically use this facility, as it's ideal for lap swimming.
Recreational swimmers usually choose the dive pool. 1.1 meters to 2 meters deep, this pool has several diving boards ranging from 1 meter to 10 meters high.
The leisure pool is the go-to swimming zone for families with kids. It's our team's favorite because it has exciting and colorful waterslides and a maximum depth of 0.9 meters, guaranteeing the safety of our little ones.
Norwood Swim School (Swim Plus)
Address: 273 The Parade, Beulah Park, SA 5067
Contact Details: (08) 8203 7665
Operating Hours:
Mon to Thu – 7:15 am to 8:15 pm
Fri -7:15 am to 7:15 pm
Sat – 8:15 am to 3:30 pm
Sun – 8:15 am to 12:30 pm
Got kids looking to learn how to swim? Norwood Swim School tailors its services mainly to children, providing kid-friendly instructors and programs tested for over 50 years.
The center's cutting-edge 1×25-meter pool is heated daily to 31.5°C (88.7°F).
Some of the Norwood Swim School's highly recommended programs are Swim and Play, Swimming Strokes, and Squad Program. Lessons usually last from 20 minutes to 2 hours.
SA Aquatic & Leisure Center
Address: 443 Morphett Rd, Oaklands Park, SA 5046
Contact Details: (08) 8203 7665
Operating Hours:
Mon to Fri – 4:30 am to 6:30 pm
Sat – 5 am to 7 pm
Sun – 4:30 am to 6:30 pm
The SA Aquatic and Leisure Center offers excellent swimming facilities and swimming lessons.
Recreational and professional lap swimmers can utilize the center's 50-meter Matt Cowdrey Competition Pool with 20 lanes. Just be mindful that the pool's maximum depth reaches 3 meters.
The lap swimming sessions at this pool start exactly at the beginning of each hour and last for 45 minutes.
You can also book the water polo pool if this aquatic sport is your thing.
The water polo pool is 55 meters long, meeting FINA standards. It includes a movable boom and has a depth that ranges from 3 meters to 5 meters.
A section of this swimming spot doubles as the center's dive pool.
The dive pool has air cushions and an underwater window. It's also 25 meters long and has 10 wide lanes that are 3 to 5 meters deep.
Kids can also join the center's beginner-friendly programs like Aqua Sensory Play, Infant Program, and Preschool Program. These lessons take place in shallow pools and require parents to participate.
Six-year-old kids who are competent swimmers may also swim in the 3-meter deep WIBIT. This facility has a massive inflatable obstacle course consisting of various modules designed for jumping, sliding, balancing, and climbing.
Kent Town Swim
Address: Corner of Capper Street and Parade West, Kent Town, SA 5067
Contact Details: (08) 8334 1285
Kent Town Swim is another high-quality indoor pool ideal for kids.
Their safe 32-degree, .6-meter pool is ideal for little ones aged 6 months to 2.5 years old.
If your kiddos are into competitive swimming, you can proceed to Kent Town Swim's bigger pools, with depths ranging from 1.2 meters to 1.8 meters.
Thebarton Aquatic Center
Address: 1 Meyer St, Torrensville, SA 5031
Contact Details: (08) 8352 1912
Operating Hours:
Mon – 6 am to 7:30 pm
Tue – 6 am to 8 pm
Wed to Fri – 6 am to 7:30 pm
Sat – 7 am to 3:30 pm
Sun – 7:30 am to 1:30 pm
Thebarton Aquatic Center is a well-established and sought-after indoor pool in Adelaide.
Its main pool can be used for rigorous and recreational lap swimming. It's 125 meters long and 12.5 meters wide!
Kept at a comfortable 29ºC (84ºF), it also has 7 lanes and varying depths, ranging from 0.92 meters to 3 meters.
The center's hydrotherapy pool is the way to go for swimmers seeking rehabilitation. The pool's warm water, often heated between 92°F to 100°F (33°C to 37.8°C), envelops the body in soothing comfort, easing muscle tension and promoting relaxation.
The center also has something for families with young children: a kids' swimming pool. This has a maximum depth of 0.9 meters, providing beginners with a safe and enjoyable aquatic experience.
Furthermore, Thebarton Aquatic Center offers Aqua Tabata and Deep Water Aqua sessions.
Aqua Tabata is a high-intensity interval training (HIIT) program adapted for the aquatic environment. It involves short bursts of intense exercises followed by brief periods of rest or low-intensity movements.
Deep Water Aqua is a water-based exercise program that combines aerobic movements with the water's resistance.
The Aquadome
Address: 1 Crockerton Rd, Elizabeth, SA 5112
Contact Details: (08) 8287 8800
Operating Hours:
Mon to Fri – 5:30 am to 8 pm
Sat to Sun – 7 am to 5 pm
The Aquadome offers remarkable facilities for public and private use.
There's a 50-meter, 8-lane indoor public pool, a 25-meter leisure pool with a welcoming beach entry, a relaxing spa, and an invigorating steam room!
Wheelchair access ramps are also thoughtfully integrated, ensuring everyone can easily access the pools.
Moreover, BlueFit, the primary provider of swimming lessons at Aquadome, is here to help swimmers across all age groups and skill levels.
They have comprehensive swimming instructions and classes for infants, school-aged children, and adolescents.
Paragon Swim Center
Address: 97/99 Smart Rd, Modbury, SA 5092
Contact Details: (08) 8396 6978
Operating Hours:
Mon to Fri – 6 am to 8 pm
Sat to Sun – 7 am to 2 pm
Paragon Swim Center's colorful and whimsical walls can turn heads with ease.
Their pool for babies and toddlers is full of toys like pool noodles, kickboards, and water hoops. The depth is around 0.6 meters, and they require parents to join the lessons.
Experienced swimmers can proceed to the 1 to 2-meter pool. Kids swimming here should be supervised by their parent or guardian.