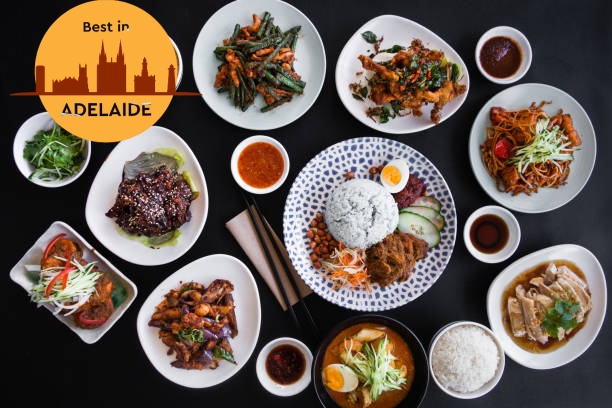 Peak Flavor: Dining in Adelaide Hills' Top Restaurants
Looking for Adelaide Hills dining and wine experiences that will leave your taste buds satisfied and your Instagram feed envy-inducing?
You have a world of flavorful options, from The Haus Restaurant to Mt Lofty Vineyard Ranges. More juicy details await below!
Top Restaurants in Adelaide Hills
The Lane Vineyard
Address: Ravenswood Ln, Hahndorf SA 5245 Ravenswood Ln, Hahndorf SA, 5245
Contact Details: (08) 8388 1250
Operating Hours: Daily – 10 am to 5 pm
The Lane Vineyard offers minimalist charm and modern Australian cuisine with great wine-food pairings. For instance, their 5-course Provenance Menu showcases meticulously picked dishes and drinks complementing each other.
A standout in this menu is Savoy cabbage, a masterful composition of slow-roasted and pickled cabbage elevated by the subtle flavor of fennel seed.
We also have to mention the curated selection of wines, including the fruity NV Lois Blanc de Blancs, and the 2017 Petit Guiraud Sauternes.
LOT.100
Address: 68 Chambers Rd, Nairne, SA 5252
Contact Details: (08) 7077 2888
Operating Hours:
Mon to Wed – Closed
Thu to Sun – 11 am to 5 pm
The rustic wooden interior and tree-lined alfresco dining zone of LOT.100 go well with their culinary theme of dishing out delish eats with local, artisanal, and sustainable ingredients.
For the grub, start with their bao ban dumplings with roo tails and saltbush. We also indulged in their Boston Bay mussels, served alongside creamy potatoes and a tangy buttermilk dressing.
We opted for the confit duck as our main course, and it certainly lived up to our expectations with its delightful blend of saltiness and sweetness.

The Haus Restaurant
Address: 38A Main St, Hahndorf, SA 5245
Contact Details: (08) 8388 7555
Operating Hours:
Mon to Fri – 8 am to 9:30 pm
Sat – 8 am to 10 pm
Sun – 8 am to 9:30 pm
The Haus Restaurant's well-lit patio, live musicians, and iconic pub-style interior beckoned our team to savor their classic German specialties.
We ordered their $79 Taste of Bavaria Platter. The standouts were the platter's slow-cooked German sausages and Hahndorf Max Noske and Son's smoked Kassler pork chop.
But for those seeking a more budget-friendly but equally foodgasmic taste of Germany, the Trio of Wurst is certainly not the wurst option. It includes the chef's selection of Skara Smallgoods sausages, namely bockwurst and cheese kransky.
Hardy's Verandah Restaurant Adelaide Hills
Address: Mount Lofty House, 1 Mawson Dr, Crafers, SA 5062
Contact Details: (08) 8130 9292
Operating Hours:
Mon to Sat – 6 pm to 9 pm
Sun – 12 pm to 9 pm
It's hard to say no to the elegant 1852-built Hardy's Verandah offering panoramic views of well-manicured gardens and Adelaide's sweeping greenery. Their fine-dining menu is even more difficult to resist.
We kicked off our flavor trip with their sweet and earthy heirloom carrots with quinoa and orange curd. This entree's luscious plum sauce with chestnuts and grapes elevated the dish.
And to round off the meal on a sweet note, we went with their passionfruit sorbet. It was zesty and fruity, and the richness of salted coconut added layers to this creamy delight.
Mt Lofty Ranges Vineyard
Address: 166 Harris Rd, Lenswood, SA 5240
Contact Details: (08) 8389 8339
Operating Hours: Daily – 11 am to 5 pm
Mt Lofty Ranges Vineyard is known for Instaworthy views and world-class wines, but its extraordinary chow is no sleeper too. For instance, their creamy, sweet, and subtly savory tenderly braised Zara Grace lamb with yogurt is first-rate.
Then there are the mains, specifically the savory and smoky Najobe brisket with pepper and leeks. If you prefer seafood, their citrusy mulloway with sweet and sour beurre blanc sauce is top-notch.
For dessert, their strawberry gum creme patisserie will take you on a sweet adventure, bursting with the sweetness of basil and the tart essence of strawberry.
The Summertown Aristologist
Address: 1097 B26, Summertown, SA 5141
Contact Details: 0477 410 105
Operating Hours:
Mon to Thu – Closed
Fri – 6 pm to 6:30 pm
Sat – 12 pm to 8:30 pm
Sun – 12 pm to 7:30 pm
The Summertown Aristologist is one of the top organic restaurants in town. Their Coffin Bay oyster with marigold mignonette and a touch of wild garlic is our fave.
Their handmade semolina cavatelli with mint-infused dough is also a healthy palate-pleaser. The astonishing flavors of garden-plucked Scotch kale and garlic skin oil are strong with this one.
If your cup of tea is a hearty and nutritious meal, try their herby and citrusy duck and duck sausages with lentils and orange cuts. Pair these with organic beer, and you have a winning combo.
Pike & Joyce Wines
Address: 730 Mawson Rd, Lenswood, SA 5240
Contact Details: (08) 8389 8102
Operating Hours: Daily – 11 am to 4 pm
Small and large plates are the specialties of Pike & Joyce Wines, a laid-back modern resto with dashing vineyard views.
For starters, their crisp asparagus with the richness of falafel, the crunch of hazelnuts, and the luxurious touch of cured yolk took us to flavor town. For the large plates, the succulent, savory, and a tad bitter pork belly porchetta won our taste buds.
The venison loin is another must-try. With candied blood lime, creamy goat cheese, shallots, endive, and buttery puff pastry, this dish is truly stellar.
Clover+Stone Restaurant at Howard Vineyard
Address: 53 Bald Hills Rd, Nairne, SA 5252
Contact Details: (08) 8188 0203
Operating Hours:
Mon to Fri – 11 am to 4 pm
Sat to Sun – 11 am to 5 pm
Clover+Stone Restaurant's vintage stone barn may look simple, but the food here is far from ordinary. Even their entrees, like the crisp chestnut hummus with pickled beetroot and savory homemade dumplings (with vegan options), are total bangers.
The sweet and spicy Lobethal lamb shoulder featuring gochujang jus, wasabi sesame, and tender broccolini is also chef's kiss. To tame the kick of its spices, eat it along with strawberry-topped apple rhubarb cake or citrus cheesecake.
This resto is in a vineyard, so we can't forget their original products, particularly the zesty 2022 Sparkling Blanc de Blancs.
Stanley Bridge Tavern
Address: 41 Onkaparinga Valley Rd, Verdun, SA 5245
Contact Details: (08) 8388 7249
Operating Hours: Daily – 11:30 am to 10:30 pm
Stanley Bridge Tavern's mix of old-world and modern charm goes well with its innovative and traditional nosh selection. Their Wagyu brisket, for example, undergoes slow cooking before getting dipped in a rich broth of chili oil and cavolo nero.
There's also the tried and tested market fish. The main fish changes daily, but it always comes with shaved fennel, parsley, baby capers, and zesty orange salad.
If you're in a good mood for dessert, your best options are the sticky date crème brûlée with salted caramel or the cheese plate with muscatels.
The Mill at Bridgewater
Address: 386 Mount Barker Rd, Bridgewater, SA 5155
Contact Details: (08) 8339 9200
Operating Hours:
Mon to Thu – Closed
Fri to Sat – 12 pm to 9 pm
If The Mill at Bridgewater's 19th-century cottages and radiant gardens won't turn your head, their culinary gems might. The salty and sweet scallop ceviche with wild scampi roe and herb creme fraiche definitely captured our attention.
The small plates didn't miss too, especially the soft, tangy, and savory king oyster mushroom enhanced by a Shoyu maple glaze and the unexpected pop of blistered tomatoes.
Then there's the savory, slightly fiery, and herby hanger steak, a big plate sensation boasting a fusion of chimichurri and house-fermented chili sauce.
The Crafers Hotel
Address: 8 Main St, Crafers, SA 5152
Contact Details: (08) 8339 2050
Operating Hours:
Mon to Fri – 12 pm to 2:30 pm, 5 pm to 8:30 pm
Sat to Sun – 5 pm to 8:30 pm
Whether you're craving certified pub classics or gourmet cuisine, The Crafers Hotel has you covered. For the pub chow, we'll go with the chicken schnitzel with free-range chicken breast, a delightful pickled leaf salad, and a side of crispy chips.
For gourmet bites, it's a toss-up between the cheesy ratatouille burger with crumbed eggplant and the wild mushroom pot pie featuring wild mushrooms and Kipfler potatoes.
When it's time for dessert, the vacherin steps up to the plate. This sweet sensation combines the tartness of raspberries with the creaminess of vanilla mascarpone.
Yuki in the Hills
Address: 2 Strathalbyn Rd, Aldgate, SA 5154
Contact Details: (08) 7226 5767
Operating Hours:
Mon to Tue – 5 pm to 9:30 pm
Wed to Sun – 11:30 am to 2:30 pm, 5 pm to 9:30 pm
A look at Yuki in the Hills' low wooden tables, paper lanterns, and wooden accents will give you an idea of its authenticity. You can say the same thing about the food, particularly their pork and vegetable gyoza.
The well-kept flavors of Japan continue with Yuki's ramen selection, with the meaty and hearty homemade tonkatsu ramen as our choice. This soup's pork bone broth exudes rich and umami flavors, made more delicious by tempura nori.
Speaking of tempura, Yuki's deep-fried king prawn tempura offers sweet and delicately savory notes. But if you're more into fresh rolls, the crisp, salty, and velvety rainbow roll with crab meat, egg omelet, and avo is a knockout.
Lost in a Forest
Address: 1203 Greenhill Rd, Uraidla, SA 5142
Contact Details: (08) 8390 3444
Operating Hours:
Mon to Wed – Closed
Thu to Fri – 5 pm to 9 pm
Sat to Sun – 12 pm to 9 pm
Lost in a Forest? It's more like being lost in a pizzeria with the variety of pizza slices you can taste here!
You should start with the Italian classic Margherita, showcasing the harmony of passata, parmesan, fresh basil, mozzarella, and a drizzle of virgin olive oil.
If you're craving something fishy, their fiery Jesus Fish pizza is a flavor-packed masterpiece featuring passata and chili flakes. But if you're in the mood for something unconventional yet delicious, the bánh mì pizza is the showstopper.