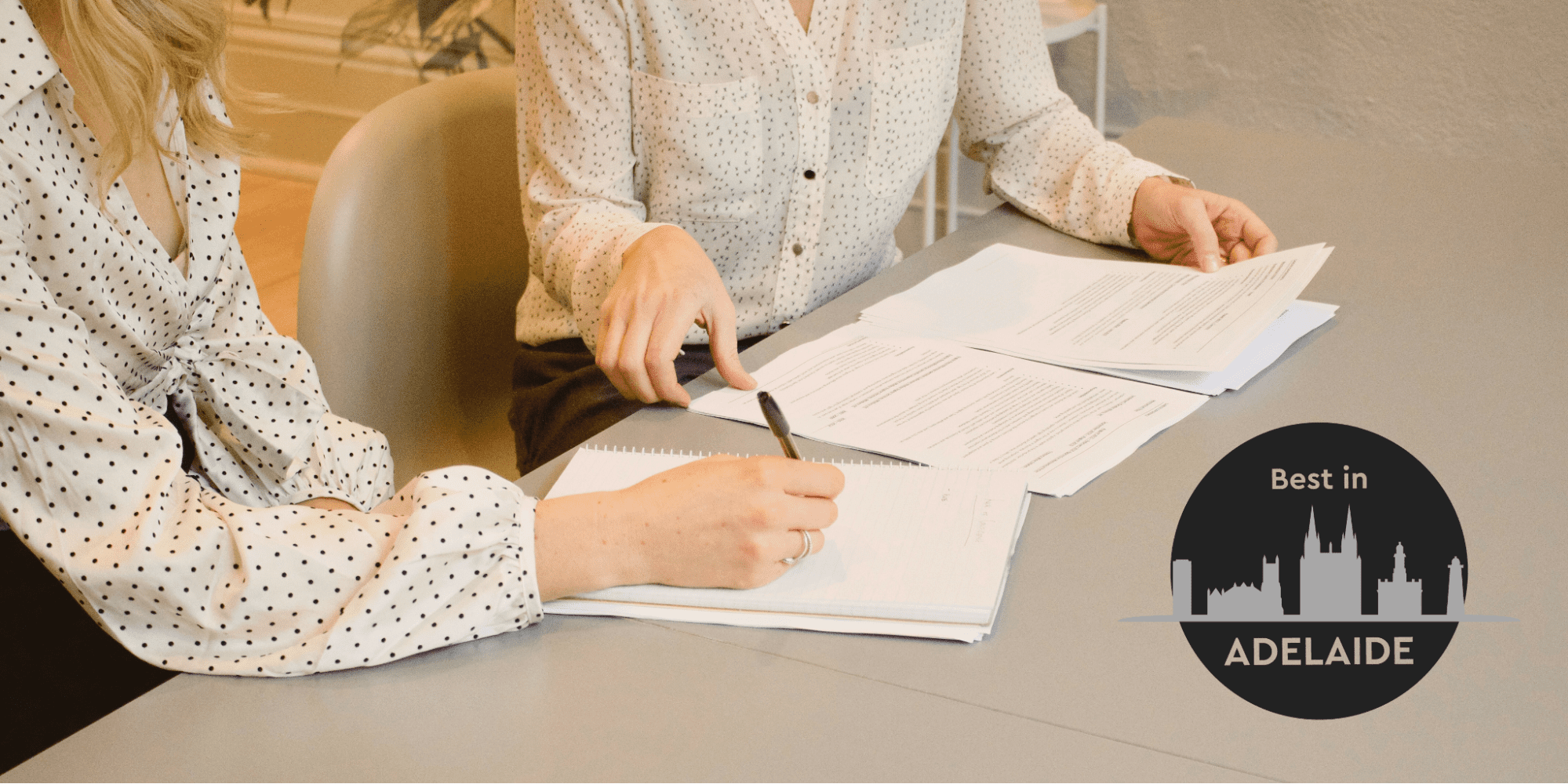 The 4 Top-Rated Resume Writing Services in Adelaide
How We Picked the Best Resume Writing Services in Adelaide
1. Winning Resumes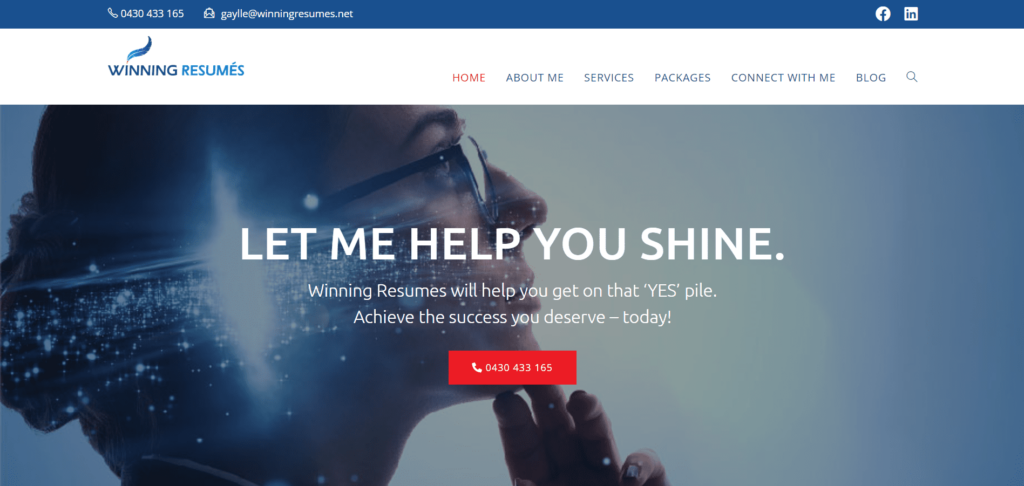 Services: Resumes, LinkedIn, Cover Letters, Selection Criteria, Interview Coaching, Personal Presentation
Website: https://winningresumes.net
Address: 30 Barry Rd, Oaklands Park, South Australia
Contact details: 0430 433 165
Operating hours: Monday to Friday, 9 AM to 6 PM, Saturday, 10 AM to 2 PM
| | |
| --- | --- |
| Google reviews score | 5/5 |
| Total reviews | 5/5 |
| Score consistency | 5/5 |
| | |
| --- | --- |
| Quality of service | 4/5 |
| Turnaround Time | 3/5 |
| Acceptance Rate | 3/5 |
| Pricing | 3/5 |
Various career advancement services
Personal consultation with a career coach
Transparent prices
Long turnaround time
Payment first policy, limited payment options
More than two edits will incur extra charges
Winning Resumes is owned by the career and empowerment coach, Gaylle Roberts. Gaylle is a one-man team that aims to help you get your resume on that "Yes" pile.
They can help broaden your career network with their various career services, including cover letter drafting, LinkedIn profile makeover, interview lessons, job search coaching, and personal presentation advice.
What makes them different is that you can personally talk to an expert to help you uncover your strengths and potential to be put on your resume. Their service doesn't just "fill in the blanks," then print and deliver your resume.
We also like that Winning Resumes is transparent with its pricing. Their services cost around $130 to $380, all depending on how complex and long your resume will be.
This is a reasonable price range, but take note that this is still subject to change.
However, you have to pay the full fee first upon consultation before they work on your resume. Winning Resumes' turnaround time is five to seven days from the date of the full payment.
We don't find this very efficient because job hunting is a race against the clock. Some, if not all, clients are rushing to land an interview for time-sensitive job posts.
In addition to that, they also don't offer other payment plans to accommodate those who can't pay full upfront.
One more thing to note: make sure to provide correct and accurate details for your resume.
Winning Resumes allows for two revisions only within two weeks of sending you the draft. Any additional edit request would incur additional fees.
2. Resumes Done Right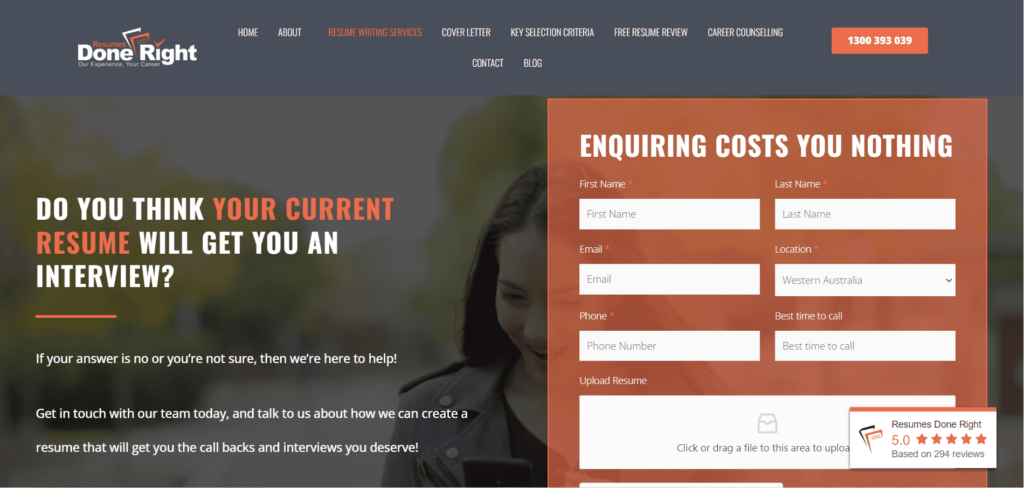 Services: Resume/CV Writing, Cover Letter Writing, Key Selection Criteria, LinkedIn Profile
Website: https://resumesdoneright.com.au
Address: 116 High St. Preston VIC 3072, Australia
Contact details: 1300 39 30 39
Operating hours: Monday to Friday, 9 AM to 5 PM
| | |
| --- | --- |
| Google reviews score | 5/5 |
| Total reviews | 5/5 |
| Score consistency | 5/5 |
| | |
| --- | --- |
| Quality of service | 5/5 |
| Turnaround Time | 3/5 |
| Acceptance Rate | 4/5 |
| Pricing | 3/5 |
A team of professional recruiters
Free one-on-one consultation and resume review
Unlimited edits
Lack of transparency in pricing
No physical office
Resumes Done Right is a team of professional resume writers and recruiters who have experience working for different industries, such as trades and labor, oil and gas, IT, telecommunications, retail, and more.
They offer free one-on-one consultation with free resume review as well.
One of their experts will examine your current resume and discuss what it lacks and what needs to be emphasized. Should you decide on a total career change, they will also help you to modify your past experiences to be advantageous to the new one.
Unlike others, every resume version they send you is considered a draft until you're happy with the final result. Because it's you're resume, you're welcome to suggest changes and make additions that you think will further improve it.
To top that off, they provide a free cover letter when you avail of their professional resume writing service.
All these great service features aside, we'd appreciate it if they have a transparent pricing section on their website. This way, clients won't have to wait hours when sending out an inquiry for simple price questions.
It will also give clients an idea of how much they should allot for the said service.
Another disadvantage with Resumes Done Right is it doesn't have on-site service available. They only offer online services, which can be a downside for some computer illiterate job seekers.
However, you can give them a call and have their staff help you set up an online consultation.
3. Rev Up Your Resume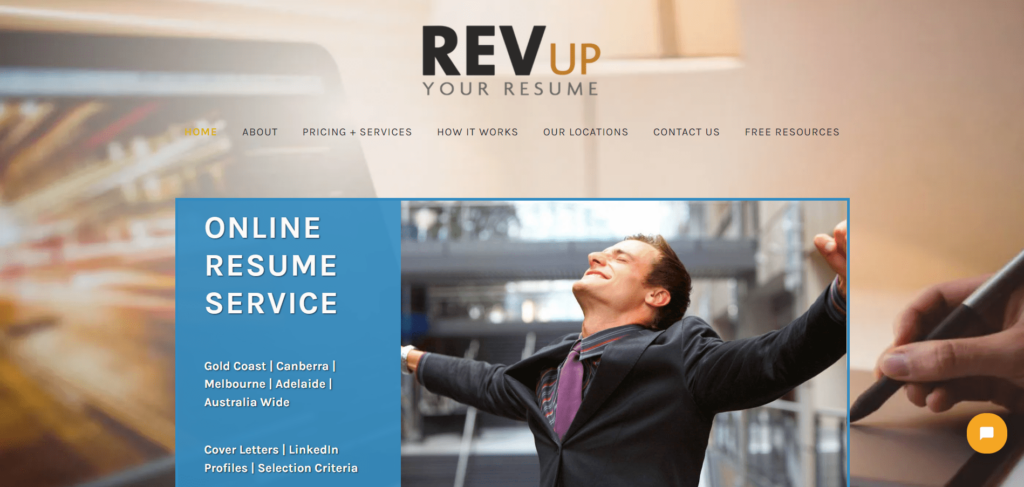 Services: Entry Level, Early Career, Experienced, Executive and Specialist, Cover Letter, Pitch, Statement of Claims, Traditional Selection Criteria
Website: https://rev-upyourresume.com.au
Address: Ground Floor, 33 Warwick St, Walkerville, South Australia 5081
Contact details: +61 (7) 5660 6568
Operating hours: Monday to Friday, 7 AM to 10 PM; Saturday to Sunday 7 AM to 7 PM
| | |
| --- | --- |
| Google reviews score | 5/5 |
| Total reviews | 5/5 |
| Score consistency | 5/5 |
| | |
| --- | --- |
| Quality of service | 4/5 |
| Turnaround Time | 5/5 |
| Acceptance Rate | 4/5 |
| Pricing | 3/5 |
Fast turnaround time
Transparent prices
Covers a lot of industries
Payment first policy, limited payment options
Possible delay in responses
Rev Up Your Resume provides professional resume writing services across all job levels. They deliver client-tailored resume services for up to 50 sectors and industries, including engineering, health care, nursing, and law practice.
What makes them stand out is their fast turnaround time. Unlike others, you can get your initial draft in as fast as three days.
They also have an express resume writing service where you could get the final draft within 24–48 hours.
Unfortunately, Rev Up doesn't offer much flexibility when it comes to payment plans. They require full payment in one go before they start any work on your resume.
They also don't offer any discounts for seniors or fresh graduates.
It may provide some relief to know that Rev Up Your Resume has an accessible pricing section on their website.
This, along with testimonials and a portfolio of their previous works, will help clients make their comparisons and choose the most suitable package that's within their budgets.
When booking a job via email, they typically reply within one to three hours. However, they have a few records of delayed or unreturned responses.
So to confirm your request, we recommend calling them directly through their hotline. Prepare your notes, and make sure to communicate all the information you need on your resume.
4. Adelaide Resume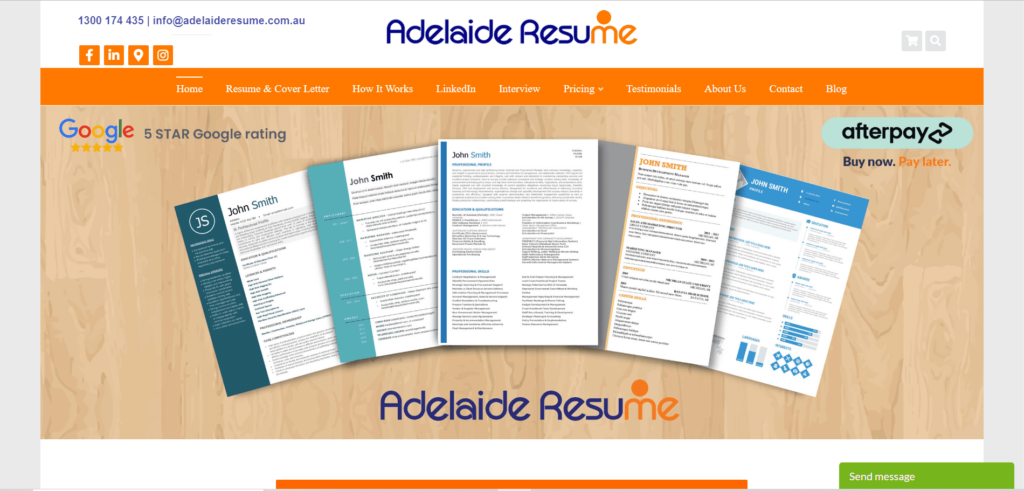 Services: Resume (CV), Cover Letter, Selection Criteria for Government Applications (Public Sector Roles), Professional LinkedIn Profile Write-Ups, Interview Coaching
Website: https://adelaideresume.com.au/
Address: Suite V227, Shop 1a 400 King William Street, Adelaide, South Australia 5000
Contact details: 1300 174 435
Operating hours: Open 24/7
| | |
| --- | --- |
| Google reviews score | 4.9/5 |
| Total reviews | 5/5 |
| Score consistency | 5/5 |
| | |
| --- | --- |
| Quality of service | 5/5 |
| Turnaround Time | 5/5 |
| Acceptance Rate | 4/5 |
| Pricing | 5/5 |
Flexible payment plans
Transparent pricing
Unlimited edits
May overexaggerate some details
Limited service packages
Adelaide Resume aims to provide a professional career advantage for their clients. Their services include cover letters, LinkedIn profile set up, practice interviews, and resume writing.
Because time is of absolute value for Adelaide Resume, you can get your initial draft in as fast as one to two business days.
To accommodate all types of clients, Adelaide Resume is one of the few that offer flexible payment plans. They offer an option where clients can avail the services that they need now and pay for them later.
They have a pricing section on their website where you can choose from two different packages—gold and platinum—ranging from $229 to $289. Price transparency is a plus, considering that some clients may still need to check if they can afford the service.
To add to that matter, we think it'd be more helpful for the clients if they had a wider range of specialised resume writing packages for different job levels. This means tailored services for entry-level, experienced, and executive applicants.
Luckily, since it's your resume, Adelaide Resumes allows for unlimited edits until you're completely satisfied with the output. Not only that, but they will give also you a PDF file and a fully editable Word document so you'll have total ownership of the file.
Having full access to your resume would be helpful, especially since Adelaide Resume has a record of overexaggerating its client's skills and job responsibilities. Some words may also sound a bit forced and out of context for the sake of keyword rating.
Once you've received the final output, we recommend going through every detail of your resume to make sure you meet the expectations of your desired employer.
FAQs about Resume Writing Services in Adelaide