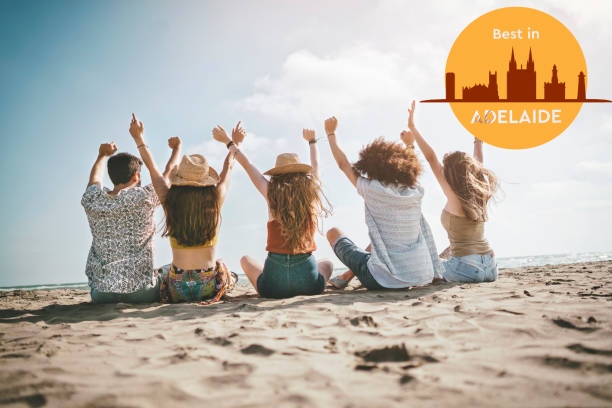 Summer Paradise: Best Summer Hangout Spots in Adelaide
Looking for the coolest summer hangout spots? You better prepare your sunscreen, shades, and good vibes because we're diving into a sizzling lineup of places like Moseley Beach Club and Hallet Cove Conservation Park!
Mile End Hotel
Address: 30 Henley Beach Rd, Mile End, SA 5031
Contact Details: (08) 8443 4756
Operating Hours:
Mon to Wed – 9 am to 2 am
Thu to Sun – 9 am to 3 am
Happy Hours – 4 to 6 pm
Henley Beach is an iconic summer destination, and Mile End Hotel is one of the reasons why.
Mile End Hotel's cold drinks are always hot in summer, with mouthwatering $18 cocktails like the sweet and spicy ginger mango spritz and the peachy creaming soda highball.
Live DJs also turn up the heat from 2 pm until late, ensuring an early start to party vibes.
In addition, this pub is by the beach, giving you a front-row seat to pristine shorelines and breaking waves, ideal for selfies and groupies.
Tips:
Mile End Hotel typically has summer Sunday events, with Retro Sundays as our favorite. If you want their two cocktails for $25 promo, visit around this time.
Try their Christmas lunch prepared for families if you want to share a hearty and delicious meal with your rellies.
McLaren Vale
This list won't be complete without mentioning McLaren Vale, a serene and rustic summer hangout spot boasting around 74 cellar doors and 160 vineyards, each ideal for beating the heat and soothing the mind.
This region's weather is splendid, with average summer temps around 25°C (77°F). In addition, McLaren Vale is just a 40-min drive from Adelaide, making it accessible while providing roadside sceneries of undulating hills and bountiful grapevines.
Tips:
McLaren Vale's farmers market is the best place to get seasonal products like peaches, berries, and cucumbers.
Don't leave without trying the region's world-renowned Shiraz.
Not into wine? No worries. McLaren Vale also has exceptional craft breweries, such as Goodieson Brewery and Swell Brewing Co. Taphouse & Brewery.
The Moseley Beach Club
Address: Glenelg Beach, Glenelg, SA 5045
Contact Details: 0407 729 983
Operating Hours: Daily – 11 am to 11 pm
The Moseley Beach Club takes inspiration from premier Southeast Asian beach pubs, with a casual dining and drinking area featuring wooden elements and an open-air layout.
The deck chairs and cabanas offer the perfect relaxation spots, especially with their spiced white peach sangria or refreshing coconut juice in your hands.
Music also never ends here, with relaxing tunes playing during the early hours and party-popping tracks energizing the later ones.
Tips:
Stick around for the stunning sunset views; it's a magical moment you won't want to miss, particularly if you're hanging out with a significant other.
Check the schedule for live music to set your expectations of what you'll hear on your visit.
Hallet Cove Conservation Park
From kariayllehamburaAddress: Hallett Cove, SA 5158
Contact Details: (08) 8130 9050
Operating Hours: Daily – 24 hours
Who can say no to a summer hangout spot with well-preserved sandy shores and killer views of coastal cliffs?
Hallet Cove Conservation Park is a beachside park with ancient glacial formations. The Black Cliff Lookout and Ampitheater Rim are the best spots to see these formations, but if you want to be closer to the ocean, follow the coastal path.
In addition, it's home to fascinating plants and critters, like coast wattle and bearded dragons, making it an ideal summer hangout spot for eco-buffs.
Tips:
Be cautious of the park's snakes, especially during warmer months, and avoid disturbing their natural habitat.
For a chance to see more wildlife, consider early morning or late afternoon hikes when animals are more active.
Don't forget your recreational fishing guide app too.
Adelaide Festival of the Arts
Address: King William Rd, Adelaide, SA 5000
Contact Details: (08) 8216 8600
The Adelaide Festival of the Arts is the favorite summer hangout event of our team's arts and culture lovers.
It's a lit and invigorating feast of creativity and innovation, with mind-blowing performances from artists worldwide.
From contemporary dance to jaw-dropping theater, every show of this festival will add fire to your summer getaway.
You may also listen to panel discussions or workshops to learn something new or improve your craft.
Tips:
Don't miss the Insta-worthy art installations scattered around the city during this festival.
Check the street performers adding to the festival buzz.
Secure your tickets in advance, especially for popular shows, to ensure you don't miss your favorite performances.
With the energy and excitement of the event, it's always wise to have backup attire. Pack an extra outfit in your bag to have a change of clothes when you're sweaty.
TreeClimb Adelaide
Address: Cnr Greenhill Road and Unley Rd, Adelaide, SA 5000
Contact Details: (08) 7089 4490
Operating Hours:
Mon to Fri – 9 am to 4 pm
Sat – 9 am to 5 pm
Sun – 9 am to 3 pm
The lush and refreshing forested areas of TreeClimb Adelaide make it a perfect escape from the mundane summer heat.
It's also a terrific hangout spot for families who enjoy nature's embrace!
There's the Kids Course for your young daredevils with a height of 100 cm or more. This is a treetop, for-kids-only obstacle with confidence-boosting challenges and safety measures.
For adults with a height of 135 cm and above and a weight of 120 kg or more, TreeClimb's Grand Course is where it's at. This higher obstacle features zip lines and 52 challenges to test your mental and physical fortitude.
Tips:
Bring closed-toe shoes and gloves, as they're both mandatory in TreeClimb.
Opt for lightweight and breathable materials, such as moisture-wicking fabrics, to keep you cool and flexible as you climb.
Don't forget sunscreen, sunglasses, and a hat to protect yourself from the sun. Towering trees cover TreeClimb, but the higher obstacles aren't as shady as the lower ones.
BBQ Buoys
Address: Pinky Flat, War Memorial Dr, North Adelaide, SA 5006
Contact Details: 0422 145 496
Operating Hours:
Mon to Tuei – Closed
Wed to Thu – 9 am to 6 pm
Sat – 9 am to 9 pm
Sun – 9 am to 6 pm
Floating in the River Torrens while feasting on succulent and savory meat sounds like an unforgettable summer getaway.
Our team adores BBQ Buoys for this reason, plus the striking view of Adeladie's cityscapes and beyond makes the food taste and feel better.
Furthermore, you can bring other food if you're not in the mood for a barbecue. The only downside is you can't bring your own booze.
The buoys also have Bluetooth speakers and parasols, ensuring a music-filled and shady hangout for your fam or friends.
The best part? Boating licenses aren't required!
Tips:
Reserve your BBQ Buoy in advance, especially for larger groups, to secure the best spot and avoid disappointment. The restaurant will also ask about your group's size.
Make a fun playlist for a better dining experience!
CABN
Address: 94 Black Nursery Rd, Kuitpo SA 5201
If you're looking for an off-the-grid summer hangout spot, you should try CABN, where you can unwind in eco-friendly tiny cabins in South Australia's most tranquil areas.
Our team had trouble choosing between CABN's main locations. Eventually, we settled on CABN Nala, a contemporary and sustainable cabin hidden among the gum trees of Kuitpo Forest, about 45 mins away from Adelaide.
CABN Nala is a genuine escape from the urban bustle, but it still boasts hotel-level amenities like a well-equipped kitchen, luxurious beds, a modern bathroom, and many more.
It's highlights? The outdoor fire pit steals the show, adding a cozy and enchanting touch to the whole experience, especially if you stargaze by the flames.
Tips:
Even in summer, nights in the forest can get chilly, so bring warm layers to stay comfortable around the fire pit.
Take advantage of nearby hiking trails to immerse yourself in the beauty of Kuitpo Forest. You may also try CABN Bambra and Jarrah, about 70 m from CABN Nala if you prefer a different spot.
Try to bring your pet dog, as CABN and Kuitpo Forest are dog-friendly.
Visit during non-fire ban months to fully enjoy the fire pits.
Kangaroo Island
Kangaroo Island is hard to top as a summer hangout spot. It has stunning beaches, green landscapes, wildlife encounters, and more.
Our go-to activity on this island is surfing and swimming while waiting for dolphins and sea lions to show off! There are also cuddly penguins in Penneshaw Penguin Center and, of course, kangaroos roaming freely on grasslands, woodlands, and coastlines.
But if you want to go deeper, snorkeling at Rolls Point Kingscote or Hanson Bay is the way to go. If you're with kids, Strokes Bay Rockpool's safe shallows are a fantastic choice, as it offers a world of colorful corals and fishes, minus the risk.
Tips:
Vivonne Bay is the top spot on Kangaroo Island for beachside relaxation and sunrise/sunset viewing.
Sample the island's fresh produce and seafood, relishing delectable oysters, locally caught fish, succulent prawns, and gourmet cheeses.
Don't forget to visit The Islander Estate Vineyards for a delightful wine-tasting experience during your Kangaroo Island trip.
Star of Greece
Address: 1 Esplanade, Port Willunga, SA 5173
Contact Details: (08) 8557 7420
Operating Hours:
Mon to Tue – Closed
Wed – 12 pm to 5 pm
Thu to Fri – 12 pm to 3 pm, 6 pm to 10 pm
Sun – 12 pm to 5 pm
Star of Greece in Port Willunga is the summer hangout spot fine dining lovers can't miss! Perched on coastal cliffs, it offers mesmerizing views of Gulf St. Vincent's turquoise waters.
The architecture style is a charming blend of vintage beach shack and modern twists, making it a unique and inviting space.
We love their slightly salty and savory crumbed chicken nuggets served with chips and salad, one of their kids' menu's stars.
For the adults, we highly recommend indulging in their top-tier half-shelled scallops baked with vindaloo spiced butter.
The scallops' delicate sweetness beautifully complements the bold and aromatic vindaloo spice blend, and the finishing touch of crispy puffed rice further elevates the dish.
Tips:
Bring your beach gear, as Star of Greece is near a beautiful beach, perfect if you're in the mood for a post-meal swim.
Talk with the friendly staff to learn more about the restaurant's best dishes!
Opt for outdoor seating to bask in the sea breeze and enjoy an al fresco dining experience.
Port Adelaide
The historic Port Adelaide offers a cool maritime vibe. With its rich history, you can explore heritage buildings and old docks, plus the port during the night is very peaceful.
The rejuvenated waterfront is perfect for a stroll, lined with cafes and pubs, such as the chic Folklore Cafe and the elegant British Hotel Port Adelaide.
A short walk to Lipson St will take you to the South Australian Maritime Museum, which will tickle the curiosity of all shipwreck enthusiasts. In addition, the sandstone bricks of the museum's facade give it an old-world feel and an extremely photogenic appeal.
Tips:
Don't forget the Port Adelaide Lighthouse for epic views. And if you're into street art, the port has some seriously rad murals!
Don't miss the Port Admiral Hotel and Largs Pier Hotel! They're also must-visit pubs with historic vibes and delicious drinks.
Hop on a scenic river cruise to admire Port Adelaide's maritime beauty from the water.
_____________________________________________________________________