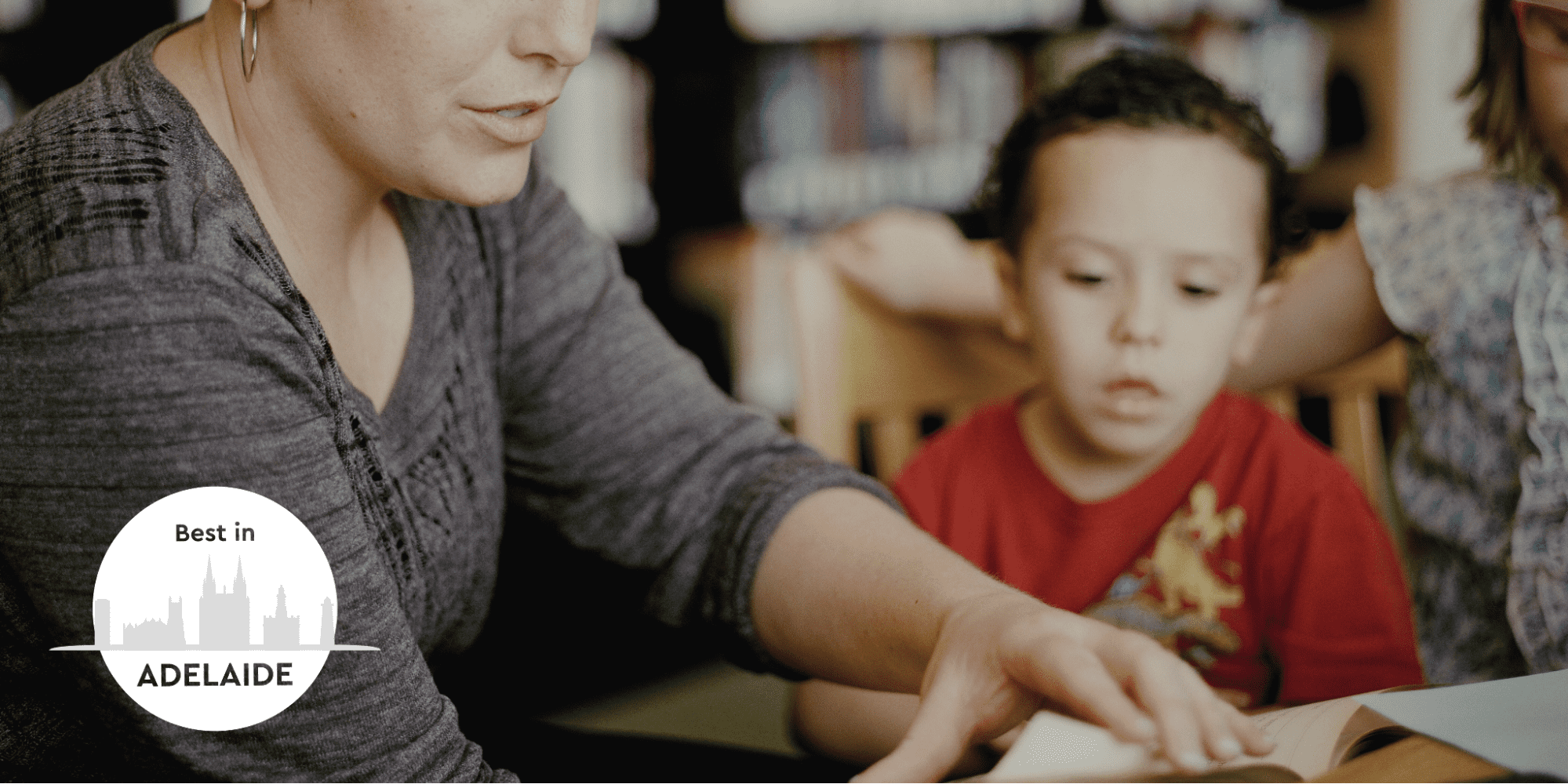 The 5 Top-Rated Tutoring in Adelaide
How We Picked the Top-Rated Tutoring Services in Adelaide
1. Tutors SA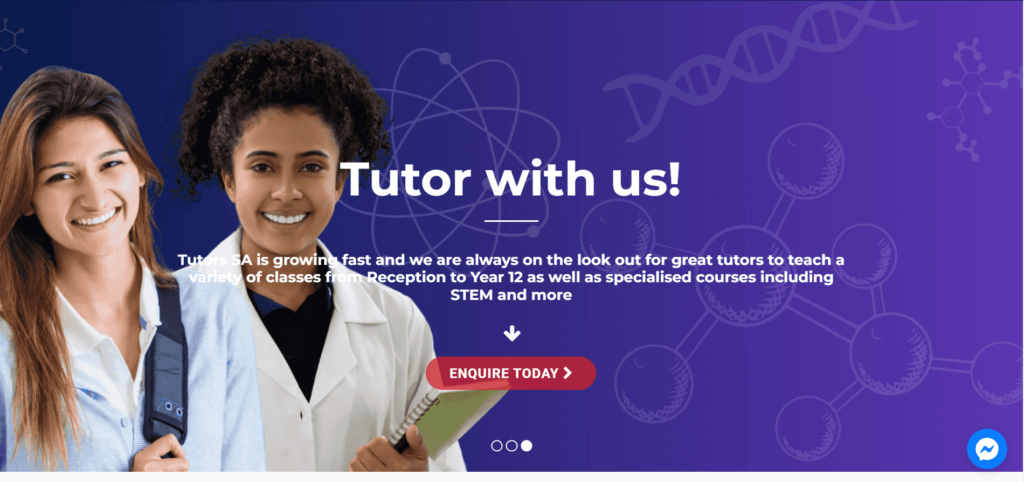 Services: High Standard Tutors, Australian Curriculum, Scholarship, and Accelerated Programs, Small Group Tutoring, One-on-One Tutoring
Website: https://tutorssa.com.au/
Address: 27 Montacute Road, Campbelltown, South Australia 5074
Contact details: +61 8 8166 7579
Operating hours: Monday to Friday, 9 AM to 5 PM
| | |
| --- | --- |
| Google reviews score | 5/5 |
| Total reviews | 5/5 |
| Score consistency | 5/5 |
| | |
| --- | --- |
| Expertise | 4/5 |
| Communication | 4/5 |
| Experience | 4/5 |
| Pricing | 4/5 |
Friendly staff
High qualification of panels
Various academic offers
Unresponsive
Lack of close monitoring
Founded in 2011, Tutors SA has become one of the leading Adelaide tuition centers because of their passion and teaching ability.
They offer various academic programs that are tailored to each child's unique needs and goals.
Whether you're seeking to pass a scholarship exam or just want to develop your academic skills, they're the company to call.
Most of their tutors have postgraduate qualifications, including master's and PhD. Their English tutors have extensive knowledge and years of experience in teaching the subject.
Their panels are also highly rated for having positive attitudes toward the students. So you'll be comfortable knowing your child is in good hands.
However, Tutor SA comes with a few downsides, too.
First, they lack the manpower to accommodate requests and inquiries on time.
It could take them days to respond to simple service questions. It's also rare that they accommodate in-person meeting requests.
This factor can affect other learning processes, too.
A few parents noticed that some of their children's test papers weren't properly checked. Even a small error like this can have a big impact on a child's learning process.
In the worst-case scenario, it can lead to misinformation and ineffective learning. So you might want to monitor closely your child's tutoring outputs and activities.
2. Jumbo Learning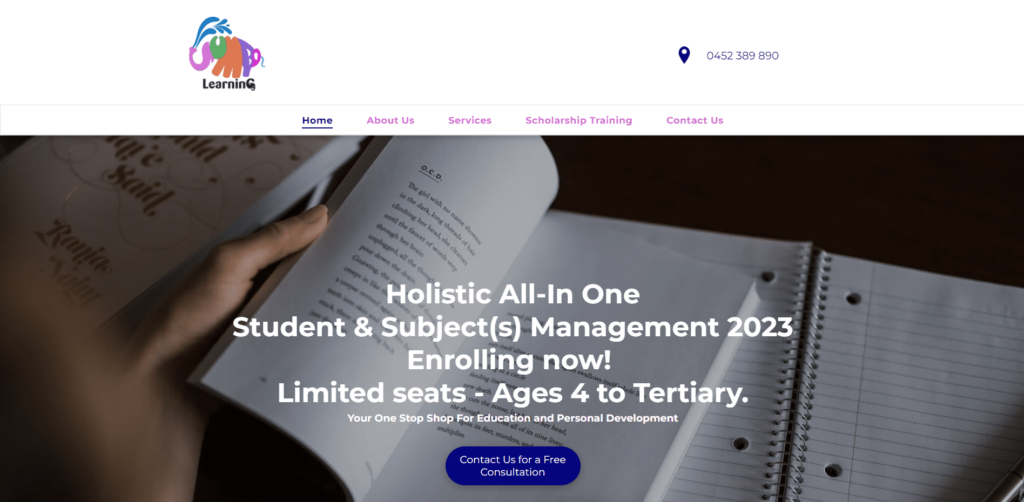 Services: Primary School, Reception to Year 7, High School, Year 8 to Year 12, Tertiary, University Assignment Help
Website: https://www.jumbolearning.com.au/ 
Address: 108 Glen Osmond Road, Room 3, South Australia, Parkside 5063
Contact details: 0452 389 890
Operating hours: Monday to Friday, 9 AM to 7 PM; Saturday, 10 AM to 3 PM
| | |
| --- | --- |
| Google reviews score | 4.9/5 |
| Total reviews | 5/5 |
| Score consistency | 5/5 |
| | |
| --- | --- |
| Expertise | 5/5 |
| Communication | 3/5 |
| Experience | 5/5 |
| Pricing | 4/5 |
Focuses on educational therapy
Individualized lesson plans
Friendly and supportive environment
Rare occasions of not showing up to pre-arranged sessions
Nontransparent pricing
Jumbo Learning has a different take on tutoring service. Their primary service is to go beyond the standard subject-based teaching.
This is by using educational therapy that's tailored to each child's unique needs to eliminate difficulties with literacy, reading, and language speaking. They aim to uncover each child's untapped capabilities to allow them to perform independent learning.
Aside from that, they also offer individual tuition services for core subjects, following the Australian, SACE, and IB curriculums.
Their panel of teachers is highly rated for providing effective and enjoyable academic tutoring services to students.
On the other hand, they occasionally miss attending pre-arranged tutorial sessions with students without informing the client beforehand. This comes off as very unprofessional.
If you're planning to avail of their service, make sure to consistently call them for follow-ups to confirm the arrangement is still on.
Moreover, we'd appreciate them better if they had their terms and pricing guides posted on their website. These pieces of information can help clients think of how they can maximize the tutoring service within their financial capacity to pay.
This way, parents can also have a better grasp of the tutoring service, especially if it's their first time.
3. Kip McGrath Education Centre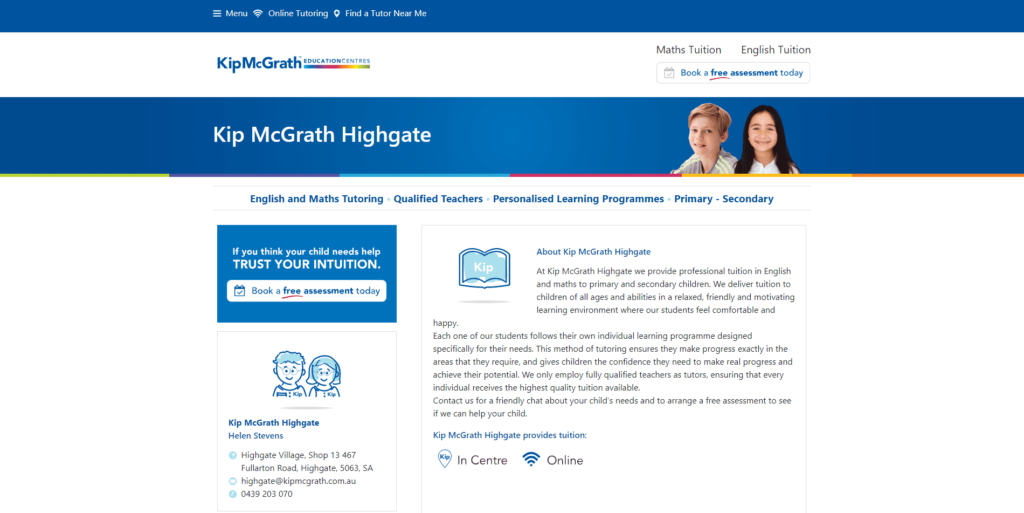 Services: Maths and English – Primary and Secondary, Reading Skills, Comprehension, Writing Skills, Spelling, ESL and Lantite Preparation, Online Tutoring, Supports for Students with Dyslexia
Website: https://www.kipmcgrath.com.au/highgate 
Address: Highgate Village, Shop 13 467 Fullarton Road, Highgate, South Australia 5063
Contact details: 0439 203 070
Operating hours: Monday to Friday, 9 AM to 6 PM; Saturday, 9 AM to 12 PM
| | |
| --- | --- |
| Google reviews score | 4.6/5 |
| Total reviews | 5/5 |
| Score consistency | 4/5 |
| | |
| --- | --- |
| Expertise | 4/5 |
| Communication | 3/5 |
| Experience | 5/5 |
| Pricing | 4/5 |
Friendly and supportive environment
Informative website
Nontransparent pricing
Unresponsive to calls and emails
Kip McGrath Highgate provides professional tutoring services in English and Math to children in primary and secondary school. They strive to cultivate a friendly, relaxed, and motivating learning environment for all their students.
To ensure their students get the highest quality tutoring service, each enrollee is provided their own learning program that's tailored specifically to their needs.
What's more, you can find their subjects offered and tutoring times available on their website.
They offer free initial assessments for every student to determine their level and identify learning gaps. This way, your child can start at a level that's suited to their knowledge and ability.
However, one of their major downsides is they don't have their fees posted on their website. There were also complaints that they charged some fees that the clients weren't aware of.
When you're presented with a contract for the tutoring service, make sure to read all terms and conditions, and check if there are any hidden fees.
Another downside is they're unresponsive to calls and emails.
We don't recommend coming into their office without calling them first. It's most likely that they're closed or unavailable.
4. SY Tuitions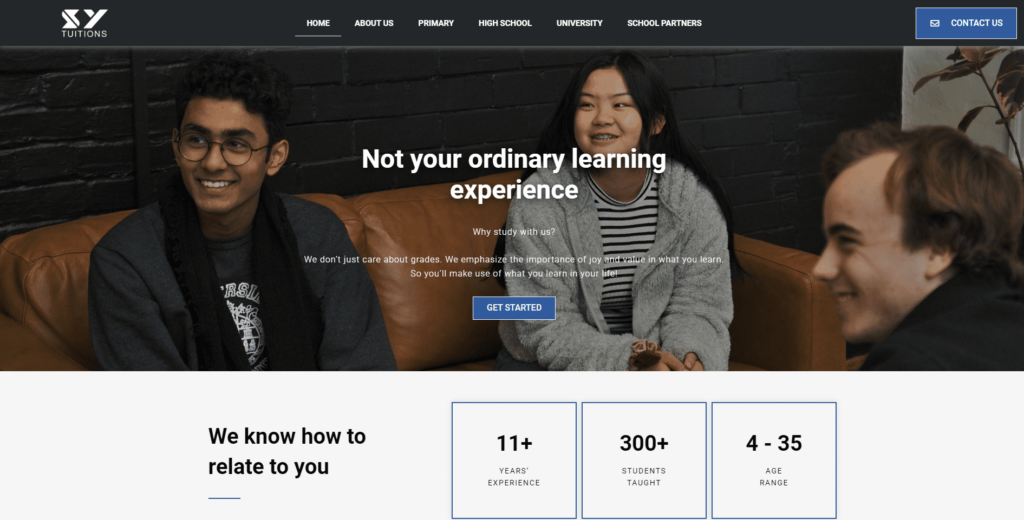 Services: Primary Tutor, High School Tutor, University Assignment Help
Website: https://sytuitions.com.au 
Address: Suite 204 Level 2, 147 Pirie Street, Adelaide, South Australia 5000
Contact details: 0433 702 973
Operating hours: Monday to Sunday, 9 AM to 10 PM
| | |
| --- | --- |
| Google reviews score | 5/5 |
| Total reviews | 5/5 |
| Score consistency | 5/5 |
| | |
| --- | --- |
| Expertise | 5/5 |
| Communication | 5/5 |
| Experience | 5/5 |
| Pricing | 4/5 |
Various tutoring services offered
Tutors students up to 35 years of age
Friendly and supportive environment
Unresponsive to emails
Nontransparent pricing
Started in 2009, SY Tuitions has exponentially grown in its passion for teaching and providing a better quality of education.
You can choose if you prefer a small group or one-on-one tutoring service, either in a face-to-face or online setting.
Just like the others, they don't believe in the one-size-fits-all approach to learning. So, all their lessons are designed and tailored to the unique needs of each student.
Their tutoring services aren't limited to primary and secondary students only. They also cater to the ones studying in universities up to 35 years of age.
Moreover, SY Tuitions is by far the most accessible tutoring service in Adelaide. It's only a two-minute drive from Adelaide CBD.
Take note that they rarely respond to queries and requests that are sent via email. When inquiring, we recommend calling directly or visiting their office during working hours.
Unfortunately, they don't have their price guide posted on their website.
It's best to look for a tutoring service that's transparent with its fee structure. Making this available to the parents can help alleviate any financial pressure or problems that may come along.
5. Tuitionworks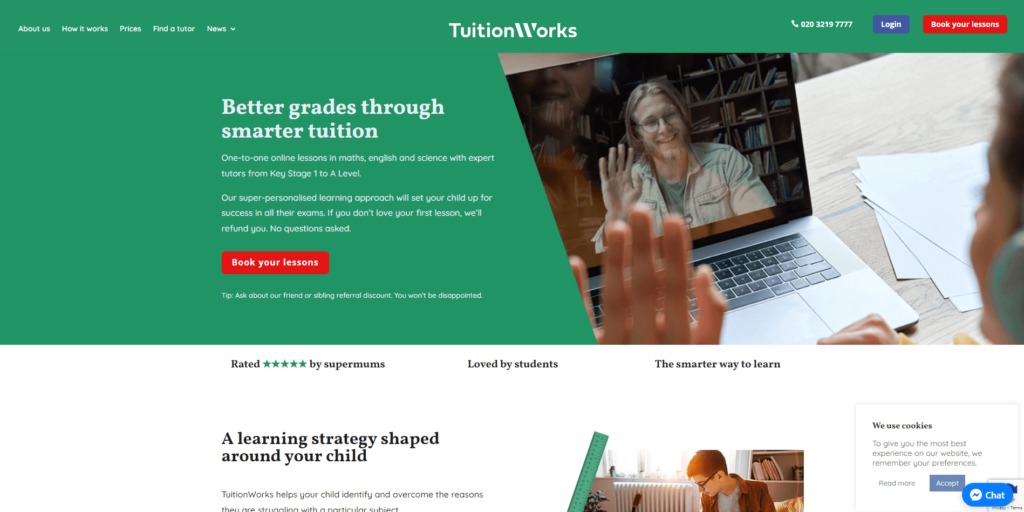 Services: 11+ Tutors, GCSE Math Tutors, GCSE Science Tutors, GCSE English Tutors
Website: https://tuitionworks.com/ 
Address: 61 Manton St, Hindmarsh, South Australia 5007
Contact details: +61 8 8340 7300
Operating hours: Tuesday to Friday, 2 PM to 8 PM; Saturday, 9 AM to 5 PM
| | |
| --- | --- |
| Google reviews score | 3.8 |
| Total reviews | 5/5 |
| Score consistency | 5/5 |
| | |
| --- | --- |
| Expertise | 5/5 |
| Communication | 3/5 |
| Experience | 4/5 |
| Pricing | 3/5 |
Highly experienced tutors
Convenient online tutorial sessions
Some students may still require physical one-on-one tutoring session
UK-based, so pricing may vary
Tuition Works believes that the key to uncovering a child's full potential is to find the right tutor. This way, they build confidence, exams are aced, and studying becomes more enjoyable.
They have a panel of tutors who are highly experienced in various learning styles.
Their tutoring services are performed online, so children from all locations can have access to quality education.
While this may be convenient for some, there are still students who require one-on-one personal tutoring sessions to help them focus on specific tasks and subjects.
Aside from that, it will also help the teachers to closely monitor the students and their body language to fully uncover any learning gaps and identify what skills need to be developed.
Still, we appreciate that they have an entire section on their website dedicated to their prices. Parents are presented with different tiers of tutoring services with corresponding prices and service inclusions.
However, be wary, as their prices aren't converted into Australian dollars. Since they're based in the UK, the currency of their pricing is pounds.
Make sure to convert the price to the currency of your choice so you can avoid an unexpected amount of billing.
FAQs about Tutoring Services in Adelaide