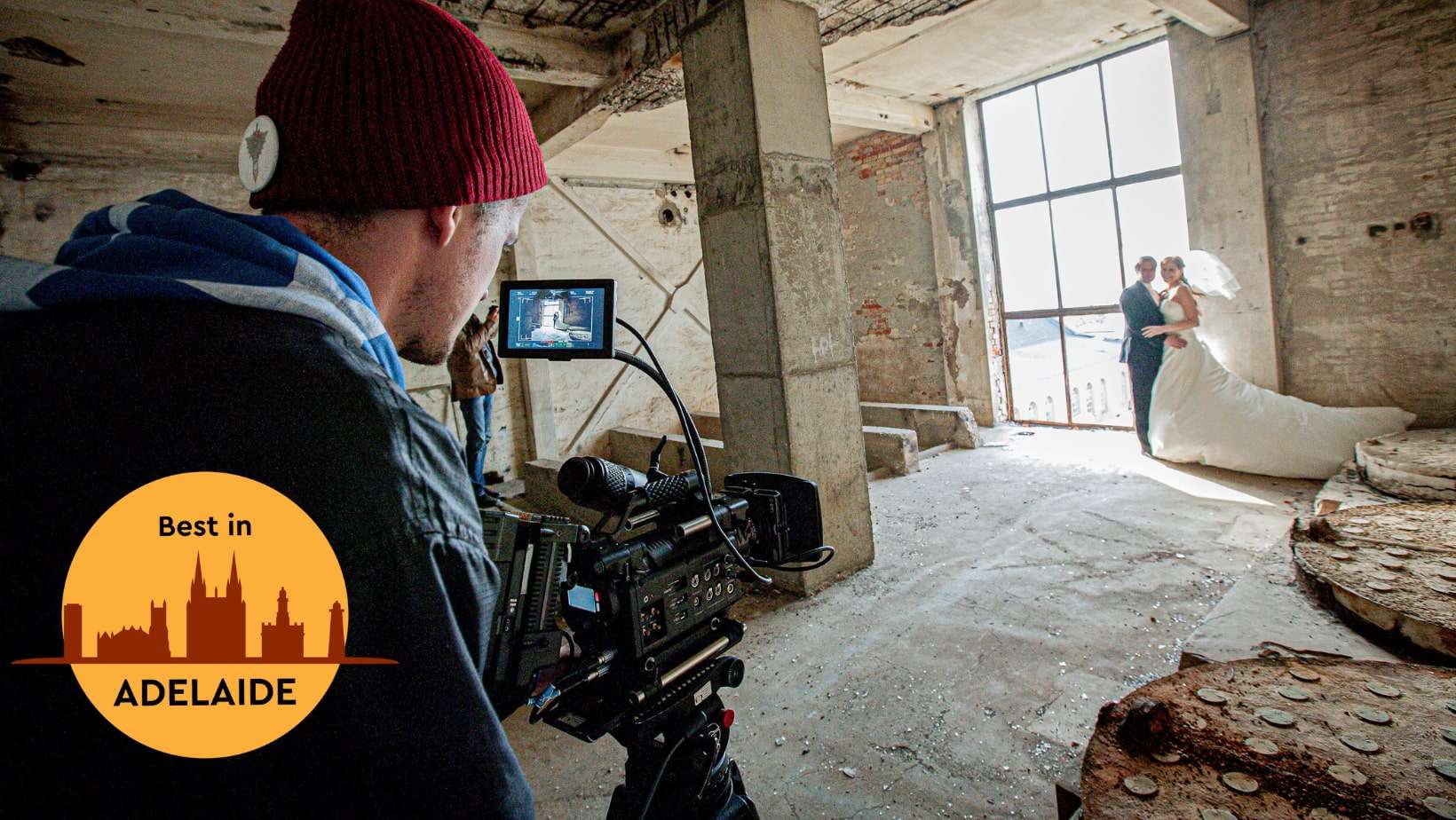 Top-Rated Wedding Videographers in Adelaide
How We Picked the Best Wedding Videographers in Adelaide
1. SvenStudios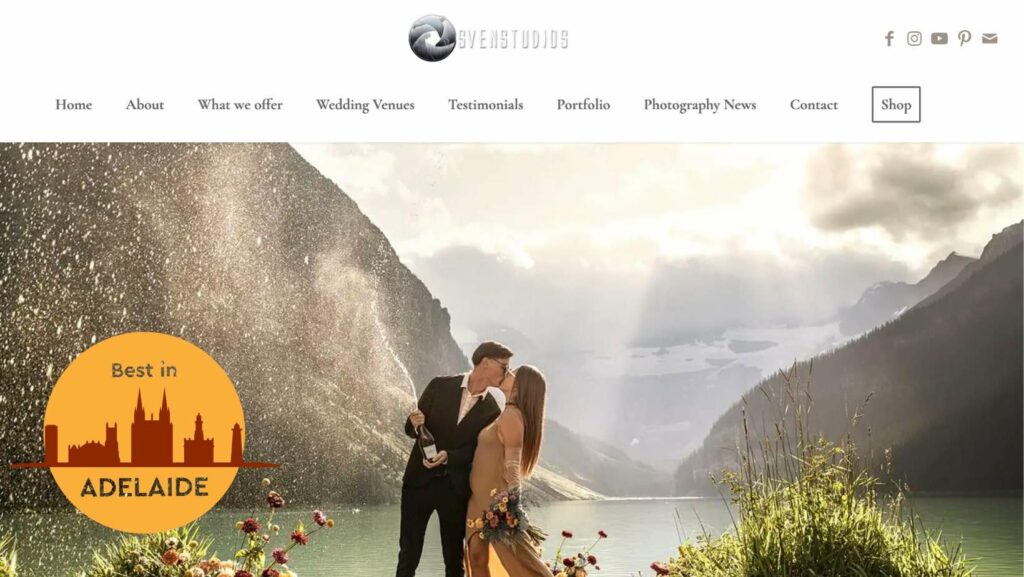 Services: Wedding videography, wedding photography, photo booth hire, livestream
Website: https://svenstudios.com/
Address: 40 Horseshoe dr Aberfoyle Park, South Australia 5159
Contact Details: +61 401 403 080
Operating Hours:
Monday to Friday: 9 am – 5 pm
Closed on Saturdays and Sundays
| | |
| --- | --- |
| Google reviews score | 5/5 |
| Facebook reviews score | 5/5 |
| Total reviews | 5/5 |
| Score consistency | 5/5 |
| | |
| --- | --- |
| Portfolio | 5/5 |
| Skill | 3.5/5 |
| Equipment | 5/5 |
| Client care | 4/5 |
| Value | 3.5/5 |
Quick turnaround time
Highly adaptable to different wedding venues and weather
Commendable professionalism
Highly detailed portfolio
Ceremony-only option
Virtual reality video available
Specializes more on wedding photography
Only 1 videographer included in packages
Steven from SvenStudios is a seasoned photographer who employs a photojournalist approach to shooting wedding films.
His quick turnaround time for his wedding films is admirable. Fortunately, the quality of his work is not compromised, as seen from his very detailed portfolio online.
Despite the difficulties of unpredictable weather, he is adaptable and can think on his feet if you need to deviate from the plan.
It's admirable that he is prepared to go above and beyond to help if you decide to adjust your wedding setup.
The studio offers invaluable service, including prompt pre-wedding reminders and continued post-wedding support to help the couple choose their favorite moments.
They also offer a ceremony-only package, perfect for elopements.
A virtual reality video is also included in all packages, allowing you to return to that point in time in the most authentic way possible.
However, they specialize more in wedding photography than taking on wedding videography projects.
Moreover, only one videographer is included in their packages. This can definitely hurt the efficiency of their wedding coverage.
2. Rhiannon Miller Video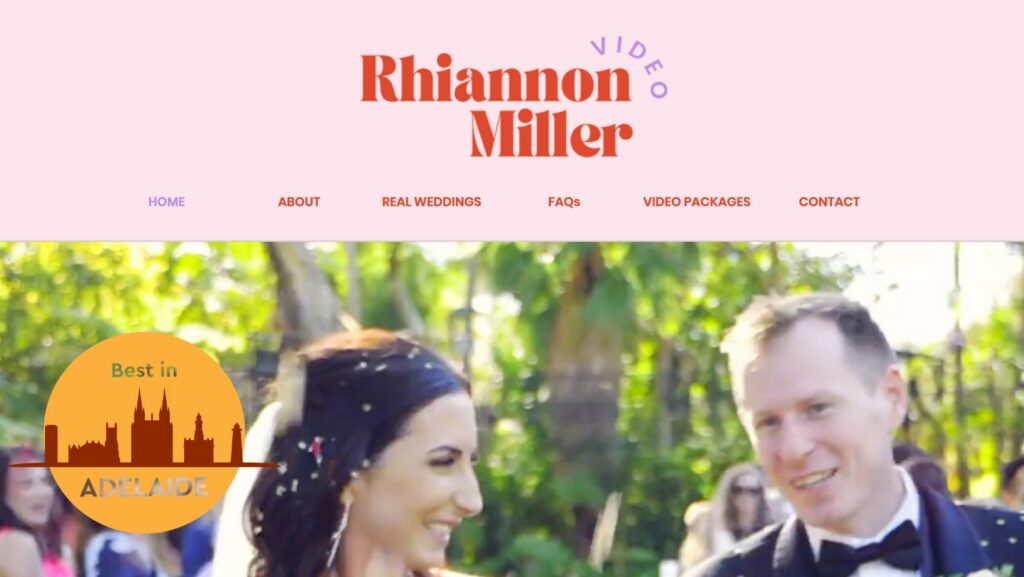 Services: Wedding videography, photo booth
Website: https://www.rhiannonmillervideo.com.au/
Contact Details: [email protected]
Operating Hours: By appointment only
| | |
| --- | --- |
| Google reviews score | 5/5 |
| Total reviews | 5/5 |
| Score consistency | 5/5 |
| | |
| --- | --- |
| Portfolio | 5/5 |
| Skill | 3.5/5 |
| Equipment | 4/5 |
| Client care | 5/5 |
| Value | 3.5/5 |
Lengthy coverage hours
Drone shots add-on available
Thorough in doing due diligence
High level of artistic flair
Responsive to queries
Long turnaround times
High price point
If you want a videographer who will spend the most of the day at your side documenting all the important moments as they occur, you might want to consider hiring Rhiannon Miller.
They will definitely be able to conduct full coverage on your wedding day with their lengthy coverage duration. Even for their entry-level package, the duration of their coverage is six hours!
They also offer drone shots to add a theatrical effect to your final video and, of course, showcase your wedding venue. This, however, is an add-on purchase.
Speaking of having an appetite for artistic flair, they have a keen eye for attractive angles and photos. Additionally, they have a very distinctive editing style and a penchant for vibrant colors.
We are amazed at how they do their due diligence in getting to know the couples they are working with. This is important in putting a personal touch to their films.
Clients also commend their polite and prompt responses to queries. You definitely need someone who is enthusiastic and patient in answering all your questions and requests for your big day.
However, we are quite disappointed that the turnaround time for the final film and gallery can stretch up to more than two months.
In addition to this, the prices of their packages are expensive. The cheapest one is priced at AUD 2,900.
3. SkyPix Group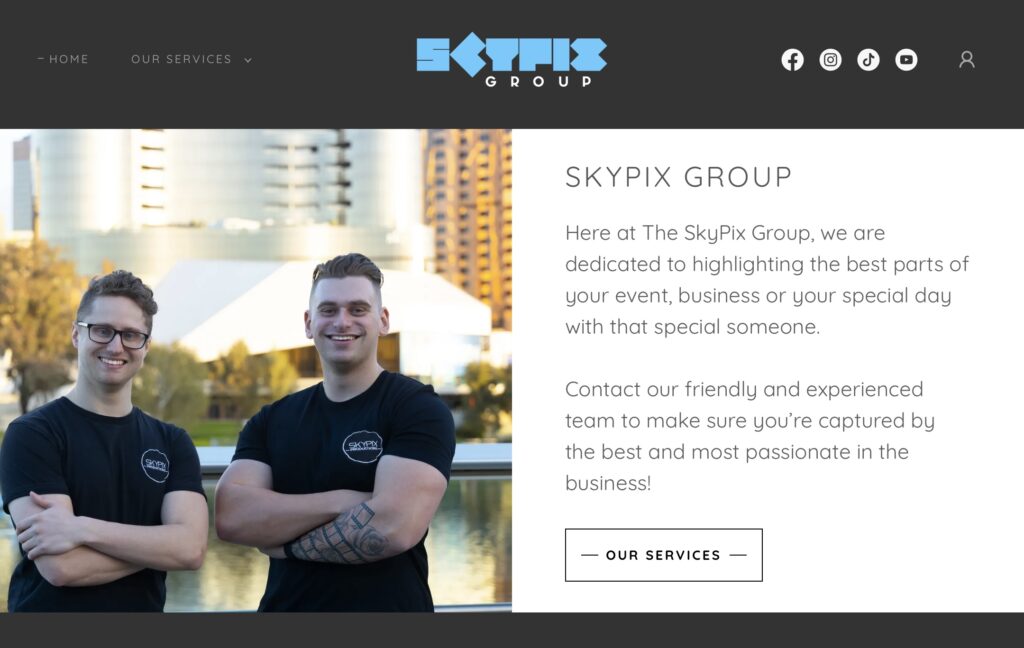 Services: Wedding videography, Wedding photography, Photo booth hire, Livestream, Content creation, and Real estate media
Website: https://skypixgroup.com.au/
Address: 313 Halifax Street, Adelaide South Australia 5000, Australia
Contact Details: [email protected]; 0478074879
Operating Hours:
Monday to Friday: 9 am – 5 pm
Saturday to Sunday: Closed
| | |
| --- | --- |
| Google reviews score | 5/5 |
| Facebook reviews score | 5/5 |
| Total reviews | 5/5 |
| Score consistency | 5/5 |
| | |
| --- | --- |
| Portfolio | 5/5 |
| Skill | 4/5 |
| Equipment | 5/5 |
| Client care | 5/5 |
| Value | 4/5 |
Excellent quality footage
Prompt and professional service
Affordable pricing options
Impressive reputation in the industry
Our experience with SkyPix Group was like hitting the cinematic jackpot. From start to finish, these guys know how to capture moments that make our hearts skip a beat.
When it comes to convenience, SkyPix Group is the MVP. They showed up on time, camera-ready and raring to go, like the James Bond of videography.
No fuss, no hassle, just pure professionalism that made us feel like A-list celebrities.
Their reputation speaks for itself. People talk about SkyPix Group like they're the Beyoncé of the videography world.
And you know what? They deserve every bit of that hype.
Their portfolio is a visual feast for the eyes, and after experiencing their magic firsthand, we're officially part of the fan club.
We all want the red carpet treatment without breaking the bank, right? Well, SkyPix Group gets that.
They offered us a package that was as affordable as a "buy one, get one free" deal at our favorite burger joint.
And the best part? They didn't skimp on quality, which we love.
But let's get down to the nitty-gritty: their services.
SkyPix Group isn't just your run-of-the-mill videography company. They're the Avengers of capturing memories.
Their attention to detail is so precise, it's like they have a secret superhero power for finding the perfect angle, lighting, and mood. They transformed our special moments into a cinematic masterpiece that could rival any Hollywood blockbuster.
Unfortunately, they're not available on weekends. We recommend booking an appointment with them on weekdays to guarantee a slot.
4. Catch The Moment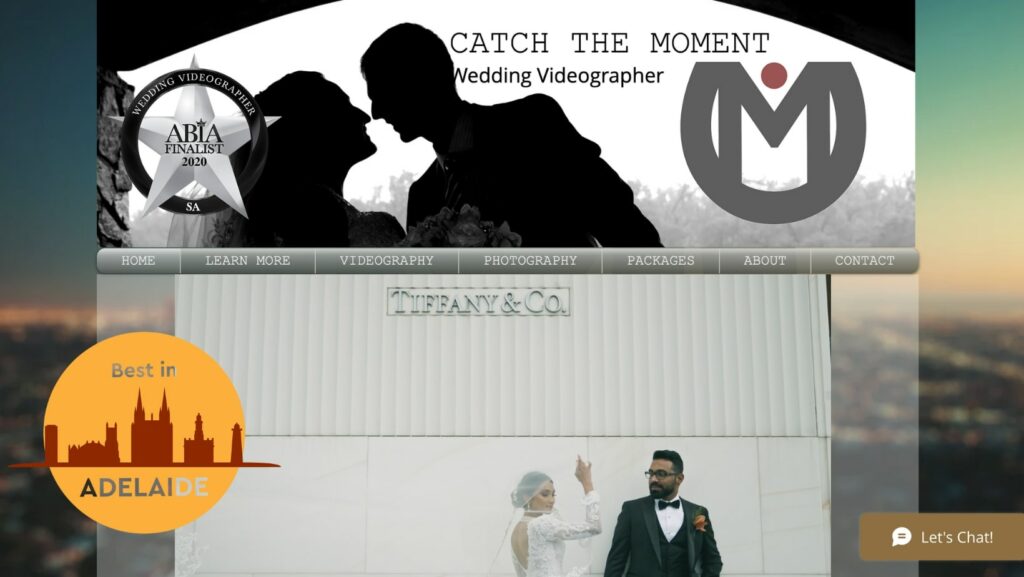 Services: Wedding videography, wedding photography
Website: https://www.catchthemoment.com.au/
Address: 17 Walsh Ave, St Marys SA 5042
Contact Details: +61 404 030 231
Operating Hours: Open 24 hours a day, 7 days a week
| | |
| --- | --- |
| Google reviews score | 5/5 |
| Facebook reviews score | 5/5 |
| Total reviews | 5/5 |
| Score consistency | 5/5 |
| | |
| --- | --- |
| Portfolio | 5/5 |
| Skill | 4/5 |
| Equipment | 4/5 |
| Client care | 5/5 |
| Value | 4/5 |
Minimum 3 cameras coverage
Drone shots included in all packages
Highly customizable packages
Reasonable prices
Prompt turnaround time
Personalized highlight/documentary film
1 videographer only for cheaper packages
Short coverage duration for basic package
Catch The Moment by Tim is a lot of couples' lifesaver. Not only is he always on call to take on jobs, but he also delivers at a high level.
They make sure that no special moment is left undocumented. They have a minimum of three cameras to cover your very special day.
Drone coverage is also included in all their packages. All this equipment in the hands of a passionate filmmaker and editor puts you at ease on your wedding day.
Of course, in addition to his exceptional technical abilities, he also makes sure that everything goes smoothly to complete his assignment on time.
His packages are also reasonably priced, so you won't need to worry about burning a hole through your wallet.
On top of this, the customization options for their packages are endless.
But the thing we appreciate most about them is they go above and beyond to create wedding videos that are as distinct and personalized as they can be.
However, there are some downsides to their more affordable packages. One of which is that you only get one videographer to cover the wedding.
This is unless you avail of their more premium package that costs AUD 5,500. In which case you'll be getting two videographers.
Another downside to availing of their affordable package priced at AUD 1,000 is that it is only a two-hour coverage.
On the bright side, if you are preparing for a more sudden and secretive wedding affair, their more economical package may be for you.
5. Curtis Brownjohn Films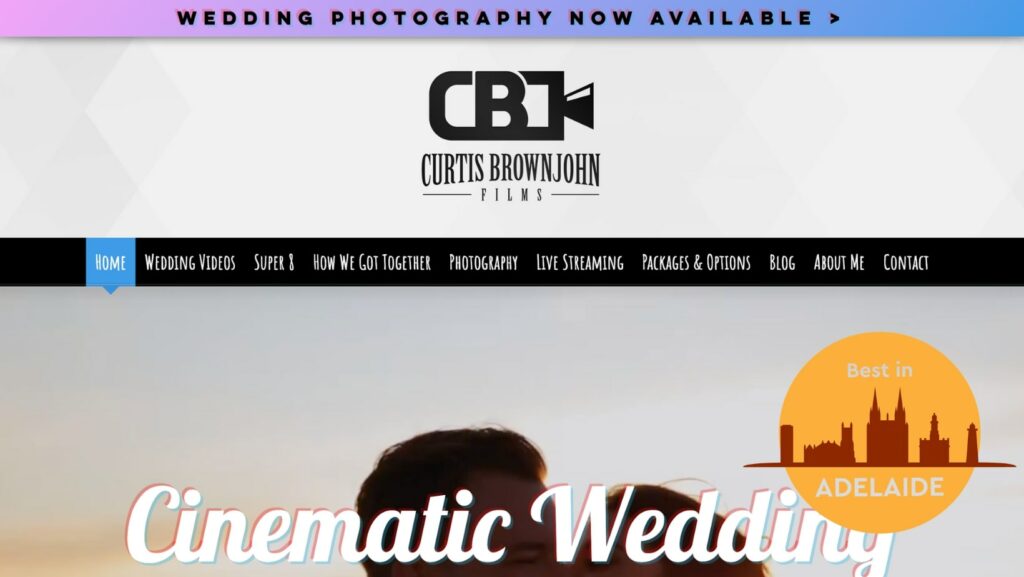 Services: Wedding videography, super 8 wedding film videography, wedding photography, live streaming
Website: https://www.curtisbrownjohnfilms.com/
Address: 16a Neville Road Thebarton SA 5031
Contact Details: +61 (0) 437 294 941
Operating Hours:
Monday to Friday: 9 am – 5 pm
Closed on Saturdays and Sundays
| | |
| --- | --- |
| Google reviews score | 4.9/5 |
| Total reviews | 4.9/5 |
| Score consistency | 4/5 |
| | |
| --- | --- |
| Portfolio | 5/5 |
| Skill | 5/5 |
| Equipment | 4/5 |
| Client care | 5/5 |
| Value | 3.5/5 |
Authentic vintage film option
Extensive portfolio
Top-notch cinematography
High-quality live streaming package
Easy to communicate with
Non-disruptive video coverage
Expensive packages
Limited inclusions per package
Curtis Brownjohn Films caught our attention because of his innovative approach to wedding videography.
Browsing through their extensive portfolio was a delight. They conveniently illustrate the three different wedding videos they offer: teaser trailers, highlight films, and full-day edits.
We are also intrigued by their Super 8 Wedding Films. For all you retro enthusiasts out there, Super 8 is a film format that's great for giving your wedding memories a retro touch.
We definitely respect their nod to retro cinema, and if this is your jam, you are in for a treat!
Additionally, they offer live stream coverage on your wedding day. Everything from your entrance to your kiss will be captured and broadcast in real-time.
You can be confident that you can share your special day with people you love no matter the distance or the situation, thanks to the razor-sharp visual quality and crystal-clear audio.
They are transparent in their communication and will follow up frequently to see if you are happy with their work.
We also appreciate how they are lowkey and not disruptive when covering wedding events. This is crucial so that the couple and guests won't feel awkward during the wedding.
A downside, however, is the high price points of their packages. The Economy Package is priced at AUD 2,860.
We are also a bit dismayed by the limited inclusions per package. The entry-level package only gets you a three-minute highlight film of the ceremony and photo locations.
In hindsight, we'll definitely recommend Curtis Brownjohn Films if you are looking for videographers to live stream your wedding celebration. Also, if you are planning to avail of their vintage wedding film option.
6. Lifesketch Weddings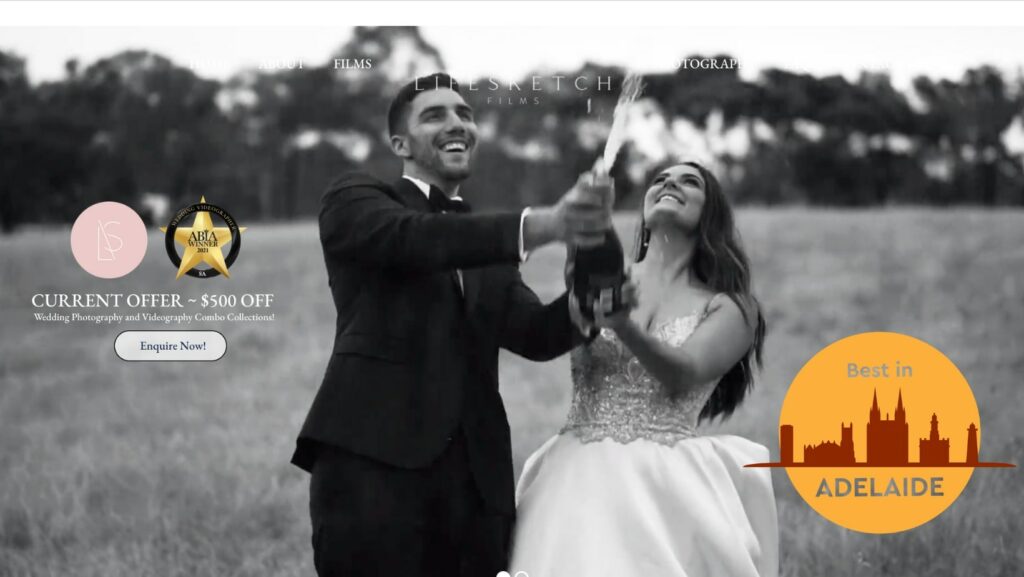 Services: Wedding videography, wedding cinematography, wedding photography
Website: https://www.lifesketchfilms.com.au/
Address: 26 Alguna Cres, Rostrevor SA 5073
Contact Details:+61 419 817 911
Operating Hours: Open 24 hours, 7 days a week
| | |
| --- | --- |
| Google reviews score | 5/5 |
| Facebook reviews score | 5/5 |
| Total reviews | 5/5 |
| Score consistency | 5/5 |
| | |
| --- | --- |
| Portfolio | 5/5 |
| Skill | 5/5 |
| Equipment | 4/5 |
| Client care | 5/5 |
| Value | 4/5 |
Winner of the Best Wedding Videographer in Australia
All packages include 2 cinematographers
Outstanding portfolio
High-quality equipment
Seasoned professional cinematographers
Exceptional communicators
Doesn't provide raw footage
No extensive packages list
Needless to say, Lifesketch Weddings is renowned across all of Australia.
They were awarded the title of Best Australian Wedding Videographer at the 2022 National ABIA Designer of Dreams Wedding Awards.
The countless couples they helped through their professional cinematography can attest to how they memorialized their most special day through masterfully made films.
Also, seeing their outstanding portfolio truly proves they deserved that accolade. Each film is exquisitely crafted and distinct from the rest.
Of course, the high quality of their equipment also shines in the films they make.
Two videographers are included in each of their packages. This is to ensure that they nail the shots from multiple angles.
Excellent communication is also demonstrated by their prompt responses to inquiries, attentiveness to your demands, and thorough updates on the progress of the planning.
However, do note that they will not allow you to request for the raw footage they have of your wedding, which is kind of a bummer.
Moreover, they do not provide an extensive description of their list of packages on their website. All they provide is their base price, which is AUD 3,250.
If you are unsure whether to hire them, we find it inconvenient to phone them repeatedly in order to receive simple answers such as the package inclusions.
Despite this, if you don't mind spending a few hundred more, we recommend Lifesketch Weddings for their impeccable attention to detail and great personality.
7. Nielen Video Production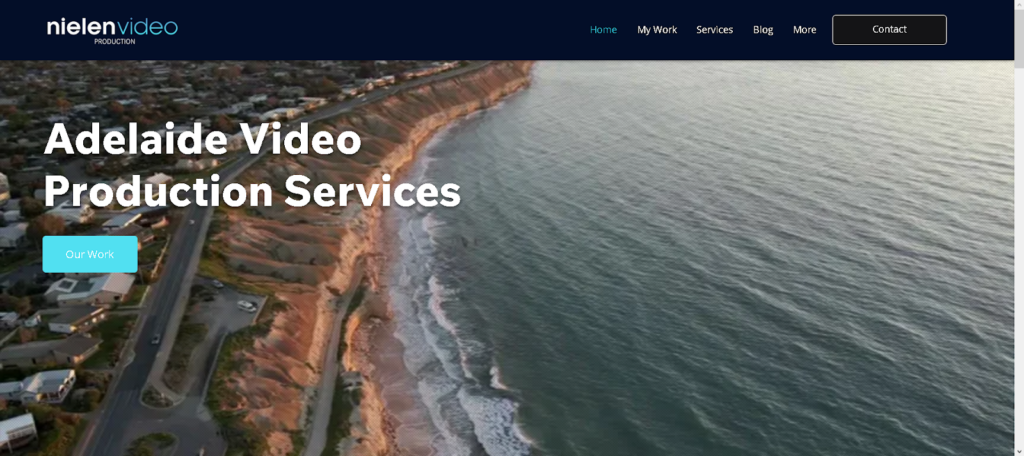 SERVICES
Promotional Videos
Event Videos
Training Videos
Wedding Videos
Freelance Video Editing
WEBSITE
aidenvannielen.com
ADDRESS
Adelaide, South Australia.
CONTACT DETAILS
0401 519 586
[email protected]
BUSINESS HOURS
Monday – Sunday, 24 hours
| | |
| --- | --- |
| Google reviews score | 5/5 |
| Facebook reviews score | 4.5/5 |
| Total reviews | 4.7/5 |
| Score consistency | 4.6/5 |
| | |
| --- | --- |
| Portfolio | 5/5 |
| Skill | 5/5 |
| Equipment | 4/5 |
| Client care | 5/5 |
| Value | 4/5 |
Over 5 years of video production expertise
Creative-based approach
Available 24/7
Aiden Van Nielen, an Adelaide-based videographer with years of expertise and a Bachelor's degree in Screen Production, launched Nielen Video Production. He creates videos for a variety of purposes, including events, training, advertising, and weddings.
With over 5 years of video-producing expertise. From the proposal to the last dance, he and his crew of professional videographers will film every minute of your special day. Every wedding is different and one-of-a-kind; whether you want a classic or modern wedding film, he will make one that genuinely expresses your personality and captures the essence of your day.
They use a tight production method in which they first lay out all the intricacies of the shoot and ensure that everyone is on the same page. This guarantees that they can hit the ground running on the day of production and capture the shots they want.
They will edit the video after it has been produced. Color grading, audio mixing, licensing, and background music are all examples of editing. Nielen enjoys involving my clients in the process so that they may be sure they get precisely what they desire. Nothing beats the satisfaction of seeing the completed result.
8. SPT Photography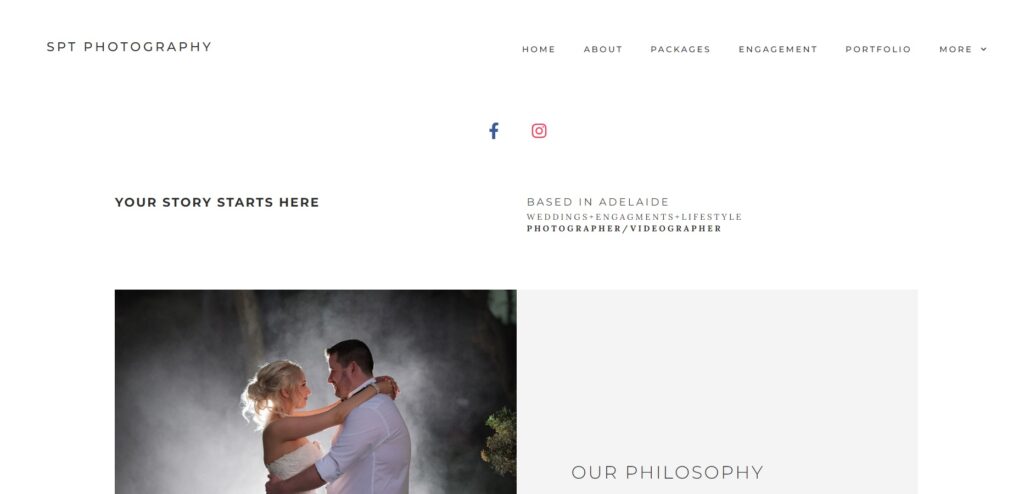 Services: Photo, Video, Hybrid
Website: https://www.sptphotography.com.au/
Address: 72 Florence Ave, Blair Athol SA 5084, Australia
Contact Details: +61 460 306 629
Operating Hours: 24/7
| | |
| --- | --- |
| Google reviews score | 5/5 |
| Facebook reviews score | 5/5 |
| Total reviews | 5/5 |
| Score consistency | 5/5 |
| | |
| --- | --- |
| Portfolio | 5/5 |
| Skill | 5/5 |
| Equipment | 5/5 |
| Client care | 5/5 |
| Value | 4/5 |
Photographs are fully edited and in high resolution
Online photo gallery is provided to clients
Specializes in non-traditional and laid-back weddings
Far locations may entail more fees incurred
SPT Photography is a company that provides clients with professional and comprehensive photography services specializing in intimate events such as weddings and engagements along with slightly casual ones such as that of lifestyle.
We like that their rates cater to various wedding sizes and interested clients will receive sets of high-resolution photos which are ideal for both printing and digital use and viewing as well.
Furthermore, we like that clients can easily browse their portfolios online so that clients can better see what types of photography styles they accommodate and further assess the suitability of their approach with what they envisioned.
Note though that additional rates may incur for additional coverage hours should an additional photographer be needed when it comes to fully covering the said wedding.
Overall, with their team of professional and versatile photographers, flexible and elegant style when it comes to capturing moments, and excellent storytelling approaches, we highly recommend that interested clients check them out.
FAQs about Wedding Videographers in Adelaide