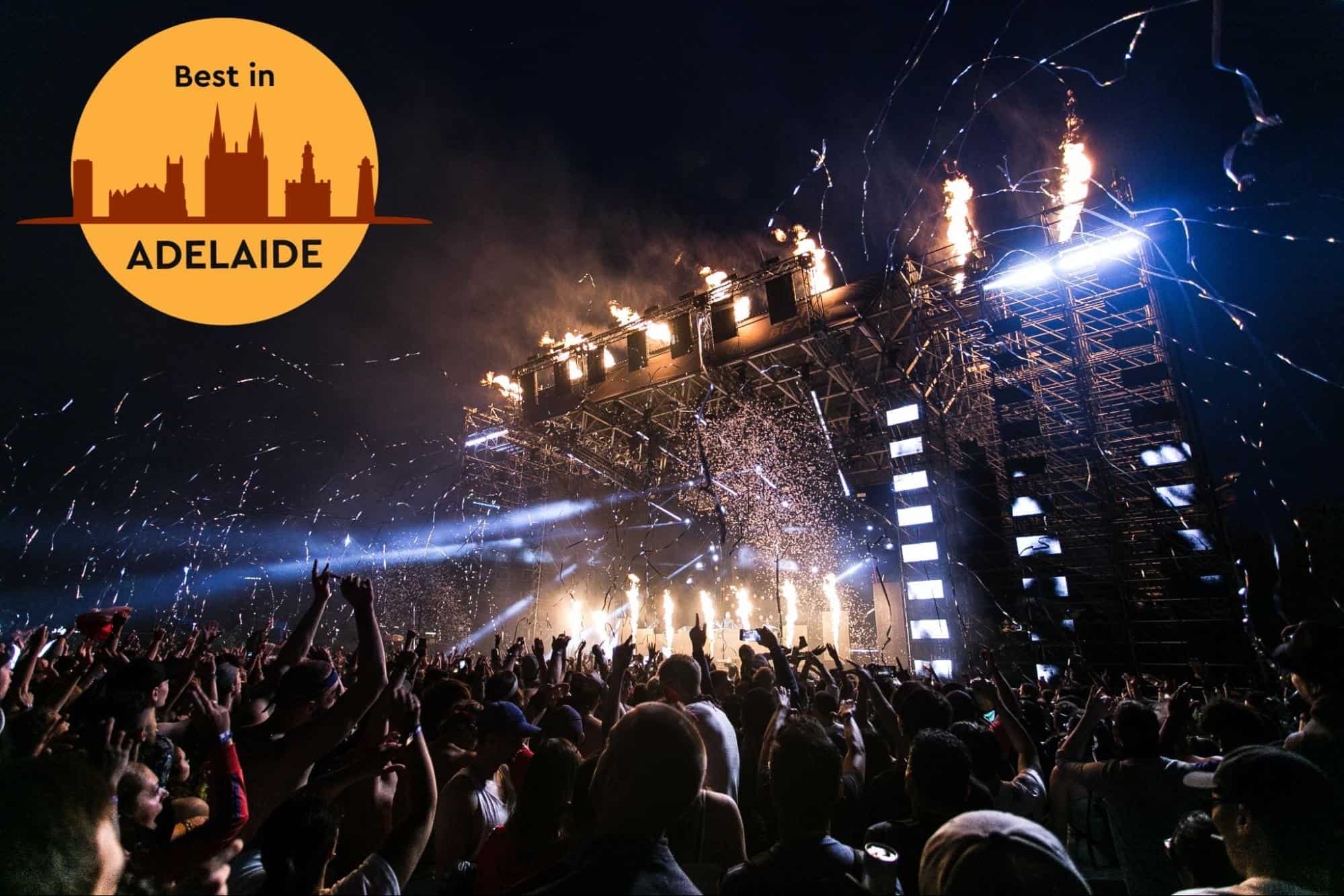 Party in Adelaide: Australia's Festival Capital
Adelaide is famous for many things: typically for its pristine beaches, world-class wines, and renowned restaurants. But did you know South Australia's metropolis also receives frequent praise as the country's festival capital?
Party lights burn bright in our city, with high-spirited festivals such as WOMADelaide and Adelaide Fringe leading the way. If you want to know more, keep scrolling and have a glimpse of the revelry!
Why is Adelaide named the festival capital of Australia?
Adelaide is named the festival capital of Australia due to its vibrant and diverse festivals, including events like WOMADelaide and Adelaide Fringe, which draw in large crowds and showcase a wide range of arts, culture, and entertainment.
Aside from WOMADElaide and Adelaide Fringe, the City of Adelaide hosts 11 other major festivals:
Illuminate Adelaide
Adelaide Cabaret Festival
South Australian Living Artists Festival
Adelaide Film Festival
OzAsia Festival
Tarnanthi Festival
Feast Festival
Adelaide Festival
South Australia's History Festival
Adelaide Guitar Festival
DreamBIG Children's Festival
What is WOMADelaide?
WOMADelaide (World of Music Arts and Dance) is a renowned music and arts festival in Adelaide, Australia. It's celebrated yearly and often takes place in early March.
This festival has featured artists from different genres and cultural backgrounds, like Angélique Kidjo, Salif Keita, Sampa the Great, and Archie Roach in previous lineups.
In addition, attendees can expect a vibrant and eclectic atmosphere, with multiple stages hosting live music, dance, and interactive, expert-led workshops like cooking demonstrations and dance lessons.
What is Adelaide Fringe?
Adelaide Fringe is an annual open-access arts festival held in Adelaide from mid-February to mid-March.
It's one of the largest and most diverse fringe festivals worldwide, presenting different artistic activities encompassing music, dance, theater, comedy, visual arts, circus acts, cabaret, and more.
Some notable performers who have participated in the festival in the past include comedians like Tim Minchin and Hannah Gadsby, musicians like Courtney Barnett and Tash Sultana, and visual artists like Patricia Piccinini and Del Kathryn Barton.
What is Illuminate Adelaide?
Illuminate Adelaide is Adelaide's multi-disciplinary arts festival featuring light art installations, immersive technology, and music. This winter spectacle starts in late June and ends in late July.
The event often showcases local and international artists, offering a mesmerizing and cutting-edge light art trail, fantastic live music performances, and interactive installations ranging from light gardens to light zoos.
What is Adelaide Cabaret Festival?
The Adelaide Cabaret Festival is an annual Adelaidean event in June that celebrates the art of cabaret in the city.
The festival's program includes performances, from solo acts to ensemble shows, covering a spectrum of themes.
Audiences can expect a blend of comedy, drama, song, and dance, with entertaining and thought-provoking performances. Some renowned past performers include Eddie Perfect, Kate Ceberano, and Ali McGregor.
What is South Australian Living Artists Festival?
The South Australian Living Artists (SALA) Festival is an annual celebration of visual arts in South Australia.
Its purpose is to showcase and support local artists, providing a platform to exhibit their works and connect with a broader audience.
SALA Festival runs throughout August and is celebrated in both Adelaide and parts of South Australia. During this time, exhibits, cafes, and galleries showcase dynamic artwork of famous and emerging artists.
The festival also hosts workshops, artist talks, and open studios, allowing the public to interact with the creators and gain insights into the artistic process.
What is the Adelaide Film Festival?
The Adelaide Film Festival (AFF) is a biennial event that celebrates and showcases the art of filmmaking in Adelaide.
It serves as a platform to screen local and international films, including feature films, documentaries, short films, and experimental works.
The event is known for its focus on bold and innovative filmmaking, often featuring works that challenge conventions and explore unique storytelling approaches.
AFF typically takes place from mid to late October. And aside from screenings, AFF also has retrospectives, masterclasses, and panel discussions.
What is OzAsia festival?
OzAsia Festival is an annual cultural event in Adelaide promoting the artistic and cultural connections between Australia and Asia's many regions.
This celebration takes place in spring, from mid-October to early November. Established artists and youngbloods from across Asia participate in the festival, contributing to the vibrant and immersive cultural experience.
Previous iterations of OzAsia included dance, theater, writing workshops, and live music performances. There was also a moon lantern trail and a lucky dumpling market.
What is the Tarnanthi Festival?
The Tarnanthi Festival is an annual Indigenous visual arts festival in Adelaide showcasing the contemporary and traditional art practices of Aboriginal and Torres Strait Islander artists across Australia.
The festival provides a platform for Indigenous artists to share their stories, culture, and artistic expressions with a bigger audience. It also aims to support and empower the artists and their communities.
Tarnanthi Festival's annual program includes exhibitions, art installations, workshops, artist talks, performances, and cultural events, usually from October to December.
What is Feast Festival?
The Feast Festival is an annual LGBTQIA+ arts and cultural festival in Adelaide.
It vibrantly promotes and celebrates the diverse and inclusive LGBTQIA+ community through artistic performances and activities, such as cabaret shows and community discussions.
The festival is famous for being a safe and welcoming space for LGBTQIA+ individuals to express themselves, share their stories, and celebrate their identities through forms of art.
The Feast Festival usually takes place during October and November, and anyone is welcome to join!
What is Adelaide Festival?
The Adelaide Festival, formally known as the Adelaide Festival of the Arts, is a prestigious multi-disciplinary celebration of the arts in Adelaide, focusing on disciplines like visual arts, dance, opera, and literature.
Some of its best events include classical concerts, literary workshops, and experimental operas.
The festival is celebrated in March, typically lasting 2 to 3 weeks.
What is South Australia's History Festival?
South Australia's History Festival is an annual event celebrated to showcase and explore the rich history and cultural heritage of South Australia. The festival is in May, with numerous events and activities happening throughout the month.
The festival highlights include open days at historical sites and museums, guided tours of heritage buildings and neighborhoods, talks and presentations by historians and experts, workshops, historical reenactments, community events, cultural celebrations, and more.
What is the Adelaide Guitar Festival?
The Adelaide Guitar Festival is a biennial event in July that celebrates the artistry and diversity of the guitar in all its forms.
It aims to bring together guitarists from different genres, including classical, jazz, blues, rock, and world music.
The Adelaide Guitar Festival also features exciting events, like the Winter Guitar School, a classical guitar competition, and on-the-road, free live performances.
What is DreamBIG Children's Festival
DreamBIG Children's Festival is an annual arts and cultural event in Adelaide designed for young audiences. The festival's goal is to celebrate creativity, imagination, and the importance of the arts in children's lives.
The festival includes theater performances, dance shows, music concerts, visual art exhibitions, interactive installations, storytelling sessions, and workshops.
This July festival not only entertains but also educates, offering opportunities for children to learn from professional artists and engage with creative expression.
_____________________________________________________________________