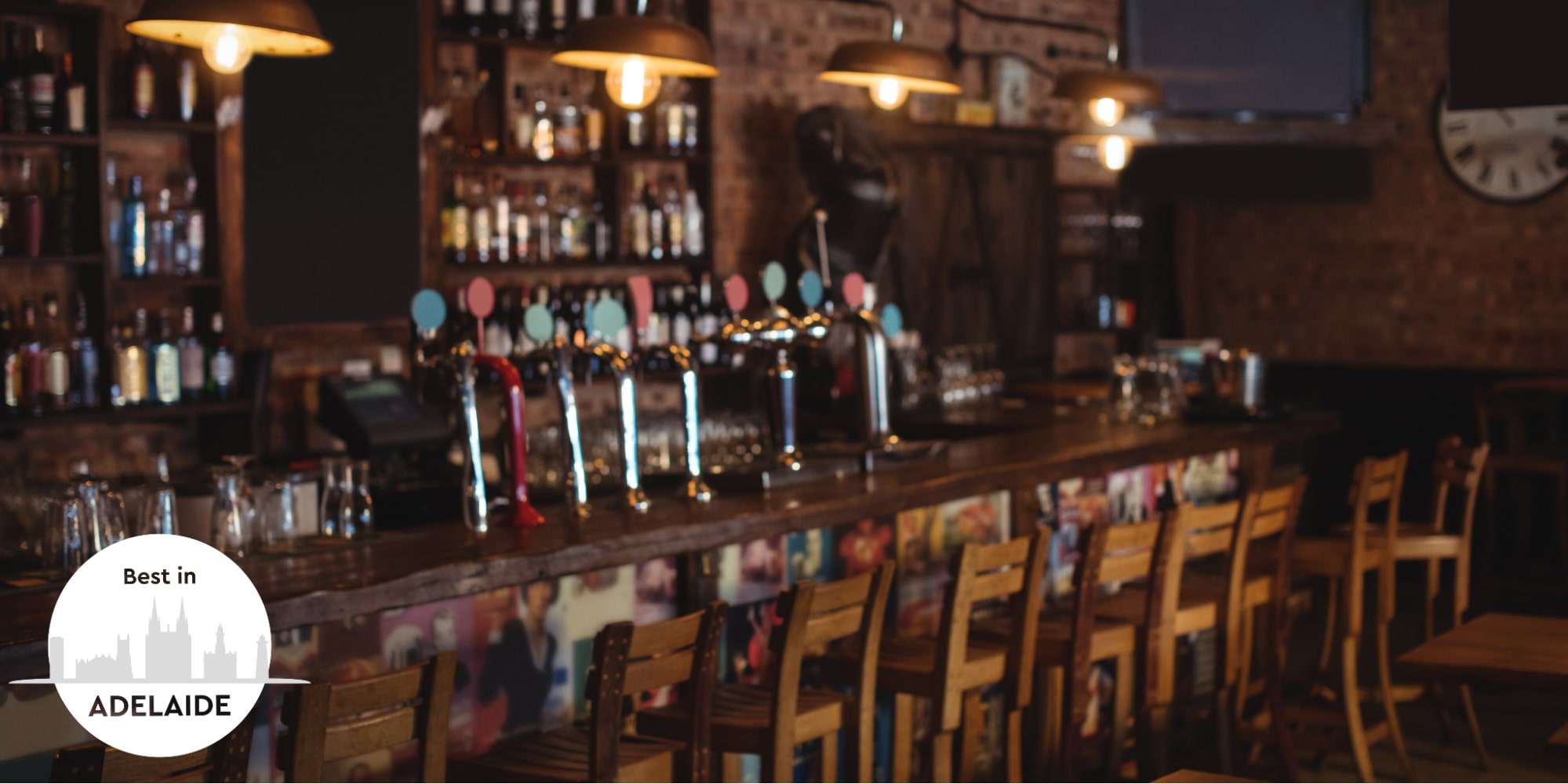 The 9 Best Pubs in Adelaide
Adelaide is home to many pubs, and they have served as great places for keeping the community entertained and well-fed. May it be couples, families, or office friends, these are sure to be great places for drinks and food.
The best thing about them is there's great variety in terms of drinks, building design, and atmosphere. If you're planning to tour Adelaide's different pubs, you've come to the right place.
Pubs in Adelaide CBD
If you want a spot where you can relax and unwind after a long work day, we've got you covered. These pubs are situated in the heart of Adelaide's CBD, making it convenient to visit for you. 
1. Sparkke at the Whitmore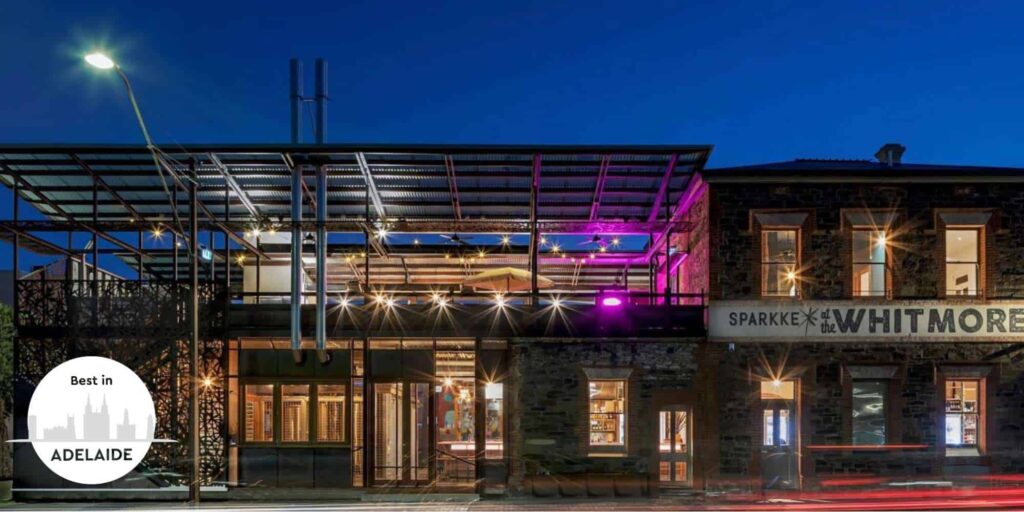 Location: 317 Morphett St, Adelaide SA 5000
Website: https://sparkke.com/pages/the-whitmore
Bestsellers: Carbon zero beers, kingfish
Sparke at the Whitmore takes great pride in having a female head chef. This, partnered with their award-winning reputation, makes them a standout pub in Adelaide.
It differentiates itself from other pubs through its industrial design, as seen from the front door to the furniture. It's further accentuated by neon lights and street art, which gives it an energetic vibe. 
Their food is among the best in Adelaide, as proven by their Best Restaurant of the Year Award for 2019.
They elevate classic favorites, like cheeseburgers and fried chicken, to something more savory and juicy.
Making the experience more complete is their prices that are budget-friendly. Because of this, they're a great choice for weekly hangouts.
Environmentally conscious clients will also feel at ease because of the pub's dedication to minimizing their carbon footprint. After all, proper cleaning and waste disposal are a must for dining places.
They've collaborated with Yorke Premium Malts, Hill Hops, and other local distributors to lessen their carbon dioxide emissions. In addition, their packaging is made to be easily recyclable. 
2. The Crown and Anchor Hotel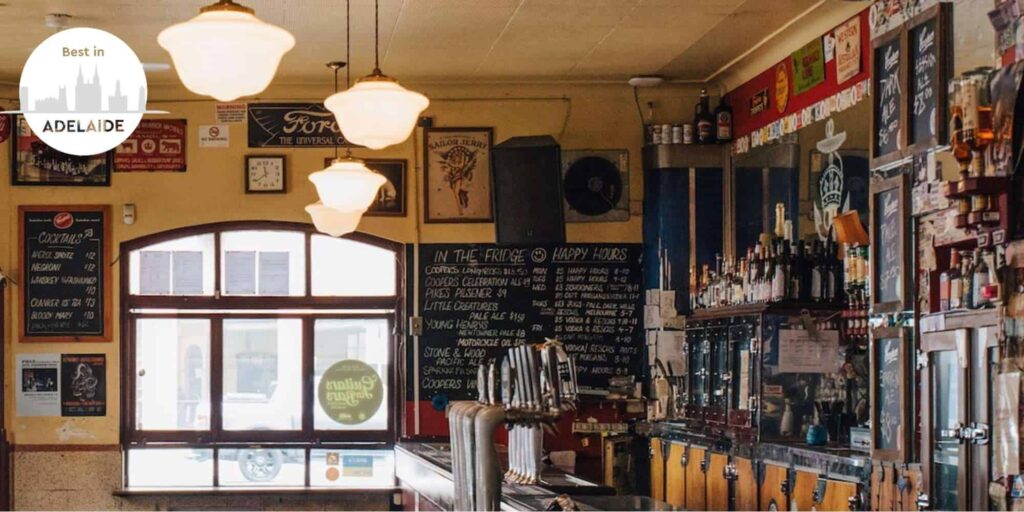 Location: 196 Grenfell St, Adelaide SA 5000
Website: https://www.crownandanchorhotel.com.au/
Bestsellers: Beers, spaghetti
The Crown and Anchor Hotel's pub is a favorite among goths and punks. Its alternative decor, mainly in shades of black and gray, gives it a grungy appeal that many like.
Here, a great focus is put on the performances, both comedy and music. Every day of the week has a lineup, with some days having free entry.
Regulars like the free-spirited vibes and culture around here, as seen with how you can dress in any style you're comfortable with. They're welcoming to new folks, which makes them a great choice for tourists.
In case you're looking for somewhere quieter, you can always go to their balcony bar, which has a great nighttime view.
Fondly called "The Cranker," the pub has a good selection of beers on tap, which has rotational guest beers from local crafters.
In addition, their food is priced affordably. Their specialties include spaghetti, which has many interesting and mouth-watering variations. 
3. Elephant and Castle Hotel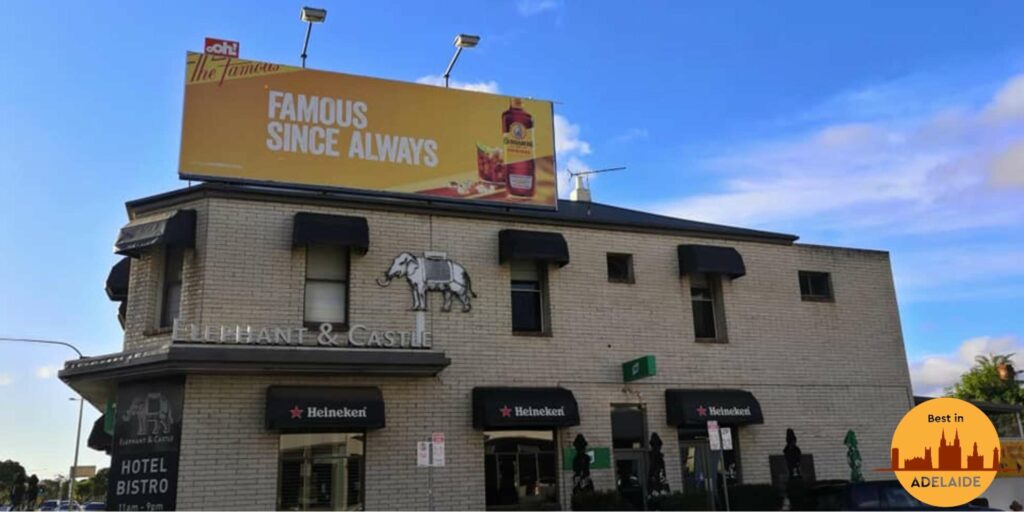 Location: 179 West Terrace, Adelaide SA 5000
Website: https://elephantandcastlehotel.com.au/
Bestsellers: Beers, Elephant burger, steak
Elephant and Castle is located by the East End, and it's well-known for its collection of vintage wines.
Its architecture is inspired by British culture, as seen in the moody photos that are displayed on its walls. It even has an English phone booth placed near it.
Here, you can try up to 12 beers on tap, which features local and international choices. You can pair this with an affordable and scrumptious meal.
Their bestseller is the Elephant burger, which has many meat variations, such as marinated steak, beef patty, rosemary chicken, and vegetable patty.
The pub has many spacious and cozy booths that make it very welcoming. You can also have fun with any of the seven gaming machines.
One of their standout features is the Sip n' Save bottle shop which is known for its great range of selections and affordable prices.
Finally, the mood of the pub is cozy and friendly for families. You'll easily feel at home in their place. 
Suburban Pubs in Adelaide
If you want a place to hang out that's near your residential area, these pubs are a great choice for you. Their ambiance and food can easily make you a regular. 
4. Wheatsheaf Hotel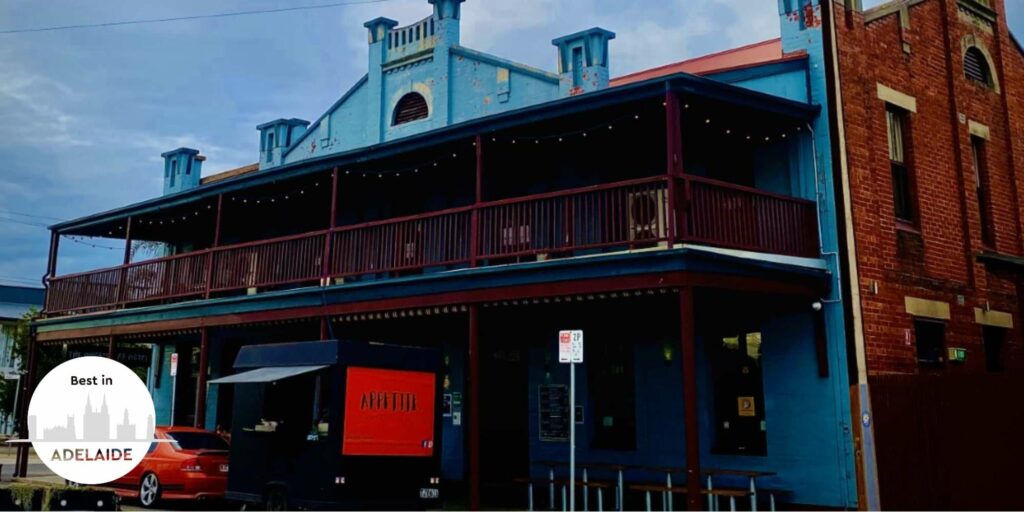 Location: 39 George St, Thebarton SA 5031
Website: http://wheatsheafhotel.com.au/
Bestsellers: Whiskies and beers
Wheatsheaf Hotel is an excellent choice for those looking for a broad selection of drinks. They have many offerings for wines, bottled beers, tap beer, and whiskey.
Their knowledge of beer crafting can be seen in how well their servers explain its ingredients. They're approachable and always ready to answer your questions.
You can try many beer stouts, including chocolate, coffee, and more. These are made to tickle your taste buds and to make beer more interesting.
These are sourced from various producers both local and international.
The pub provides many sources of entertainment, including darts, fireplaces, and a pool table. Even introverts without much social battery can have fun.
One thing that makes many locals return is its homey vibe. You can see from their well-loved couches and tables that comfort is always their priority.
To make your experience more complete, the pub has many live music and poetry performances. The overall ambiance with the pub's lively lights and crowd makes it a great photography spot.
5. Port Admiral Hotel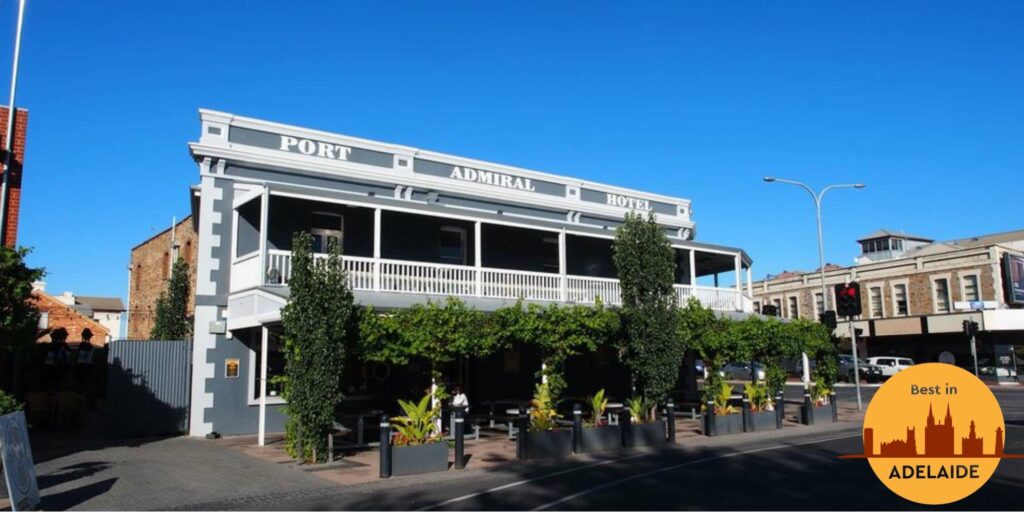 Location: 55 Commercial Rd, Port Adelaide SA 5015
Website: https://www.portadmiral.com.au/
Bestsellers: Chips, squid, schnitzel
Port Admiral Hotel shows a great display of Adelaide's history in the maritime industry. The pub serves as an important place where sailors and local men alike have stayed.
Touches of its antique decors are mixed with a modern design to keep it lively and fresh. It has an unassuming vibe that's a good reminder of its roots, which started in 1849.
It has a cozy beer garden in front of a wide space that's breezy night and day. Here, drinking a sip of their beers and wines is a very relaxing experience.
Their menu has many great vegan and vegetarian options. It also has many offerings of seafood, meat, and classic pub foods.
We also like their bottle shop because it has great rates and notable selections. Their staff is very accommodating and informative in explaining the differences between each one.
Additionally, many have complimented their function rooms. Their staff is very helpful to make sure that everything in your event goes smoothly. 
6. Stirling Hotel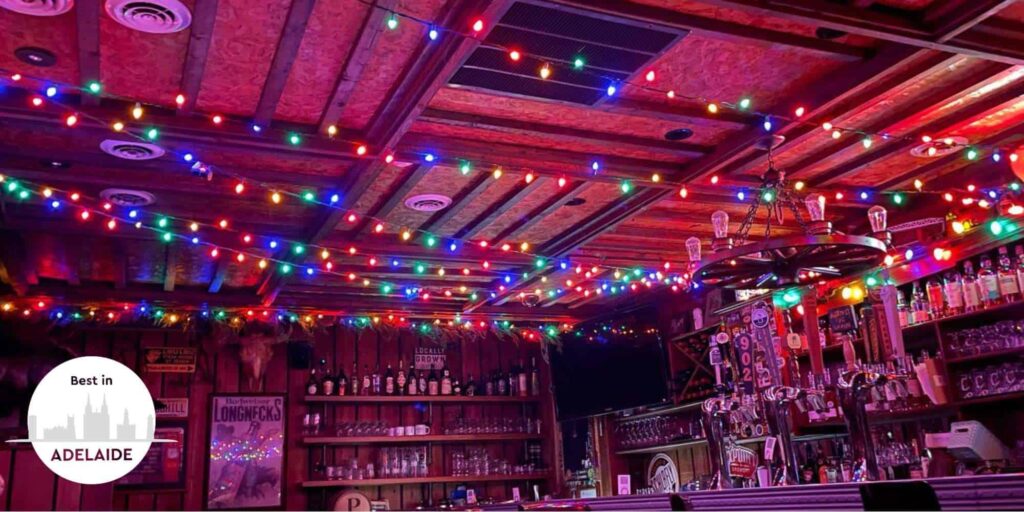 Location: 52 Mount Barker Rd, Stirling SA 5152
Website: https://www.stirlinghotel.com.au/
Bestsellers: Pizza, cocktails
Stirling Hotel is a great place for those looking for a relaxed and calm pub. They have many offerings to serve any preferences.
For instance, they have a fine dining area, a pizza bar, and a function area. Inspired by contemporary interior styles, each of these is well-designed.
We like their wine and seasonal cocktail offerings, as they display the diverse products of Adelaide's crafters. Crowd favorites include their riesling, pinot noir, and chardonnay.
You can enjoy these along with regional cuisine including pizzas, snacks, and all-day plates. They serve this with a smile and with a rundown of its ingredients if you ask.
One of its best spots is its alfresco dining area where you get a good view of the Adelaide Hills. It's a perfect location for a date. Just bring flowers to make it more romantic.
If you're looking for a quiet hangout space, we recommend "The Library," which has its own bookshelf and fireplace. It also has a Smart Board to help you in discussing ideas.
Additionally, it's a great venue for your events, as it offers a laid-back yet elegant space. It can accommodate any event, from weddings to birthdays and corporate events.
They offer many packages to make planning more convenient for you. In addition, their rates are surprisingly affordable for the place's reputation.
Adelaide Pubs with Beer Gardens
If you want somewhere spacious and lively to enjoy your beer, these pubs are a great choice. 
7. Cumberland Arms Hotel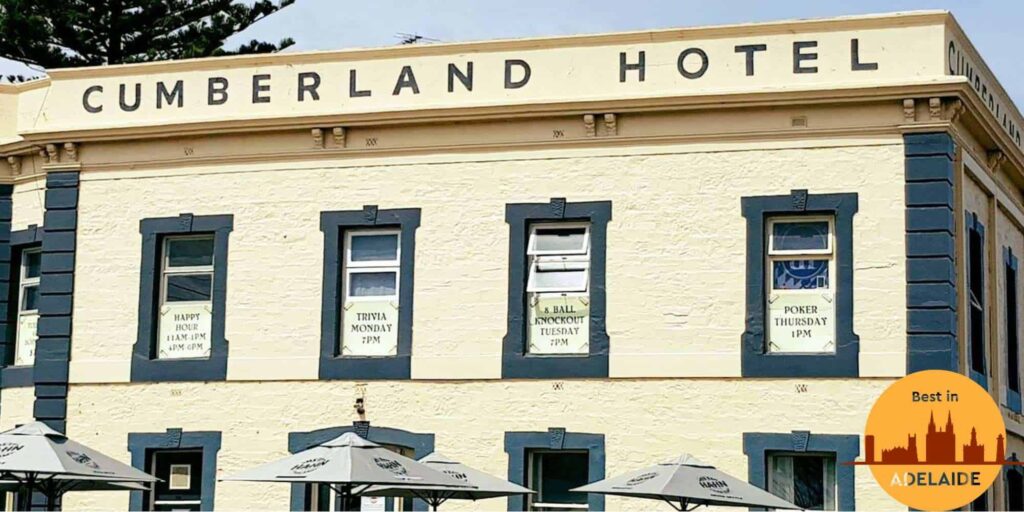 Location: 205 Waymouth St, Adelaide SA 5000
Website: https://thecumby.com.au/
Bestsellers: Beers, beef schnitzel, burgers
Cumberlands Arms Hotel, commonly called "The Cumby," is another staple of Adelaide. It's a great choice for those who want a more upscale and high-end pub.
It's designed with touches of minimalism and contemporary inspirations. Because of this, lunches and dinners easily become fancier.
Speaking of lunches, their selection is wide-ranging, meeting the different demands of your palate. They offer gluten-free choices too.
The design of the place is very cozy and comfortable, making it a great option for private functions.
It's conveniently placed near Light Square, making it a good stop for when you're tired from walking. For a quick snack, we highly recommend their pizza and beef schnitzel.
Another highlight of the place is its beer garden, which is wide enough to handle a great crowd. Here, it's easy to find a place for a private talk and also mingle with a group of people if you want. 
8. Edinburgh Hotel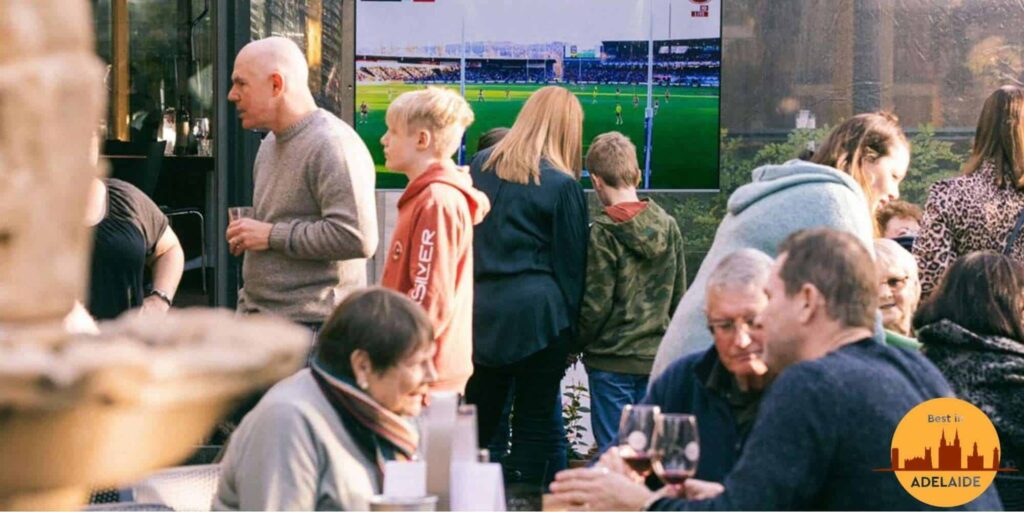 Location: 7 High St, Mitcham SA 5062
Website: https://www.edinburgh.com.au/
Bestsellers: Beers, wine
Edinburgh Hotel's pub is famous for its leafy garden pub and amazing landscaping. In its verandah area, you can feel relaxed by the shade of the trees and the cool blow of the wind. 
It's also designed with a water fountain that keeps the place dynamic and full of life. With music and lively conversations, its ambiance is simply unbeatable.
It's made cozier by the well-designed pergolas and tables that have a barrel-and-wood aesthetic.
The pub is conveniently located near Adelaide CBD in the Mitcham suburb. Because of this, you can easily meet in the place with your family members and friends after work.
Their food is highly recommended by many, especially because it's seasonal and always fresh. They have many offered snacks and platters to cater to any craving you have.
Edinburg Hotel has a wide selection of chardonnay, pinot noir, and burgundy. They started winemaking back in 1997, which is why they're highly experienced in it.
To complete your experience, the pub regularly has DJs, acoustic music, and bands performing. 
9. The Highway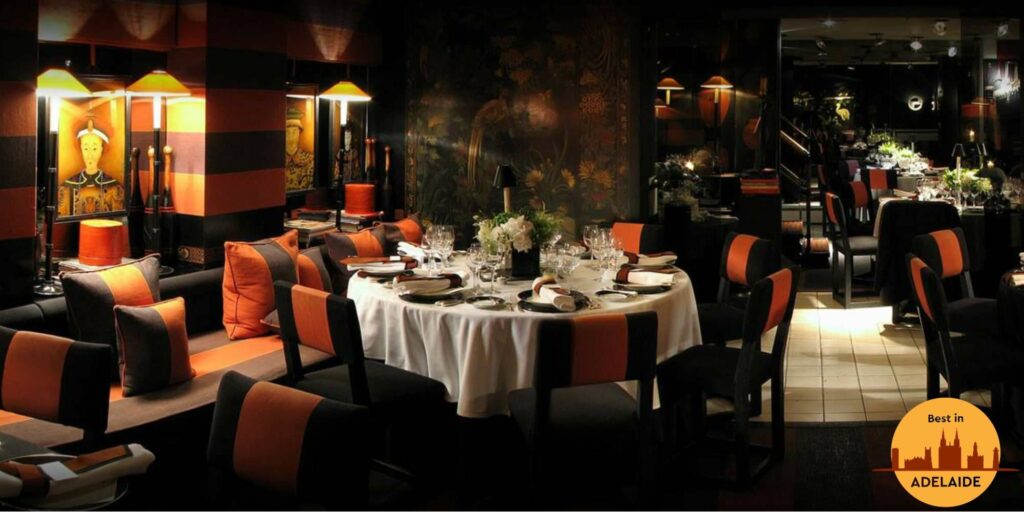 Location: 290 Anzac Hwy, Plympton SA 5038
Website: https://thehighway.com.au/
Bestsellers: Beers, ribs, burgers
The Highway's proximity to the airport makes it a popular spot for tourists. It has plenty of space, allowing you to feel relaxed and comfortable immediately.
Their garden pub has a clean and simplistic design, with some touches of palm and shrubs to complete the mood.
The pub has many attractions to keep you always entertained. One of the most notable ones is their weekly music performances, both by live performers and DJs.
Because of this, they were the winner of 2016's Best Live Music Venue awarded by the Australian Hotels Association.
Their other attractions include their sports bar, which often brings crowds together during championships. After all, there's no better way to enjoy a game than with beers and grub.
Multiple screens with high-quality audio systems are spread throughout the place. You're sure to see the winning soccer goals in high-definition.
The pub has regular discounts depending on the day of the week. Examples include price off for gins, wines, oysters, and cocktails.
In addition, they have a wide selection of beers and wines available through their drive-thru shop. Their representatives are very helpful in explaining what makes each bottle unique too.
Lastly, they're a great place for special events. They have two rooms, one that can accommodate up to 100 people and another that can accommodate up to 350.
These rooms have a clean and elegant interior that makes them perfect for any theme you have in mind. The food provided for this is superb.