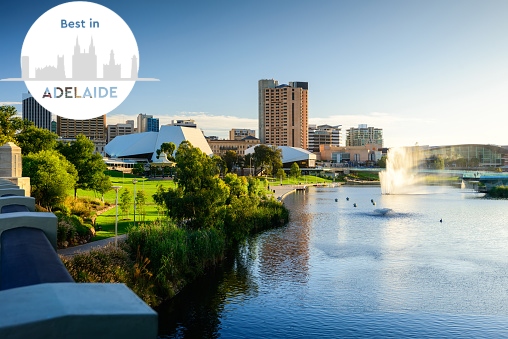 Spectacular Structures: Adelaide's New Architectures
We've got the lowdown on Adelaide's modern architectural stunners! From rooftop hotels like Eos by SkyCity to research powerhouses such as SAHMRI, these babies are the talk of the town, with jaw-dropping designs!
Our team will take you on a tour of these spectacular structures!
Most Beautiful New Architectures in Adelaide
Fino Vino
Address: 82 Flinders St, Adelaide, SA 5000
Fino Vino's architectural elegance is stunning. Its eggshell white facade boasts a colonial style akin to European revival buildings but with a touch of modern sleekness.
Inside, the open layout embraces visitors with an enchanting harmony of raw materials and plush furnishings. The interior's cream tones also serve as a soft canvas, allowing the rich texture of the brickwork to stand out.
SAHMRI (South Australian Health and Medical Research Institute)
Address: North Terrace, Adelaide, SA 5000
SAHMRI's fascinating architecture is made by the acclaimed Woods Bagot firm. It commands attention with its contemporary brilliance, especially with its diagrid glass facade resembling a pine cone's skin (some locals even call it "The Cheesegrater").
The 7-floor building has a curvy and avant-garde design that confidently breaks away from the mundane. This design serves a purpose, providing shade and regulating the building's temperature.
Inside, the breathtaking atrium greeted our team with its soaring height and a few open-space laboratories.
Eos by SkyCity
Address: Festival Drive, Station Rd, Adelaide, SA 5000
The modern design of the luxurious Eos by Skycity exudes sophistication, with a curvaceous facade made of high-class glass and metallics.
Its interior showcases a thoughtful selection of opulent materials, from polished marble to brushed metal.
Eos by SkyCity also features a modern garden on its rooftop, providing a refreshing ambiance and a serene contrast to the bustling cityscape.
Sparkke at the Whitmore
Address: 317 Morphett St, Adelaide, SA 5000
Sparrke at the Whitmore has a sense of openness and fluidity. Large windows bathe the rooms in natural light, creating an inviting and vibrant atmosphere.
The architectural team carefully preserved the building's historical features, including intricate moldings and ornate ceilings. The color palette is a carefully chosen mix of bold and warm brown tones that are easy on the eyes.
Its most striking feature? It's the unique and eye-catching murals of local artists scattered throughout this building's bricked corners.
In addition, Sparkke at the Whitmore looks dazzling at night, when its purple lights shine.
Part Time Lover
Address: Paul Kelly Ln, Adelaide, SA 5000
Part Time Lover features a contemporary and industrial architectural style with a bright "homely" twist.
This restaurant's tasteful blend of exposed brick walls and sleek metal accents create a timeless ambiance. The space also feels cozy and resembles a warm vacation home due to the use of reclaimed wood and rustic furnishings.
The dim, golden lighting, vintage decor, and hidden courtyard add to this effect.
U City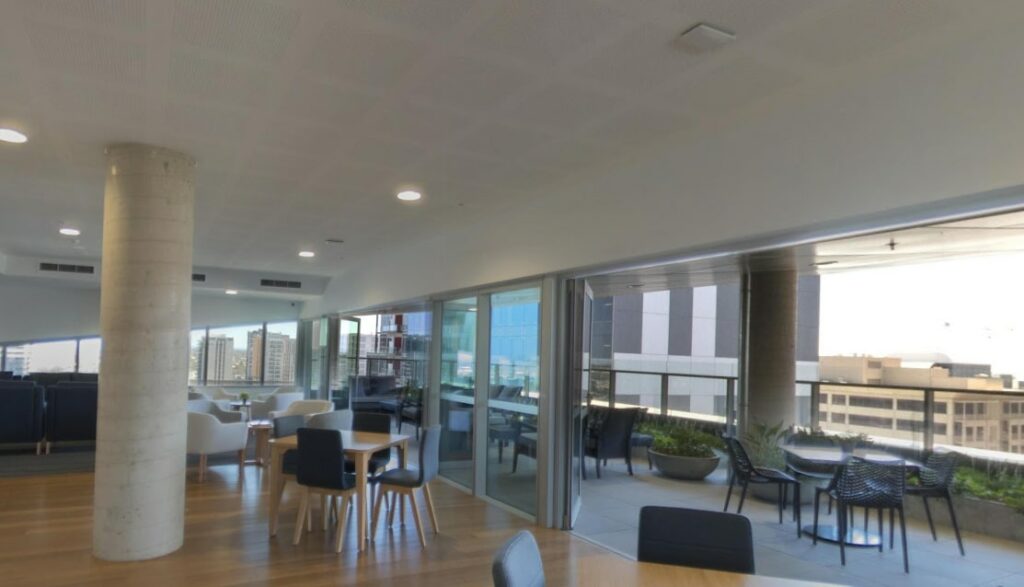 Address: 43 Franklin St, Adelaide, SA 5000
U City features a contemporary architectural style focusing on modernism and sustainability. The incorporation of sustainable features, such as solar panels and energy-efficient lighting, adds to its appeal.
Materials like polished concrete and stainless steel accentuate the contemporary aesthetic, adding a touch of industrial elegance to the overall style.
Inside, the minimalist and clean design also exudes urban chicness. Our team adores the open spaces that encourage collaboration and social interaction, epitomizing the modern lifestyle.
Tika Tirka Student Accommodation
From pes_paint
Address: Gilbert Street, Adelaide, SA
Tika Tirka Student Accommodation is a modern architectural design catering specifically to Aboriginal and Torres Strait Islander students.
It serves as a modern living space where these students can access city conveniences without losing touch with their heritage and cultural practices. The designs and furniture feature Aboriginal craft, with Yolngu weavers designing most of the fittings.
The building incorporates clean lines and a mix of sustainable materials, such as locally sourced timber and recycled materials, to reflect a contemporary style while respecting the environment.
Pulteney Grammar School
Address: 190 South Tce, Adelaide, SA 5000
Pulteney Grammar Middle School's rural design with a contemporary edge has a subtle elegance that might make even hardcore critics smile.
The white facade with neomodern shapes looks clean, especially as it contrasts with the dark and light blue windows. However, the school's courtyard steals the show with its wooden cottage and seating areas made of glossy logs.
The school's sandstone-colored reception also resembles a farmhouse manor from a bygone era, boasting European-style balconies and colonial brickwork.
Kodo Apartments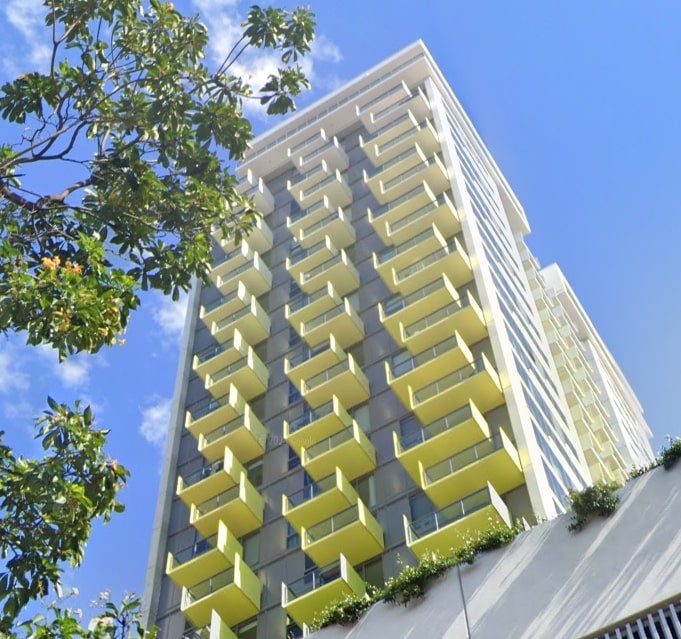 Address: 29 Angas St, Adelaide, SA 5000
Kodo Apartments has a striking modern design and impressive height, making it one of Adelaide's tallest residential towers.
The partitioned matcha green terraces and flint walls are beautiful, particularly since they carry a quirky, modernist approach that perfectly fits the establishment's sky-piercing height.
In addition, a Victorian-inspired rooftop garden and landscape lie on Kodo Apartments' peak, a majestic contrast to its mainly modern architecture.
John Smyth Memorial Chapel
From adelaidecemeteries
Address: 161 West Terrace, Adelaide, SA 5000
The John Smyth Memorial Chapel in West Terrace Cemetery seamlessly blends Gothic and Romanesque architectural styles with modern colors.
Its exterior showcases intricate Gothic elements, characterized by its pointed arches and ribbed vaults. The roof's soft blue tones and the door's cornsilk color are similar to the warm shades used by most contemporary homes.
The Romanesque influence is evident in the chapel's solid masonry walls. Rounded arches can be seen from the chapel's exterior, with one welcoming visitors as they step into the door.
___________________________________________________________________