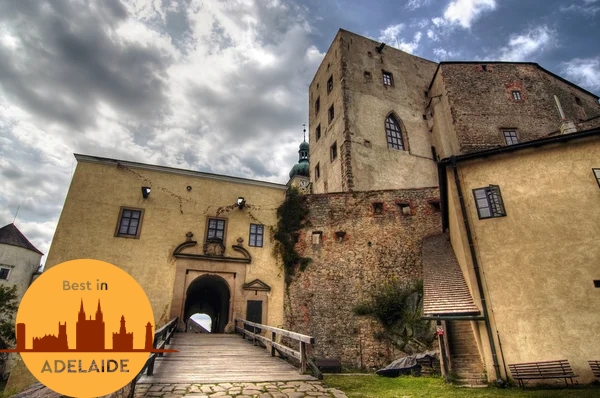 Royal Structures: Famous Castles in Adelaide
Adelaide isn't just about beaches, kangaroos, and wine. Our city is home to authentic medieval castles and other dwellings with interesting Old World architecture, from Camelot Castle to the Carrick Hill Manor!
Curious about these vintage architectural marvels in Adelaide? We've got the juicy details waiting for you!
Camelot Castle / The Manor Basket Range
Address: 762 Lobethal Rd, Basket Range, SA 5138
Contact Details: (08) 8390 1271
Camelot Castle, or The Manor Basket Range, boasts an eccentric blend of Gothic and Renaissance architecture. Built in 1935, the manor screams "old-world charm" with its turrets, arches, and medieval-inspired detailing.
It also has a well-manicured garden equipped with stone structures, an old but beautiful fountain, and modern benches that add a contemporary touch to the landscape.
Inside, the manor presents a captivating fusion of vintage and modern elements. Antique furniture harmonizes with contemporary fixtures, making Camelot Castle a sought-after destination, especially for couples searching for a unique wedding venue.
Tips:
Inform the staff of your breakfast preferences if you're planning to stay until morning.
Explore the tiny forest outside the manor if you want a nature-themed escapade.
Camelot Castle is a wedding hotspot, but you may also book it for smaller events like cocktail parties or private dinners.
The one-story, refurbished townhouse room is best for guests with mobility issues. Make sure to book this in advance if you or your companion uses a wheelchair.
The other 11 rooms have second floors, which aren't wheelchair-friendly.
Graham's Castle
Address: 2 Dulwich Close, Goolwa Beach, SA 5214
Dating back to 1862, Graham's Castle is an exquisite two-story stone residence that boasts over 400 square meters of living space.
Once known as Nelcoongal and Tucker's Folly, this former conference center has been turned into a private property. However, its intricate, castle-like stonework remains.
As you enter, the polished Baltic pine floorboards of the entrance hall greet you. The nearby library, adorned with extensive timber paneling, exudes a cozy and sophisticated ambiance.
Thorngrove Manor Hotel
Address: 2 Glenside Ln, Crafers SA 5152
Contact Details: (08) 8339 6748
The Thorngrove Manor Hotel, is praised for its private set-up and fairytale-like architecture. This magical accommodation has a castle keep made from Angaston white marble and a baronial stone fireplace.
Its decor is a mix of historic styles. We're talking about an English oak bed from the 1800s dressed with French Declercq tassels and some hand-painted tapestries on the ceiling.
We think its best features are the stone spiral staircase, mullioned windows, stone floors, and brick walls.
Tips:
Ease into the accommodation's upholstered double chair dating back to the 1800s, a perfect spot for intimate conversations by the fireplace.
Look for The Castle Keep B&B's gilded French mirror from the 1820s. We found it in the lobby during our visit.
Take your time to admire the intricate stonework, turrets, and carvings.
Carminow Castle
Address: Summit Road, Crafers, SA 5152
Carminow Castle is one of Mt Lofty's hidden gems. This hilltop castle was built in 1983.
Its turrets rise proudly while its elegant windows punctuate the mossy stone walls. The roofline is a series of petite tiles—reminiscent of the rooftop crenellations in medieval castles.
Over time, the structure's ivory-white hue has gently faded, while plants crept along its walls.
A slight erosion has also affected the tower's lower side. Still, its bygone-era beauty remains undeniable, especially with Crafers' valleys and plains as the castle's background.
Tips:
Exercise caution as you approach the castle, especially when getting up close. The aged structure demands gentle exploration.
If you're a thrill-seeker, consider visiting at night. The castle takes on a spooky ambiance during dark hours.
Martinsell Cottage and Martinsell Manor
Address: 55 Wirra Wirra Rd, Pewsey Vale, SA 5351
Contact Details: 0466 157 248
Martinsell Cottage and Martinsell Manor is a private stone house retreat in the tranquil countryside, with the closest neighbor an entire km away.
This accommodation offers three bedrooms. It's also amid 77 acres of ancient red gums, vineyards, and a historic barn, adding serenity to the splendor of the Georgian-inspired architecture.
Luxurious Persian carpets grace the manor and cottage's polished floorboards, and the roaming livestock further cements this spot's medieval vibes.
Tips:
The hosts will remind you of this: you have to keep the gate closed 24/7 to keep the livestock outside.
We suggest talking with the hosts, as they share fascinating stories about the manor, including details about the spot hosting prominent Australian figures.
Explore the manor's royal rose gardens and farmland. There are also grapevines and a crystal-clear 25-m pool.
Martinsell is an hour's drive from Adelaide and 8 km from Williamstown if you take Springton Road. Stock up on supplies at Williamstown's general store, hotel, and bakery. The nearest major supermarket is a 30-minute drive away.
Auchendarroch House and Tavern
Address: 17 Adelaide Rd, Mount Barker, SA 5251
Contact Details: (08) 8391 6100
Operating Hours:
Mon to Thu – 9 am to 11 pm
Fri to Sat – 9 am to 12 pm
Sun – 9 am to 11 pm
Auchendarroch House and Tavern is an elegant 19th-century house with a trendy pub.
The best part? It's just a 20-min drive from the CBD, but it looks different from typical city landscapes.
This spot's design is a fusion of Victorian aesthetics, drawing from Gothic and Tudor revival architecture elements. Moreover, Auchendarroch House and Tavern has a jaw-dropping garden brimming with fragrant flowers like roses and camellias.
Tips:
If you're aiming for the tavern, remember that online booking is a must.
The Atlantic salmon filet and the Chicken BLT burger are our top picks here. Eating them at the tavern is fine, but the alfresco spot is better, as it overlooks the gardens.
Visit on days with special events if you want a unique experience. Recurring events include a ghost-hunting tour of the manor in November and a Christmas Day lunch every Dec 25.
Chateau Yaldara
Address: 159 Hermann Thumm Dr, Lyndoch, SA 5351
Contact Details: (08) 8524 0225
Operating Hours: 9 am to 4:30 pm
Founded by Hermann Thumm in 1947, Chateau Yaldara is a vineyard estate with a European-inspired manor as the highlight.
Adding to its Medieval theme is the treasure trove of artworks in the lobby, gardens, and rooms. These artistic pieces range from classic paintings to masterfully crafted custom cabinets.
Tips:
Don't miss the chateau's riverside restaurant—a relaxing spot with meals like burgers and nachos.
For a quieter experience, consider visiting the chateau during off-peak hours, such as on weekdays, early mornings, and late afternoons.
The staff gave us terrific wine recommendations. Strike up a convo with them, as they're quite friendly and will also share historical facts about the vineyard.
Carrick Hill
Address: 46 Carrick Hill Dr, Springfield, SA 5062
Contact Details: (08) 7424 7900
Operating Hours:
Mon to Tue – Closed
Wed to Sun – 10 am to 4:30 pm
Carrick Hill's architecture is a marvel. It's mainly in Tudor style, with oak paneling and a soaring hall with the impressive Waterloo Staircase.
The vestibule and 17th-century-inspired dining hall have the same paneling. Their interiors have vintage French ceramics, lavish UK porcelain, and regal sword displays!
Royalty also exudes in the manor's master bedroom, with French Lalique glass as the room's ceiling light fittings.
A short walk from this spot, you'll find the morning room, a spacious area with detailed floral carpets and massive windows letting natural light enter.
Tips:
Explore the formal garden, designed by Ursula Hayward, once the stage for classy gatherings and tennis parties.
These gardens are ideal for weddings and other private events!
Embark on the storybook trail by following the sandy path that leads through ponds and tree groves. Along the way, you'll uncover structures referencing literature's best stories, such as The Hobbit House and Charlotte's Web.
_____________________________________________________________________