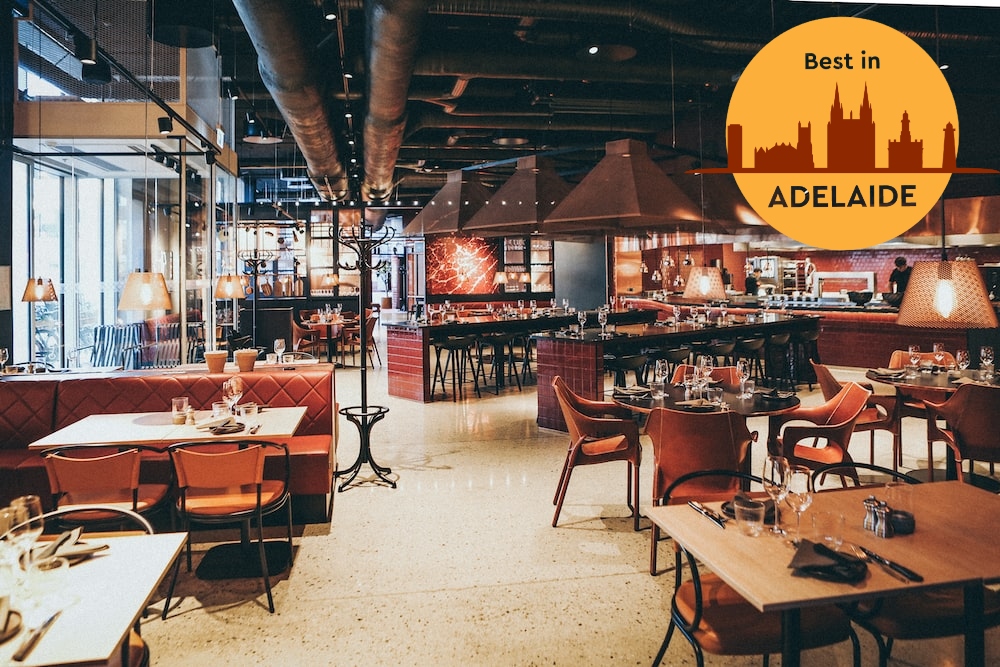 Tried and Tested: The Top King William Road Restaurants
King William Road's restaurants are a culinary treasure trove, from the delectable Italian cuisine at Godi La Vita to the exotic flavors of ShoSho.
Want to know which ones are most likely to satisfy your cravings? Check out our list below for the full flavor-packed details!
Godi La Vita
Address: 162B King William Rd, Hyde Park, SA 5061
Contact Details: (08) 8377 7844
Operating Hours:
Mon – Closed
Tue – 5 pm to 9 pm
Wed to Fri – 11:30 am to 9 pm
Sat – 11:30 am to 9:30 pm
Sun – 11:30 am to 9 pm
Godi La Vita's eclectic interior features a delightful blend of hanging plants and a chic black and gold color scheme.
What to eat? Their best-seller is the parmesan cheese wheel pasta. This dish has the smooth texture of curly fettuccine and exceptional flavors of earthy field mushrooms, rich cream, a splash of wine, and brandy.
Its pièce de résistance is the 18-month aged parmesan and stracchino cheese, resulting in an earthy, creamy, and umami-packed dish.
For meat enthusiasts, the savory meat-lover pizza is a must-try too, adorned with crispy pancetta, salty salsiccia, and a hint of chili to give it a fiery kick.
Cap off your meal with their velvety, sweet, and nutty panna cotta, accompanied by a vin-cotto fruit compote and topped with roasted almonds.
Tips:
They often have vouchers or discounts for savings. Check them out before going!
Indulge in their luscious Espresso Martini and enjoy a delightful, refreshing Moscato to elevate your meal.
ShoSho
Address: 164 King William Rd, Hyde Park, SA 5061
Contact Details: (08) 8349 0891
Operating Hours:
Mon – 5 pm to 10:30 pm
Tue to Sun – 12 pm to 10:30 pm
Sho Sho embraces the Japanese Izakaya way of dining, where small plates are meant to be savored with drinks… and to that end, the restaurant definitely dishes out mouthwatering bite-sized options.
For instance, the Spencer Gulf tempura delivers a savory, crispy, and succulent seafood experience.
The pork and prawn wontons are also a flavor explosion, with a perfect blend of savory pork and sweet prawns. Tangy black vinegar and the aromatic kick of ginger oil make this dish better.
We then suggest finishing with the sweet, creamy, and aromatic persimmon creme brûlée with caramelized Okinawa sugar and a scoop of fragrant jasmine tea ice cream.
Tips:
If you go around noon, try their lunch specialty, the smoked bacon broth ramen, featuring tender pork belly chashu, soy-infused egg, and pickled bamboo.
They often show off their events and promos on their website. You can even pick up a gift card for someone there!
Hello Neighbour / Artusi By Night
Address: 150 King William Rd, Hyde Park, SA 5061
Contact Details: (08) 7089 5557
Operating Hours:
Mon to Tue – 7 am to 3 pm
Wed to Thu – 7 am to 3 pm, 5:30 pm to 8:30 pm
Fri to Sat – 7 am to 3 pm, 5:30 pm to 9 pm
Sun – 7 am to 3 pm
Hello Neighbour / Artusi By Night boasts a contemporary interior, presenting pastel-green walls with light art pieces and wooden furniture. It's certainly an Instagram-worthy spot by day and a vibrant bar destination by night.
For those seeking a stellar brunch, the spiced halloumi steals the show, served with charcoal toast, savory smashed avo, rich poached eggs, and a tantalizing blend of chili jam, dukkah, labna, and lime.
Meanwhile, the French toast, drizzled with maple syrup and topped with pashmak, is a brunch treat for the young ones. Don't miss their expertly crafted flat white and long black for your drinks – or the malted milkshake for the kids.
For dinner, try their chicken caciatore, a savory medley of olives, mushrooms, and olive oil. Then, indulge your sweet tooth with the Cassata semi-freddo dessert, sprinkled and drizzled with candied fruits, pistachios, and a decadent chocolate glaze.
And, of course, the crown jewel of the night is their martini.
Tip:
Go for their heirloom tomato bruschetta (brunch) and basil pesto (dinner) if you're a vegetarian. We can vouch for the taste!
Agapi Greek Cuisine
Address: 179 King William Rd, Hyde Park, SA 5061
Contact Details: 0405 171 160
Operating Hours: Daily – 12 pm to 3 pm, 6 pm to 10 pm
Agapi Greek Cuisine has a moody ambiance, featuring rustic stone walls decorated with hanging plants and dark flooring and ceiling, creating an atmosphere that's as Greek as it gets.
Looking for their best-selling food? There's the classic savory and tangy moussaka, a harmonious blend of eggplant, minced beef, and thick bechamel bathed in a flavorful tomato sauce.
And don't miss their trademark dish, the ribeye steak, promising juicy, fatty, and smoky flavors. For seafood lovers, the grilled prawns, cooked in a zesty lemon garlic sauce, offer a taste of the Mediterranean by the forkful.
Dessert? The sweet and buttery baklava is a must-try, boasting layers of flaky pastry and nuts drenched in a luscious honey syrup.
Tip:
This is a place where a lot of the ingredients really are seasonal. Ask the staff for their fish of the day to ensure the freshest seafood delight. Do the same for the wine, as the selection can change daily.
NIDO BAR | PASTA
Address: Shop 2/160 King William Rd, Hyde Park, SA 5061
Contact Details: (08) 8373 2044
Operating Hours: Daily – 12 pm to 9 pm
At NIDO BAR | PASTA, you'll find a romantic interior. This one has dim golden lamps casting a soothing glow over black and white walls with wine bottles.
When it comes to the best bites, their pasta e fagioli stands out, flaunting an aromatic broth infused with the flavors of salty pork and rich borlotti beans.
Seafood enthusiasts can't miss the wood-grilled southern calamari enhanced by blistered cherry tomatoes and a hint of toasted seaweed for that perfect oceanic zest.
Tip:
If you're vegetarian, you can still eat here. Their mixed leaf salad offers freshness, dressed with sherry balsamic vinegar and crowned with a cured egg yolk.
Parisi's Restaurant
Address: 138 King William Rd, Hyde Park, SA 5061
Contact Details: (08) 8373 5142
Operating Hours:
Mon to Fri – 11:30 am to 9 pm
Sat – 5:30 pm to 9:30 pm
Parisi's Restaurant exudes effortless style. Think resplendent chandeliers, lush greenery thrives indoors, and captivating Tom Gelghorn paintings.
As for the food, the pollo Milanese is our favorite main dish. It has chicken breast served alongside a Mediterranean salad and garlicky bagna caudo sauce.
Their vegan pizza is a hit among our veggie lovers, too. The chefs topped it with juicy tomatoes, creamy bocconcini cheese, tender artichokes, sliced zucchini, grilled eggplant, and several spices.
Tip:
If you're into gin, try the Four Pillars Bloody Shiraz Gin here. It's pretty interesting, offering bitter, fruity, and subtly spiced flavors.
Bistro Francais
Address: 144A King William Rd, Hyde Park, SA 5061
Contact Details:
Operating Hours:
Mon – Closed
Tue to Sat – 11:30 am to 2:30 pm, 5:30 pm to 9:30 pm
Sun – 12 to 2 pm, 6 pm to 9:30 pm
Bistro Francais welcomes patrons to a sophisticated black-and-white haven with charming paintings depicting old French towns and the beauty of nature.
Their culinary highlights include the salty and earthy boeuf bourguignon with tender beef cheek braised in red wine, served with parsnip puree, bourguignon sauce, and roasted carrots.
Seafood enthusiasts will relish the aromatic, creamy, and savory saumon, a Tasmanian grilled salmon dish with saffron-infused crab and peas risotto. A garlic sourdough crumb with gluten-free options completes it.
As for dessert, the sugary and milky soufflé mandarine et chocolat is our pick.
Tip:
Make reservations well in advance, especially if you plan to dine during peak hours or on weekends. Their book tends to fill up ahead of time, so you may even want to book a week or two in advance.
Antica Pizzeria E Cucina
Address: 144 B King William Rd, Hyde Park, SA 5061
Contact Details: (08) 8272 6696
Operating Hours:
Mon – Closed
Tue to Sun – 11:30 am to 2:30 pm, 5:30 pm to 9:30 pm
Antica Pizzeria E Cucina has a rustic aura that promises seriously good Italian food. And you know what? It actually lives up to those promises!
Their culinary stars include the margherita, a vegan-friendly pizza showcasing San Marzano tomatoes, fior di latte cheese, and fragrant basil.
Meat lovers can revel in the salsiccia. Fior di latte cheese, savory pork sausage, succulent roasted porchetta, and slices of caramelized onion give this one meaty, tangy, and smoky flavor.
Finally, the bignè al caramello is ideal for those with a sweet tooth. The pastry is light and fluffy, while the caramel sauce drizzled over it adds a rich sweetness with hints of toffee and butterscotch.
Tip:
If you feel like making your night a bit more festive, try their Disaronno Originale. This drink is a low-alcohol Italian classic with an effervescent texture and citrusy flavors.
L.Law Hyde Park
Address: 123 King William Rd, Hyde Park, SA 5061
Contact Details: (08) 7080 6293
Operating Hours:
Mon – Closed
Tue to Fri – 7 am to 4 pm
Sat to Sun – 8 am to 4 pm
L.Law Hyde Park's dark-hued interior has lavishly golden lighting and a wall of wine-filled cabinets. It's matched by the menu, which manages to be both elegant and accessible.
Our go-to meal here is the spicy, salty, and sweet chili crab scramble. It has zesty spring onions, herby coriander, mint, crispy shallots, and a buttery fresh croissant.
Vegetarians should also give their fiery and savory crispy tofu with edamame, bean sprouts, and a spicy sesame sauce a whirl.
For drinks, we recommend the trademark espresso, though you can also try a chilled peach smoothie. And if you're in the mood for it, the mimosa cocktail with fresh orange juice and sparkling wine is also worth a shot.
Tip:
Dine at around 2 pm to 4 pm for a less-crowded experience. This place gets busy during peak brunch hours.