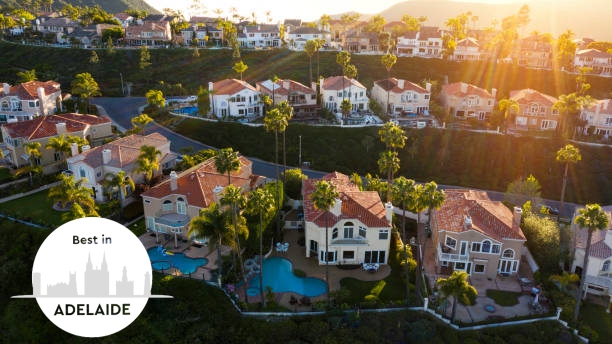 Where Luxury Resides: Adelaide's Richest Neighborhoods
Curious about where Adelaide's 'big shots' live? We dug into the posh pockets of the city to find out which neighborhoods are living life in the financial fast lane.
No need for a magnifying glass; we've done the detective work for you. You can find the outcomes of our top-dollar investigation below.
What is the richest neighborhood in Adelaide?
Medindie in Northern Adelaide is the city's richest neighborhood. In 2023, its median house price is $2,950,000 and its median aparment unit price is $543,000.
The average weekly household income here is $3,750, according to a 2021 census.
This neighborhood is on its way to becoming Adelaide's first suburb with a $3,000,000 median house price. In 2021, a buyer purchased Medindie's The Elysian, a $10 million property that was the most expensive home sold in Adelaide at the time.
The Richest Neighborhoods in Adelaide
Medindie
Average Weekly Rent: $725 to $1,100
Travel Time to the CBD: 10 mins
Crime Rate: 64.3 offenses per 1,000 people.
Adelaide's wealthiest suburb, Medendie, boasts a combination of stunning Victorian homes and chic contemporary dwellings.
Additionally, Medindie is home to some of Adelaide's finest heritage manors, with Willyama (1883) and The Briars (1856) as some of the most noteworthy.
The wealthiest buyers target homes in Robe Terrace, this suburb's centerpiece where the highest-priced homes are. Our team witnessed grand and cozy houses here, from colorful and spacious villas to expansive mansions with lush gardens.
Tips:
Medindie is an ideal choice for medical professionals desiring proximity to major hospitals like Royal Adelaide Hospital (3 km), Women's and Children's Hospital (1.8 km), and Calvary North Adelaide Hospital (3.6 km).
Nature enthusiasts and fitness buffs can relish the vast Adelaide Park Lands and the stunning 30-kilometer River Torrens Linear Park Trail.
The neighborhood also offers convenient access to lively cosmopolitan precincts such as Prospect Road, Walkerville Terrace, and O'Connell Street, all known for their charm and vibrant atmosphere.
Unley Park
Average Weekly Rent: $1,200
Travel Time to the CBD: 9 mins
Crime Rate: 50.4 offenses per 1,000 people
Unley Park has a median house price of $2,034,300 in 2023, while its median apartment unit price is $497,500. This suburb's house prices even reached up to $2.1 million in December 2022.
A 2021 census revealed that 47% of households in Unley Park earned a weekly income of $3,000 and above. The survey also revealed the highest-earning families (8.8%) garnered over $8,000 per week.
Unley Park's spacious streets, sandstone buildings, and jaw-dropping colonial houses attract wealthy families.
The suburb also has top-quality swimming pools, shaded tennis courts, and exceptional schools like Heilen Reid Hall and Walford Anglican School for Girls.
Tips:
Kids can enjoy the Katherine Street playground in Fullarton, complete with engaging equipment, sensory plants, and a sandpit for interactive outdoor play.
You can head to Leader Street in Goodwood every Sunday for the Adelaide Showgrounds Farmers' Market and grab some fresh produce. The travel time is around 2 to 3 mins.
Malvern
Average Weekly Rent: $775
Travel Time to the CBD: 12 mins
Crime Rate: 15.5 offenses per 1,000 people
Beloved for its shaded and peaceful streets, Malvern is a southern suburb with a 2023 median house price of $2,115,000 and a median apartment unit price of $373,000. This neighborhood's households earned an average of $2,800 per week in 2021.
Malvern has a blend of classic and modern one-story homes. The evergreen jacaranda trees sprawling across the area also contribute to its picturesque charm.
Classic dwellings feature elegant Victorian and Federation designs with ornate details and charming verandas. In contrast, contemporary homes here follow modern trends of light colors, sunny living rooms, and minimalist aesthetics.
Tips:
Talking to Malvern residents is a fantastic way to learn the area's pros and cons.
Malvern is ideal for retirees due to its serene atmosphere and convenient access to essential amenities.
Food lovers will enjoy Malvern's bustling restaurant and cafe culture. Some of our top eateries here are Cafe Paparazzi and HARK! Coffee Roasters.
Toorak Gardens
Average Weekly Rent: $750
Travel Time to the CBD: 15 mins
Crime Rate: 13.9 offenses per 1,000 people
Single-story bungalows with long histories are Toorak Gardens' main stars. Most homes here still carry the old-world charm of 1920s to 1930s architecture, with decorative garbles and majestic brickwork.
This leafy suburb's 2023 median house price is $1,775,000, while the median apartment unit price is $398,000. In 2021, the average weekly income of households here stood at $2,286.
Toorak Gardens also features prominent historical landmarks such as the Toorak Burnside Bowling Club and the Burnside War Memorial Hospital. Additionally, Toorak Gardens has a beautiful local cinema, buzzing shop precincts, and verdant gardens.
Tips:
Nature lovers will have a blast at Toorak Gardens because it's just 13 minutes from the breathtaking Waterfall Gully.
Consider the renowned Burnside Primary School and Glenunga International High School for quality education options in the vicinity.
Our team suggests visiting Toorak Gardens' top cafes, such as The Pastry Kitchen and Hey Jupiter.
Tusmore
Average Weekly Rent: $825
Travel Time to the CBD: 9 mins
Crime Rate: 9.6 offenses per 1,000 people
The inner-eastern suburb of Tusmore is known for its welcoming residents, rustic vibes, and peaceful streets. Amenities like swimming pools, tennis courts, and picnic grounds are plenty here, making it an ideal spot for active and social individuals.
Tusmore's median house price in 2023 is $1,700,000, and the median apartment unit price is $490,500. The 2021 weekly income of residents here was $2,298.
Tusmore was also Adelaide's 5th most expensive suburb in 2022.
Despite the whopping fees, Tusmore is still attractive to buyers, especially now that BBQ pits and more expansive grasslands have been added to its amenities. The mansions and character homes here are worth every penny, too.
Furthermore, Tusmore has the Burnside Library, Tusmore Memorial Church, and other buzzing points of interest like cafes, department stores, and gourmet shops.
Tips:
You can indulge in some retail therapy at Burnside Village. This upscale shopping center offers a variety of local and international brands and is just 3 minutes from Tusmore.
You may also engage in outdoor activities at Hazelwood Park, a 2-minute drive from Tusmore. Whether it's jogging, playing tennis, or enjoying a stroll, the park offers a perfect setting to stay active.
Fitzroy
Average Weekly Rent: $390 to $480
Travel Time to the CBD: 10 mins
Crime Rate: 26.9 offenses per 1,000 people
The Fitzroy suburb is renowned for its vibrant atmosphere brought by its eclectic mix of boutique shops, art galleries, and lively cafes.
Its 2023 median house price is $2,250,000, and its median apartment unit price is $356,750. Households here also earned a weekly average of $3,000 in 2021.
Situated adjacent to the Adelaide Park Lands, Fitzroy boasts 19th-century multi-story mansions that add to its historic allure. Residents also enjoy convenient access to amenities like The Adelaide Aquatic Centre and the North Adelaide Dog Park.
Various architectural styles flourish here, including Victorian, Georgian, Tudorian, Federation, Edwardian, and modern.
Tips:
Take advantage of Fitzroy's bike-friendly environment. Explore the suburb and its surroundings on two wheels by following designated bike paths.
If you're a photography enthusiast, Fitzroy offers a plethora of picturesque spots. Capture intricate architectural details, vibrant street art, and serene park landscapes.
If possible, visit the well-preserved historical residences like Eaton House, Home at 5, and Carlton House. These multi-story mansions offer a glimpse into the opulent lifestyle of earlier eras.
Hyde Park
Average Weekly Rent: $710
Travel Time to the CBD: 7 mins
Crime Rate: 27.6 offenses per 1,000
Hyde Park lies in one of Adelaide's most iconic streets: King William Road. This means that urban lifestyle prevails here, with world-class shops, pubs, and restaurants at almost every turn.
Now, you might be thinking Hyde Park is a noisy and polluted suburb, right? Well, this neighborhood's tree-lined streets and vast green parks will change your mind.
Wealthy families also normally pick this suburb for its modern homes. Most houses here feature clean lines, minimalist design elements, and a focus on open spaces. These homes often incorporate natural materials like wood, stone, and glass.
Moreover, Hyde Park is a hit for affluent households due to its location near prestigious schools, such as Mercedes College, Walford Anglican School for Girls, and Hyde Park Nursery School & Early Learning Center.
The median house price in Hyde Park rests at $2,262,500 in 2023, while the median apartment unit price is $670,000. The average weekly income of households here in 2021 amounted to $2,208.
Tips:
Hyde Park has a vibrant arts scene. Take a leisurely walk around the neighborhood to discover hidden art installations, street murals, and galleries.
Apart from larger stores, Hyde Park has local businesses like boutiques for unique fashion finds, home decor, and gifts.
Hawthorn

Average Weekly Rent: $430 to 678 per week
Travel Time to the CBD: 11 mins
Crime Rate: 36.5 offenses per 1,000 people
Hawthorn's diversity of house designs makes it stand out. The streets here showcase a mix of Federation-style homes with classic red brick and intricate woodwork, offering a glimpse into the past.
Modern houses also take center stage, featuring clean lines and generous windows that capture the surroundings. There are also charming cottage-style residences with pitched roofs and cozy layouts, perfect for an intimate atmosphere.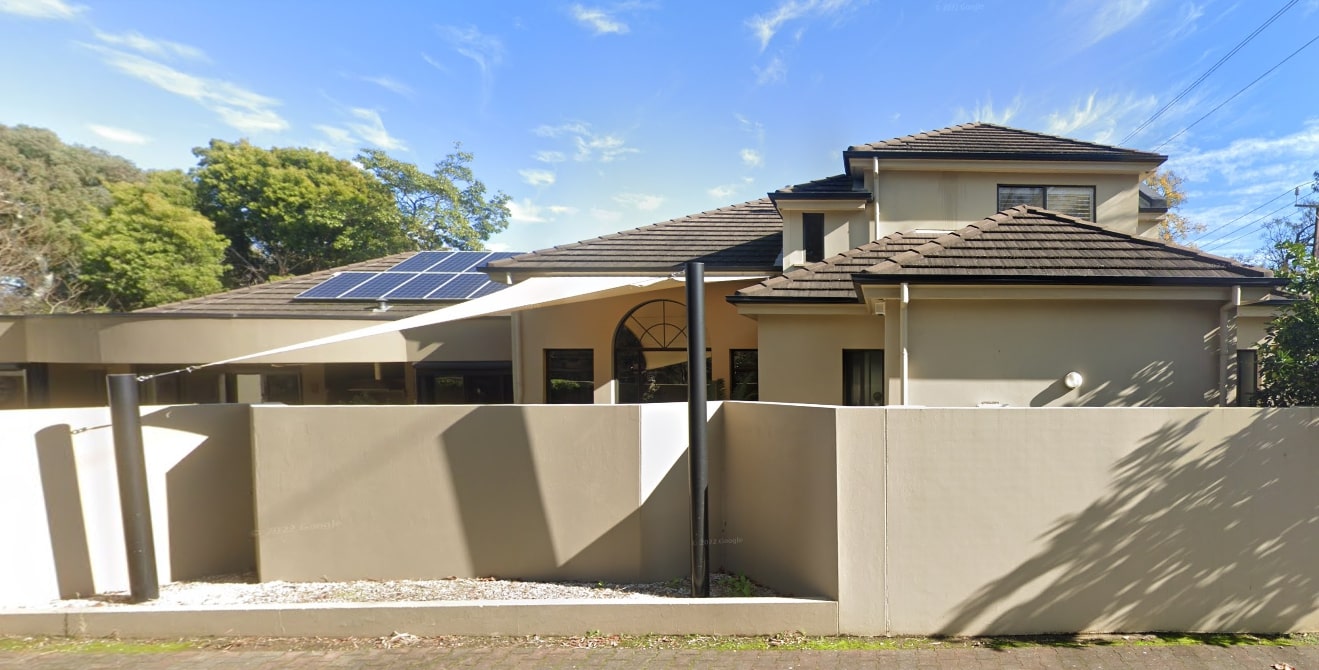 Key roads also connect to this neighborhood—Sussex Terrace to the west, Grange Road to the south, and Belair Road to the east, while several crossroads intersect the north. In addition, the popular and historic Abbotshall Precint Walk is here.
Hawthorn's 2023 median house price is $1,683,000, and its median apartment unit price is $485,000. Residents here earned an average of $2,145 per week in 2021.
Tips:
Explore the local café scene, especially along Belair Road and surrounding areas.
Enroll your children in some of the top schools in the area, such as Unley High School, Mitcham Primary School, and Mitcham Girls High School.
Additionally, prestigious institutions like Mercedes and Scotch colleges are nearby.
_____________________________________________________________________