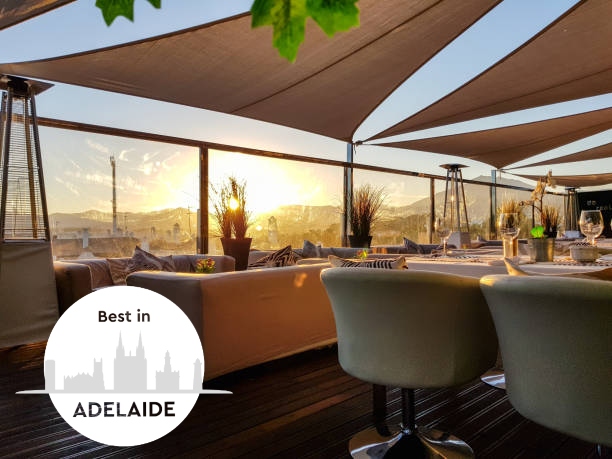 Raising the Bar: Best Rooftop Bars in Adelaide
Looking for Adelaide's hippest hangouts? Look no further than the CBD's rooftop bars like HENNESSY Rooftop Bar and The Gallery.
Whether you're a cocktail connoisseur or just seeking a swanky skyline setting, these rooftop gems have you covered. Check them out in this article.
HENNESSY Rooftop Bar
Address: 45 King William St, Adelaide, SA 5000
Contact Details: (08) 8210 8888
Operating Hours:
Mon to Fri – 5 pm to 10 pm
Fri to Sat- 3 pm to 12 am
Sun – 3 pm to 10 pm
HENNESSY Rooftop Bar is a chic and refreshing drinking spot atop the 5-star Mayfair Hotel. The interior boasts sleek and polished surfaces with plush, sumptuous furnishing.
The outdoor drinking area offers a view of the cityscape, including landmarks like King William St. and Rundle Mall.
Our go-to drink is the Malfy Gin con Rosa. This pale rose-colored gin has a rich citrus and grapefruit profile and a lingering juniper finish.
Our team on weekends for the live music. Also, on Saturdays, HENNESSY serves bottomless brunch.
They offer breakfast sliders, charcuterie, sweet corn frittatas, and endless spritz. There's also a lavish array of sweets, including a chocolate fondue station.
Tips:
Try their seafood meals. We recommend going for 1) natural oysters with lemon and mignonette and 2) poached lobster and avocado on charcoal buns.
Visit on holidays, especially on Christmas and New Year's Eve, for promos and discounts.
Book via their website or phone to ensure your spot.
Embrace the upscale vibe by dressing stylishly. This place attracts a chic crowd, so leave your flip-flops at home.
HENNESSY is renowned for its craft cocktails. Ask the bartenders to craft a drink that suits your preferences.
2KW Bar and Restaurant
Address: 2 King William St, Adelaide, SA 5000
Contact Details: (08) 8212 5511
Operating Hours:
Mon to Thu – 12 pm to 12 am
Fri to Sat – 12 pm to 2 am
Sat – 12 pm to 12 am
With its stylish marble bar, contemporary lounge seating, and enchanting festoon lighting, the 2KW Bar and Restaurant beckons guests with its hip vibes.
Dining and drinking on their open terrace offers views of Adelaide landmarks like the Adelaide Oval and Government House.
2KW Bar also offers cabanas for an exclusive retreat. These outdoor spaces can comfortably fit groups of ten to twelve and come with perks like a dedicated wait staff.
The most popular drinks here are cocktails, wines, gin, and beer.
Our team's recommendation is the 2019 Elio Ottin Pinot Noir. It tastes like red berries with subtle earthy notes and a delicate hint of spice.
Tips:
Try their 350-gram Wagyu sirloin. It's luxurious, buttery, and tender with a smoky interior.
Surprise a loved one with a food and drink voucher from 2KW Bar and Restaurant!
Stay at their Garden Bar if you want a private spot with lush greenery. This space can host 20 to 30 guests.
Check their website to see upcoming exclusive events. 2KW Bar and Restaurant will also give you early announcements if you sign up for their mailing list.
The Gallery
Address: 30 Waymouth St, Adelaide, SA 5000
Contact Details: (08) 8212 5511
Operating Hours:
Mon – Closed
Tue to Thu – 12 pm to 10 pm
Fri – 12 pm to 12 am
Sat – 3 pm to 1 am
The Gallery's rooftop bar is a modern and spacious drinking spot with large glass walls and a dark color scheme.
It has a retractable roof, blinds, heaters, and fans to ensure that rain or shine, your event will proceed without a hitch.
Their drink menu features everything from signature cocktails like negroni to espresso martini. However, our team's top choice is the citrusy and fruity Shaw + Smith Sauvignon Blanc from Adelaide Hills.
One dish also stands as our undisputed favorite—The Gallery's BBQ Chicken Pizza. It features tender chicken cuts in smoky BBQ sauce, complemented by sweet red onions, on a creamy Fior di Latte cheese base.
Tips:
The Gallery's rooftop bar is versatile, so book it for special occasions.
It can cater to up to 180 guests for cocktail-style functions and is equipped with a microphone, TV screen, and an AUX connection.
Take their virtual tour to get a sneak peek of the spot.
Book online to ensure your spot. The Gallery is a crowd favorite.
Merrymaker Rooftop Bar
Address: 23-29 Market St, Adelaide, SA 5000
Contact Details: (08) 8472 2400
Operating Hours:
Mon to Wed – Closed
Thu – 2 pm to 10 pm
Fri to Sat – 2 pm to 12 am
Sun – 2 pm to 9 pm
Craft beer and Barossa Valley wine are Merrymaker Rooftop Bar's trademark drinks. Moreover, on the 16th-floor rooftop bar—the highest in Adelaide—you can enjoy panoramic views of the Adelaide Hills.
Now, about the menu? We had a blast with their fresh seafood, particularly oysters on watermelon vinaigrette and kingfish ceviche tostada.
Our team's favorite dish, though, is the Margherita pizza with tangy tomato sauce, creamy mozzarella, and fragrant basil leaves.
Our go-to libations? First up, the Espresso Cubano.
It's Havana Rum infused with rich coffee and hazelnut flavors and a slight smokiness from cinnamon. It's perfect for nippy evenings.
Then there's the lychee martini, a delightful cocktail that captures the sweet, floral essence of lychee. This one works well with Merrymaker's salty and fatty tapas.
Tips:
You can book Merrymaker Rooftop Bar for private events. You should also check their website to see if they're closed because of a private event.
Keep a close eye on the events calendar at the bottom of their homepage. Merrymaker Rooftop Bar often hosts live music performances and themed nights.
The sunset views here are particularly breathtaking, so time your visit accordingly. Don't forget your camera or smartphone to capture the moment!
Try their experimental and bizarre cocktails. Start with their Chai Latte Martini and Ms. Lovett's Cherry Pie.
Sôl Rooftop
Address: SkyCity Adelaide, Adelaide, SA 5000
Contact Details: (08) 7077 3960
Operating Hours:
Mon to Tue – Closed
Wed to Thu – 12 pm to 10 pm
Fri – 12 pm to 1 am
Sat – 11 am to 1 am
Sun 11 am to 10 pm
Sôl Rooftop on Skycity Adelaide's Level 9 has an indoor lounge and a vibrant outdoor space overlooking the CBD.
The views here include towering buildings, the meandering River Torrens, and the serene Gulf St. Vincent.
Their team of local mixologists has joined forces with SkyCity's esteemed head sommelier, Jimmy Parham, to offer guests signature cocktails and globally acclaimed wines.
Our recommendations? You can't go wrong with the NV Alpha Box & Dice Prosecco.
It has crisp and refreshing flavors of green apple, citrus zest, and hints of white peach with a touch of effervescence.
The Purple Haze cocktail is a must-try, too. It's made with Kangaroo Island Spirits Mulberry Gin, Chambord, house-made blueberry jam, falernum, and a hint of lemon, so it's fruity, tangy, and subtly sweet.
Pair these with their Wagyu tartare. It's a savory dish with an emulsified egg yolk, crispy puff, shallots, smoked chive oil, and a delicate cracker.
Tips:
Try their high tea where you can enjoy a delightful selection of pastries, sandwiches, and fine teas.
Join their Sôl Cocktail Club for free entry on Thursdays and other perks.
You can book this rooftop bar for private parties.
Visit on Saturdays and Sundays to try their ever-changing exclusive menu.
Nineteen Ten
Address: Rooftop 143 Hindley Street Rooftop, Adelaide, SA 5000
Contact Details: 0478 770 292
Operating Hours:
Mon to Wed – Closed
Thu – 7 pm to 12 am
Fri – 8 pm to 1 am
Sat -8 pm to 2 am
Sun – Closed
Nineteen Ten welcomes guests with an interior inspired by the notorious Broadway burlesque clubs of Prohibition-era New York.
Inside, dimmed lighting casts a seductive glow over plush velvet seating and ornate, Art Deco-inspired decor.
You can also enjoy a view of the skyline here, but the main attractions are the burlesque dancers and the jazz bands.
We can't forget the Ben Murray Wines rosé from McLaren Vale. It features juicy red berries, ripe strawberries, refreshing citrus, and a subtle floral undertone.
For cigar aficionados, the Romeo Y Julieta No. 2 is a revelation. It has bold, chewy notes of nougat, pistachio, and almonds, heightened by a leathery texture.
Our favorite snack here is the cheese board with nut mix and other accouterments.
Tips:
Check their schedule for themed nights and events.
Nineteen Ten exudes an intimate, spirited, and alluring ambiance. It can be the perfect setting for a romantic date or a night of sophisticated indulgence.
Head to the outdoor terrace for a change of scenery.
If you prefer a more laid-back experience, consider visiting during the early evening.
The staff at Nineteen Ten are often well-versed in the history and offerings of the bar. Feel free to engage them in conversation
Luna10
Address: Level 10/27 Frome St, Adelaide, SA 5000
Contact Details: (08) 7077 2234
Operating Hours: Daily – 12 pm to 11 pm
Luna10 is one of Adelaide's hottest poolside cocktail and rooftop bars. It's on the 10th floor of the Crowne Plaza Adelaide, offering breathtaking views of Adelaide Hills.
On their menu are summer options like a crisp vegan bowl, classic favorites like beef burgers, and delightful surprises like bao buns.
What to drink? We suggest going for their signature, Love by Julia.
This sweet and tart drink contains strawberry gin, Malibu, lemon, raspberry syrup, and Wonderfoam.
Tips:
Try their classic fish and chips. Tender whiting, creamy tartare sauce, and a zesty lemon finish make this one irresistible.
Book their Plaza Workspace for corporate events or study sessions. It offers free Wi-Fi, in-built charging ports, and front-row seats to Adelaide's glimmering city lights.
Rocket Bar and Rooftop
Address: 142 Hindley St, Adelaide, SA 5000
Contact Details: (08) 8212 7433
Operating Hours:
Mon to Thu – Closed
Fri to Sat – 10 pm to 5 am
Sun – Closed
Rocket Bar and Rooftop has an electrifying vibe.. It's a classic party pub, with neon light art, flickering lights, and frenetic music.
This rooftop bar's trademark cocktails further enhance its invigorating aura. Look no further than their coconut margarita, a refreshing drink fusing tropical coconut with the zesty kick of a classic margarita.
To complement your libations, Rocket Bar and Rooftop serve irresistible warm nuggets. These delectable morsels have a crispy exterior and a tender, pepper and salt-packed core.
Tips:
The party themes here change, typically depending on the month or season. Visit their Facebook or Instagram to keep up with their event schedule.
Visit during their Cocktail Launch events to try their newest concoctions.
The Unley
Address: 27 Unley Rd, Parkside, SA 5063
Contact Details: (08) 8212 7433
Operating Hours:
Mon to Thu – 9 am to 1 am
Fri to Sat – 9 am to 2 am
Sun – 9 am to 12 am
The Unley is one of the top spots in the CBD if you're looking to unwind after a long day at work. Lush greenery surrounds its airy rooftop bar, creating a soothing atmosphere.
Its diverse menu offers classic pub food staples and classy restaurant-style meals. Moreover, it includes gluten-free, vegan, and vegetarian options.
We always order their decadent Prime Steak Sanga made with grilled Limestone Coast beef. It comes with caramelized onions, cheese, and house relish, and golden, crispy chips.
For drinks, we recommend their cosmopolitan, a flavorful blend of Smirnoff vodka, Cointreau, lime, and cranberry.
Tips:
Try their gaming room if you're looking for a different thrill. Its 33 poker machines provide comfortable seating while you play.
Looking for a venue for a huge event?
The Unley's rooftop bar can handle groups of up to 60, making it the perfect setting for milestone birthdays, baby showers, engagement parties, and more.
Take advantage of The Unley's happy hour promos.