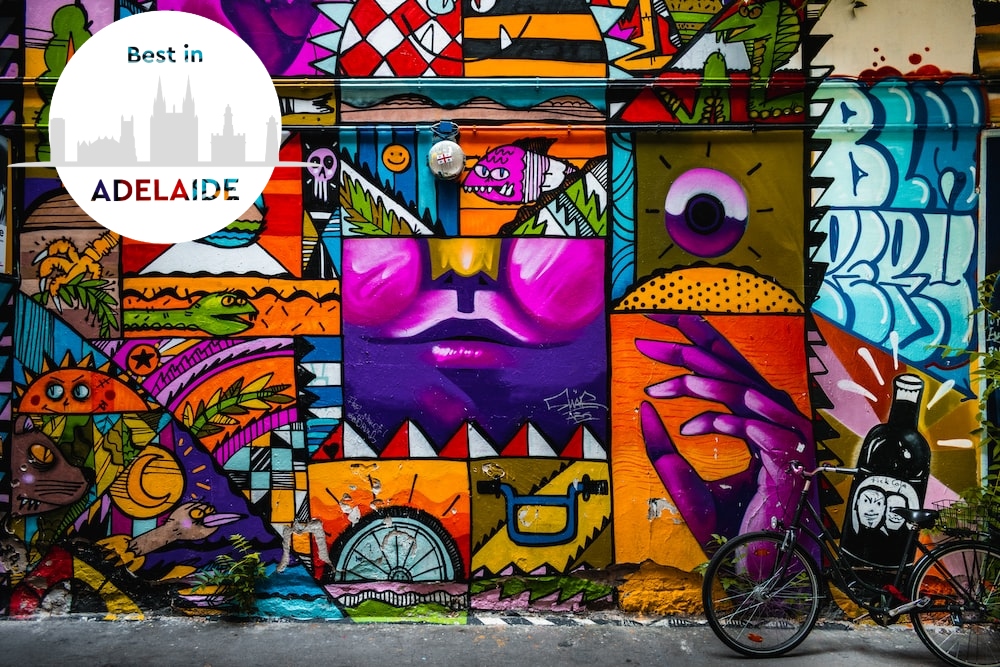 Walls of Wonder: Exploring the Best of Adelaide's Street Art
In Adelaide, walls and alleyways transform into captivating canvases.
Our team's art buffs checked these unfiltered, raw, and exceptional artworks, from Tatham St's Happiness Is to Twin St's Underwater Escape.
Discover more by checking out our article that spills all the colorful details!
Top Steet Art in Adelaide
From Kenya With Love
Address: Eliza St, Adelaide, SA 5000
Renowned graffiti artist Bankslave's dynamic and stunning From Kenya With Love mural is a must-see for art lovers. The artwork centers on the image of a woman donning a solemn face, while Kenyan-inspired symbols serve as the background.
The mural pops with Bankslave's trademark realism paired with sharp and vibrant colors, adding energy and character to the piece. In addition, deep and dark lines on the centerpiece's right side create a beautiful, eye-catching, and haunting contrast.
Bankslave painted From Kenya With Love in 2017 as part of the annual SANAA Festival, a celebration of culture, food, music, and art.
Happiness Is
Address: Tatham St, Adelaide, SA 5000
Happiness Is is a mural by the ever-talented Lea Grant. It showcases a picture of a woman surrounded by hues of reds, yellows, and blues.
According to the artist, an advertisement from Women Weekly's 1970s issue was her source of inspiration for the artwork.
The ad angered Grant, as it showed a lady in her underwear pulling her hips with an extremely tight corset while holding an offensive sign declaring, "Happiness is a flat tummy."
Grant included the caption in her work but crossed out the phrase "a flat tummy" as a form of protest.
She Imagined Buttons
Address: Corner of Hindley St and Morphet St, Adelaide, SA 5000
She Imagined Buttons is a massive 18×18-m artwork by Jasmine Crisp, an exceptional painter capable of bending styles.
The street art is in Adelaide's City of Music Laneways Trail. It's a tribute to Sia Fuller, more popularly known as Sia, the hitmaker who sang bangers like "Chandelier" and "Unstoppable."
She Imagined Buttons shows a highly detailed and expressive image of a lady in a spectacular, flowy black dress. She appears dancing or listening to music while striking a passionate pose.
Multicolored buttons and flowers gracefully emanate from her head, while additional vibrant items such as crayons and xylophones hover in the background. Amongst these, delicate clouds meander, enhancing the picturesque and dreamy scene.
Our team loves this for the top-tier craftsmanship and also because it can be a meaningful, jaw-dropping selfie background.
Unnamed Mural on Mercury Cinema
Address: Morpehtt St, Adelaide, SA 5000
Renowned painter Matt Stuckey and gifted Japanese street artist Twonee teamed up for an unnamed contemporary art piece on the corner of Mercury Cinema, Adelaide's local arthouse theater.
The mural utilizes various shades of grey, with an image of a misaligned horse as the focal point. In the background, large eyes with red and blue pupils dilate and appear to survey the horse's movement.
Our team loves the flow of this street art. It portrays the horse's chaotic galloping motion like it's running scared from the watchful eyes.
Alien From E- Street Saturn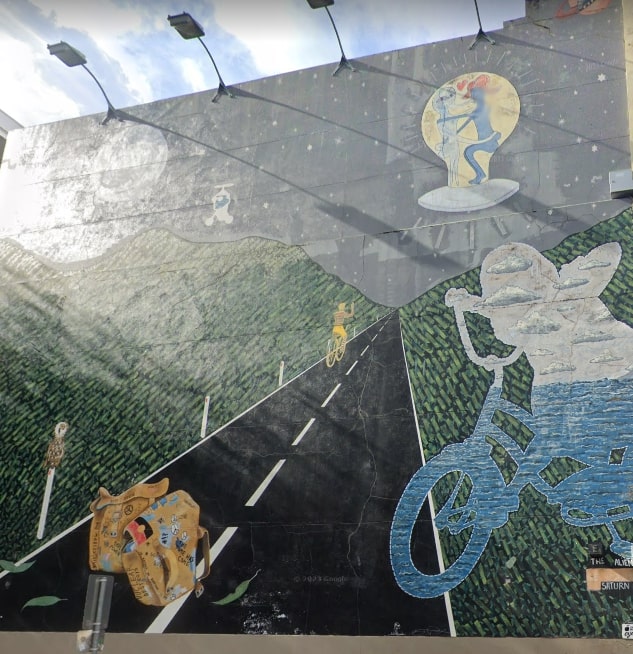 Address: Corner of Rundle and Frome St, Adelaide, SA 5000
Driller Jet Armstrong's 1998 masterpiece remains one of Adelaide's most creative and appealing street art. Armstrong pioneered Daubism, an art movement characterized by artists painting over the works of others.
The painting that gave birth to Alien From E-Street Saturn was an old mural portraying an old man licking an ice cream while staring at a girl riding a pushbike.
This previous street art obviously aged like milk, so Armstrong had to apply his Daubist style to cover it up.
Alien From E-Street Saturn boasts a psychedelic art style, with bizarre characters and out-of-this-world scenarios gracing the artwork. Some of its most intriguing parts are an owl with a single eye and aliens making out.
Armstrong also transformed the little girl on the pushbike into a faceless entity made of clouds.
Howling Owl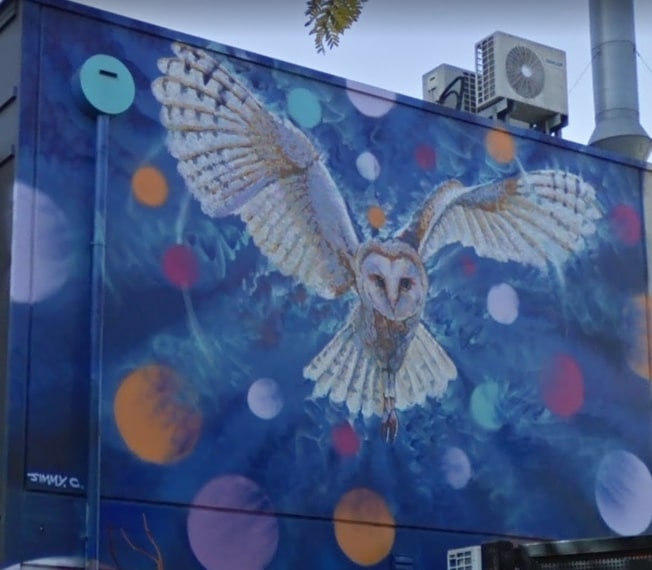 Address: Vaughan Pl, Adelaide, SA 5000
Jimmy C, or James Cochran, is a legend in the Adelaide street art scene. His blend of pointillism and spray paint strokes results in realistic murals with symbolic undertones and details.
One of our favorite works of his is the Howling Owl in the Howling Owl Cafe. The painting's focal point is a white owl gracefully emerging from a backdrop of something that looks like dusky clouds or a dark dimension.
Concurrently, a series of vividly hued spheres resembling planets accompany the owl, creating a harmonious visual synergy.
Underwater Seascape
Address: Twin St, Adelaide, SA 5000
Underwater Seascape is a 360-m2 cartoony and meticulous 2019 street art by the amazing 10TKL. This mural can be seen on the side of the bathtub cross-section of Rundle Mall and features the artist's distinct, humorous, and playful art style.
Its highlights are 10TKL's trademark blue squid with anime-like brilliant and round eyes and the bar of pink soap that resembles the soap in the poster of David Fincher's Fight Club.
The light colors make it easy for the eyes, while the cartoon-inspired characters can easily grab the attention of kids and kids at heart.
Jimi Hendrix Mural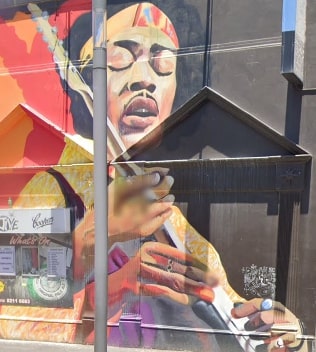 Address: Hindley St, Adelaide, SA 5000
This piece by Jack Fran showcases a striking portrait of the legendary musician Jimi Hendrix. Hendrix is shredding his guitar in the mural while showing a soulful facial expression.
The art style is characterized by bold and vibrant colors, capturing the essence of Hendrix's charismatic persona.
The best part? It's adjacent to other murals, such as artworks by Order55. This part of Hindley St bursts with street art, so don't miss it.
Steve Irwin Mural
Address: Tatham St, Adelaide, SA 5000
This artwork realistically portrays the beloved conservationist and TV personality, Steve Irwin. What we love most about the tribute is how it perfectly captures Irwin's exuberance and curiosity.
The attention to facial details and expression reflects the unknown artist's commitment to authenticity, with Steve Irwin's eyes brimming with unmatched energy.
City of Music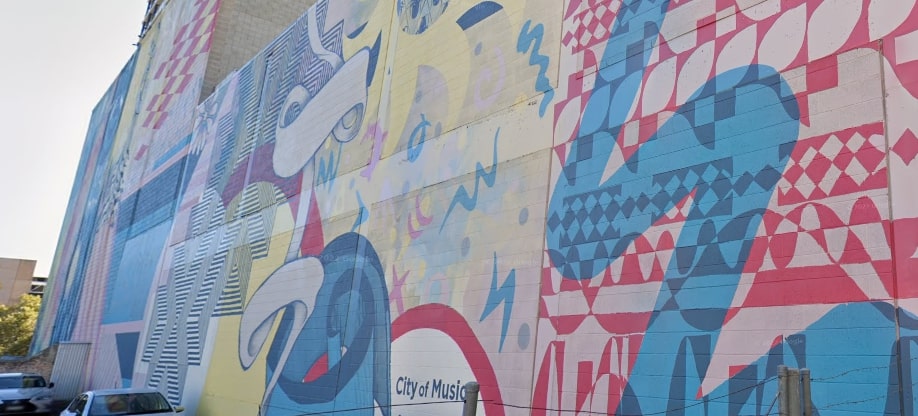 Address: Morphett St, Adelaide, SA 5000
A year after UNESCO gave Adelaide the title of UNESCO City of Music in 2015, street artist Dave Court painted this street art as a form of celebration.
City of Music portrays the stories of Adelaide's musicians through pastel colors, abstract symbols, and intricate design.
Aussie and Pixel Face
Address: Morphett St, Adelaide, SA 5000
The Aussie poster series of South Australian artist and activist Peter Drew is one of the most compelling works of art you'll come across in Adelaide.
Drew's Aussie posters highlight individuals, mostly persons of color, born in Australia but documented as non-Australians due to racial biases during the era of the White Australia policy.
In the posters, you'll see images of Australians wearing their ethnic attire with an all-capitalized caption saying "AUSSIE."
Another engaging work by Drew is Pixel Face, a seemingly innocent mural of a smiling and blushing pixelated character.
While initially exuding a charming appeal, Pixel Face carries a deeper significance—portraying the erosion of authenticity and human emotions due to the influence of technology.
Mural of Major "Moogy" Sumner AM
Address: Franklin St, Adelaide, SA 5000
Major "Moogy" Sumner AM, a respected Ngarrindjeri elder, takes center stage in this mural by Elizabeth Close and Kaymist4.
The elder's visage, embellished with the distinctive Ngarrindjeri facial paint, commands attention.
Aboriginal symbols grace the background, adding colors to the dominantly red and white artwork.
No Fixed Address
Address: Rundle Pl, Adelaide, SA 5000
No Fixed Address, one of Australia's music icons, is the star of this 2021 collaborative mural by Elizabeth Close, Thomas Readett, and Shane Cook.
A reggae rock ensemble hailing from Australia, No Fixed Address comprises Aboriginal Australian members from South Australia. The Indigenous band is famous for hits like "We Have Survive" and "From My Eyes."
The five members of the band are seen in the lifelike artwork. Every meticulous detail is of the highest caliber, from the natural curve of their hair to the intricate creases in the band members' attire.
Party Head
Address: Currie St, Adelaide, SA 5000
Party Head by Mike Makatron, a thought-provoking piece of street art from 2016, offers a contemplative portrayal of a dystopian future wherein nature asserts itself against humanity.
This impactful artwork employs varying shades of red to construct a post-apocalyptic setting where animals, trees, and rocks wear festive ensembles.
Despite Party Head's bleakness, we still love it for portraying a vivid commentary on the uneasy coexistence of humanity and the environment.
Matchbox Car Wall
Address: Rosina Pl, Wilson Car Park, Adelaide, SA 5000
The unconventional art style of Slovenian artist Matej Andraž Vogrinčič is on full display in Matchbox Car Wall. In 2000, Vogrinčič participated in the Adelaide Festival, where he witnessed the city's whopping number of garages and car parks.
Vogrinčič wanted to recreate a microcosm of what he saw, so he requested matchbox cars. The public obliged and gave him about 15,000.
The artist then utilized the toy cars in creating the eccentric Matchbox Car Wall, a small-scale car park perched on a colonial brick wall.
Originally, Vogrinčič's work was intended to be temporary; however, its reception was so favorable that its continuation became a natural choice.
Our team recommends showing Matchbox Car Wall to your kids! It's a perfect demonstration of creativity and a great way to introduce them to one of the most popular toys of yesteryears!
Seb Humphries' Art Works
Address: Gawler Pl and Synagogue Pl, Adelaide, SA 5000
Artist Seb Humphries, a.k.a Order55, engages in surrealistic creations that blend elements of nature, science fiction, and fantasy.
His cosmos-inspired street art depicts ethereal objects that lack definite forms and burst forth with a vibrant array of colors. Every piece looks and feels like a gateway to space or another dimension.
Cold Chisel Lane
Address: Cold Chisel Ln, Adelaide, SA 5000
If you're a fan of Cold Chisel, this spot should be your go-to location for street art. Cold Chisel Lane's main artwork shows quotes painted by James Dodd.
The quotes are from comments of Cold Chisel fans, and they don fiery colors inspired by the band's hit classic "Flame Trees."