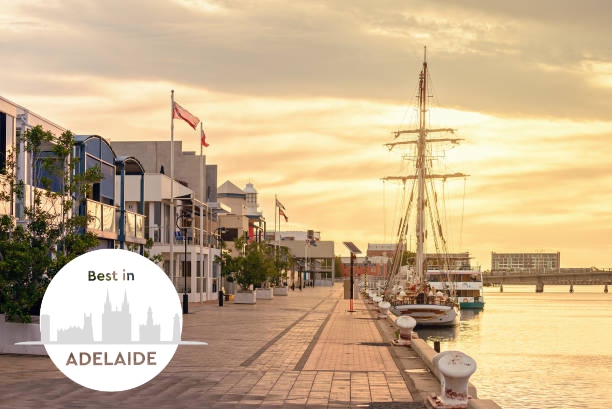 Anchored in Fun: Your Port Adelaide Adventure Guide
Thinking about swinging by Port Adelaide for an adventure?
You're in luck, as this spot has a bucketful of things to do and sights to see, from exploring the tranquil Port River to savoring craft beer at Pirate Life Brewing!
Our article will help kickstart your adventure. The details are one scroll away!
Top Things to Do in Port Adelaide
See the world's oldest surviving clipper ship
Address: Dock/2 Honey St, Port Adelaide, SA 5015
Contact Details: (08) 8337 5645
Operating Hours: Daily – 10 am to 3 pm
City of Adelaide is an iconic clipper ship, renowned as the world's oldest surviving vessel of its kind. This remarkable maritime treasure, constructed in Sunderland, England, was launched on the 7th of May in 1864.
Its primary purpose was to facilitate the transportation of passengers and goods between Britain and Australia. It made an impressive 23 return voyages from England to South Australia in its heyday.
Moreover, approximately 250,000 Australians can trace their family heritage to this vessel. You also don't have to worry about safety when you visit, as repairs and restorations were done to maintain its structural integrity.
Tips: 
• City of Adelaide is a majestic spot for photo ops. We recommend taking snaps in the dining hall and hull.
• Check the upcoming events that will take place on the ship. 
Join a guided tour for a more thorough, structured, and educational ship exploration. 
Visit the South Australian Maritime Museum
Address: 126 Lipson St, Port Adelaide, SA 5015
Contact Details: (08) 8151 3260
Operating Hours: Daily – 10 am to 5 pm
The South Australian Maritime Museum is a treasure trove of maritime history, offering an immersive experience for visitors of all ages.
We found nautical artifacts here, like majestic ship models that harken back to a bygone era of exploration. Our team also saw interactive displays showcasing the tragedies and adventures of sea voyages.
There are also permanent exhibitions displaying skeletons of aquatic creatures like whales and Port River dolphins.
Tips: 
• The Bound for South Australia exhibit offers an immersive, kid-friendly experience focusing on life at sea and immigrant history.
• Stay updated on the museum's entry fee, as it can change. 
• You can bring your guide or assistance dogs.
• Visit the museum gift shop for maritime-themed souvenirs and the on-site cafe for refreshments.
• You can rent the museum's Figurehead Gallery and Wharf section for private events.
Explore the Port River with Port River Cruises
Address: 1 McLaren Wharf, Port Adelaide, SA 5015
Contact Details: 0473 806 045
Operating Hours: Daily – 8 am to 6 pm
The Port River Cruise offers multiple cruises, from wildlife-centered tours to a cultural journey where your head guide is an Aboriginal elder.
The Twilight Tours is a standout for our teammates. Your guide will regale you with local history, tales of famous ships, and insights into iconic locations like the Dolphin Sanctuary.
Another cruise we enjoyed is the Private Charter Tour, an option ideal for groups looking for a laid-back getaway or a riverboat party.
Tips: 
• Check Port River Cruises' events, like cultural and music-filled cruises.  
You can't forget binoculars if you're interested in birdwatching or getting a closer look at marine life.
• Feel free to ask questions. 
• The crew is usually more than happy to provide additional information about the area, especially on the ancient mangroves that are nearly 10,000 years old.
Drink craft beer at Pirate Life Brewing
Address: 18 Baker St, Port Adelaide, SA 5015
Contact Details: 0473 806 045
Operating Hours:
Mon to Thu – 11 am to 10 pm
Fri to Sat – 11 am to 12 pm
Sun – 11 am to 10 pm
Pirate Life Brewing's industrial vibes are hard to resist. Exposed brickwork adorns the facade, while a shaded beer garden adds to the refreshing appeal.
Among the standout brews at Pirate Life Brewing, the Hazy IPA captivated our beer connoisseurs. This particular brew flexes an alcohol volume of 6.0%, delivering a flavorful punch that's robust and refreshing.
The Acai and Passionfruit sour is also a standout choice for a less heavy but equally delightful craft beer. It's a brew inviting extended conversations and leisurely sipping, with a modest alcohol volume of 3.5%.
Tips: 
• Don't miss Pirate Life Brewing's shop if you want to take home their craft beers and merch like t-shirts and customized glassware. 
• Check their event calendar for live music performances or special events. 
• Take a break and play at the bar's arcade section. Pirate Life Brewing's arcade offers modern games like • Scud Race and classic pinball machines like AC/DC.
Order their classic burger and fries—the perfect meal to pair with beer.
See dolphins at the Adelaide Dolphin Sanctuary
Address: Garden Island Rd, Garden Island, SA 5015
Contact Details: (08) 8405 6560
Operating Hours: Daily – 24 Hours
A trip to Port Adelaide isn't complete without seeing its dolphins. The Adelaide Dolphin Sanctuary on the east coast of Gulf St Vincent is the best site to spot these friendly flippers.
Dolphins are a year-round presence within the sanctuary, but seeing them isn't always guaranteed. However, kayaking through the mangroves and creeks gives you a better chance of spotting dolphins in their natural homes.
Exploring the scenic St Kilda Mangrove Trail is a land-based option for dolphin viewing. This 1.5-meter path provides a level and even surface, but be mindful that changing tides can make the boardwalk slippery.
Tips: 
• Bring a picnic basket with your favorite snacks and refreshments. There are designated foreshore picnic areas along Garden Island.
• Remember that feeding dolphins isn't allowed.
• You need a chair (and considerable patience) if you prefer watching dolphins by the shore.
• The Adelaide Dolphin Sanctuary is known for its magical sunrise and sunset, so visit during golden hours.
Have a floating picnic with Portobello River Cruiser
Address: 1-2 Tarni Ct, New Port, SA 5015
Contact Details: (08) 8405 6560
Operating Hours:
Mon to Tue – Closed
Wed – 11:30 am to 8:30 pm
Thu – 6:30 pm to 8:30 pm
Fri to Sun – 11:30 am to 8:30 pm
The Portobello River Cruisers are comfortable and spacious vessels typically used for floating picnics on River Torrens. It can handle up to six people per boat.
You don't need a boat license to take the helm, and the staff will thoroughly educate you on navigating the vessel. The cruisers also offer a delectable selection of snacks and drinks.
Our team's favorites include the gourmet cheese and cured meat platter featuring smoked ham and soft truffle cheddar. You can also purchase beverages, with reds and beers as the top sellers.
Tips: 
• Groups of 7 and above need to contact the manager of Portobello River Cruiser at 0403 203766 to secure a spot.
• Be on the lookout for dolphins.
• Arrive at least 20 minutes before your schedule for a comprehensive briefing on driving and safety instructions.
• Check the weather to ensure a pleasant outing. 
• Bring background music or entertainment options for added enjoyment during your cruise. Just make sure to be mindful of other passengers and the volume.
See planes at the South Australia Aviation Museum
Address: 66 Lipson St, Port Adelaide, SA 5015
Contact Details: (08) 8317 2111
Operating Hours: Daily – 10 am to 4 pm
Here's the best spot in Port Adelaide for aviation buffs. The South Australia Aviation Museum (SAAM) houses some of South Australia's most significant aviation artifacts.
Among the notable artifacts are the WW2 Mitsubishi Zero gun sight and the operational Gnome Monosoupape Rotary from 1914. The museum also has the Witber engine of 1915, the first aircraft engine built in Australia.
Other notable artifacts are the 27 magnificent old-school and modern aircraft in the museum's hangar. The heavy hitters include DH Vampire A79-202 and McDD Hornet A21-32.
Tips: 
• Consider joining the museum's history group. 
• This can provide a unique opportunity to engage with fellow enthusiasts and learn more about aviation history.
• Guests in groups need to contact the museum before visiting. The same rule applies to visitors who prefer a guided tour.
The museum's admission fees can change, so stay updated.
• You can book SAAM for private gatherings like birthdays and weddings. If planning to do so, reach their staff, as function rentals are subject to approval.
• Visit their social media accounts for news about special events like Open Cockpit Day.
See vintage trains at the National Railway Museum
Address: 76 Lipson St, Port Adelaide, SA 5015
Contact Details: (08) 8341 1690
Operating Hours: Daily – 10 am to 4:30 pm
Spread across an expansive 3.5 hectares, the National Railway Museum houses a collection of over 100 major exhibits. Among the noteworthy exhibits are the galleries of vintage locomotives like Bluebird Railcar 257.
In addition, you can climb aboard stunning carriages like the fully-airconditioned Wegmann Lounge Car, first used in 1952. The museum also displays the collar of Bob the Railway Dog, a beloved dog known for his loyalty to the SA's railways.
Moreover, the National Railway Museum delves into the war heritage of Australia's railways. You'll find exhibitions detailing how the government utilized SA's railway systems during World War I and II.
Tips: 
• This museum is known for events like train rides and VR experiences, so remember to check their website for news. Visit and try the museum's exhibitions and activities dedicated to kids and families, such as the adventure trail and train simulators.
• The museum's historic charm and stunning models make it a perfect spot for children's birthday parties.
• Bring your food and dine in their shaded outdoor dining halls. You can also purchase snacks and bevvies from the museum's vending machines.
• The museum's shop is where you can find an accessible parking area.
• Ride the Semaphore Train and travel to Fort Glanville to see stunning beaches. 
Only group reservations are accepted. 
Ghost-hunt with Port Adelaide Ghost Crime Tours
Address: Port Adelaide, SA 5015
Contact Details: 1300 044 678
The Port Adelaide Ghost Crime Tours took us to Port Adelaide's darkest corners, beginning and ending in Port Wharf Hotel. As we explored, ghost hunters shared chilling stories of murder, apparitions, and supernatural events.
Among these haunting narratives was the story of Jasper, a police constable who continues to patrol Port Adelaide's streets as a lost spirit.
The tour also introduced us to the eerie account of a Russian sailor brutally kicked to death on Todd Street. The guides told us the sailor's spectral presence roams this street, searching for his murderers.
Tips: 
• Booking is required, so make reservations via their website or contact number. 
• Wear a jacket or sweater. Port Adelaide can get cold at night.
• The tour will take you to dark and forgotten spots like the port's old morgue, so bring a flashlight or small lamp.
• Visit their website to check their schedule. Port Adelaide Ghost Crime Tours typically occur on • Saturdays but are often available for bookings on holidays too.
• Stretch before embarking on the tour. The tour involves a substantial amount of walking and runs approximately 2 to 2.5 hours.
• Don't bring kids. The tour guides only allow participants 16 years old and beyond.
• The tour starts at 8:30 pm, but you should arrive at least 15 minutes early for consent signings and briefing. 
See the Ships' Graveyard at Garden Island
Address: Garden Island, SA 5015
Contact Details: (08) 8204 1910
Operating Hours: Daily – 24 hours
During the early 20th century, Garden Island became the go-to spot for ships that had hit the end of their seaworthy road. These ships, caught in the crossfire of economic hardships and the two world wars, were left on the island.
Today, you can spot these historic shipwrecks at Garden Island, standing as a maritime museum.
There are 25 ships here. These include barges, ferries, dredgers, and some old-timey sailing ships and steamers, with most turned into landmarks and tourist spots.
Tips: 
• Plan your visit during low tide to see more of the shipwrecks.
• Refrain from climbing or disturbing the shipwrecks to help preserve them.
• There are no facilities on Garden Island, so bring snacks and plenty of water for your visit.
Go pub-hopping
The Port Anchor Hotel: 15 Church St, Port Adelaide, SA 5015
The Lighthouse Wharf Hotel: 1 Commercial Rd, Port Adelaide, SA 5015
The Port Admiral Hotel: 55 Commercial Rd, Port Adelaide, SA 5015
You can't leave Port Adelaide without swinging by The Port Anchor Hotel, The Lighthouse Wharf Hotel, and the Port Admiral Hotel.
The Port Anchor Hotel is known for its seafood platter that's best paired with a glass of D'Arenberg Broken Fishplate Sauvignon.
Next on the pub crawl itinerary is The Lighthouse Wharf Hotel. Here, patrons can savor delectable buttermilk fried chicken burgers and effervescent Redbank Prosecco.
The pub-hopping fun continues with Port Admiral Hotel, where a vibrant beer garden and open-air terrace welcome guests. Their pork king rib eye takes center stage, while their Scotch whisky is the best drink.
Tips: 
• Plan your route, mapping out the pubs you want to visit and their opening hours.
• Start early to maximize your time and experience the pubs' different atmospheres.
• Check out any special events or live music performances at the pubs you plan to visit.
• Pace yourself and stay hydrated by drinking water in between alcoholic beverages.
• Assign designated drivers or arrange alternative transportation through apps like Lyft and Uber to ensure a safe journey home.
• Talk with locals or other pub-goers to learn about the area's history and hidden gems.