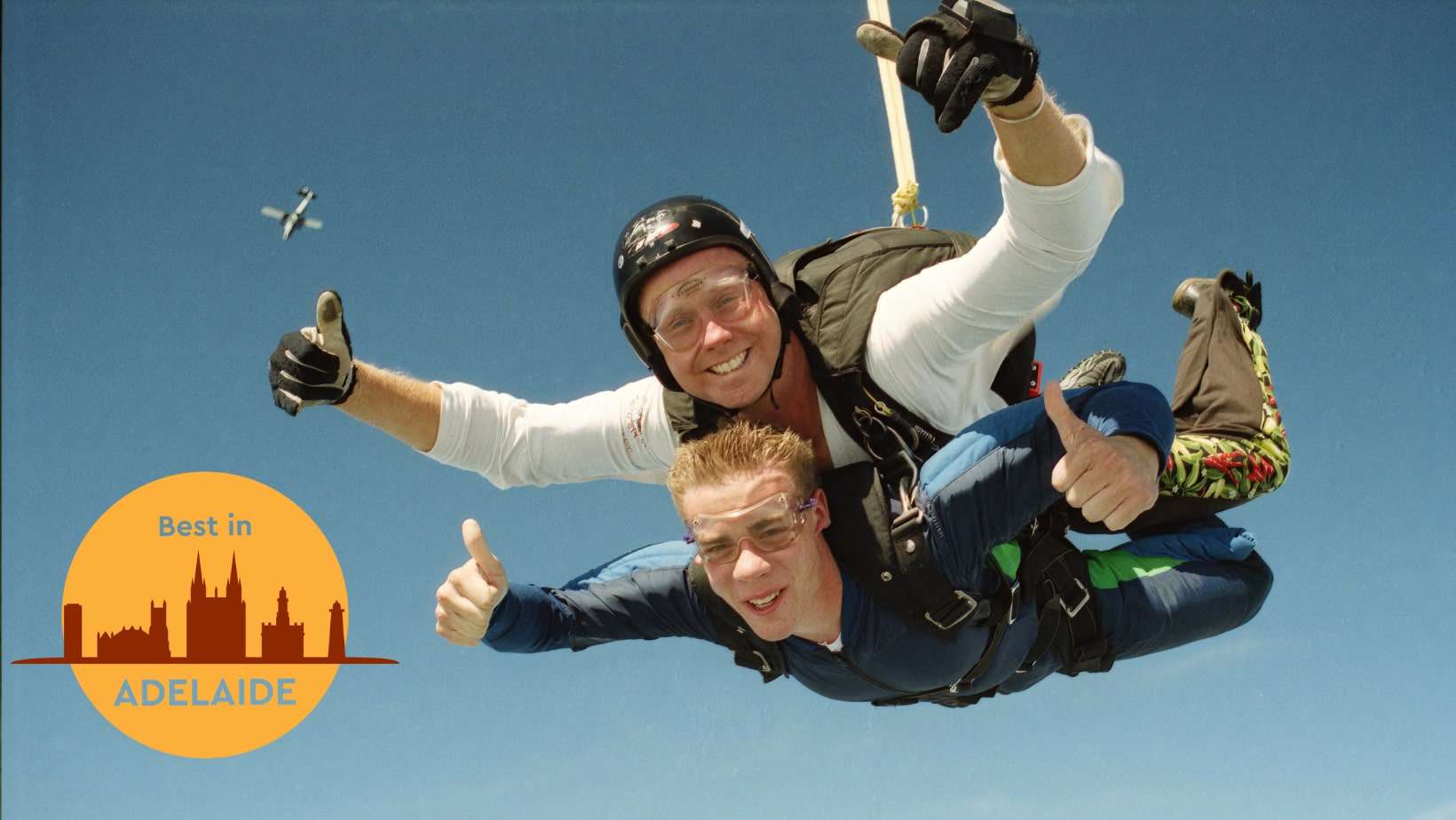 The 4 Best Skydiving Places in Adelaide
How We Picked Fun and Safe Skydiving Centers in Adelaide
1. Skydive the Southern Vines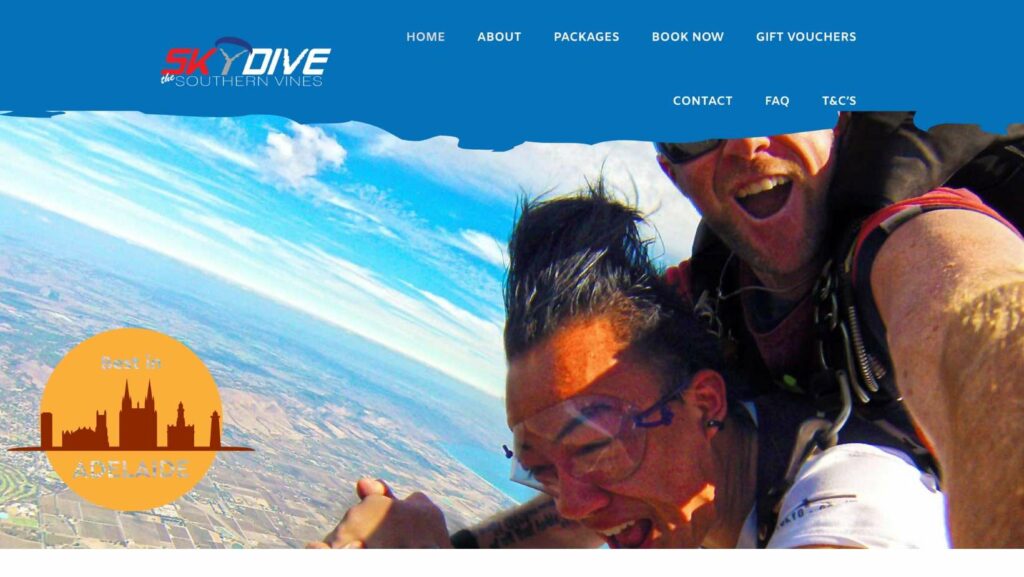 Services: 15,000-ft skydive jump, 12,000-ft skydive jump, 9,000-ft skydive jump
Website: https://www.skydivethesouthernvines.com.au/
Address: 439 Main Road, McLaren Vale SA 5171
Contact Details: +61 455 266 880
Operating Hours: Strictly by reservation, but they are open seven days a week
| | |
| --- | --- |
| Google reviews score | 4.5/5 |
| Tripadvisor reviews score | 5/5 |
| Total reviews | 4.75/5 |
| Score consistency | 4/5 |
| | |
| --- | --- |
| Drop zone | 3.5/5 |
| Aircraft | 3.5/5 |
| Skilled professional training | 5/5 |
| Value | 4/5 |
Scenic vineyard drop zone
Seasoned skydiving instructor
Wine tasting plate experience available
Beginner friendly
Relaxed atmosphere
Hassle-free process from training to skydive
Expensive add-on rates
Communication from the staff leaves much to be desired
No group discounts
We would like to share a memorable experience a client told us they vividly had with Skydive the Southern Vines that had us sold to look into the thrilling yet relaxing skydiving experience.
Imagine yourself taking in the scenery of soaring over the Fleurieu coast and vineyards.
All while steering the parachute in the direction of the verdant meadows of Leconfield, where your loved ones will be waiting with a sample plate and a glass of wine.
Allan Gray, who has more than 8,000 jumps under his belt and more than 30 years of expertise, will be your chief instructor.
Your safety is assured throughout the experience, and Allan's expertise in teaching shines through, as you will be given the freedom to steer the parachute as you begin your descent onto the drop zone.
Because of this, the skydiving experience is beginner-friendly.
The Leconfield cellars are staple attractions when you visit the drop zone. What better way to celebrate a life-changing experience than to have an exquisite wine tasting with cheese platters while admiring the lush greeneries of the relaxing vineyard?
Unfortunately, their add-on rates are a bit on the expensive side. They also do not offer any group discounts.
On top of this, communication from the staff, especially for booking inquiries, leaves much to be desired. This is a pain to manage if you want everything on your itinerary to go as planned.
Fortunately, when you get to your appointment, the process of training to skydive is as smooth as you would expect. All of the clients we interviewed told us that it took less than one and a half hours for the whole experience.
If you're looking for a more rural and peaceful vineyard skydiving location, we recommend Skydive the Southern Vines.
2. Coastal Skydive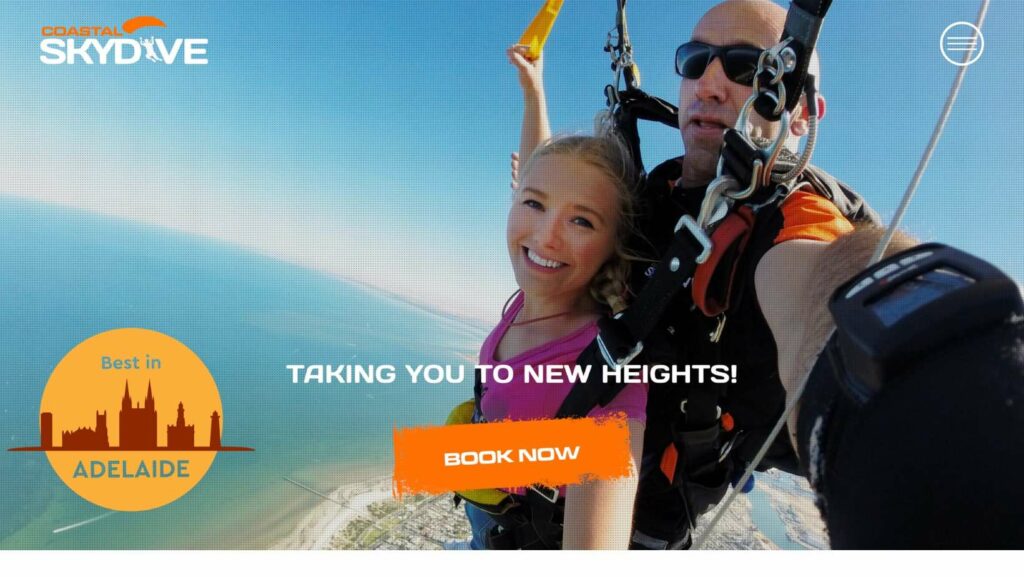 Services: Semaphore Sunset/Sunrise Skydive, Aldinga Beach Skydiving, Goolwa Skydiving
Website: https://coastalskydive.com.au/
Address: 5 S Esplanade, Glenelg SA 5045
Contact Details: +61 8 7444 4218
Operating Hours: Monday to Sunday: 9 am – 5:30 pm
| | |
| --- | --- |
| Google reviews score | 4.8/5 |
| Tripadvisor reviews score | 5/5 |
| Total reviews | 4.9/5 |
| Score consistency | 4/5 |
| | |
| --- | --- |
| Drop zone | 5/5 |
| Aircraft | 5/5 |
| Skilled professional training | 5/5 |
| Value | 4/5 |
Multiple beach landing locations
Stunning beaches and cliff walks
Great special discounts
Ideal for celebrating group occasions
Viewing area available for friends and family
Professional and competent instructors
Tipping is excessively encouraged
Expensive add-on rates
Wouldn't recommend purchasing tickets from third-party sites
The multiple beach landing locations of Coastal Skydive is enough to make skydive enthusiasts and beginners keep coming back. They have scenic locations in Semaphore, Aldinga Beach, and Goolwa.
The stunning beaches and cliff walks are breathtaking. Their locations seem to have something to offer for everyone, even those who don't plan to try out the skydiving experience.
For instance, they have viewing areas for friends and families of tandem skydivers, free barbeque equipment for those who plan on having a cookout, and even a kid zone equipped with free arcade video games!
Their instructors are absolute experts with over 50,000 jumps between them! They make sure your tandem experience will be memorable with their remarkable level of competence and customer care.
This is ideal for celebrating occasions with large groups like birthday parties and reunions. With nine people booked for skydiving, you can get one additional skydive for free.
There's a package for marriage proposals, and you will get an event specialist to plan the occasion along with everything you may need! They offer photo and video edits, banners, and even champagne with flowers.
However, we find it slightly bothersome that they excessively promote and encourage tipping and have numerous tip jars across their drop zones.
On top of this, the add-on offerings and memorabilia they have are on the expensive end. Imagine having to pay AUD 30 for a souvenir shirt?
Skydiving tickets bought from third-party sites are also not a good idea if you want to try out Coastal Skydive. Their customer service will oftentimes give you unfavorable schedules on purpose.
Nevertheless, the thrilling experience accompanied by the surreal views of the seaside makes Coastal Skydive worth trying out.
3. Adelaide Tandem Skydiving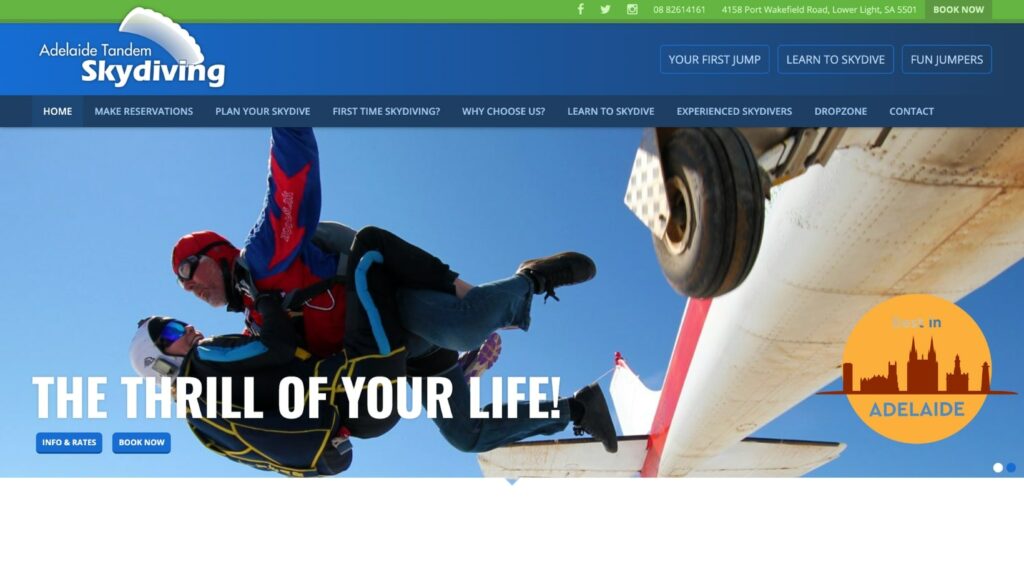 Services: 15,000-ft Tandem Skydive Lower Light; 9,000-ft Tandem Skydive Lower Light; High Flyer 15,000-ft Tandem Skydive McLaren Vale; Accelerated Free Fall
Website: https://www.adelaideskydiving.com.au/
Address: 4158 Port Wakefield Road Lower Light, SA 5501
Contact Details: 08 82614161
Operating Hours: Monday to Sunday: 7 am – 6 pm
| | |
| --- | --- |
| Google reviews score | 4.8/5 |
| Tripadvisor reviews score | 5/5 |
| Total reviews | 4.9/5 |
| Score consistency | 4/5 |
| | |
| --- | --- |
| Drop zone | 5/5 |
| Aircraft | 5/5 |
| Skilled professional training | 5/5 |
| Value | 3.5/5 |
Accelerated Free Fall course offerings
Great rates for visiting skydivers
Multiple aircraft
Drop zone is nearby establishments and attractions
Value for more intermediate skydivers
Large roster of experienced staff and instructors
Website isn't updated with events and discounts
Doesn't offer scenic views
Beginners and intermediate skydivers are both cared for and assured of a safe and exhilarating skydiving experience in Adelaide Tandem Skydiving.
With multiple aircraft that can accommodate more skydivers per flight, you will be up in the air in no time on the day of your jump.
Their large roster of experienced staff and instructors also carefully prepare all customers for the much-awaited jump.
If you plan on exploring Accelerated Free Fall, they also offer a comprehensive course wherein you can learn to skydive solo after nine jumps.
Regarding their drop zone, it has multiple nearby establishments and attractions to keep your itinerary filled with a day's worth of activities!
The value here is more geared toward intermediate skydivers. This is because they offer affordable rates for visiting licensed skydivers.
Beginners may find others on this list more suitable.
We also noticed that their website is not up-to-date with their current events and discounts. These are crucial in keeping customers in the know.
In addition to this, the skydiving experience does not offer scenic breathtaking views compared to the other skydiving centers on this list.
But if it is a solid and memorable skydiving experience you are looking for, you can have it at Adelaide Tandem Skydiving.
4. SA Skydiving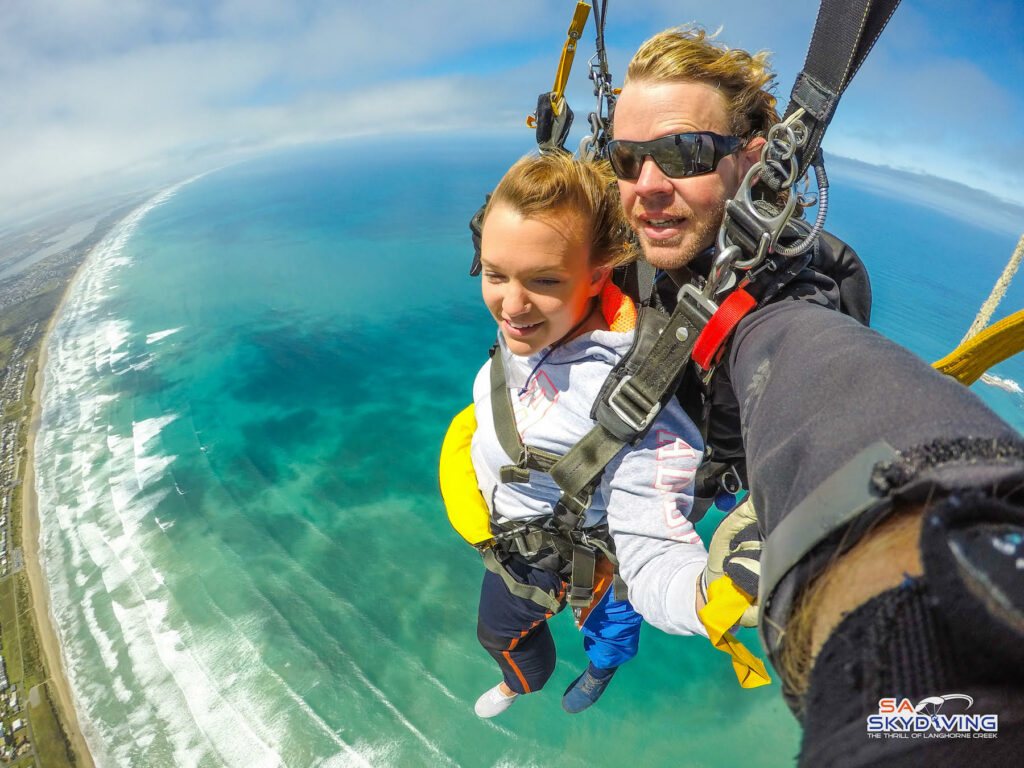 Services: Skydive Normanville Beach, Skydive Goolwa, Skydive Langhorne Creek
Website: https://www.saskydiving.com.au/
Address:
Postal: PO 1595 Box, Murray Bridge, 5253
Private Airfield: 151 Skeldon Rd, Wellington, 5259, SA
Contact Details: +61 8 8272 7888
Operating Hours: Monday to Sunday: 7 am – 7 pm
| | |
| --- | --- |
| Google reviews score | 4.9/5 |
| Tripadvisor reviews score | 5/5 |
| Total reviews | 4.95/5 |
| Score consistency | 4/5 |
| | |
| --- | --- |
| Drop zone | 5/5 |
| Aircraft | 5/5 |
| Skilled professional training | 5/5 |
| Value | 5/5 |
Special limited time skydive offers
Airbnb available near drop zone
Meaningful fundraising drives
Great value bundles for groups
Jump now, pay later option
Great facilities in drop zone
Inclusive and transparent rates
Poor communication from front office personnel
Website is difficult to navigate
There is always something new with SA Skydiving. For one, they have limited-time offers for special skydiving locations like Kingston SE, Robe, and Mount Gambier.
SA Skydiving finds creative ways to make fundraising drives. They have one wherein you can nominate your boss or colleagues to make the jump and the proceeds of the fundraiser will go to support underprivileged youth in South Australia.
They also have great value bundles for large groups, and they even offer free birthday skydives. Talk about opportunities to try out something new!
Facilities are also not an issue. They have a cozy clubhouse, playground, café, and even an unfettered view of the epic sunrise and sunset over Langhorne Creek Wine Region, Coorong and Murray River.
If you plan on staying the night before or after your scheduled jump, they can guide you to available Airbnbs near the vicinity of the drop zone.
One thing we especially appreciate is their transparency with their rates and the number of items included in their packages. This is the only skydiving center that doesn't charge extra for photo and video packages.
Another one is their jump now, pay later scheme through ZipPay.
However, several customers told us that the front office personnel always seem to struggle with communicating with clients, both over the phone and in person.
We also found that their website is difficult to navigate. The info rates are located in two different tabs on their website and their group rates are all over the place.
Still, the value that you get for your money coupled with the thrills of unique experiences is great here in SA Skydiving.
FAQs about Skydiving in Adelaide