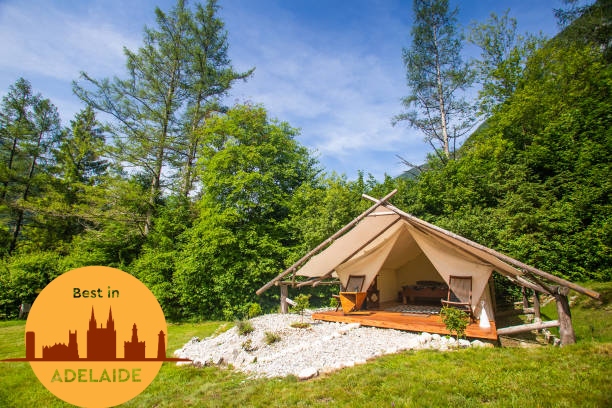 Where Nature Meets Luxury: Top Adelaide Glamping Sites
Think camping is all about roughing it? Not in Adelaide!
Our city has and is near top-notch glamping sites offering luxury amid nature, from Eco YHA – Port Elliot to Wilpena Pound Resort!
Ready to elevate your adventure? Dive into our article for more details on these chic escapes and beyond.
Wilpena Pound Resort
Address: Wilpena Rd, Via Hawker, SA 5434
Contact Details: 1800 805 802
Within the heart of the 95,000-hectare Flinders Ranges lies a haven for those who appreciate the Outback's beauty but prefer not to wrestle with it. Your background here is gorges, mountain ranges, and several animals like kangaroos and wallabies.
The best features of their 15 glamping sites include spacious tents with comfortable beds, private ensuite bathrooms, and stylish furnishings. Each tent provides maximum privacy and stunning views of the surrounding terrain.
The interior decor combines earthy tones and contemporary designs, creating an inviting and cozy atmosphere. Our team's favorite is the Ikara-Safari tent, offering a fully-airconditioned room with a majestic outdoor fire pit.
The famous Wilpena Pound, a natural amphitheater-like formation, is just a stone's throw away from this premium tent. Guests can reach it via the Wangara Lookout Hike.
Tips:
Take a full-day hike to St Mary Peak, the Flinders Ranges' highest point, if you're an adventure enthusiast.
Scale the rocky slopes to reach the breathtaking Mount Ohlssen Bagge.
Experience the region's resilient bushland by embarking on the Drought Busters Hike.
Discover the Edeowie Gorge, particularly after rainfall when the waterfalls come alive.
Take the time to stargaze. In the Outback, constellations are clearer due to the absence of obstructing factors like trees and buildings.
Go for the Family Ikara Safari tent if glamping with your family or a group of 3 to 4 people. This tent offers the same amenities and backdrops.
Flinders Bush Retreats
Address: 651 Willow Waters Rd, Hawker, SA 5434
Contact Details: 0428 384 127
Flinders Bush Retreats is another glamping site in the jaw-dropping Flinders Ranges. Eco Tent is the retreat's glamping accommodation, and it's in the ranges' oldest hills—with dramatic gorges and rugged terrain as backdrops.
Inside, a bespoke queen-sized bed is dressed in premium linens, accompanied by an Australian wool blanket and quilt—a nod to the area's wool production.
The tent also features a compact kitchenette, a BBQ station, and an ensuite with an eco-friendly restroom and gas-heated water.
Outside, you'll witness emus and kangaroos grazing on the lowlands. The Wilpena Pound is also nearby—making Eco Tent fantastic for glampers wanting a taste of bushwalking or hiking.
Tips:
Keep in mind that mobile phone coverage isn't available in Eco Tent. While you're off the grid, we suggest reconnecting with nature by enjoying Outback yoga sessions, relaxing by the campfire, or simply listening to the sounds of nature.
Don't forget your camera to capture Flinder Ranges' captivating landscapes and diverse wildlife.
Booking on Flinders Bush Retreats' website ensures the lowest possible rates.
Arrive early at prime locations within the retreat to capture the spectacular sunset views.
Bukirk Glamping
Address: 88 Stradbroke Rd, Stanley Flat, SA 5453
Contact Details: 0455 666 177
The sweeping plains and lush hills of Bukirk are this glamping site's highlights. Couples also adore this spot's 42-acre farmland's seclusion and privacy, making Bukirk Glamping a hotspot for lovers without kids.
Bukirk Glamping also features spacious and romantic tents with plush bedding, private bathrooms, and tasteful furnishings. If you love laidback adventures, strolling by the nearby Riesling Trail should be your go-to activity here.
Additionally, Bukirk Glamping is a 5-minute drive from Stanley Flat's wineries and cafes. Guests typically use this glamping site as a resting hub for their wine and food-tasting adventure.
Tips:
Enjoy your mornings and evenings on your private deck. This spot is perfect for sipping coffee at sunrise or relishing a glass of wine as the sun sets over the enchanting rolling hills.
Bukirk Glamping's sheltered area provides amenities like TV, card and board games, dining areas, and BBQ grills. Remember to swing by if you'd like to use these.
In warmer months, you can indulge in the heated saltwater swimming pool for refreshing relaxation. There's also a communal space to escape the sun's warmth and unwind during this time.
Gather around Bukirk Glamping's fire pit for camaraderie, storytelling, marshmallow roasting, and a captivating view of the unobstructed night sky. This spot is where our team met fellow glampers!
Deluxe Safari Luxury – Barossa Valley
Address: 1F Murray St, Tanunda, SA 5352
Contact Details: (08) 8218 5505
Our teammates enjoyed vineyard stargazing in this rustic glamping site in Barossa Valley Holiday and Caravan Park: Deluxe Safari Luxury.
This glamping paradise boasts twelve eco-friendly safari tents amid towering native gum trees that frame panoramic vineyard views.
Every tent is a marvel of sustainable design, featuring a private three-meter deck, a practical kitchenette, and a spacious bedroom tailored to your preference.
The tents share access to a private heated spa and swimming pool. Plus, a premium BBQ and lounge area add a touch of smoky opulence to the site.
Tips:
Stargazing within the Deluxe Safari Luxury tents proves challenging due to the gum trees blocking the view. Stroll toward the expansive open vineyards to fully appreciate the night sky's brilliance.
Want to see a whole new world? Soar above the picturesque landscapes of Barossa Valley with a hot air balloon ride, and witness the sunrise painting the region with a palette of vibrant colors.
Look for eastern grey kangaroos grazing in open fields and enjoy the resonating calls of kookaburras.
CABN – Kuitpo Forest
Address: Brookman Rd, Kuitpo, SA 5172
Contact Details: (08) 8391 8800
Whenever we feel like ditching the ordinary through glamping, CABN – Kuitpo Forest always comes to mind. CABN has Scandinavian-inspired, minimalist, luxurious cabins that offer an immersive connection with nature.
It has three glamping sites in Kuitpo Forest: Nala, Jarra, and Bambra. The cabins' interiors feature clean lines, charcoal color palettes, and an emphasis on simplicity and functionality.
They also make use of natural materials like wood and textiles to create a warm and inviting atmosphere.
During non-fire ban months, you can start a campfire on the outdoor fire pit after a day of cycling or strolling through the eucalyptus-lined Kuitpo Forest.
Tips:
Opt for lightweight essentials to keep your experience hassle-free. Pack versatile clothing, a compact camera, and sturdy footwear for exploring the forest trails.
Embrace sustainable living by minimizing waste. Use reusable containers and respect the surroundings by leaving no trace of your visit.
Don't forget to bring your woofer, as CABN – Kuitpo Forest allows dogs if you pay the $40 fee. You must also bring your pet's bedding, as they're prohibited from sleeping on CABN's luxurious beds.
The fireplace is a great place to get some reading done.
You're in a forest, so go for al fresco dining. Pack a picnic or prepare simple meals you can savor in the woods.
Keep a lookout for local wildlife, such as kangaroos and wallabies. You can also spot native bird species like lorikeets and quails.
Kangaroo Island Seafront Holiday Park
Address: 8 Frenchmans Terrace, Penneshaw SA 5222
Contact Details: (08) 8553 1028
Kangaroo Island Seafront Holiday Park has an A+ location, perched right by the refreshing Hog Bay beach. It's also just 300 m from the Sealink Ferry terminal, making your grand entrance to the island smoother than a dolphin's dive.
And the cherry on top? They have a myriad of beachside glamping accommodations, from eco-luxury glamping tents to Bell Tents, Oceanview Villas, and powered campsites.
Eco Family tents are ideal for groups and families. This glamping site is nestled in the holiday park's private area, where native gums provide shoreline shade.
The Oceanview Villas are perfect for romantic getaways. This glamping spot has a private deck, making the ocean view look more magical, especially during the golden hour.
Tips:
Pack beach-friendly clothing, sunscreen, and a hat to enjoy the seaside location.
Make the most of the coastal setting with water activities like swimming, snorkeling, or simply wading in the gentle waves.
Stargaze at the beachside! The absence of city lights allows for clear views of the night sky's constellations.
Make use of the park's BBQ facilities for a beachside cookout. Our team truly enjoyed freshly grilled meals with the sound of the waves and waterfowl as our tunes.
Explore the holiday park's rock pools along the shore, discovering marine life up close. Tread lightly to preserve the delicate ecosystem.
Plan your glamping experience from May to October, the prime dolphin and whale watching season.
Arkaroola Ridgetop Sleepout
Address: 2948 Arkaroola Rd, Arkaroola, SA 5731
Contact Details: +61 8 8648 4848
Arkaroola Ridgetop Sleepout offers glamping sites perched on a ridge, ensuring high vantage points and providing views of Arkoola Wilderness Sanctuary's vast Outback landscapes.
Activities? There is no shortage here.
Whether it's hiking, sunrise viewing at Siller's Lookout, embarking on a 4WD experience via Ridgetop Track, or simply bird-watching, this sanctuary is your gateway to personalized nature experiences.
After a day of Outback Odyssey, the hosts will dish out mouthwatering canapes paired with wine.
While dining within your glamping tents is an option, we suggest enjoying your meals outdoors by the campfire for an enhanced culinary experience.
Tips:
Invite your friends or family! You need to camp with a minimum of 4 people to avail of the overnight experience.
We suggest checking Arkaroola's weather forecast to avoid disappointment. Arkaroola Ridgetop Sleepout will cancel your reservation (for free) if the weather is terrible.
The Heli-Camping Experience
Address: Flinders Ranges Way, Hawker, SA 5434
Contact Details: +61 8 8648 0700
Nestled in the heart of Australia's iconic Flinders Ranges, Rawnsley Park Station takes camping to new heights—literally.
The Heli-Camping Experience lets campers see Rawnsley Bluff and Wilpena Pound airborne. This sky-high escapade takes place in the afternoon when the ranges light up, and it ends in the rocky and high Chace Range, where your cozy camp awaits.
Once you've settled in, the attentive staff will serve a delectable two-course meal. And when the sun rises the next day, they'll provide you with everything you need to whip up a classic bush breakfast right over a campfire.
Tips:
The romantic scenery is ideal for couples. Bring a bottle of wine and enjoy an intimate moment with your significant other. Commemorate the occasion with a selfie having Flinders Ranges as your background.
Stay updated on the weather conditions, as the Heli-Camping Experience is subject to weather.
Chance Range can get cold at night. Although the camp provides thick blankets, we suggest bringing warm and layered clothing for added comfort.
Eco YHA – Port Elliot Beach House
Address: 13 The Strand, Port Elliot, SA 5212
Contact Details: (08) 8554 1885
Looking for a nearer coastal glamping site? Port Elliot Beach House's Eco YHA packs the seaside charm of the Fleurieu Peninsula inside fully equipped glamping tents.
Here, communal spaces like the kitchen, lounge, and outdoor BBQ areas are available. You can take a breather inside, take a seaside stroll, or grab a board and hit the waves.
You may dive into the crystalline waters and see the Peninsula's colorful coastal reefs. If rock climbing is your thing, head to the nearby Green Bay and Rocky Bay for bouldering and traditional rock climbing.
Tips:
Keep binoculars nearby for potential whale and dolphin sightings. It's not uncommon to spot these majestic creatures from the comfort of your glamping site, especially during cloudy or rainy days from November to April.
Port Elliot Beach House is known for its environment-friendly practices. Opt for biodegradable and eco-friendly toiletries to minimize your environmental footprint during your stay.
Glamping at McLaren Vale
Address: 148 Strout Rd, McLaren Vale, SA 5171
Contact Details: 0417 816 475
Luxurious tents and premium wine and food tasting are what Glamping at Mclaren Vale primarily offers. The site is also a short walk from the renowned Wirra Wirra Vineyards and The Salopian Inn.
Other fantastic dining options like Red Poles and Mitolo are within easy reach. Additionally, the view from your tent encompasses lush vineyards and hills stretching as far as the eye can see, creating a patchwork of vibrant greens and earthy hues.
You'll catch glimpses of the Turra Parri Creek as you peer beyond the vines. Head to the creek during sunset, open a bottle of red, and relax until a canopy of stars shines its light on the vineyard-filled landscape.
Tips:
Bring your bicycle for a scenic ride along dedicated cycling paths that wind through the vineyards and coastal areas. The top bike trails here are the Coast to Vines Rail Trail and Shiraz Trail.
If you booked your stay on a Saturday, go to Willunga Farmers Market to purchase local products.
This glamping site has outdoor cooking facilities, so take advantage of them. Cooking under the open sky adds an extra layer of enjoyment to your meals.
Bellwether Wines
Address: 14183 Riddoch Hwy, Coonawarra SA 5277
Contact Details: 0447 334 545
Bellwether Wines beckons with its alluring blend of outdoor indulgence and rustic charm. With six glamping bell tents and six campsites, visitors can tailor their stay to suit their preferred comfort level.
Bellwether Wines' standout feature is its top-notch bathroom facilities, boasting even a claw-foot bath for a touch of vintage luxury. Mellow lanterns also illuminate the bell tents, and power points in key areas ensure phone charging convenience.
For culinary adventurers, the camp kitchen and produce garden are ready to assist in prepping delectable feasts. The skilled chef can fashion a delectable array of meals, utilizing the garden's bounty, with the BBQ platter as our team's favorite!
Tips:
Don't miss the delightful brunch served at 10:30 AM for up to ten people. It's the perfect start to your glamping day.
Fresh herbs and garden produce are at your disposal, enhancing your culinary creations. Add these vibrant flavors to your glamping meals.
Grab their specially curated picnic basket designed for wine enthusiasts.
Gather around the central communal campfire, as it sets the stage for stargazing and warm conversations. Enjoy the company and a glass of red wine.
If you visit between February and April, witness the mesmerizing winemaking process during the vintage period. You might even have the chance to participate for a week.
__________________________________________________________________