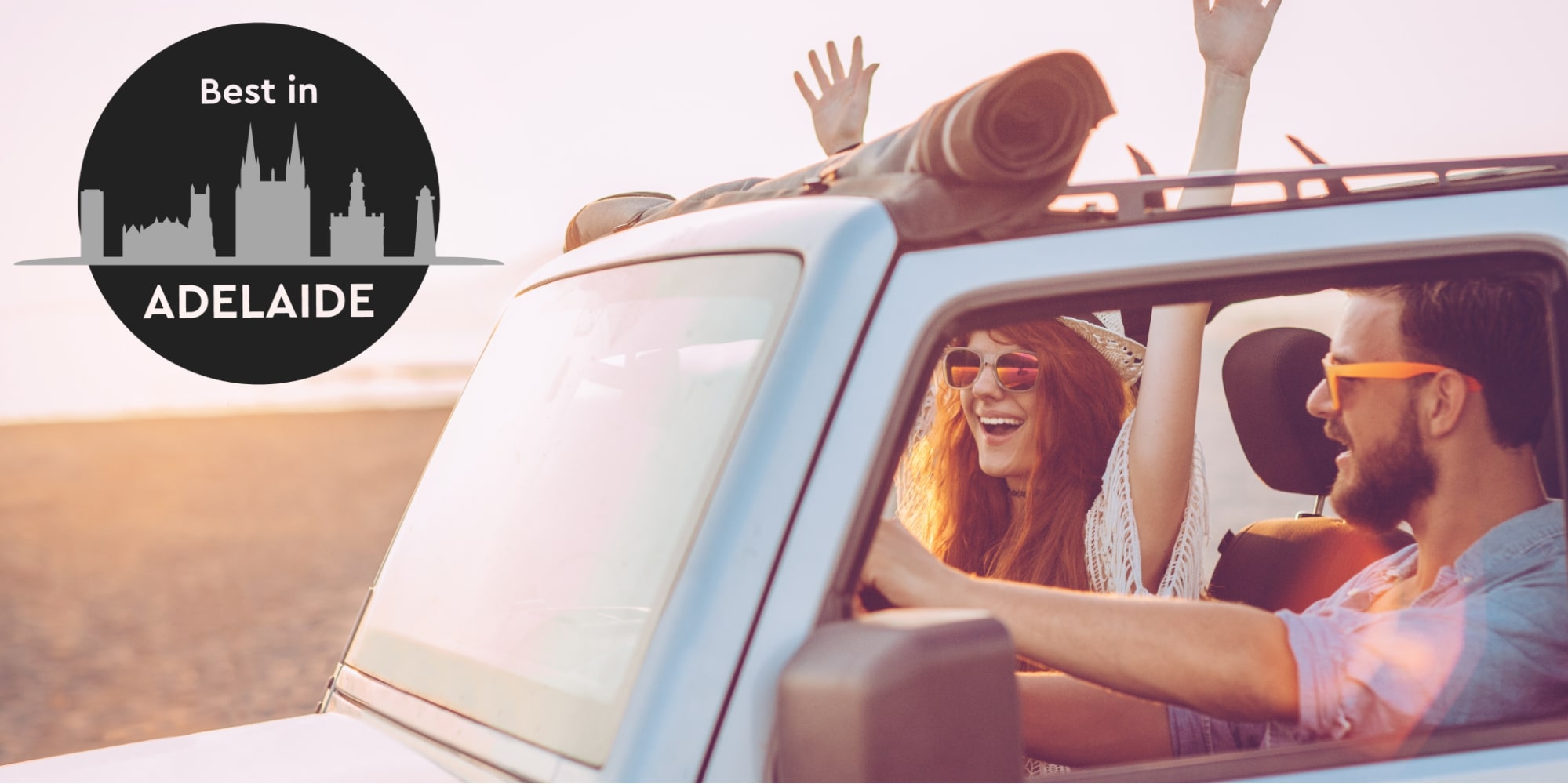 Adventures in Adelaide: 9 Quick Getaways for Students
A hangout here and there never hurts, especially with all the paperwork you encounter every day while studying. If you're a student in Adelaide, you're in luck, as our city has many exciting destinations you can tour in your free time!
From historical landmarks to picturesque natural landscapes and more, our city has it all. I've compiled a list of different spots where you can make your next treasured memories that will last well beyond your school days!
Best Things to Do for Students in Adelaide
1. Shop at the Adelaide Central Market
Address: 44-60 Gouger St, Adelaide SA 5000
Opening hours:
Sunday-Monday: Closed
Tuesday: 7 AM-5:30 PM
Wednesday-Thursday: 9 AM-5:30 PM
Friday: 7 AM-9 PM
Saturday: 7 AM-3 PM
Sunday: Closed
How to get there: If you're going by tram, get off at the Victoria Square/Tarndanyangga stop. If by bus, hop off Grote Street (the bus is free!).
As a foodie, Adelaide Central Market is always my go-to recommendation, especially for students! It's a great display of our city's fresh produce and diverse cuisines!
Students will absolutely love the different food stalls here, as every dish is unique and bursting with freshness! From pizza to baked scallops, curry, pho, and more, the food here is simply extraordinary.
Does the wide variety of ingredients motivate you to cook? You can always attend one of the many events and workshops held here annually that will teach you how to make cheese, bread, and more!
Pro tip: The closing time of Adelaide Central market isn't consistent, as it sometimes closes by 9 PM, 5:30 PM, or 3 PM. Be mindful of this so you'll know which day fits your schedule the most.
2. Climb the Iconic Adelaide Oval Roofline
Address: War Memorial Dr, North Adelaide SA 5006
How to get there: Hop off either stop AO25 or AO26 of the bus line.
The screams from visitors of Adelaide Oval don't just come from the spectacular games held yearly, they also come from the brave souls who climb at the top of the Roofline!
Climbing the Roofline and seeing the city skyline of Adelaide is definitely one of my favorite moments as an Adelaidean.
I also appreciated our highly informative and friendly guide, who told us about how the stunning architecture of the Oval came to be. I have to admit, though, that it was a bit tough to balance listening to his engaging tales while trying not to look down below!
Pro tip: The climb is usually done at noon, so be sure to put on sunscreen! The reflection of the material which the Oval is made of is highly reflective, after all.
3. Take selfies at Hahndorf
Address: (Main street) 68 Mount Barker Road, Hahndorf, Adelaide Hills, South Australia, 5245
How to get there: Get off Stop 54 via the bus coming from the CBD (about 50 minutes).
Have a blast to the past by visiting the charming village of Hahndorf. It's a great display of Adelaide's German heritage, which you'll see in its architecture and restaurants.
My favorite thing about the village is the dozens of restaurants that offer the heartiest dishes I've ever had! Simply thinking of the rich flavors of the schnitzels and sauerkraut makes my mouth water!
If you and your friends are the sentimental types, Hahndorf is highly recommendable. If the words autumn breeze, botanic gardens, and idyllic scenery spell the perfect hangout for you, Hahndorf should easily find its way to your bucket list.
Pro tip: The trip to Hahndorf from the CBD takes about 50 minutes. Make the most of your trip by preparing stories, packing snacks, and taking pictures of the stunning view you'll pass by.
4. Stop by Port Elliot
Address: Port Elliot, SA, 5212
How to get there: At the CBD, ride at the W2 Bus Stop. Transfer to J1 Stop headed for Zone B Marion Interchange, and then from there, hop off directly at Port Elliot.
Port Elliot is the perfect destination for bored students in the summertime! It's one hour away from the hustle and bustle of the CBD.
It's a great alternative to Henley Beach! The calm waters are perfect for swimming and surfing, yet there aren't too many people staying here.
Equally charming and peaceful are the many quaint cafes, shops, and bed and breakfasts owned by locals. When I visited here, I felt right at home, as I got a good taste of rural Adelaidean hospitality!
Pro tip: Port Elliot is best known as a highly-picturesque spot perfect for postcards. Take lots of pictures of the scenery, especially by sunset!
5. Sip fancy wine at McLaren Vale
Address: McLaren Vale, South Australia 5171
How to get there: Ride the railway near Adelaide Convention Center and then hop on the Zone A Seaford Interchange bus.
What's a great hangout spot without some of Adelaide's finest offerings—wine? McLaren Vale is a great spot to try Adelaide's award-winning Shiraz and chardonnay.
Here, you can visit more than 80 cellar doors and over 170 wineries. Each has its own story to tell of their families' hard work and legacy that helped in perfecting every bottle they produce.
If you're not much of a drinker, you can always try horseback riding and biking here! The view is stunning and exquisite, from the lush valleys to the rich greenery.
Pro tip: If you want an immersive trip, try visiting McLaren Vale as part of a tour. Transportation is comfy, and you'll be with a tour guide!
6. Walk at the idyllic Kuitpo Forest
Address: 94 Black Nursery Rd, Kuitpo SA 5201
How to get there: Ride the railway near Adelaide Convention Center, and then take a taxi directly to Kuitpo Forest.
Kuitpo offers over 3,000 hectares of land for you to immerse yourself in nature! From leisure strolls, picnics, and photography sessions, the forest has a lot to offer.
The trail reminded me of the towering trees from the Twilight series, complete with mystical fog and wide walking spaces. It's populated with native wildlife, such as local wallabies and occasionally, bandicoots!
Kuitpo Forest is also a great spot for mountain bikers who want a challenge! It has an over-100-km trail, which starts easy and steadily gets more challenging the further you go.
Pro tip: If you want to take a long walk at the Kuitpo Forest, I advise trying out the Family Loop first before the Heysen Trail, as the latter is much more challenging!
7. Camp at Deep Creek
Address: Deep Creek SA 5204
How to get there: Hop on the bus in the CBD headed to Cape Jervis, which will lead you to Wirrina Resort Main South Road. From here, ride a taxi that leads straight to the conservation park.
If you and your friends would love to see some of Australia's native animals, Deep Creek is the perfect spot for you. It's home to over a hundred species of birds, gray kangaroos, and short-beaked echidnas.
The fun doesn't end there, as you'll also see hundreds of different varieties of pretty orchids, ferns, shrubs, and trees! It's a wild and untamed spot that will give you a different view from the Adelaide Botanic Garden.
Traveling by the Deep Creek on two wheels is a marvelous idea. Even I, as a casual biker, enjoyed the easy trails that offered very stunning views of the landscape nearby.
Pro tip: Deep Creek is a Class II protected area by the International Union for Conservation of Nature. Because of this, you should be responsible with your disposal of garbage.
8. Chill by the Pink Lake (Lake Bumbunga)
Address: 3193 Augusta Hwy, Lochiel SA 5510 (Viewpoint)
How to get there: Ride the bus at Adelaide Central Station headed to Lochiel. From here, you can hop on a taxi to get there.
The Pink Lake of Adelaide, also known as Lake Bumbunga, is one of the natural landscapes that we Adelaideans are especially proud of. As its name suggests, the lake's waters are tinged with pink, making for a surreal view!
The reason why it's pink is the waters are populated with algae and microorganisms. You can even swim, kayak, and fish in its calm and shallow waters!
If you're interested in seeing other pink lakes in South Australia, you can visit Lake MacDonnell, Lake Eyre, Lake Hart, and Lake Albert.
Pro tip: If the unique color of the waters doesn't convince you enough, I'm sure you'll have plenty of fun taking pictures of the Lochiel Eel made by the locals here. Even though it's made with wheels and scraps of wood, it's highly convincing from afar!
9. Enjoy sunset at Victor Harbour
Address: Victor Harbor, SA 5211
How to get there: Ride the bus at Adelaide Central Station coded 1251.
Victor Harbor is a ruggedly charming landscape with dramatic cliff tops and a rocky coastline. Thrill-seekers and cliff divers will have a great time embarking on an adventure here!
One of the most unforgettable moments of my visit was watching adorable seals and whales basking in the warm sunshine. It was like witnessing playful puppies having the time of their lives, and it brought a huge smile to my face.
For those traveling with a group of friends, Victor Harbor is the perfect place to be. With a range of thrilling activities such as golfing, quad biking, and exploring the family farm, there's something for everyone to enjoy.
---