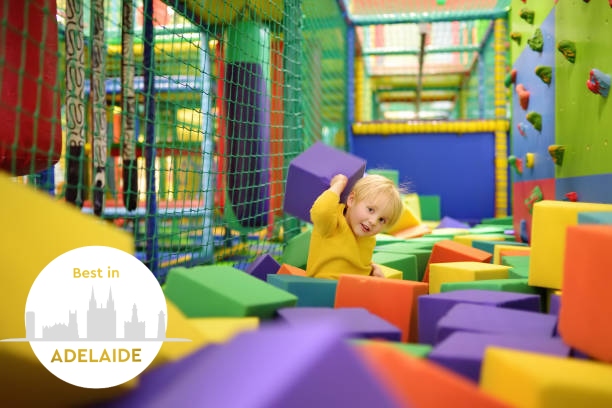 Kidtopia: Top Indoor Playgrounds in Adelaide
Parents, brace yourselves for the ultimate 'no more boredom' solution for your little adventurers!
Indoor playgrounds like Green Monkeys and Funtopia can provide your kiddos with safer and cooler play zones.
The excitement kicks off with this list!
Wacky Warehouse Play Cafe
Address: 162 Gorge Rd, Newton, SA 5074C
Contact Details: (08) 8165 1199
Operating Hours: Daily – 9:30 am to 5 pm
Wacky Warehouse Play Cafe caters to every kid's dream, offering spontaneous walk-in adventures and meticulously planned birthday parties.
Kiddos up to 3 years old will enjoy the soft play animal zone with stuffed and inflatable toys. Bigger kids will also have a blast with the intricate maze-like tubes and spiraling slides with forts.
They can also reenergize with the cafe's offering of classic snacks like chips and hot dogs. Besides food, it also has workshops for both parents and kids!
Tips: 
• Wacky Warehouse Play Cafe isn't a nursery-style playground, so you must supervise your kids here.
• Join their membership program for discounts and other perks.
• You can bring baby food and drink, but meals not from the cafe aren't allowed.
Green Monkeys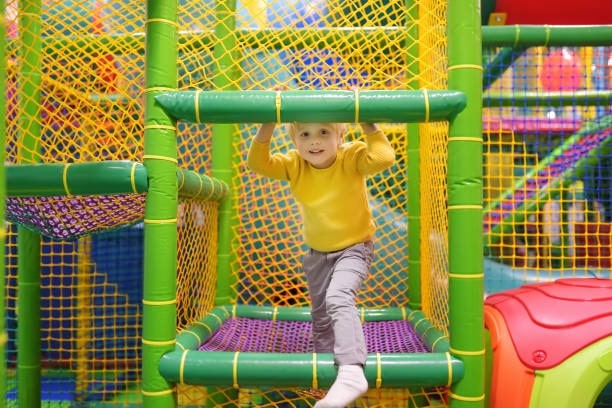 Address: 1 Causeway Rd, Ethelton, SA 5015
Contact Details: (08) 8341 5099
Operating Hours: Mon and Wed only – 9 am to 11 am
The fun doesn't monkey around in Green Monkeys, a 2-level netted playground for pre-schoolers. This spot has zones for imagination-building and physical development, like a tea-party-themed area and a site with punching bags.
Other notable features include spinners, a helicopter cockpit, and slides with varying lengths and shapes. And for the tinier tots, there's a charming play area up front with a cozy Little Tykes playhouse and an array of toys.
If your kids get hungry or thirsty, you can buy biscuits, cakes, and iced tea at the cafe right on the side of the playground. A nursery is also next door if your tiny trooper needs a breather.
Tips: 
• While Green Monkey offers free entry, consider donating during your visit.
• Arriving a bit early at Green Monkey ensures the best seats for parents and a head start on the fun for the kids.
• At least one volunteer supervises the kids here, but parents and guardians should still be actively watching their children.
Funtopia Prospect
Address: 259-269 Main N Rd, Sefton Park, SA 5083
Contact Details: (08) 8164 5118
Operating Hours:
Mon – 9 am to 6 pm
Tue to Fri – 9 am to 5 pm
Sat to Sun – 9 am to 6 pm
Funtopia truly offers a fun utopia for kids of all ages and sizes. It has a 5-story Playground World, a safe and exciting Climbing World, and a Baby World brimming with toys.
The Playground World boasts mazes, slides, trampolines, tunnels, and netted climbing platforms. The Climbing World features modern climbing arenas with whimsical designs like beanstalks and skyscrapers.
The Baby World showcases short tube-like slides, building blocks, and interactive obstacles. Your babies will also love this zone's inflatable ports and bouncy balls.
Tips: 
• Treat your kids to the playground's Mr Spriggin's Cafe. Check their birthday menu if you're planning to rent the playground for birthday celebrations. 
• Ensure your kids wear closed-toe shoes if they want to play in Climbing World. Additionally, listen attentively to the friendly staff's 15-minute safety briefing.
• Parents and kids should always wear socks in Playground World.
Lollipop's Playland & Cafe Croydon
Address: 449 Port Rd, Croydon, SA 5008
Contact Details: (08) 8340 2570
Operating Hours:
Mon – Closed
Tue to Sun – 9:30 am to 5 pm
Lollipop's Playland & Cafe Croydon is a fully-air-conditioned haven where kids can unleash their boundless energy while parents chill in the nearby cafe.
We love the interconnected mazes and slides, all safely enclosed in nets. For the teeny tots eager to explore, there's a dedicated toddler area stocked with slides and building blocks.
The toddler area also comes with a bouncy castle and inflatable slides that will have kids bouncing with glee.
Tips: 
• Book their jungle-themed party rooms for private playdates or birthdays. Here's a peek into their party packages.
• Check out their upcoming fun-filled events like discos and play parties.
• Stay updated on their entry prices.
Crocs Playcenter Kilburn
Address: 4/252 Churchill Rd, Kilburn, SA 5084
Contact Details: (08) 7092 3775
Operating Hours:
Mon – 10 am to 3 pm
Tue to Fri – 9 am to 5 pm
Sat to Sun – 9 am to 4:30 pm
The star of the show at Crocs Playcenter is the toddler area for those four years and under. Here, you'll find mini slides that are just slippery enough for giggles and a bouncing castle of pure fun.
Our minis also had a blast at the basketball zone, trampoline area, and spinning jungle swings. Additionally, there are netted mazes with soft surfaces and kid-friendly bikes exploring a safe track with cartoony designs and structures.
The kids stayed for a long time in their ball pit with a giant ball-launching cannon, so we can safely say it's their favorite!
Tips: 
• Book Crocs Playcenter Kilburn for birthdays. 
• Check their current prices and entry specials.
• Know the indoor playground's rules.
• Taste their cafe's famous muffins, sandwiches, and pies!
Colonel Light Kindergym
Address: Westbourne Park Memorial Hall, 388 Goodwood Rd, Cumberland Park, SA 5041
Contact Details: 0435 735 395
Operating Hours:
Mon – 9:30 am to 1 pm
Tue to Thu – 9:30 am to 12 pm
Fri to Sun – Closed
Aside from the classic slides, obstacle courses, and trampolines, Colonel Light Kindergym provides session-based games and activities that will elevate your kids' playground experience.
This playground fosters coordination, confidence, creativity, and self-esteem in your children through trainer-led activities like warm-ups, climbing challenges, and balancing acts.
Parents and kids can also join dance and song activities with fun props like balls, bean bags, hoops, scarves, and streamers!
Tips: 
• Always check their current fees before your visit.
• Stay updated on their announcements.
• Walk-ins aren't allowed, so don't forget to book your kids.
• During the booking process, inform the staff if your kids have medical conditions. 
Wizbang Family Fun Center
Address: 2/108-112 Tolley Rd, St Agnes, SA 5097
Contact Details: (08) 8395 6660
Operating Hours:
Mon to Wed – Closed
Thu – 2 pm to 7 pm
Fri – 11 am to 8:30 pm
Sat to Sun – 9:30 am to 5:30 pm
Tired of traditional indoor playgrounds? Wizbang Family Fun Center is here to save the day with its modern games and cutting-edge play areas.
There's the free-roam virtual reality zone where your little ones can explore thrilling new worlds. Your kids can also run and shoot in their jungle laser tag arena, spanning over 220 square meters.
For the little explorers, there's a 3-level high-play gym equipped with double slides and basic climbing platforms. And if you're a fan of classic arcade games, you'll find various options like Daytona, Air Hockey, and Nascar Racing.
Tips: 
• Check their party packages if visiting with a group.
•You can rent this indoor playground's venues for private parties, birthdays, and more. 
• Refuel at their cafe. Our top snacks and drinks include seasoned wedges and milkshakes.
• Bookings are required.
•Try their 9-hole black light mini golf course that will have you swinging under neon murals 
Bounce INC.
Address: 164-168 Richmond Rd, Marleston, SA 5033
Contact Details: (07) 3569 0704
Operating Hours:
Mon – 10 am to 6 pm
Tue to Sat – 9 am to 8 pm
Sun – 9 am to 6 pm
Gravity takes a backseat and fun reaches new heights in Bounce INC. They have trampolines, padding, and airbags not just for kids but for anyone looking to unleash their inner acrobat.
Now, let's talk activities. First up is X-Run, a trampoline race, and there's The Wall, where freestyle tricks and wall running are the name of the game.
For the little ones, there's the Minibounce zone with ball pits, an obstacle course, and dual lane slides. The dodgeball areas and slam dunk zone will also make the kiddos bounce to cloud nine!
Tips: 
• Experience their fantastic birthday packages.
• Check their current fees and programs.
• Familiarize yourself with their safety guidelines.
• Opt for comfortable, breathable clothing that allows for easy movement. Don't forget to wear grip socks for added traction.
• Don't limit yourself to one activity or zone.
AFL MAX
Address: 32 Butler Bvd, Adelaide Airport, SA 5950
Contact Details: (08) 8312 6585
Operating Hours: Sat and Sun only – 10 am to 4:30 pm
AFL MAX is Australia's first immersive center for footy, and its cutting-edge tech will develop your little sluggers' skills in a controlled environment.
They can also scale rock climbing walls in the Climb Zone and bounce on trampolines in the Aerial Zone. Plus, they can tackle inflatable giants in the Bump Zone.
And for kids inclined toward virtual challenges, the Interactive Zone is where they can relish video game excitement. If these aren't enough, your kids can join their footy programs and take their skills to the next level!
Tips: 
• Check the 4 different types of private parties they offer.
• Their price list can change, so always stay updated. 
•Prepare your body for action with a quick warm-up and stretching routine. 
Little Beans Play Cafe Port Pirie
Address: 34 Florence St, Port Pirie, SA 5540
Contact Details: 0477 785 326
Operating Hours:
Mon to Fri – 9 am to 5:30 pm
Sat – 9:30 am to 4:30 pm
Sun – 10 am to 4 pm
Little Beans Play Cafe in Port Pirie might be small, but it still packs a punch when it comes to fun and entertainment.
This thrilling pirate-themed indoor playground boasts a foam pit, exhilarating bouncy castles, and a multitude of lively bouncers and rockers to keep the little ones absolutely delighted.
Little Beans also includes an onsite cafe that's sure to satisfy those hungry tummies. With a delectable menu featuring nuggets and hot dogs, it's the perfect pit stop to recharge.
Tip: 
• Check Little Beans Play Cafe Port Pirie's events on their Facebook.
• We highly suggest joining their Nerf wars!
The Ice ArenA
Address: 23 James Congdon Dr, Thebarton, SA 5031
Contact Details: 08 7123 0812
Operating Hours:
Mon to Wed – 11:45 pm to 3 pm
Thu – 11 am to 3 pm
Fri – 11:45 am to 3 pm
Sat – 12:20 pm to 3:30 pm
Sun – 11:45 am to 3 pm
With daily public skating sessions for tiny tots and kids at heart, there's no excuse not to channel your inner figure skater or hockey hero at The Icea ArenA.
Whether your kids are ice skating pros or just starting to find their ice legs, Ice ArenA's Skate School has a course for them.
There's also the snow play zone, where little ones can learn about snow and play with it in a controlled winter wonderland-themed environment. This spot has colorful Christmas characters and cartoony polar animals.
Tips: 
• Learn and play ice hockey at their Ice Hockey Academy.
• Celebrate your birthday at The IceArenA's ice rink.
• Discover and play broomball with your friends or family.
• After skating, grab a croissant or hot cocoa at the café to refuel and warm up.
• Take advantage of their Cheapskate Wednesday promo. 
We Rock the Spectrum (WRTS)
Address: 400 Torrens Rd, Kilkenny, SA 5009
Contact Details: 0427 353 869
Operating Hours:
Mon to Fri – 9 am to 6 pm
Sat to Sun – 9 am to 5 pm
We Rock the Spectrum's main goal is to develop a child physically, emotionally, and socially, so expect shared play areas and games for groups here.
They have a zip line to help release stress and bring joint and body relaxation and a trampoline for building those leg and core muscles. There's also a jam-packed playground with obstacle courses perfect for making new friends.
There's a dedicated fine motor and arts and crafts area for those looking to enhance hand-eye coordination. When it's time to take a breather, your child can enter the calming for regulating emotions and reducing negative sensory input.
Tips: 
• If you're planning a birthday bash, private event, or class, they have a private room for that.
• Visit their retail room to snag some goodies and stay fueled with healthy snacks and beverages.
• Participate in their play-based classes, including Open Play and We Rock Care sessions.
• Check the special deals their school holiday program provides.
• Keep yourself in the loop with their latest updates.
Mega Fast Karts
Address: 6-9 Deacon Ave, Richmond, SA 5033
Contact Details: (08) 8443 9755
Operating Hours:
Mon to Thu – 11 am to 6:30 pm
Fri to Sat – 10 am to 8:30 pm
Sun – 10 am to 6:30 pm
Mega Fast Karts isn't your typical indoor playground; it's a full-throttle and action-packed adventure with innovative play zones. Their kart options and sizes cater to all sizes and ages.
The main attraction here is the Main Race Track, where you'll compete head-to-head with fellow racers. Moreover, you can enter the Battle-Car Race Track, where you can use karts to bump other players.
There's also Laser Skirmish for those looking for some laser tag action, and there's even an Arcade Center with classic and modern games like Pac-Man and Motor Raid.
Tips: 
• Experience their parties and combo packages.
• Look at their available karts before you visit and see which one suits you or your kids best.
• Wear shoes that completely cover your feet. Additionally, bring a hairnet and a hairband if you have long hair.
• Don't wear anything that can be a choking hazard.
• Give them a call if visiting with 8 or more people.
Cirkidz Adelaide
Address: 27 Fifth St, Bowden, SA 5007
Contact Details: (08) 8346 5735
Operating Hours:
Mon to Fri – 10 am to 5 pm
Sat – 9 am to 2 pm
Sun – 10 am to 6 pm
Cirkidz Adelaide has activities and lessons that cater to everyone, from aspiring acrobats to those who just want to unleash their inner daredevil. The activities here also include toddler-friendly acts, such as guided balancing and jumping.
The main activity area is full of fun things to play with, like trampolines, trapezes, and balancing platforms. Additionally, there are soft-surfaced specialty zones, like the parkour and tumbling area for mini ninjas and acrobats.
Cirkidz's competent and friendly trainers will also supervise your kids at all times, but you're free to bond with them if you want to.
Tips: 
• Celebrate your kid's birthday party with Cirkidz! 
• Take advantage of their free trial promo if it's your first visit.
• Adults can also join the classes.
• Maximize your visit by availing of Cirkidz's holiday programs.
• Check the list of trainers to know which one suits you or your kid best.