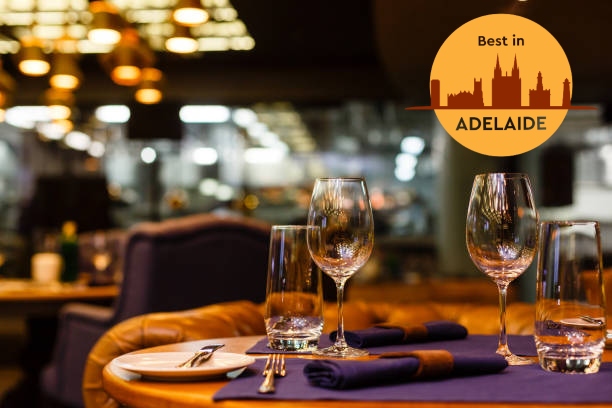 Peel Street Pleasures: Top Peel Street, Adelaide Restaurants
Adelaide's Peel Street will take you to Flavortown, no doubt about it. There, you can chow down on BAMBINI's Italian bites or savor every morsel of La Moka's killer brunch lineup.
That's just the tip of the iceberg, though. Check this article for the full scoop, foodies!
BAMBINI
Address: 6/10 Peel St, Adelaide, SA 5000
Contact Details: 0406 255 771
Operating Hours:
Mon – Closed
Tue – 5 pm to 8:30 pm
Wed to Fri – 12 pm to 3 pm, 5 pm to 9:30 pm
Sat to Sun – Closed
It's all about authentic and homemade Italian cuisine at BAMBINI. We always go for their savory Anatra—a duck dish with sweet and sour raisins, radicchio, and snow peas.
Their velvety parmigiana is also a classic, with eggplant, parmesan, and tomato sugo. Now, if you're into pasta, they have the tangy and sweet tagliolini, a squid ink pasta dish with bottarga, calamari, and cherry tomatoes.
For drinks, they have you covered with Macspresso martini, a concoction of Mac gin liqueur, vodka, and coffee. You should also try the Gladiators' Massacre, which is tequila, triple sec, cranberry, lime, and blood orange.
Tip: Groups of 8 people or more are required to book to secure a spot.
Bread & Bone
Address: 15 Peel St, Adelaide, SA 5000
Contact Details: (08) 8231 8535
Operating Hours: Daily – 11:30 am to 10:30 pm
Bread & Bone has mastered the art of cooking burgers.
Our team's go-to here is the savory and healthy soy and ginger mushroom burger, a veggie delight with grilled halloumi cheese, kewpie, watercress, and pickled shallots.
For seafood lovers, the fiery and salty Coopers beer-battered fish burger boasts a local fish fillet, pico de gallo, and chili mayo that will have you hooked.
Tips: Take advantage of their food events and promos, like the 3 pm to 6 pm happy hour from Monday to Thursday.
Gondola Gondola
Address: 1 Peel St, Adelaide, SA 5000
Contact Details: (08) 8123 3877
Operating Hours:
Mon – 5 pm to 9:30 pm
Tue to Fri – 12 pm to 2:30 pm, 5:30 pm to 9 pm
Sat – 5:30 pm to 10 pm
Sun – Closed
Gondola Gondola brings the mouthwatering flavors of Southeast Asia into the buzzing Peel St.
The best way to start your meal here is by having their sashimi garden—a refreshing platter featuring seasonal sashimi, dragonfruit, fresh herbs, and green chili nam jim.
If you're in the mood for Vietnamese goodness, the sweet and savory Mama Tran's banh xeo is where it's at. This Vietnamese egg pancake comes loaded with pork, prawn mince, beansprouts, and lettuce cups for that perfect crunch and flavor.
Tip: Their dessert menu changes seasonally. Ask the staff or check their website and social media accounts to know what creamy and sugary treats they're currently serving.
BCKYRD
Address: 24 Peel St, Adelaide, SA 5000
Operating Hours:
Mon to Wed – Closed
Thu – 4 pm to 11 pm
Fri to Sat – 4 pm to 2 am
Sun – Closed
BCKYRD never fails to bless our taste buds with contemporary Aussie BBQ bites. Our favorite is their BBQ chicken skewers marinated in tangy BBQ sauce and grilled to juicy perfection.
The medium-cooked beef skewer is a heartier alternative, with marinated beef, onions, and capsicum.
But if you're after that classic Aussie BBQ experience, the BCKYRD sausage and BCKYRD pattie are the best picks, both served medium-cooked with onions and bread.
Tips: 
• Go for the BBQ combo option if dining with a large group.
• Know their conditions of entry, such as the 18-year-old and above age requirement and the no-smoking rule.
• Check their current and upcoming events like the Adelaide Fringe and happy hour promos.
Maybe Mae
Address: 15 Peel St, Adelaide, SA 5000
Contact Details: 0416 498 192
Operating Hours: Daily – 5 pm to 1 am
Award-winning cocktails reign supreme in Maybe Mae, but their delish chow is worth mentioning too. Their booze and juice, a mix of apple, lime, cracked pepper, and rye whiskey, is a must-try.
Now, for something that'll resurrect your spirits, try the Peel St Corpse Reviver. It has ginger, honey, lemon, and gin—shaken and topped with lager and served frothy.
You also shouldn't leave without having a sip of the pineapple club, a tropical delight featuring pineapple, lime, coconut, a blend of rums, and dry curacao. For the nosh, order their zesty and sweet oysters.
Tips: 
• Visit during an event, like the STARWARD whisky masterclass.
• Bring your partner for a date. Maybe Mae has a romantic ambiance. 
• Check their gift shop if you want some merch like t-shirts and tote bags. 
• Go here during weekdays to enjoy a smaller crowd.
La Moka
Address: 16 Peel St, Adelaide, SA 5000
Contact Details: +618 7226 5999
Operating Hours:
Mon to Wed – 7 am to 3 pm
Thu – 7 am to 12 am
Fri – 7 am to 2 am
Sat – 7 am to 4 am
Sun – Closed
La Moka has the brunch game on lock. Their homemade panini has succulent meatballs smothered in rich tomato sauce and nestled in perfectly toasted bread.
For those seeking something lighter, their fresh Italian salad bowl is a refreshing choice. It has sautéed mixed mushrooms, creamy bocconcini, fragrant garlic, and vibrant parsley.
If you're in the mood for a hearty classic, give their Italian minestrone a whirl. It's a thick soup with a wholesome blend of tomatoes, carrots, and zucchini, simmered to perfection.
Tip: If you want to experiment and make your personal mix, try their DIY cocktail kits.
Paloma Bar and Pantry
Address: 20 Peel St, Adelaide, SA 5000
Operating Hours:
Mon to Tue – Closed
Wed to Thu – 4 pm to 12 am
Fri to Sat – 4 pm to 2 am
Sun – Closed
Italy's sophisticated delicacies and refined winemaking are on full display at Paloma Bar and Pantry. We usually start our meal here with their Flinders smooth and earthy flour sourdough served with Peninsula Providore olive oil.
The real showstopper, though, is the tender and savory Les Deux Coqs Rillettes, slow-cooked meat shredded and mixed with its own fat. Duck, pork, or chicken—take your pick!
Want something cheesy to pair with their NV Guerrieri Rizzardi Prosecco or 19 Isole e Olena Chianti Classico? Paloma serves up Swiss Appenzel Extra Noir, cow milk aged for a glorious eight months.
Tips: 
• Take advantage of the outdoor seating. It's in a serene alley far from the street, and it's surrounded by lush potted plants
• Don't miss the chance to experience Paloma Bar and Pantry's relaxed and elegant atmosphere after dark. 
Icarus Wine Bar
Address: 23 Peel St, Adelaide, SA 5000
Contact Details: (08) 8151 1423
Operating Hours:
Mon – Closed
Tue to Thu – 4 pm to 12 am
Fri to Sat – 4 pm to 2 am
Sun – Closed
Still can't get enough of legit Italian delicacies? Icarus Wine Bar will make you fly to cloud nine with their wood-grilled flatbread with butter and rosemary salt for that extra oomph.
They also serve a tender and savory roast Nomad Farm's half chicken, accompanied by membrillo and chicken jus. If you prefer the sea's offerings, they dish out cured ocean trout with ajo blanco and sea herbs, delivering a fresh and briny taste.
Finish your meal with the Petit Langres, a cheese originating from the Champagne-Ardenne region. It's made from cow's milk and is known for its unique appearance, featuring a concave top, tangy flavor, and strong aroma.
Tip: The nearest parking spots are Wilson Parking – 30 Hindley St, Care Park – Henry, Waymouth Car Park, and UPark Topham
Tempus
Address: 12 Peel St, Adelaide, SA 5000
Contact Details: (08) 7221 1979
Operating Hours:
Mon – Closed
Tue – 4 pm to 10 pm
Wed to Thu – 3 pm to 10 pm
Fri – 3 pm to 12 am
Sat – 5 pm to 12 am
Sun – Closed
Tempus is the spot to hit for a Mediterranean flavor fiesta. Our top pick here is the pork filet drenched in green pepper sauce.
Our veggie fans, though, dig their delectable eggplant and fetta balls, perfectly complemented by a fresh parsley mayo.
For the sweet finale, we always go hard on the luscious loukoumades drizzled with honey and a dash of cinnamon.
Tip: Dine at the European-styled outdoor spot for better views of Peel St. This zone is also perfect for date nights, with its dim lamps providing a romantic ambiance.