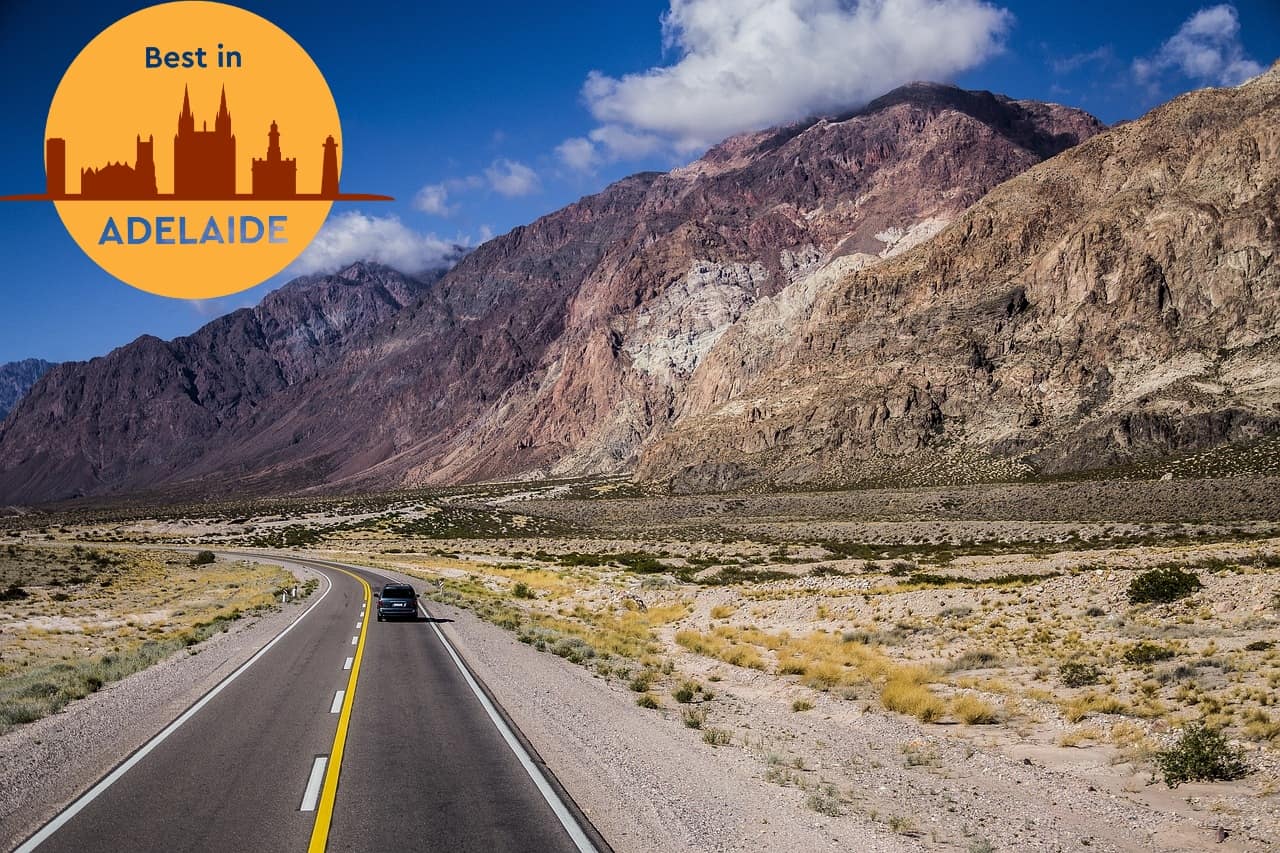 From Reds to Reefs: A Road Trip from Adelaide to Cairns
We hit the road from Adelaide to Cairns, soaking in diverse landscapes and experiencing the best activities that the road to the north offers.
In this unforgettable journey, our team visited the Outback, an oiling town, and coastal cities. Our article below will give you a sneak peek of our reds-to-reefs escapade!
The Fastest Route
Travel time: Around 32 hours
For a swift and scenic route from Adelaide to Cairns, we hit the road via the M2 and A32 highways. Our team then cruised northward along the A32 highway, passing through picturesque spots like Clare, Jamestown, Broken Hill, and Cobar.
We then entered the A71 highway via Frederick Street in Cobar, where we continued to drive north to towns like Bourke, Cunnamulla, and Barcaldine before reaching Queensland.
Our team then crossed Queensland via the Aramac Torrens Creek Road and went northward to Flinders Highway before connecting to the A1 Highway.
From there, we drove north, passing coastal sites like Townsville City and Mission Beach before arriving in Cairns.
Best Time to Visit
The best time to visit Cairns is during the dry season, from April to September.
During this period, temperatures range from 18°C to 26°C (64°F to 79°F), offering pleasant weather for outdoor activities like exploring the Great Barrier Reef and rainforests.
The skies are mostly clear, providing excellent visibility for underwater adventures.
Where to Stay
Broken Hill Outback Resort
Address: Barrier Hwy, Broken Hill, NSW 2880
Contact Details: 1300 679 688
Pricing: $ to $$
Broken Hill Outback Resort is ideal for travelers who enjoy the tranquility of the rugged wilderness while still having access to modern conveniences. The majestic Barrier Ranges embrace this spot, making it ideal for camping and caravaning.
The luxurious Resort Cabin is where you should stay if you prefer a more hotel-like room with amenities like a bathtub, private balcony, and king beds. Their restaurant's pizza is also fantastic, especially with soothing live music serenading the diners.
Broken Hill Outback View Holiday Park
Address: 1 Mann St, Broken Hill NSW, 2880
Contact Details: (08) 8088 2250
Pricing: $
Broken Hill Outback View Holiday Park caters to diverse preferences, offering cabins, caravanning, and camping at a more affordable price.
Every villa and cabin provides essential amenities such as a private bathroom, shower, air conditioning, and flat-screen TV.
From these accommodations, guests may relish stunning views of the Barrier Ranges adorned with greenery, surrounded by miles of red expanse, and illuminated by a sparkling night sky or a sunrise.
Bourke Riverside Motel
Address: 3 Mitchell St, Bourke NSW 2840
Contact Details: (02) 6872 2539
Pricing: $
Our team experienced the unique charm of Bourke Riverside Motel, the only Bourke lodging with a Darling River frontage.
The best part? It's nearly 350 m from the bustling Mitchell Highway, so noisy cars weren't an issue during our stay.
We also appreciated the modern en-suite facilities in the fully equipped budget rooms and enjoyed the outdoor settings within the charming garden. However, the Standard Rooms should be your go-to room if you prefer more space.
Lightning Ridge Outback Resort & Caravan Park
Address: Onyx St, Lightning Ridge, NSW 2834
Contact Details: (02) 6829 0304
Pricing: $ to $$
For an authentic Aussie Opal Experience, Lightning Ridge Outback Resort & Caravan Park is the ultimate destination. There's a fossicking spot within this accommodation, and its outback surroundings are also terrific for campers and caravanners.
This resort also boasts invigorating entertainment areas, such as an on-site bar, a relaxing beer garden, and a sunset-viewing deck. An outdoor swimming pool and playground are available, too.
Furthermore, staying here means you'll be conveniently close to the town center and all the local attractions like John Murray's art gallery and replenishing hot artesian baths.
Madison Plaza Townsville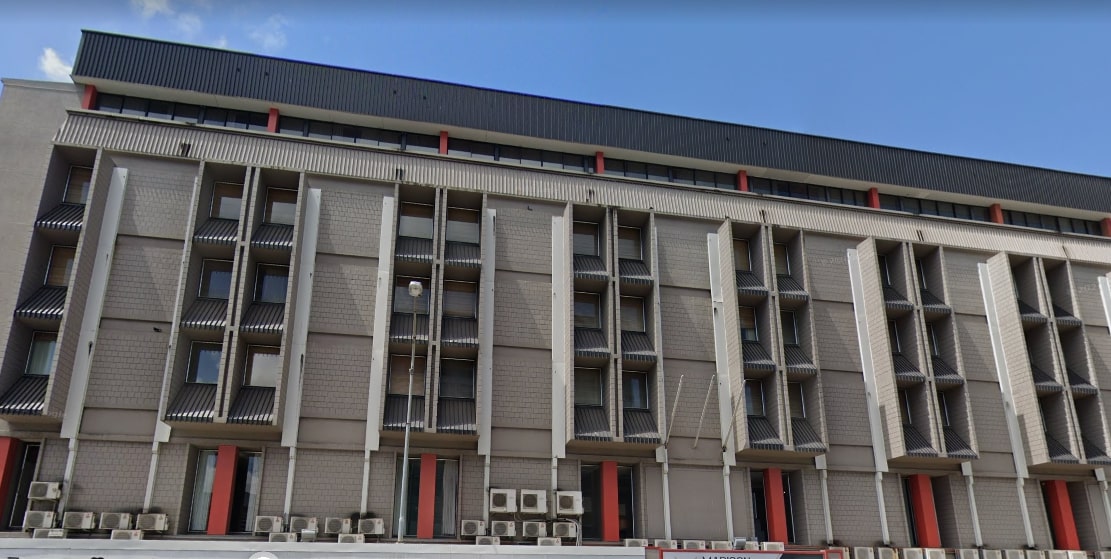 Address: 409 Flinders St, Townsville City, QLD 4810
Contact Details: (07) 4772 1888
Pricing: $ to $$$
Madison Plaza Townsville is a top-notch lodging option before venturing to Cairns. This sophisticated hotel caters to all your needs, offering rapid Internet and fully air-conditioned rooms.
There's also a laid-back bar with front-view seats to the quaint Flinders and Stanley Street. In addition, Madison Plaza Townsville is a 2-min drive from the beach, so don't forget your beach attire!
Where to Eat
The Old Salt Bush Restaurant & Catering
Address: 1 Oxide St, Broken Hill, NSW 2880
Contact Details: 0418 841 101
Pricing: $
This restaurant's delightful Art-Deco-inspired interior initially grabbed our attention, and its delectable food truly satisfied our cravings.
Among the must-try offerings, the Twice Cooked Asian Broth took us on a voyage through delicate spices, with lemongrass and ginger infusing the broth with layers of flavor.
The grilled Atlantic Salmon Filet delivered succulent richness perfectly complemented by crisp vegetables. For our dessert, we chose the Petite Pavlova with Mixed Berry Compote, a treat with a light interior and sweet and tangy flavors.
S-Que Restaurant & Takeaway
Address: 120 Argent St, Broken Hill, NSW 2880
Contact Details: (08) 8088 4044
Pricing: $$
S-Que Restaurant & Takeaway is a spacious Outback eatery with a contemporary design boasting sleek white walls, large windows, and an outdoor pool.
Some of the go-to dishes here include their meaty pizza, savory hamburger, and saucy gnocchi. The fiery Dragon's Breath Paella, Spicy Prawn Tacos, and Big Meat Paella are worth a shot, too.
The salty Ale Roasted Potato and buttery Cheddar Soup are ideal for diners who prefer creamy meals.
North Bourke Store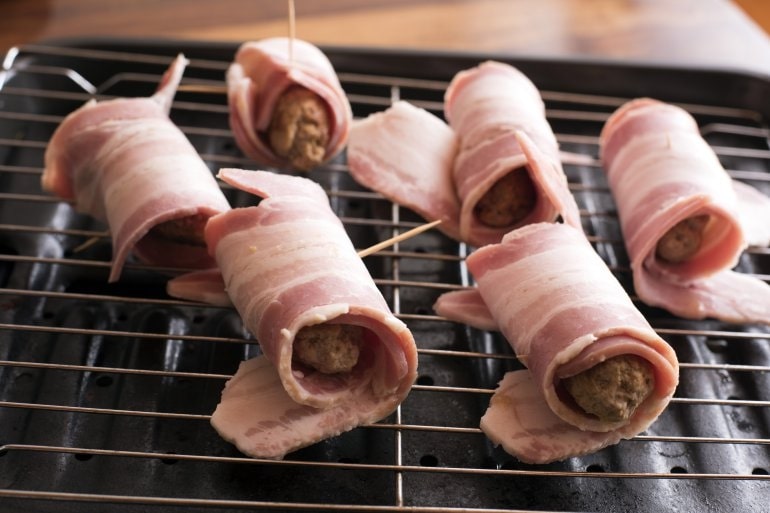 Address: 4 Darling St, North Bourke, NSW 2840
Contact Details: (02) 6872 1478
Pricing: $
North Bourke Store is a small Australian Outback store beside a calm creek. The wooden walls with cream-white paint and grey linings give this spot a distinct look.
The meals here are Australian favorites, from juicy and fatty sausage to bacon rolls. They also have creamy eggs and savory hamburgers.
We also strongly recommend their robust cappuccino and perfectly bitter iced coffee if you enjoy caffeinated drinks. You might love their egg coffee, too!
Bruno's Italian Restaurant & Take-Away
Address: 38 Morilla St, Lightning Ridge, NSW 2834
Contact Details: (02) 6829 4157
Pricing: $$
This restaurant's cozy interior and heartwarming staff complement the culinary experience.
The specialties may change every night, so we suggest checking their website for up-to-date menus.
Our favorites are their NY-style wood-fired oven pizzas that balance crisp textures and savory and sour tastes. We also recommend their creamy and sour Penne Vodka topped with sun-dried tomatoes.
Their savory and meaty Gnocchi Bolognese is also delicious, especially for meat lovers.
A Touch of Salt
Address: 86-124 Ogden St, Townsville City, QLD 4810
Contact Details: (07) 4724 4441
Pricing: $$$
A Touch of Salt is a luxurious waterfront restaurant known for its enchanting view of Ross Creek and premium meals.
Our top picks include their savory and crisp Mackerel Rolls and succulent Myrtle Roasted Lamb.
Their Mushroom Shawarma is a great plant-based alternative, as it packs a guilt-free meaty flavor and texture.
As meal-enders, go for their sweet and creamy, Chocolate + Davidson Plum Scroll or Geraldton Wax Panna Cotta.
Things to Do
Visit Living Desert State Park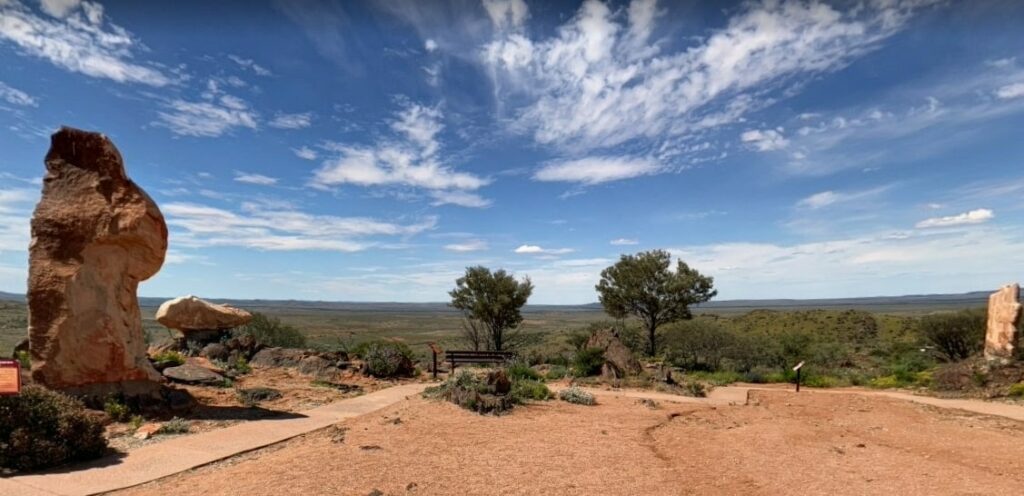 Address: Nine Mile Rd, Broken Hill, NSW 2880
Contact Details: (08) 8080 3560
A must-see first stop, the Living Desert State Park hosts an easily accessible 1 km walking trail starting at the Flora and Fauna Sanctuary car park, leading to the remarkable sculpture site.
This enchanting location is also reachable by Nine Mile Rd or a 900 m walking trail from the Living Desert Picnic Area.
Our team admired the massive sandstone sculptures here, masterpieces of local and foreign artists. The sculptures include human figures, animal forms, abstract objects, and cultural symbols.
A $6 entry fee per person is required. In addition, it's important to note that dogs are not permitted, except for service dogs.
Learn about Opals at the Black Opal Tour
Address: 31 Potch St, Lightning Ridge, NSW 2834
Contact Details: (02) 6829 0368
The Black Opal Tour in Lightning Ridge guided to some of NSW's best attractions.
We went to the expansive opal mine named Lunatic Hill, the haunting Amigos Castle, and the majestic Artesian Bore Baths, guided by a friendly team.
The tour also provided an introduction to the opal word, including hands-on experiences in opal cutting and fossicking.
See interactive stories at Back O'Bourke Exhibition Center
Address: Kidman Way, Bourke, NSW 2840
Contact Details: (02) 6872 1321
Nestled amid the natural garden of native river red gums along the Darling River's banks, the Back O' Bourke Information and Exhibition Center offers an immersive journey through Australian Outback life and history.
Its interactive installations and captivating visual displays weave tales of the Australian Outback, including the Inland Sea, CEW Bean, the Wool story, Riverboats, the Australian Frontier War, and more—all delivered engagingly.
Coffee lovers will also enjoy the center's on-site cafe. We recommend sipping outdoors, where nature's splendor is at full display.
Fish in St. George
St George is a dream stop for travelers who enjoy fishing. Here, anglers can catch Murray cod, yellowbelly (golden perch), silver perch, catfish, and even the iconic Australian bass.
Some of this fishing town's most bountiful waters are the Balonne River, Buckinbar Weir, and Beardmore Dam.
You can access Balonne River and Beardmore Dam via Carnavorne Highway. Anglers can reach Buckinbar Weir by following Buckinbar Road.
Learn Roma's rich history by visiting The Big Rig
Address: 2 Riggers Rd, Roma, QLD 4455
Contact Details: (07) 4622 2325
Named after its 1929 vintage steam-powered rig, The Big Rig delves into the Australian history of oil, gas, and energy exploration.
Roma was the first town to pioneer on-shore gas flow, so visiting this spot is a must for history buffs and casual travelers looking to learn something new.
The museum offers self-guided and guided tours exploring historic rigs, mining machinery, and industry stories.
Outside, an outdoor theater ($20 per person) opening during sunset showcases the tumultuous events that once threatened Australia's oil and gas industry. The movie was intriguing and moving, especially since it utilizes the perspective of Roma's original oil riggers.
Boat at Fairbairn Dam
Address: Gindie, QLD 4702
Fairbairn Dam's primary purpose is to provide water for agricultural irrigation, but it has also become a popular destination for recreational pursuits.
Our team went boating here, and the waters were calm and clear. Just remember to follow the operators' rules posted on signs if you want to do the same.
Campers can stay in nearby campsites like Big4 Lake Maraboon Holiday Village and Camp Fairbairn.
The dam has various fish species, including barramundi, golden perch, and silver perch, making it an ideal spot for fishing enthusiasts.
Looking to unwind? The dam's shore offers picnic tables—perfect for relaxation, BBQs, and watching birds like rainbow bee-eaters and black swans.
Check out the ships at Mackay Marina Village
Address: Mulherin Dr, Mackay Harbor, QLD 4740
Contact Details: (07) 4955 6855
Mackay Marina Village's sight is unbeatable, with swaying pines and docked luxury yachts adorning its waterfront esplanade.
This spot has a collection of over 400 berths, catering to vessels of varying sizes, from compact 10 m boats to impressive 55 m yachts.
In addition, Mackay Marina Village has a chic cafe with oceanic views and convenient fishing spots known for extreme cleanliness.
Check the wildlife at Magnetic Island National Park
Address: 40 Horseshoe Bay Road, Magnetic Island, QLD 4819
Magnetic Island National Park was our team's last stop before crossing to Cairns, and it was worthwhile.
This spot has a rugged, mountainous landscape with boulder-strewn granite headlands and towering hoop pines.
Sandy bays embrace the landscape, and there are captivating coral reefs on the nearby beaches.
The island's wildlife sanctuary harbors fascinating inhabitants, including rock wallabies that gracefully navigate the terrain and the enigmatic short-beaked echidnas.
There are also over 180 bird species here, including kookaburras and lorikeets.
Dive into the Great Barrier Reef
Address: Cairns, QLD 4870
The Great Barrier Reef, Earth's largest living structure (approximately 348,700 km²), is understandably the first spot you should visit once you step into Cairn.
Snorkeling and scuba diving here provide opportunities to witness vibrant underwater life, including colorful fish, graceful sea turtles, and majestic manta rays.
You can also join a boat tour or board a private helicopter for breathtaking aerial views of the colorful reefs.
What to Expect from Cairn Weather
Wet Season (November to April): During this time, Cairns has high temperatures ranging from 25°C to 31°C (77°F to 88°F). Humidity is high and heavy rainfall is normal, with occasional tropical storms.
Dry Season (May to October): The dry season offers milder temperatures, ranging from 18°C to 26°C (64°F to 79°F). Humidity decreases, and rainfall is minimal.
__________________________________________________________________