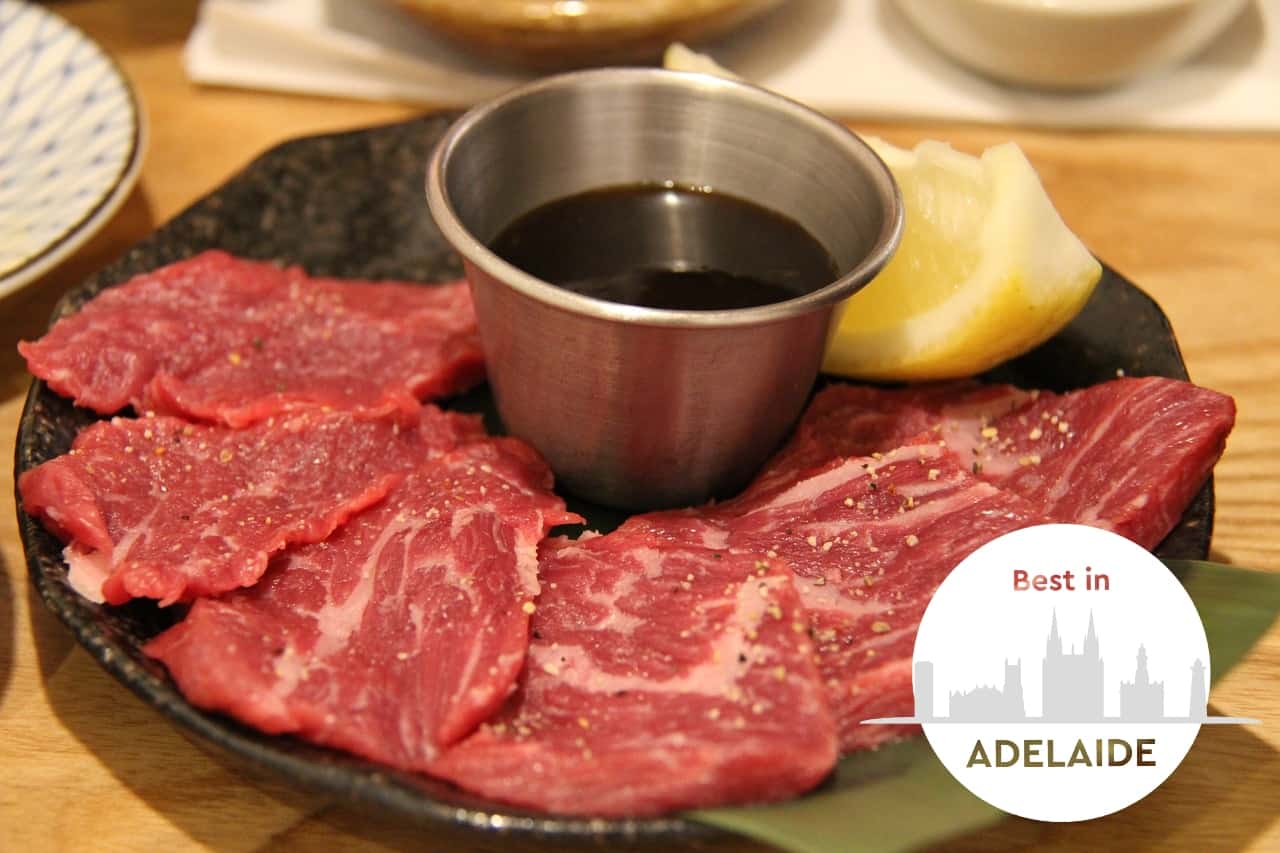 Beef Bonanza: Where to Eat the Finest Wagyu Beef in Adelaide
Looking to sink your teeth into Adelaide's juiciest Wagyu? Good, because we're going through our top picks for that today.
We had some of the best meals of our lives trying these places and can guarantee that these sizzling spots have what you need. Check out our article for all the delectable details!
The Meat & Wine Co. Adelaide CBD
Address: 39 Currie St, Adelaide, SA 5000
Contact Details: (08) 8127 0888
Operating Hours:
Mon to Thu – 12 pm to 10 pm
Fri to Sat – 12 pm to 10:30 pm
Sun – 12 pm to 10 pm
Serving an African-inspired menu, The Meat & Wine Co. exudes sophistication with its dimly lit, classy interior and elegant furniture. It also has VIP areas.
Our team absolutely loves their aged Wagyu rump. This 240-day-aged Japanese beef boasts intricate marbling and offers an immense richness with a buttery aftertaste.
Equally impressive is the Wagyu ribeye, also loved for its marbling, which runs throughout each steak. This cut is fattier with a sweet and savory flavor.
Tips:
We recommend pairing these exquisite Wagyu dishes with the 2021 Marty's Block Cabernet Shiraz. This drink's dark, fruity, and spicy flavors perfectly complement the succulent and savory qualities of our Wagyu selections.
Try their cocktails. Some crowd favorites are Rose and Lychee Spritz and Coco Bahama.
Book their function rooms for private gatherings with your fam, buddies, or workmates.
Visit their shop. They sell gift cards, knives, and glassware.
The shopkeepers can also teach you about different meats, so ask them questions.
Check their website for news and event announcements. Some of The Meat & Wine Co's most significant recurring events are Melbourne Cup Day and New Year's Eve.
Book in advance to secure your spot.
The Little Hunter
Address: 25 Victoria St, Adelaide, SA 5000
Contact Details: (08) 8211 8464
Operating Hours:
Mon – Closed
Tue to Thu – 12 pm to 2:30 pm, 5 pm to 8:30 pm
Fri – 12 pm to 8:30 pm
Sat – 5 pm to 8:30 pm
Sun – Closed
The Little Hunter is a laid-back and welcoming restaurant with rustic stone walls, wooden tables, soft golden lighting, and ample natural light pouring in through large windows.
It offers a beer garden and an indoor dining area.
Their well-respected head chef, Sumi, takes pride in their meticulous selection of premium meat cuts, expertly char-grilling them to perfection.
Our go-to meal here is the Wagyu beef carpaccio. The succulent, thinly sliced Wagyu beef melts in your mouth, delivering a buttery richness complemented by a gentle sear.
What truly elevates this dish is the flavorful lemon and mustard seed sauce.
The lemon's zesty notes provide a refreshing contrast to the beef's richness. Meanwhile, the mustard seeds contribute a gentle, aromatic heat.
Wash this with their smooth, berry-flavored, and slightly earthy Ashton Hills Pinot Noir.
Tips:
Taste their Wagyu rump if you prefer a beefier dish. It has an 8+ marbling score.
Not a wine person? Go for their signature beers and cocktails.
Make a reservation ahead of time to ensure your table. The Little Hunter's affordable pricing and high-quality meals make it a sought-after dining spot.
Keep an eye out for any daily or seasonal specials. The Little Hunter occasionally offers unique dishes or promotions that can add an exciting twist to your meal.
Book their function service if you need a venue for a private event like a birthday party or meeting.
A Hereford Beefstouw
Address: 143 Hutt St, Adelaide, SA 5000
Contact Details: (08) 8232 6868
Operating Hours:
Mon to Tue – 5:30 pm to 10:30 pm
Wed to Fri – 11:30 pm to 10:30 pm
Sat to Sun – 5:30 pm to 10:30 pm
A Hereford Beefstouw's interior combines Scandinavian design with modern art to create a casual, modern ambiance. This resto uses soft white accents, creating a spacious and airy feel.
There's also an attention-catching wine wall serving as its focal point.
What you get here are top-notch beef cuts, an impressive wine selection, grilled fish options, and signature cocktails.
Their Wagyu steak tastes terrific. It's silky-smooth and packed with umami, salty, and sweet flavors.
The Coutler Sangiovese rosé is our chosen wine for this dish. The drink's floral undertones and berry-heavy flavor complement the strong taste of the Wagyu steak.
Tips:
Try their barramundi filet if fatty meat isn't your preference.
Order their dry-aged burgers if dining with kids.
Visit their underground wine cellar to see their best and most expensive wines.
A Hereford Beefstouw offers special menus on holidays. Head to their website to stay updated.
Consider ordering shareable plates or charcuterie boards if dining with a group.
Don't forget to leave room for dessert. The restaurant offers a tempting selection of sweet treats like vanilla panna cotta and sticky date pudding.
Kyoku Yakiniku
Address: 113 Gouger St, Adelaide, SA 5000
Contact Details: (08) 8232 6868
Operating Hours:
Mon to Thu – 5:30 pm to 10 pm
Fri to Sat – 5:30 to 10:30 pm
Sun – 5:30 to 10 pm
Kyoku Yakiniku's minimalist aesthetics give it a relaxed atmosphere. Their expansive dining space features a calming color palette of brown and gray, with well-spaced dining tables.
Need a meaty appetizer? Their Wagyu tataki takes center stage.
This dish showcases buttery and thinly sliced Wagyu topped with crispy daikon and garlic chips.
You can't go wrong with their Wagyu fried rice for your main course. The meat's beefy flavor and succulent texture elevate the savory fried rice.
We also recommend purchasing their A5 Wagyu sirloin, a buttery, rich, fatty, and sweet cut with a 10+ marbling score.
The best drink for these two is the Bridge Connection cocktail. This is a Japanese concoction with lychee and grapefruit liquor.
Tips:
Try their Japanese beers. Our recommendations are the Hitachino White Ale and Kirin Ichiban.
Their beefy hot pot is perfect for cold days.
Take advantage of their takeaway system if you can't visit the restaurant.
Don't miss their best Japanese offerings, especially the authentic sushi selection.
Hoosegow Charcoal Restaurant
Address: 419 Magill Rd, St Morris, SA 5068
Contact Details: (08) 8232 6868
Operating Hours:
Mon – Closed
Tue to Thu – 5:30 pm to 10 pm
Fri to Sat – 5:30 pm to 10:30 pm
Sun – 5:30 pm to 10 pm
Hoosegow Charcoal Restaurant's intimate and elegant atmosphere is ideal for date nights. It has a moody interior with a dark red and brown color scheme and captivating artwork.
They also have a garden and outdoor space for diners who enjoy brighter and more relaxed settings.
Their standout dish is the 8-hour smoked Wagyu beef brisket. Its rich, savory flavor is complemented by a zesty mojito salsa.
The dish also has black bean salad, adding a refreshing and earthy note, and papas bravas, offering a satisfying crunch.
Have a sip of their cherry amaretto sour and green apple smash cocktails to cleanse your palette, and you might be leaving the resto with a smile and a satisfied stomach.
Tips:
Hoosegow Charcoal Restaurant's sweet and salty southern rock lobster is an enticing choice for those seeking an alternative to beef. Booking online is suggested to secure the spot you want, as this resto attracts many diners, notably on weekends.
Shiki Japanese Restaurant
Address: InterContinental Adelaide, North Terrace, Adelaide, SA 5000
Contact Details: (08) 8232 6868
Operating Hours:
Mon – Closed
Tue to Sat – 6 pm to 10 pm
Sun – Closed
Shiki Japanese Restaurant has a welcoming atmosphere with a roomy interior featuring a brown and white color scheme.
The wooden tables are fantastic for groups, and the restaurant boasts an open kitchen, where chefs showcase their spectacular cooking skills.
The restaurant's specialty is crafting fresh sushi and sashimi using locally sourced ingredients. However, it's their Wagyu dish that stole our hearts and palates.
Their tender Wagyu is sprinkled with pink salt to enhance its buttery and savory taste.
Drinking their Hakutsuru Draft Sake is a great way to finish your meal. It offers a delicate sweetness, a slightly alcoholic flavor, and a clean, refreshing finish.
Tips:
Don't miss their other culinary masterpieces. We recommend the tempura udon, a classic Japanese comfort dish consisting of crispy tempura and thick wheat noodles bathed in umami-rich broth.
Their bento boxes are perfect for diners in a hurry.
Book a table during holidays like Mother's Day or Christmas Day for promos and unique services.
Their sushi boat is a must-try for large groups.
La Boca Bar and Grill Adelaide
Address: 150 North Terrace, Adelaide, SA 5000
Contact Details: (08) 8461 0860
Operating Hours:
Mon to Fri – 11:30 am to 2 pm, 5 pm to 9 pm
Sat to Sun – 5 pm to 9 pm
La Boca Bar and Grill Adelaide has a warm, rustic ambiance with dark brown hues, wooden columns, stacked logs, and glass walls. It also has an open kitchen with a wood-fired grill!
While the design is visually appealing, it's their Wagyu Tomahawk that should entice you to pay a visit. It melts in the mouth, and the savory, buttery, sweet, and salty flavors aren't overpowering.
Their Wagyu beef burger is also no joke. The creamy truffle aioli adds extra meaty flavor to the juicy Wagyu beef patty, while the melted provolone enhances the meal's savory depth.
It also has pickled red onion, providing a zesty kick.
The staff recommends rich and robust wines like the Rymill Dark Horse Cabernet Sauvignon and Cricket Flat Cabernet Sauvignon.
Tips:
Check their kid's menu if your little one is with you. The top sellers here are their grilled skirt steak and crispy battered flathead.
Try their catering services for birthday celebrations, parties, and corporate events.
Explore their different menus. The omakase menu offers more Wagyu selections, but you may also go for their Argentinian dinner menu, which has Wagyu filet, Wagyu fat Berlina, and Wagyu Porterhouse. La Boca Bar and Grill is a cashless dining spot, so prepare your cards if you dine here.
Samurai Teppanyaki House
Address: 116 King William Rd, Hyde Park, SA 5034
Contact Details: (08) 8461 0860
Operating Hours:
Mon to Tue – Closed
Wed – 6 pm to 9:30 pm
Thu – 12 pm to 2:30 pm, 6 pm to 9:30 pm
Fri to Sat – 12 pm to 2:30 pm, 5:30 pm to 10:30 pm
Sun – 12 pm to 2:30 pm, 5:30 pm to 9:30 pm
Samurai Teppanyaki House features samurai-themed artwork and vibrant decor for diners to enjoy.
The heart of the experience here lies in savoring teppanyaki dishes with the finest sake.
Waiting for your meal isn't boring, as chefs prepare your meal right in front of you, turning each dish into a fiery live culinary performance.
You can also request the chefs to customize your orders.
Our favorite dish here is the premium Mayura Chocolate Wagyu.
The fat marbling in the meat gives it a savory-sweet flavor, like dark chocolate with subtle nuttiness and umami.
The Ozaki Wagyu is also a terrific choice. It's less sweet and has a stronger savory flavor.
Tips:
Samurai Teppanyaki House's Wagyu banquet is the way to go if you want to taste their diverse Wagyu selection.
Try their sake-based cocktails, such as the Sake Margarita and Lychee Martini Sake.
Ask the teppanyaki chef for suggestions if you aren't too knowledgeable when it comes to Wagyu.