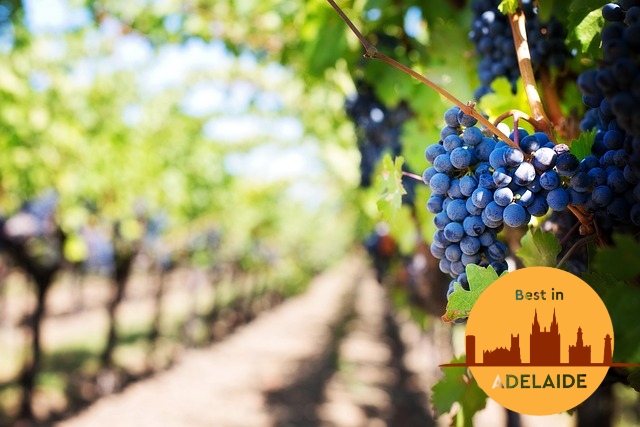 Grapes & Good Times: Top Wineries in Adelaide
Adelaide's wine culture comes alive through its top wineries, where the artistry of winemaking converges with the beauty of the surrounding landscapes.
Standouts like Hahndorf Hill Winery and Cobbs Hill Estate are prime examples of the region's stunning wine havens.
Our team explored these destinations, wine tasting with scenic delights. You can dive into the specifics of our adventure below!
Hahndorf Hill Winery
Address: 38 Pain Rd, Hahndorf, SA 5245
Contact Details: (08) 8388 7512
Operating Hours:
Mon to Sat – 10 am to 5 pm
Sun – Closed
Located in the historic German heritage town of Hahndorf, Hahndorf Hill Winery's lush vineyards are home to a variety of local and Austrian grape cultivars.
They excel in growing Austrian grape varieties such as Gruner Veltliner, Blaufrankisch, Zweigelt, and St Laurent. These grapes are known for their light and fruity flavors harmonizing well with almost any delicacy or type of food.
Here, our team indulged in the ChocoVino Experience, where we savored wines paired with renowned Australian and French chocolates. If you prefer gourmet biscuits and premium cheese with your wine, opt for their Cheese Plate or Wine Flight experience.
Tips:
Try their cool-climate classics that put Adelaide Hills on the map, from light and crisp Pinot Grigio to heavy-berry flavored Shiraz.
Hahndorf Hill Winery is a great starting point for the Adelaide Hills' Wine Trail. You can join a cellar door guided tour to make the exploration easier.
Their friendly staff also provides maps and crucial info for travelers exploring this trail, so remember to engage with them.
Join their Loyalty Program if you want to access their newest releases first. This program also offers special deals.
Cobb's Hills Estate
Address: 382 Swamp Rd, Oakbank, SA 5243
Contact Details: (08) 8388 4261
Operating Hours: Daily – 11 am to 5 pm
Cobb's Hills Estate's countryside beauty is hard to deny, with trees and vineyards that are over a hundred years old.
The best time to visit their cellar door is in the afternoon when the serene surroundings perfectly pair with their top-tier Sauvignon Blanc and Chardonnay.
You can also dine at the Terrace Restaurant, an elegant, modern eatery gazing over this winery's gardens and Cobb's Hill Valley. The head chef here prepares seasonal meals using fresh and quality ingredients from Adelaide Hills.
Tips:
The best spot to enjoy their wine is by the estate's crystal-clear ponds, a short walk from their botanic garden.
Their VIP experience is perfect for birthday parties, corporate gatherings, and weddings. The experience provides packages that include wine and food, catering for groups of up to 50 people.
By joining their Wine Club, you can access up to 30% discounts on wines at their cellar door, receive quarterly wine deliveries with the flexibility to modify selections and enjoy free shipping across Australia.
You'll also gain exclusive access to pre-release and Member's Only Wines, with invitations to their exclusive member's only events.
d'Arenberg
Address: Osborn Rd, McLaren Vale, SA 5171
Contact Details: (08) 8329 4888
Operating Hours: Daily – 10:30 am to 4:30 pm
The unique cube of d'Arenberg adds to the appeal of its undulating hills and verdant vineyards.
The d'Arenberg Cube has a distinctive architectural design resembling a multi-story Rubik's Cube. Its angular and geometric structure stands out amid the greenery, as it features a mix of transparent glass panels and solid blocks.
This winery has also been around since 1912, and their globally-acclaimed The Dead Arm Shiraz and The Ironstone Pressings GSM are some of the reasons why it stood the test of time.
Tips:
You shouldn't miss dining at the 19th-century d'Arry's Verandah Restaurant. Guests can indulge in an opulent 8-course degustation starting at $120 per person.
d'Arenberg's The Radicals collection is the way to go if you want to experience new flavors. Some of the collection's best wines are honeysuckle-flavored The Sun Surfer and eucalyptus-based Mother-In-Law's Tongue.
If you join their Cenosilicaphobic Club, you'll enjoy a 15% discount on all wine purchases (excluding museum releases), benefit from free freight when acquiring six or more bottles, and receive event invitations.
You will also gain access to an array of limited-edition and museum-release wines.
The Lane Vineyard
Address: 5 Ravenswood Ln, Hahndorf, SA 5245
Contact Details: (08) 8388 1250
Operating Hours: Daily – 10 am to 5 pm
The Lane Vineyard's majestic hills and premium wine go well together.
Our team enjoyed their Heritage Collection, offering the estate's longest-running wines aged in French oak barrels. Our favorites are their crisp, buttery Heritage Chardonnay and fruity Heritage Late Disgorged Cuvee.
We also had a blast with their Gathering Experience. This experience is a small-scale degustation-style wine tasting (60 mins, $70 per person) demonstrating the perfect alignment of flavors between the estate's wine and restaurant menu.
Tips:
The Lane Vineyard's Panorama Experience is ideal for picnic lovers, as this deal will take you to the estate's private spots providing views of Mt Lofty Ranges.
Joining their ATV Tour is a more adrenaline-pumping alternative to exploring this 40-hectare winery on foot. You may also opt for the beginner-friendly Hahndorf Guided E-Bike Experience if you want to see nearby wineries.
If you love fishing, try their Trout Fishing Experience taking place at the estate's lake. The fishing fun starts at 8 am, and you'll be enjoying coffee and pastries before casting the line.
Penfolds Magill Estate
Address: 78 Penfold Rd, Magill, SA 5072
Contact Details: (08) 8301 5569
Operating Hours: Daily – 10 am to 5 pm
With serene views of Penfolds' original vineyard and Adelaide, this urban winery is worth a visit. The best part? It's just 8 km from the city.
Penfolds Magill Estate is the birthplace of Penfolds Grange, which some consider one of Australia's best wines.
Penfolds Grange boasts a robust yet elegant flavor profile characterized by a blend of rich dark fruits, subtle hints of spices, and a velvety texture that lingers on the palate.
It's best paired with food served at Magill Estate Restaurant, especially their Chicken Liver Parfait and Deboned Chicken Wing with Scallops and Lobster.
Tips:
If you want to learn more about wine, consider joining their Wine Advice program. This program has experts teaching proper wine pairings, decantation, cellaring, and more.
Other must-try wines are the herby Koonunga Hill Cabernet Sauvignon 2021 and the spiced-up Bin 389 Cabernet Shiraz 2020.
Prioritize making reservations for tours, tastings, and dining experiences to ensure availability.
Seppeltsfield Winery Estate
Address: 730 Seppeltsfield Rd, Seppeltsfield SA, 5355
Contact Details: (08) 8301 5569
Operating Hours: Daily – 10:30 am to 5 pm
An hour's drive from Adelaide, Seppeltsfield Winery Estate promises vineyards stretching in orderly rows, well-manicured gardens, and gentle hills as the backdrop.
The main draw is their century-old 1923 Para Vintage Tawny, a nutty and luxurious drink with hints of caramel and dried fruits. You can taste this exceptional drink if you join their Centennial Cella Tour.
Seppeltsfield Winery Estate also hosts JamFactory, a cultural center with art pieces by emerging and renowned Australian artists. In addition, you may also visit Octeine Coffee here, an outdoor coffee shop with an irresistible latte.
Tips:
You can have exclusive deals and member-only prices on wines, tours, experiences, and accommodations by joining their wine club.
Moreover, you can select how often you receive deliveries and the wines you desire, all shipped to your door with a wallet-friendly 20% discount.
Seppeltsfield Winery Estate's picnic grounds are perfect for visitors looking to relax. However, remember that bringing your alcohol isn't allowed. Additionally, guests visiting in large groups must book first.
Fino Seppeltsfield is a modern restaurant near the winery's main hall. Don't miss this resto's kingfish and sourdough bread.
Wirra Wirra Vineyards
Address: 255 Strout Rd, McLaren Vale SA 5171
Contact Details: (08) 8323 8414
Operating Hours: Daily – 10 am to 5 pm
The award-winning Wirra Wirra Vineyards, established in 1894, offers visitors a unique experience encompassing a historical winery. Our team joined tastings and guided cellar tours here.
We also witnessed their tradition of ringing a massive 3/4-ton bell after finishing our Trott's Tales back-of-house tours, which granted us insights into their aged cellar hideaways.
Adding to our remarkable experience here is Harry's Deli, where the menu dished out South Australian regional delicacies like Crispy Pork Belly and Son of Trott Pie.
Tips:
You should taste their 2022 Original Blend Grenache Shiraz. It has a luscious blend of red fruit notes layered over a backdrop of delicate oak.
Another must-experience tradition here is catapulting watermelons.
Plan your visit during the late afternoon to capture the stunning sunset views over the vineyards. The winery's main hall also lights up with golden lamps during this time.
Talk with the staff during tastings to receive personalized recommendations based on your palate preferences. This ensures you discover wines that truly resonate with your taste.
Deviation Road Winery
Address: 207 Scott Creek Rd, Longwood, SA 5153
Contact Details: (08) 8339 2633
Operating Hours: Daily – 10 am to 5 pm
Nestled amidst the picturesque Adelaide Hills, the Deviation Road Winery and cellar door are near Stirling. This stunning setting is surrounded by vineyards and historic bushland.
Made with the use of high altitude spots, traditional techniques, and oenological innovation, their wines are a testament to the balance between time-honored practices and contemporary winemaking.
Our team went here for their well-aged sparkling varietals, the wine Deviation Road Winery is known for. The citrusy and aromatic MV Altair Brut Rose is our favorite, followed by the zesty and aperitif-styled 2018 Loftia Vintage Brut.
Tips:
Deviation Road Winery's garden is the perfect spot for an afternoon of wine drinking.
Make the most of your tasting by selecting a flight that offers a variety of well-crafted wines. Additionally, you may pair it with their sourdough or charcuterie boards.
Mt Lofty Ranges Vineyard
Address: 166 Harris Rd, Lenswood, SA 5240
Contact Details: (08) 8389 8339
Operating Hours: Daily – 11 am to 5 pm
Mt Lofty Ranges focuses on crafting vibrant, cool-climate wines while upholding a strong commitment to sustainability.
In addition, the view here is spectacular. Lush vines stretch across the landscape, set against the backdrop of the iconic Mount Lofty.
The views also encompass rolling hills, serene valleys, and the distant cityscape of Adelaide, 35 km away.
Among their exceptional offerings, their highly recommended Pinot Noir stands out. This wine packs red fruit flavors with subtle earthy undertones, ideal for roasted and smoky dishes.
Please embed: https://www.instagram.com/p/Cu1mXz3uTJw/?img_index=1
Tips:
Opt for the Club Lofty membership, granting you exclusive quarterly wine deliveries tailored to your preference. You'll also receive VIP privileges at the 5-star cellar door and renowned chefs-hatted restaurant.
Remember to taste the sumptuous 3-course menu at the esteemed restaurant led by head chef Jesse White. Some of the dishes here are confit trout and their famous rye cake.
We recommend trying their sunset dinners for breathtaking views. Don't forget to make a reservation in advance to ensure your spot.
ArtWine
Address: 72 Bird in Hand Rd, Woodside, SA 5244
Contact Details: 0400 270 584
Operating Hours: Daily – 11 am to 5 pm
ArtWine offers a refreshing ambiance with its expansive glass-walled architecture and sleek design.
Their light-tasting wine selection beckons exploration, with highlights including the Fiano, Graciano, and Viognier varietals.
Fiano packs vibrant citrus notes, Graciano has berry and spice elements, and Viognier captivates with its aromatic and floral qualities.
Their cellar door also doubles as an art haven, housing captivating artworks from extraordinary painters Marnie Wark and Cathy Gray, enhancing the sensory experience.
Tips:
Their fully-enclosed terrace with 360 views of sprawling vineyards is good for intimate and large events.
The owners, Judy and Glen, enjoy discussing wine with guests. Don't be shy and ask questions from these celebrated winemakers!
ArtWine's The Real Thing Albariño 2022 is a Spanish-inspired wine with lime and stone fruits flavor. Don't forget to try this, as it's an award-winning variety.
_____________________________________________________________________