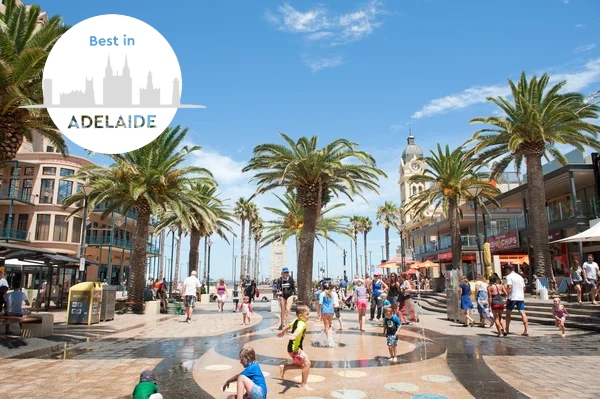 Glenelg: Sun, Sea, and So Much More!
Ready for some beachfront fun? A trip to Glenelg might satisfy your seaside craving.
Here, you can hit the famous Glenelg Beach and relax at Mosley Square.
But that's just the start. Check out this list for more exciting things to do in this sandy suburb.
Top Things to Do in Glenelg
Ride the Skyline Ferris Wheel
Address: BLK1 S Esplanade, Glenelg, SA 5045
Operating Hours: Daily – 10 am to 9:30 pm
The Skyline Ferris Wheel offers unparalleled views of the sea and shore below.
Its gondolas are equipped with modern transparent Perspex glass, ensuring that passengers have a crystal-clear perspective of their surroundings as they ascend to a max height of 35 meters.
Each ride lasts between 6 to 8 minutes, and with over 9,000 lights, the wheel's spectacular lighting is also a true marvel.
Tips:
• Opt for a sunset or night ride for the most spectacular views. 
• Listen to and follow the safety instructions provided by the staff.
• Check the weather forecast before your visit.
• You can change the theme and even display your brand or message through illuminated text and graphics.
Play games at The Beachouse
Address: 4 Colley Terrace, Glenelg, SA 5045
Contact Details: (08) 8295 1511
Operating Hours:
Mon – 10 am to 5 pm
Tue to Thu – Closed
Fri – 10:30 am to 4 pm
Sat to Sun – 10 am to 5 pm
The Beachouse is a famous amusement park located along the beautiful shoreline of Glenelg, offering good times and fun activities.
The arcade holds a special place in our team's heart. It houses thrilling games, including beloved classics like Super Mario, Space Invaderz, and Air Hockey.
Other inviting attractions are the heated and massive kid-friendly waterslides. Riders of all ages can take a thrilling dive down these slides. There are also classic carnival rides like whimsical carousels and adrenaline-pumping bumper boats.
Tips:
• Check their website for each ride or facility's height and weight requirements.
• You can book their venues for different events, like birthday parties, corporate gatherings, and even sporting competitions.
• Pricing can change frequently, so head to their website to stay updated. 
• Visit their cafe for snacks like pizza, hotdogs, and doughnuts. 
• See their available gift cards for perks like discounts and free parking.
Drink at Mosley Beach Club
Address: Glenelg Beach, Glenelg, SA 5045
Contact Details: 0407 729 983
Operating Hours: Daily – 11 am to 11 pm
Looking for a pub with tropical beach vibes? The Mosley Beach Club is the spot for you; it's surrounded by parasols and has a pleasant white and blue nautical theme.
You can lounge on the cozy beach chairs or kick back on the day beds and sun lounges. They play soothing music in the morning and afternoon and switch to lively party music in the evening.
Our team's favorite drink here is the fruity, sweet, and slightly bitter white peach sangria. This concoction features spiced rum, peach schnapps, white wine, and fresh peaches and strawberries.
Tips:
• Coco Loco is another show-stopping cocktail you should try.
• Stay updated by visiting their website, as their operating hours are subject to seasonal variations and weather conditions.
•Pack your beach essentials, including sunscreen, towels, and swimwear.
• Don't miss their main meals. Moseley Beach Club has a mouthwatering beef burger and fish and chips.
• Visit on Fridays and Saturdays if you prefer live music from DJs.
Eat at beachside restaurants
Address: The Marina Pier, Shop 4, Glenelg, SA 5045
Sammys on the Marina
Address: 1/12 Holdfast Promenade, Glenelg, SA 5045
Glenelg's seaside restaurants are a treat for the eyes and the palate. Two spots stand out for our foodies.
First up is The Wharf on Marina Pier, a modern Australian restaurant that takes full advantage of its coastal location, with blue waters and docked boats as backdrops.
Here, diners can indulge in herb-encrusted lamb backstrap, our favorite dish on the menu.
It features tender lamb complemented by minted pea puree, charred broccolini, caramelized onion jam, and a river mint red wine jus.
Another notable beachside gem is Sammys on the Marina on Holdfast Promenade. It has glass walls that provide panoramic views of the sea and nearby stone jetties.
Their best offering is the King George whiting fillet. Diners can pick their preferred preparation style—grilled, crumbed, or beer-battered.
Additionally, this meal comes with a side of crispy fries, a revitalizing rocket-feta salad, a flavorful apple salad, and a zesty lemon wedge.
Tips:
• The restaurants' menus are season-dependent. Visit their website to see their current dishes.
• Go for outdoor seating on the beachfront for idyllic views.
• Consider dining during sunset for a breathtaking view as the sun dips below the horizon. 
• These two dining spots can get busy, especially during tourist seasons. Make a reservation in advance to secure a table.
Browse artworks at Glenelg Art Gallery
Address: Ground floor, Stamford Grand Hotel/2 Moseley St, Glenelg, SA 5045
Contact Details: (08) 8375 0630
Operating Hours:
Mon – 11 am to 5 pm
Tue – Closed
Wed to Sun – 11 am to 5 pm
The Glenelg Art Gallery celebrates the diversity of Australian art. It proudly features the mesmerizing creations of Australian Aboriginal artists and talented local artists.
One noteworthy artist gracing the walls of the gallery is Barbara Milpati Baker, a Kanypi woman whose art offers a breathtaking perspective of her vast homeland.
Her dramatic yet serene artworks provide a bird's eye view of the raw Australian landscape. Erika Walter is another artist who caught our attention. Her art delves into the intriguing concepts of nature and nurture.
Tips:
• The gallery is not limited to paintings and sculptures.
• Check out its impressive range of handcrafted jewelry, natural skincare products, and thought-provoking books.
• Discover what the gallery's shop offers. Some products we recommend are their porcelain homewares and Outback sunglasses with Aboriginal paintings.
• Don't hesitate to engage with gallery staff or guides. Ask questions about the art, artists, or the gallery's history.
Fish at Glenelg Jetty
Address: 2 Colley Terrace, Glenelg, SA 5045
Contact Details: (08) 8229 9999
Operating Hours: Daily – 24 Hours
Compared to other jetties in the region, which have plain sand bottoms, Glenelg Jetty's bottom consists of seaweed, sand, and rocks. This feature attracts different fishes, crustaceans, and mollusks.
You can expect common fish species and some rare ones: tommy ruffs, garfish, yellow-eye mullet, blue swimmer crabs, two-spot sand crabs, and more.
The silent atmosphere here also creates an ideal environment for anglers to connect with nature and focus on their craft. Additionally, the floodlights make it a prime spot for fishing enthusiasts to extend their angling adventures into the twilight hours.
Tips:
• Squid is available at the Glenelg Jetty all year round. You catch more if you fish during dusk or dawn. 
• Check the tide and weather conditions before heading out. Some fish species are more active during specific times of the day or in particular weather conditions. 
• Research online or ask local anglers for the most effective bait choices for the season.
• A basic but effective rig for Glenelg Jetty is a paternoster rig with two hooks. This setup allows you to target different species simultaneously. 
• Watch tutorials on how to set up this rig correctly.
See the greenery at Old Gum Tree Reserve
Address: MacFarlane St, Glenelg North, SA 5045
Operating Hours: Daily – 24 Hours
Nature is imbued with history at Old Gum Tree Reserve. On December 28, 1836, near the reserve's iconic gum tree, British governor John Hindmarsh made the historic proclamation that gave birth to the South Australian Government.
Beyond its historical significance, the reserve offers BBQ facilities and shaded picnic areas.
Families with children can enjoy a fully fenced playground with colorful swings, climbing equipment, and a slide. Additionally, there's an active play area for sporty adults.
Tips:
• Explore the walking path that encircles the Old Gum Tree Reserve. It offers a pleasant stroll with informative signs explaining the site's history.
• This reserve is dog-friendly, so bring your pupper along.
• Visit the historical plaque commemorating the Colony's establishment. You can find this next to the Old Gum Tree.
• Bring a book. The area's shaded parts are perfect for reading.
Enjoy a staycation at Glenelg's beach hotels
Address: 8 Holdfast Promenade, Glenelg, SA 5045
Stamford Grand Adelaide Hotel
Address: 2 Jetty Rd, Glenelg, SA 5045
Staycations in Glenelg are a perfect way to enjoy a coastal getaway without straying too far from home. Some staycation hotels our team absolutely loves are the Glenelg Pier Hotel and the Stamford Grand Adelaide Hotel.
The Glenelg Pier Hotel offers stylishly appointed rooms; modern amenities, such as high-speed Wi-Fi and flat-screen TVs; concierge assistance; and room service.
Its prime beachfront location provides stunning panoramic views of Glenelg Beach and the Gulf St. Vincent. Its Coast Restaurant and Pier Bar are two of the finest spots in Glenelg for morning coffee or evening cocktails with breathtaking coastal vistas.
The Stamford Grand Adelaide Hotel also offers sweeping beach views and even more luxurious facilities. Its opulent rooms boast spacious private balconies, 2-person spas, 180-degree windows, and more.
Swim, surf, or snorkel at Glenelg Beach
Address: S Esplanade, Glenelg, SA 5045
Operating Hours: Daily – 24 Hours
Glenelg Beach has water activities for everyone, whether you're a thrill-seeker or a laidback wanderlust craving a leisurely day by the sea.
We have to start with swimming, surfing, and snorkeling, as they're the go-to activities for beach-goers here. The pristine waters are perfect for a refreshing swim, whether you're a seasoned swimmer or just looking to cool down.
The beach's rolling waves provide an excellent opportunity to catch thrilling breaks and ride the surf. You can rent gear at nearby stores like Extreme Boardriders and Surf Dive 'n Ski.
Snorkeling is a fantastic way to explore the underwater world, especially since this beach has plenty of marine life and colorful reefs.
You can also try jet skis and paddleboards. Jet-skiing across the sparkling waters is bound to get your heart racing, while paddleboarding provides a zen-like experience as you glide atop the calm waves.
Glenelg Beach hosts rental shops like Adelaide Jet Ski Hire and Tours and SUP for these two activities. Windsurfing and beach kiting here are other electrifying ways to navigate the open sea, although they're not as popular as other water activities.
Tips:
• Glenelg Beach is perfect for beach volleyball, beach cricket, and beach tennis. 
• Swim in the designated patrolled areas marked by flags. These areas are safer and monitored by lifeguards.
• Assess the water and weather conditions, including tides and currents. Avoid swimming if conditions seem unsafe.
•Ensure your surfboard is properly waxed for better traction and grip while riding the waves.
• Wait your turn and share the waves with others.
• Make sure your mask, snorkel, and fins fit comfortably.
• Familiarize yourself with the controls and safety features of jet skis.
Learn about the region at Bay Discovery Center
Address: Town Hall Moseley Square, Glenelg, SA 5045
Contact Details: (08) 8179 9599
Operating Hours: Daily – 10 am to 4 pm
Visitors can delve into the rich tapestry of South Australia's culture and heritage at Glenelg's Bay Discovery Center. This local museum is home to engaging exhibits focusing on the treasured history and traditions of the Adelaide Plains' Kaurna People.
This is why most paintings and crafts here, like the iconic Tiati Wangkanthi Kumangka (Truth-Telling Together), have colorful patterns and symbols of the Aboriginals. Additionally, you'll find plenty of pop culture and historical artifacts in this center.
These include a display of popular beachwear per year, war photos of vets, and quirky sculptures. For the latter, we particularly liked the steampunk-themed pig riding a bicycle!
Tips:
• Taking photos is allowed, so remember to bring your camera to capture Bay Discover Center's collection.
• Ensure you have a gold-colored coin (typically a $1 or $2 coin) on hand for the center's required gold coin donation at the entrance. This donation supports the maintenance and operation of the center.
• View the center's upcoming exhibits and events for a more enjoyable visit. 
Walk or bike the Glenelg to Seacliff Walk
Want to exercise and see majestic coastal scenery at the same time? The Glenelg to Seacliff Walk spans 6 km along the picturesque coast, meandering through Adelaide's premier seaside suburbs, including Glenelg South, Somerton Park, and Brighton.
You'll be walking or riding on flat, smooth asphalt and concrete pathways that are also wheelchair accessible. Additionally, Glenelg to Seacliff Walk directly passes through must-see points of interest, such as Minda Coastal Park and Brighton Beach.
You can also spot seabirds like seagulls, pelicans, and cormorants.
Tips:
• Check the weather forecast to ensure you have appropriate clothing and sun protection if needed.
• Wear comfortable, sturdy shoes suitable for walking or biking on a mix of terrains, especially if you choose the sandy path.
• Pack some snacks or a picnic if you'd like to take breaks along the way. There are scenic spots like the • Brighton Jetty and Somerton Park Beach.
Join a Temptation Sailing tour and watch dolphins
Address: Holdfast Promenade, Glenelg, SA 5045
Contact Hours: 0412 811 838
Operating Hours:
Mon to Thu – 9 am to 5 pm
Fri to Sun – Closed
Embarking on a Temptation Sailing tour promises an extraordinary opportunity to observe and engage with wild dolphins in their home.
A dedicated team of marine biologists will guide you and offer valuable insights about these extraordinary marine creatures.
Furthermore, you'll have the option of swimming alongside dolphins with the guides. If you prefer to stay dry, you can observe these playful dolphins from the comfort of the Temptation's 360-degree viewing deck.
Tips:
• They also offer other tours such as the Twilight Cruise and Tunes on Temptation.
• Wear sunscreen and bring sunglasses to protect yourself from the sun while on the boat. 
• Maintain a respectful distance from the dolphins and follow the guidelines and instructions of the experts for responsible wildlife viewing.
• Stay updated on the pricing by visiting their website.
---