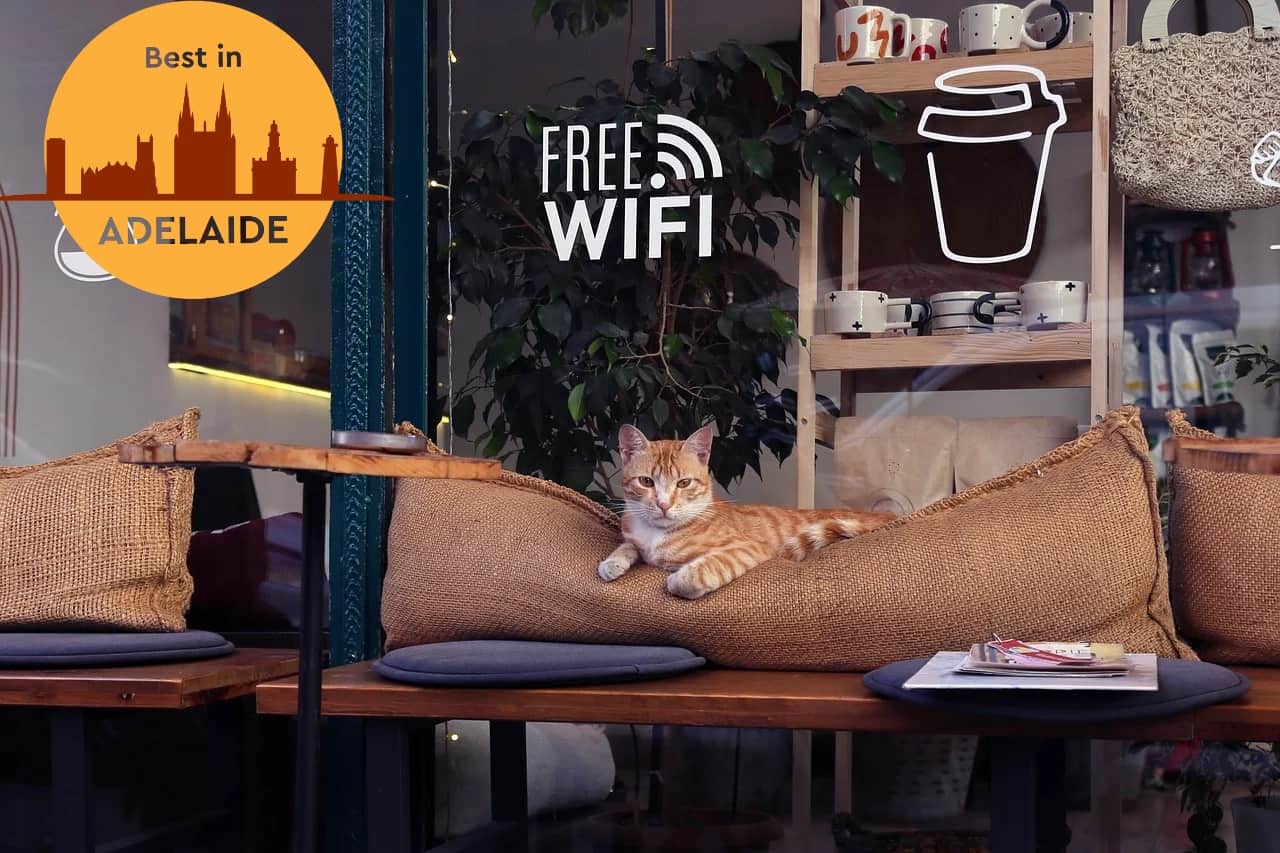 Coffee, Cuddles, and Cats: Top Cat Cafes in Adelaide
Are you a cat lover looking for the purr-fect cat-friendly cafe in Adelaide?
We know the best spots for you. Check out our article for the full scoop on these spaces of brews and purrs!
Meowme Cat Cafe
Address: 106 Glen Osmond Rd, Parkside, SA 5063
Contact Details: (08) 8490 6754
Operating Hours:
Mon – Closed
Tue to Sat -12 pm to 8 pm
Sun – 12 pm to 5 pm
MeowMe Cat Cafe offers a serene ambiance with its smooth wooden flooring, soft white color scheme, and gentle lighting. The cafe also boasts an outdoor area with lush hanging and potted plants.
The best part? You can indulge in an animal petting experience and even consider adopting a cat!
Grab a bite and enjoy hours of cuddling with the cafe's furry felines.
Their menu features delectable pastries, like cheesecakes and cookies, often adorned with charming cat-themed designs such as whiskers or paws. They also offer coffee and tea.
We went for their chocolate and banana waffle topped with a scoop of ice cream and fresh berries. The rich, velvety chocolate blended smoothly with the ripe banana, delivering decadent sweetness.
You should pair this with their matcha latte. This warm drink has a subtly sweet, earthy flavor.
Tips:
Follow the rules to ensure the cats' welfare. Some don'ts here include picking cats up, taking pics using flash, and speaking loudly.
You must book to ensure a spot here.
The cats here are friendly, but remember to respect their private space, especially if they're napping.
Don't feed the cats your food.
Don't hesitate to ask the staff about the cats' personalities, histories, and adoption information.
Sassy's Cat Cafe and Adoption Center
Address: 499a Payneham Rd, Felixstow, SA 5070
Contact Details: 0422 191 080
Operating Hours:
Mon to Tue – 10 am to 2 pm
Wed – Closed
Thu to Fri – 10 am to 4 pm
Sat to Sun – 10 am to 4 pm
Sassy's Cat Cafe and Adoption Center has an eye-catching interior with light red accents and brick walls.
Here, you'll find a separate room for our feline friends with climbing platforms, soft pillows, baskets, and other cat-friendly amenities.
However, customers have to pay an entry fee to interact with the cats on their premises.
But this isn't such a huge drawback when you consider they help cats and kittens find new homes by collaborating with the local SA Cat Rescue.
Some of our favorite felines here are Tiffany, a Persian x Scottish Fold mix who adores treats and chin scratches, and Ted, known for his easygoing nature and love for cuddles.
As for their food, they have sweet offerings like scones with jam and cream and banana bread toasted with butter, cinnamon, sugar, and maple syrup.
Among their drinks, we recommend hot chocolate, iced lattes, and yogurt smoothies!
Tips:
Check their website for upcoming events and updated entry fees. The payment depends on the guest's age.
Consider adopting one of their furry residents. You can do the process via phone, but checking and bonding with the cats first is advisable.
Use the hand sanitizer provided before and after interacting with the cats. This helps maintain a clean and safe environment for both humans and cats.
Familiarize yourself with the guidelines set by Sassy's Cat Cafe, such as age restrictions for visitors or photography policies, and be sure to follow them.
Ask the staff for cat treats. They'll give you some!
Additionally, talk to the staff about the cats' personalities. Some of their resident cats, like Remus and Spud, don't like being touched.
_____________________________________________________________________