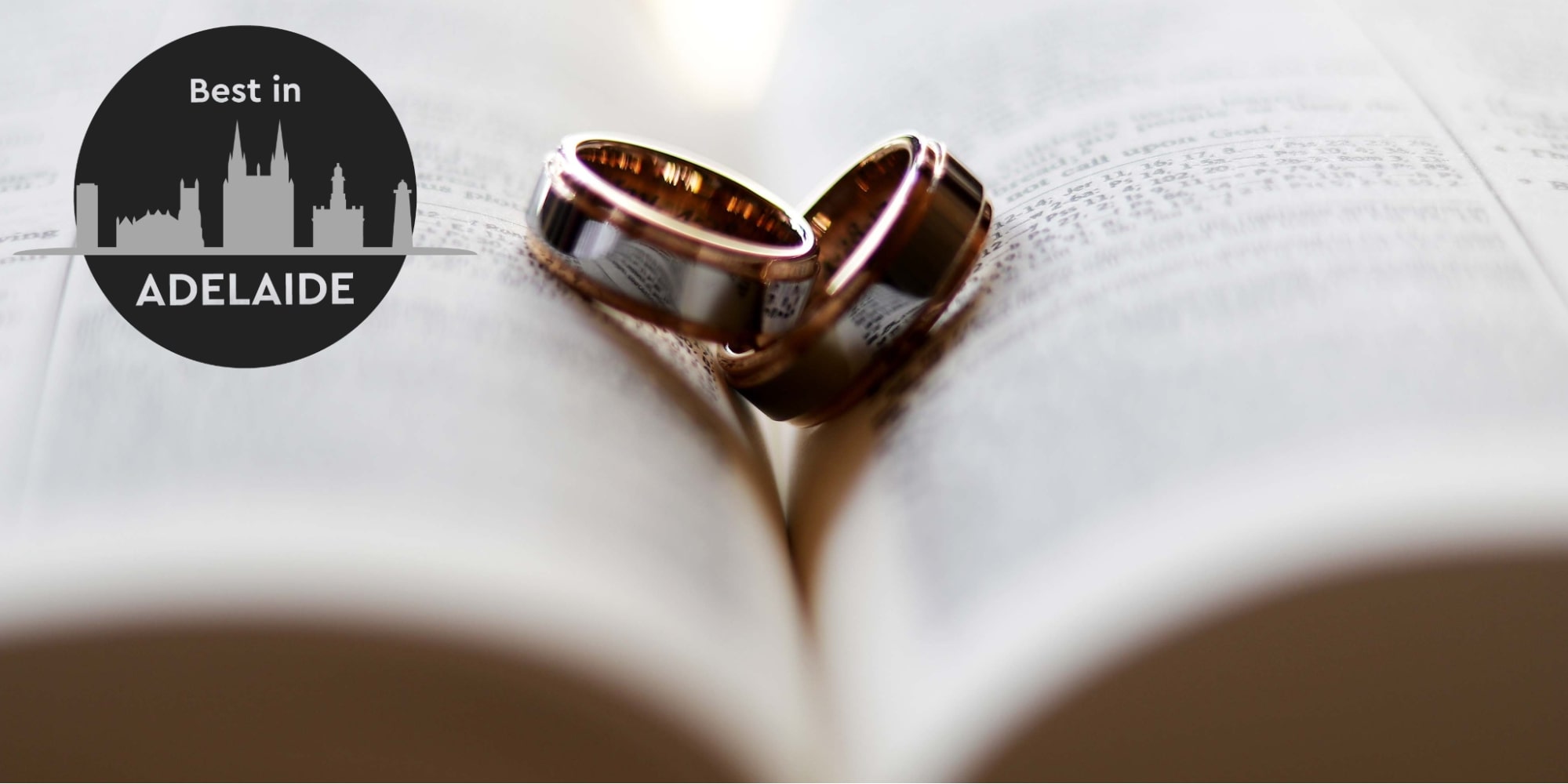 Romantic Wedding Anniversary Ideas in Adelaide
Adelaide can be the perfect spot for a romantic getaway. You can create plenty of precious memories here, such as intimate dinners and thrilling getaways!
If you want to make the day extra special, follow our guide below for things to do and where to go in the city to celebrate your wedding anniversary.
Stay in the fairytale-inspired Thorngrove Manor
Website: https://thorngrove.com.au/
Address: 2 Glenside Ln, Stirling SA 5152, Australia
Contact details: +61 8 8339 6748
Operating hours:
If you've always loved the fairy tales where two lovers end up blissfully together, celebrating your anniversary in Thorngrove Manor is a no-brainer.
It's an incredible example of Medieval-style architecture, crafted with meticulous attention to detail.
From the pointed spires adorning the roofs to the exquisite antiques gracing each room, every aspect of the manor exudes elegance.
Thorngrove Manor's garden is also filled with lifelike (and cute!) topiary animals such as squirrels, elephants, and giraffes. You can have couple photography sessions, intimate dinner dates, or slow strolls in this spacious garden.
Pro tip: Thorngrove Manor is often fully-booked because it only has limited rooms. Be sure to reserve your schedule months ahead!
Spend a weekend at Hahndorf
Address: Main St Hahndorf, SA 5245
Hahndorf is a dreamy little town just half an hour from the CBD. Its main street is filled with small pubs, intimate restaurants, and quaint cafes.
The town is especially great to visit if your anniversary lands in Autumn (March to May) because it's when the trees take on lovely shades of orange and red.
On your weekend, it's a great idea to pick some strawberries at Beerenberg or tour the Hahndorf Farm Barn. You'll get plenty of chances to talk with your partner while enjoying the idyllic ambiance of the town.
When you finish your day, a stroll in the bustling main street while sipping rich coffee can make conversations much more heartfelt!
Pro tip: When visiting sometime from June to August in winter, be sure to bring a light sweater with you.
Go flower spotting at the Adelaide Botanic Garden
Website: https://www.botanicgardens.sa.gov.au/
Address: North Terrace, Adelaide SA 5000, Australia
Contact details: +61 8 8222 9311
Operating hours:
Monday to Friday – 7:15 AM-5:30 PM
Saturday to Sunday – 9 AM to 5:30 PM
If giving bouquets is getting boring, why not take your partner to where flowers bloom in every corner?
Adelaide Botanic Garden features landscaped gardens adorned with rows of both native and imported flowers like cheerful pom poms, elegant dahlias, or fragrant roses.
You can end the day with a lovely dinner at Restaurant Botanic where the ingredients are fresh from their own garden. With its well-lit dining space and amazing view of the nearby pond, the restaurant is a perfect place to unwind on your anniversary.
Pro tip: Adelaide Botanic Gardens has plenty of areas for you to explore. It's best to bring a map when visiting, as there aren't enough signposts placed here.
Watch a game at the Adelaide Oval (or take a walk on its rooftop!)
Website: https://www.adelaideoval.com.au/
Address: War Memorial Dr, North Adelaide SA 5006, Australia
Contact details: +61 8 8211 1100
Operating hours:
Monday to Sunday – 9 AM to 5 PM
If your special day happens to land when there's a game (or a concert) in Adelaide Oval, it's great to spend it there! Even those who don't follow sports can't help but be infected by the energy of the crowd.
If there are no events on your special day, don't worry! You can always try the RoofClimb Adelaide Oval experience where you can stand atop the iconic sporting ground, with the wind in your hair and a magnificent view below you.
From above, you can see the scenic cityscape and River Torrens. It's even better if you do this during twilight, as you'll see the skyline slowly light up.
Pro tip: Adelaide Oval prohibits entry for those who have consumed alcohol prior. It's wise to save that champagne bottle for later.
Watch the sunset with Temptation Sailing
Website: https://dolphinboat.com.au/
Address: 10 Holdfast Promenade, Glenelg SA 5045, Australia
Contact details: +61 412 811 838
Operating hours:
Monday to Thursday – 9 AM to 5 PM
Friday-Sunday- Closed
Only 15 minutes from the CBD is Temptation, a catamaran that takes you on a sail where dolphins come to you! The licensed dolphin swimmers onboard can even take you swimming directly above the smart sea creatures!
If you're not much of a swimmer, you can always relax onboard. It has a cozy bar that is fully stocked with cocktails, wines, and spirits.
You can end the cruise as the sun sets. The view is best enjoyed while sharing the antipasto and cheese package available for two.
Pro tip: Avoid flash photography when taking pictures of the dolphins so you don't disturb them.
Explore Adelaide while riding an EcoCaddy
Address: 5006, North Terrace, Adelaide SA 5000, Australia
The EcoCaddy is a bamboo-made pedicab driven by an Adelaide local who'll tour you around Adelaide's eco-friendly spots. You can see the city's spacious parks on this environment-friendly ride.
I learned a great deal about my city through the tour. From fun facts about the Adelaide Parklands to advice on the best spots for spotting birdlife, the engaging tidbits that my tour guide gave made the trip highly pleasant from start to finish.
I highly recommend bringing a picnic basket with you and ending the day by the Elder Park Rotunda. The lights are dreamy, and the view of River Torrens completes the experience.
Pro tip: Adelaide gets sunny during the afternoon. Be sure to wear sunscreen!
Wine and dine at Penfolds Magill Estate Restaurant
Website: https://www.magillestaterestaurant.com/
Address: 78 Penfold Rd, Adelaide SA 5072, Australia
Contact details: +61 8 8301 5551
Operating hours:
Wednesday to Friday – 6:30 PM to 11 PM
Saturday – 12 AM to 3 PM, 6:30 PM to 11 PM
Sunday – 12 PM to 3 PM
If you want a fancy dinner for your anniversary celebration, Penfolds Magill Estate Restaurant is an excellent choice.
Their set menu is elaborate, with dishes like Kingfish with truffles, Mayura wagyu with legumes, and kangaroo meat with pepperjack ale.
If you want to have lunch here, you'll enjoy the stunning view of the rich vineyard. Should you opt for dinner, the restaurant's intimate lighting and elegant music provide a unique nighttime experience that's equally captivating.
Pro tip: Since they serve a pre-selected menu, you'd have to tell the restaurant beforehand if you have dishes or ingredients that you highly dislike or can't eat. They can swap the dish with something worth the same price.
Have a picnic at Morialta Conservation Park
Website: https://www.parks.sa.gov.au/parks/morialta-conservation-park
Address: Morialta Falls Rd, Woodforde SA 5072, Australia
Contact details: +61 8 8336 0901
Operating hours:
If you and your partner would like some time to reconnect with nature on your special day, Morialta Conservation Park is a great choice. It exudes serenity and tranquility, from its verdant forests and gentle waterfalls.
The park has plenty of relaxing spots where you can enjoy the quietness with your partner. Some light snacks, a bottle of wine, and heartfelt conversations can transform your anniversary into an unforgettable memory that lingers for years to come.
Pro tip: Morialta Conservation Park has limited garbage areas in its trail. Be sure to carry your garbage with you and don't litter.
Try the finest wines in Mount Lofty House
Website: https://www.mtloftyhouse.com.au/
Address: 1 Mawson Dr, Crafers SA 5152, Australia
Contact details: +61 8 8130 9222
Operating hours:
Mount Lofty house is the definition of cozy opulence. Boasting a breathtaking view of the Adelaide Hills and providing luxurious accommodation, Mount Lofty House is highly recommendable for couples.
To make your day more relaxing, why not have a massage at the Gatekeeper's Day Spa? Afterwards, you can lounge on the verandah of your room while sipping the locally-made Shiraz to end your day.
Pro tip: Strolling the grounds is always a delight when staying here. It's especially lovely when you do it at night when the air is fresh and pleasant.
Conquer your fear of heights at West Beach Adventure
Photo by uncle_freemanny
Website: https://westbeachadventure.com.au/
Address: 4 Hamra Ave, West Beach SA 5024, Australia
Contact details: +61 8 8355 1480
Operating hours:
Thursday to Monday- 10 AM to 6 PM
Tuesday to Wednesday – Closed
If you're looking for something thrilling for your anniversary, West Beach Adventure is the spot for you. It features more than 70 obstacle courses where you'll get to row mid-air, zipline, ride a giant swing, and more!
While high up in the air, take the chance to tell your partner any daring line you have! With the rush of adrenaline and the breathtaking view, you can make an unforgettable memory with them.
Pro tip: Before you dive into the obstacle courses at West Beach Adventure, avoid having a heavy meal. You don't want to waste that lunch if you start feeling off when you catch sight of how high it can get.
---