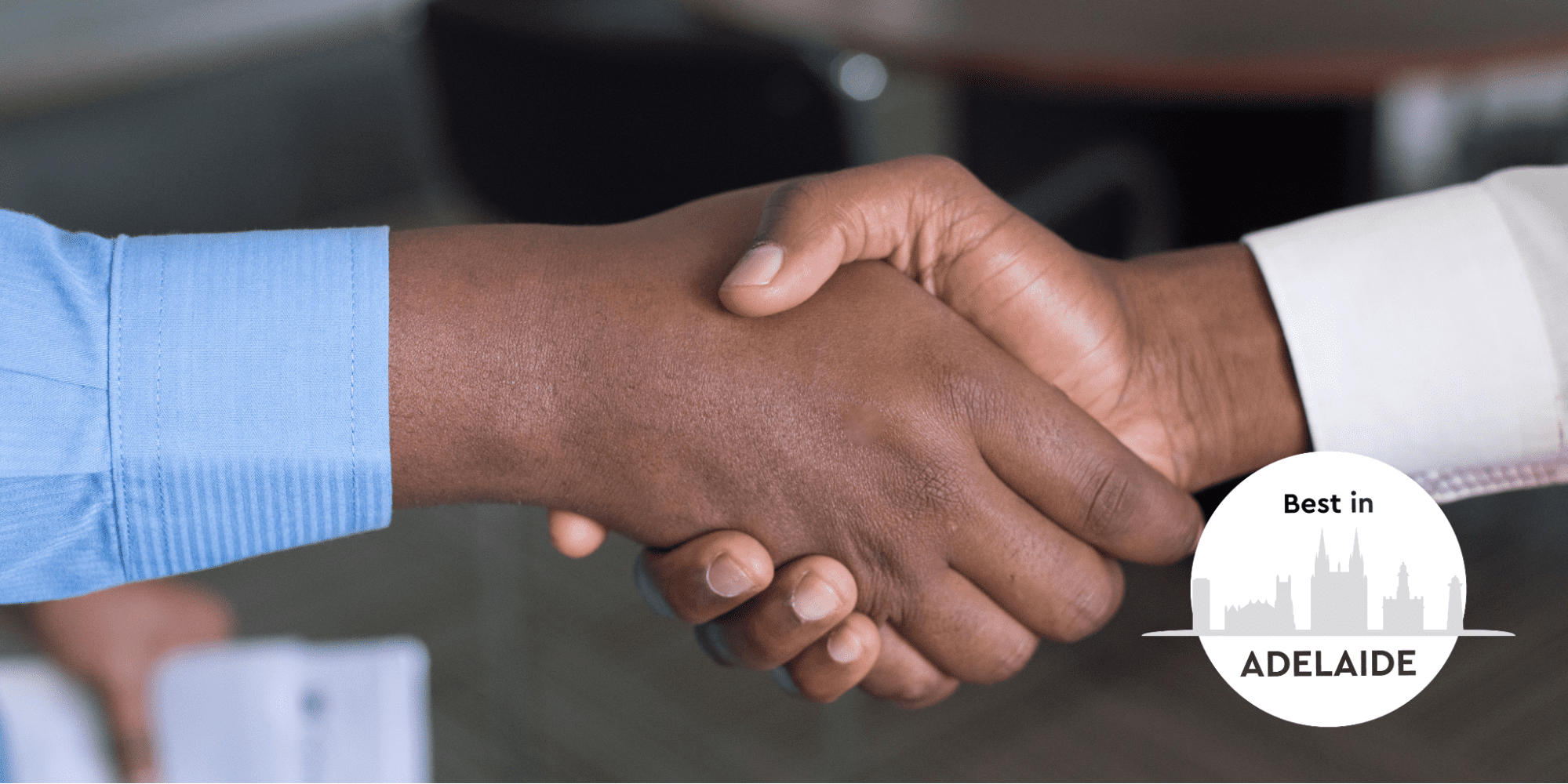 The 4 Best Interpreters in Adelaide
How We Picked the Best Interpreters in Adelaide
1. Australian Multilingual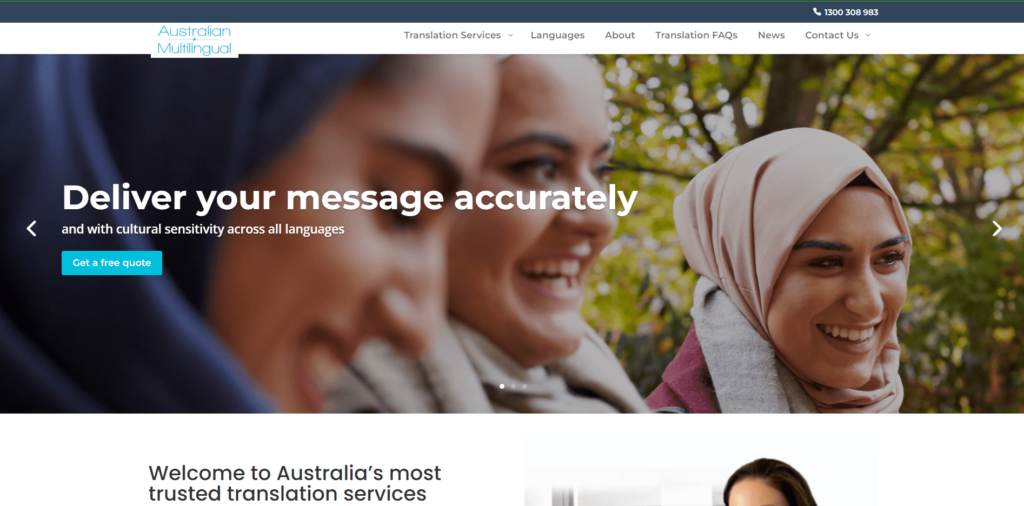 Services: Business Translation Services, Industry Specific Services, Multilingual Voice Over Recording and subtitling, Nationwide Interpreting Services, NAATI Translation Services
Website: https://translation.com.au/contact/adelaide/ 
Address: Level 3, 97 Pirie Street Adelaide, South Australia 5000
Contact details: 08 6117 0670
Operating hours: Monday to Friday, 8:30 AM to 5:30 PM
| | |
| --- | --- |
| Google reviews score | 4.8/5 |
| Total reviews | 5/5 |
| Score consistency | 5/5 |
| | |
| --- | --- |
| Language proficiency | 5/5 |
| Experience | 5/5 |
| Quality of service | 5/5 |
| Pricing | 4/5 |
NAATI-accredited
Interprets over 100 languages 
Highly responsive
Lack of transparency in pricing
Available only by appointment
Established in 2004, Australian Multilingual has served over 30,000 clients with its comprehensive language translation services. They're accredited by National Accreditation Authority for Translators and Interpreters (NAATI).
NAATI is an Australian body that sets and maintains high national standards in translation and interpreting services within Australia.
Their services vary, including marketing translation services, content localization, website translation services, subtitling, and script translation.
Ultimately, they aim to build powerful connections between clients, boost businesses, and strengthen brand identity.
We like that they're available in multiple communication channels to get in touch with the client. May it be through telephone, video conference, or in-person, you'll get directed to the perfect person for the job.
What's more, they offer cultural consulting and content localization in more than 100 languages.
For inquiries, you may reach them out through phone or email, and they'll respond right back within a few minutes.
You can also check their Translation FAQs on their page. However, some answers are not too relevant to the questions.
There's one question about how much translation services are usually charged, and the answer was about the turnaround time—a completely different topic. They don't really divulge their fees for certain types of projects.
But on the upside, you can ask for quotes by filling up their website form, and they'll get right back to your email.
Australian Multilingual has several locations all over Australia. However, their Adelaide office is only available by appointment.
Should you prefer an on-site consultation, you'll have to call first and comply with their office requirements.
2. Ethnolink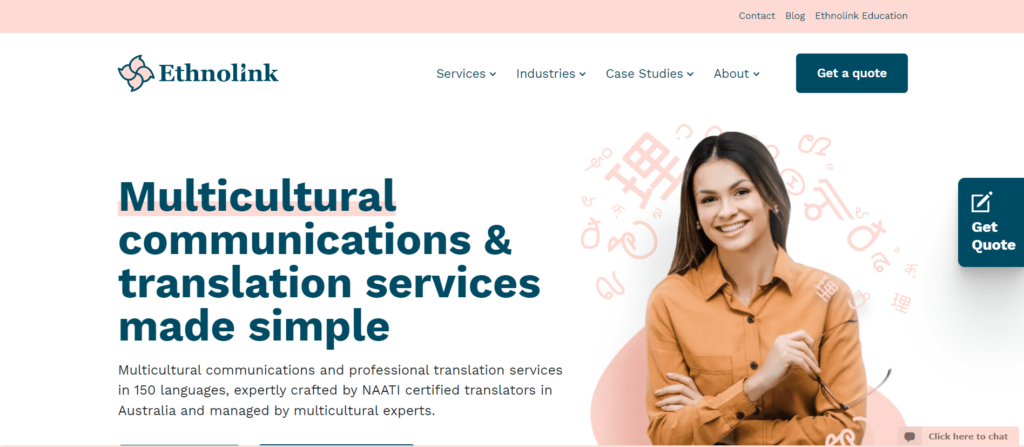 Services: Multicultural Research, Community Checking, Multicultural Marketing, Cultural Adaptation, Translation Services, Interpreting Services, Multilingual typesetting, NAATI translation, Video Production, Subtitles, Transcription, Voice Over
Website: https://www.ethnolink.com.au/ 
Address: Level 1 / 501 Church St Richmond VIC 3121, South Australia
Contact details: 1300 727 441
Operating hours: Monday to Sunday, 24/7
| | |
| --- | --- |
| Google reviews score | 4.8/5 |
| Total reviews | 5/5 |
| Score consistency | 5/5 |
| | |
| --- | --- |
| Language proficiency | 5/5 |
| Experience | 4/5 |
| Quality of service | 4/5 |
| Pricing | 4/5 |
NAATI-accredited
Interprets over 150 languages
Visible price section
High minimum charge
No physical consultation
Ethnolink is one of Australia's growing translation service providers. They have served over 4,800 clients in businesses, government, private, and nonprofits since their establishment in 2011.
They specialise in a wide variety of services, including multicultural and community research, translating and interpreting services, multilingual typesetting, transcription, and subtitling.
Ethnolink has NAATI-certified translators who have passed the high national standards of translation and interpreting service in Australia. This means they're fully capable of translating legal documents, including birth certificates and driver's licenses.
On their website, you'll find that they have a pricing section. However, this is just a price guide, and you'll see that they have a higher minimum charge compared to other services of the same industry with tax excluded.
Moreover, one important thing to note is that they don't accommodate on-site services This may be convenient but can also be inefficient for some.
Personal consultation, especially with this type of service, allows for a more collaborative transaction, instead of just filling up the inquiry form.
But don't fret. They respond right back within a few hours upon submitting your inquiry.
Just make sure to write a clear, concise draft of your inquiry, including special instructions for the job you want to be translated.
3. ABC Multilingua Pty Ltd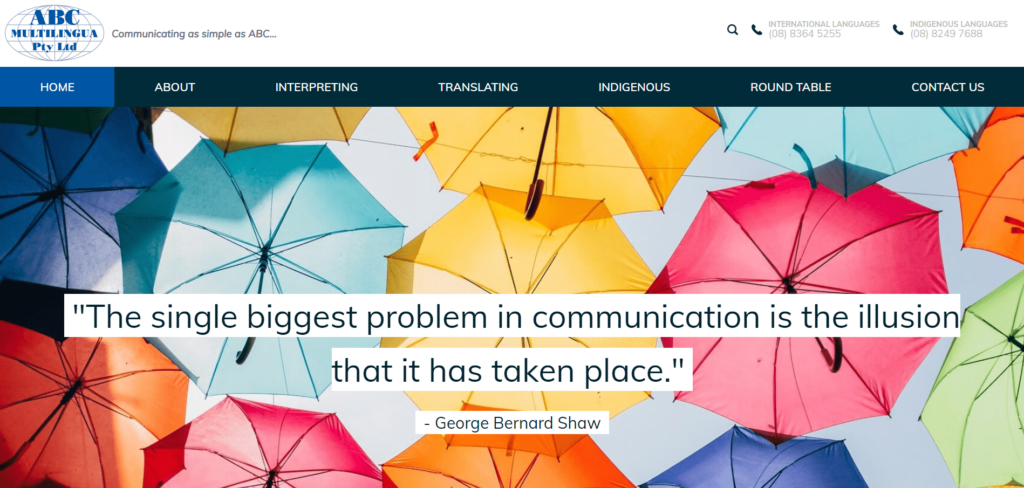 Services: On-site Interpreting, Audio Visual Link, Telephone Interpreting, Training, Translating
Website: https://abcmultilingua.com.au/ 
Address: 36 Beulah Road, Kaurna Country, Norwood, South Australia 5067
Contact details: (08) 8364 5255
Operating hours: Monday to Friday, 8:30 AM to 6 PM
| | |
| --- | --- |
| Google reviews score | 4.4/5 |
| Total reviews | 5/5 |
| Score consistency | 5/5 |
| | |
| --- | --- |
| Language proficiency | 5/5 |
| Experience | 5/5 |
| Quality of service | 5/5 |
| Pricing | 3/5 |
Long history in the industry
Offers face-to-face translation and interpretation
Available through various communication tools
NAATI-accredited but for select languages only
Lack of transparency in pricing
With more than 32 years in the industry, ABC Multilingua Pty Ltd started out as pen-and-paper translation service back in 1990. As of today, they continue to be one of the most trusted and patronized translators in Australia.
What got them on our list is this: they highly recommend face-to-face interpreting service.
We think this is of high importance because through face-to-face interpreting, they study the body language and nonverbal cues that are crucial to the accuracy and success of the interpretation.
To add to this, they also offer AVL interpreting where you can meet one of their professionals through Zoom, Microsoft Teams, Skype, and more. This service is to accommodate those who are from remote or regional areas and are unable to travel.
ABC Multilingua also has NAATI-accredited translators but only for select languages. Should you need to have work translated into these untested languages, you'll only be serviced by a community-approved translator.
If in doubt, you can ask them for a sample translation work in these languages to see if it's within your standards.
Moreover, ABC Multilingual doesn't reveal their minimum charge per work on their website. You'll still need to send an email for simple inquiries and quotations.
We think a little price guide would help clients make comparisons between services and choose one that's within their budgets.
Also, don't send your job requests outside their business hours because there's a high chance that they'll miss it.
4. Interpreting and Translating Centre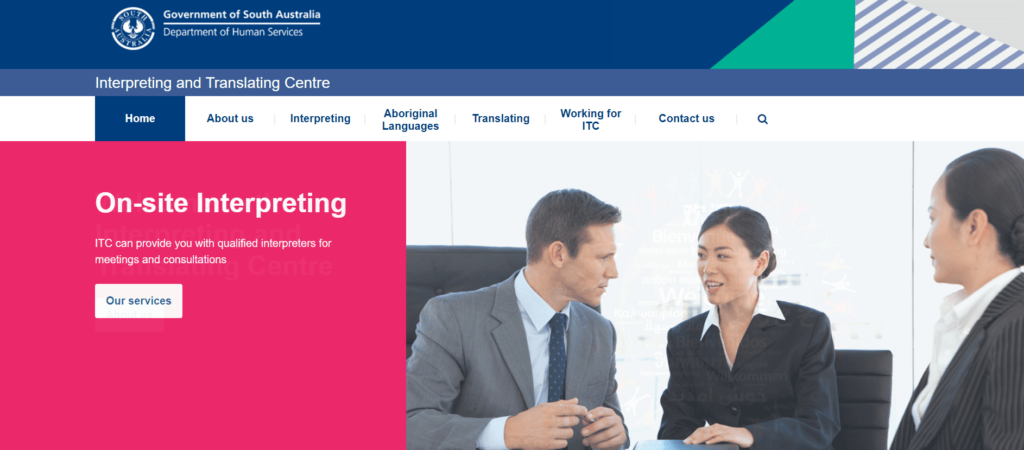 Services: On-site Interpreting, Telephone Interpreting, Aboriginal Language, Translating
Website: https://translate.sa.gov.au/contact 
Address: Level 4 Riverside Centre, North Terrace, Adelaide, South Australia 5000
Contact details: +61 1800 280 203
Operating hours: Monday to Friday, 9 AM to 5 PM
| | |
| --- | --- |
| Google reviews score | 4.2/5 |
| Total reviews | 5/5 |
| Score consistency | 4/5 |
| | |
| --- | --- |
| Language proficiency | 5/5 |
| Experience | 5/5 |
| Quality of service | 3/5 |
| Pricing | 3/5 |
A government body
Interprets over 100 languages
NAATI and AUSIT-accredited
Poor customer service
Expensive
Lack of transparency in pricing
Interpreting and Translating Centre (ITC) is a South Australian Government agency consisting of experienced translators and interpreters. It's a government business unit under the Department of Human Services.
Their linguistic and technical experts can accommodate up to 100 languages and dialects. Every year, they receive about 70,000 translating jobs and interpreting assignments from various linguistic backgrounds.
ITC upholds the professional standards of NAATI and works in cooperation with the Australian Institute of Interpreters and Translators (AUSIT), a professional association of translators and interpreters in Australia.
They have a record or two of having poor customer service. If you need to call for support, jot down all important matters and inclusions that come with the service that you want to avail yourself.
Interpreting and Translating Centre also has no dedicated price section for their services on their website. We often recommend choosing companies with transparent pricing to help clients distinguish the service provider that would best suit their budgets.
In addition to this, their services are also quite expensive compared to others who are also NAATI-accredited translating bodies.
FAQs about Interpreters in Adelaide